I first had these jammy tomato eggs when I was 18. Nick and I had just started dating and every time we hung out at his place, he cooked me something. I didn't know it at the time that the key to my heart was through my stomach but apparently he did. On our third date after a particularly hard day at college, he cooked these eggs for me. He called the dish Parsi Egg and had learned to cook it from his neighbour and study partner. I knew then that I wanted to marry him and have him cook these for me for the rest of our lives.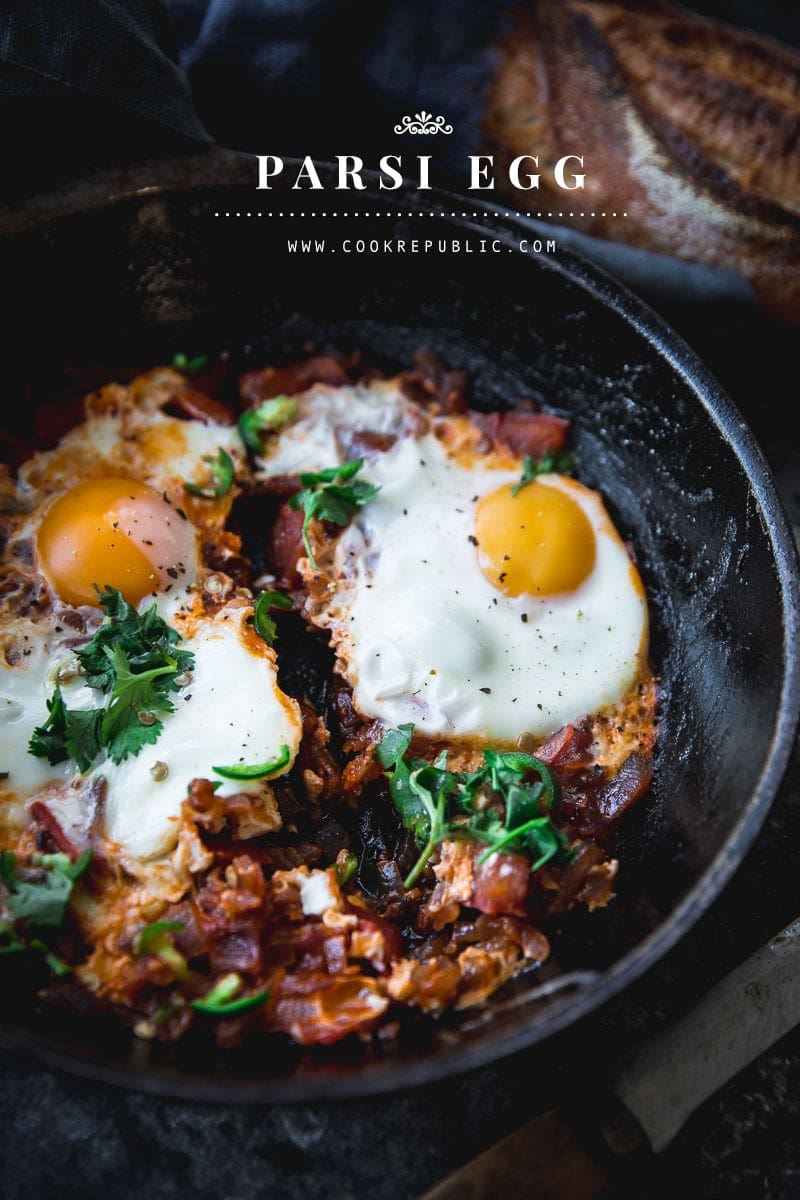 What is a Parsi Egg?
Parsis are a Zoarastrian community that migrated to the Indian subcontinent from Persia to avoid persecution during the Arab conquest. Parsi egg is probably one of their more popular breakfast dishes. The traditional version has a potato, onion and tomato hash cooked with spices and topped with eggs. The potato is often cut into tidy little cubes or grated to facilitate quick cooking.
Nick's version did not have the potatoes. I don't even recall whether he mentioned if his friend's recipe had potatoes either. I chalked it up to something lost in translation. A hungry student's quick take on some semblance of nourishment. But, I loved it nevertheless. Nick's version.
A sweet, sticky and spicy Shakshuka for all of life's occasions.
And in the 24 years that we spent together, he cooked Parsi egg for me on many many occasions. When we were newlyweds and spent the whole evening assembling furniture or when we had our first baby and were caught in an endless cycle of feeding, burping and rocking to sleep. When we bought our first home and days melted into weeks, arms tired with painting and cleaning or whenever I was sick or particularly lazy and didn't feel like cooking.
It is only in recent times that I started cooking this beautifully warming dish too. My take on this dish obviously made it slightly different to Nick's. They were jammier, like a sticky and slightly sweet Shakshuka. Because of the way I cooked it, the gently poached (still runny) eggs rested beautifully on a sticky, caramelized, sweet and sour hash. It always took about ten minutes to cook and was thoroughly hearty and filling, especially with a nice buttered sourdough.
The no-fuss, quick-cooking means that the Parsi Egg lives on in the new generation and continues the tradition in our home as our boys grow up and adopt this dish for their weekend breakfasts and after-school snacks. Really delicious on a cold day! Make it and tell me all about it in the rating and comments below. Bon Appetite! x
Hungry For More Recipes?  Subscribe to my newsletter and follow along on Instagram, Facebook and Pinterest to see everything I share!
Recipe
Hungry For More Recipes? Subscribe to my newsletter. Check out Facebook, Instagram and Pinterest to see everything I share! And if you love cooking and new cookbooks, join my free Cooking Club on Facebook!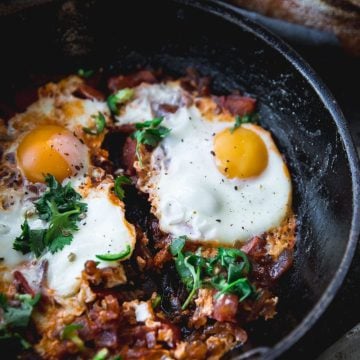 Ingredients
1

tablespoon

extra virgin olive oil

,

or ghee

1

large red onion

,

finely diced

1

large tomato

,

finely diced

1

teaspoon

sea salt flakes

1

teaspoon

raw sugar

1

teaspoon

tomato ketchup

1/2

teaspoon

red chilli flakes

2

large eggs

1

green cayenne chilli

,

sliced

few sprigs of fresh coriander leaves

,

chopped

freshly ground black pepper
Instructions
Heat oil (or ghee) in a medium (20cm base measurement) frying pan on medium.

Add onion and sauté for a few minutes until they start to soften and caramelize (approximately 4-5 minutes). Add tomato, salt, sugar, ketchup and chilli flakes. Mix well and cook for another 3-4 minutes until tomatoes are softened and the mixture starts to look jammy. Spread mixture evenly around the frying pan.

Reduce heat to medium-low. Carefully crack both eggs on top of the tomato mixture, letting the whites slide everywhere to cover as much of the tomato mixture as possible. Cover the pan with a vented lid (if you don't have a vented lid, place your lid askew so that there is a bit of gap around the edges to let the steam escape. This is important in order to avoid having watery eggs.)

Cook for a maximum of 2 minutes until the yolks are just set. Remove from heat. Sprinkle with black pepper. Scatter green chilli and coriander. Serve hot with sourdough.
Did you make my recipe?
I'd love to hear how you went! Tag me on Instagram @cookrepublic