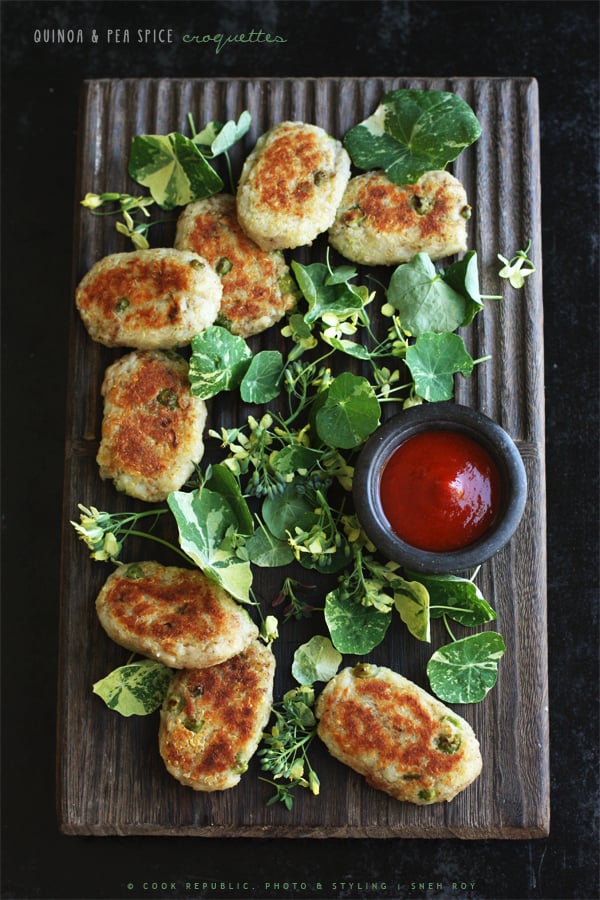 Patties, cutlets, croquettes – no matter what they are called are always delicious bite sized appetizers that you just can't resist when served. Drawing inspiration from Indian street food flavours, this gorgeous little croquette is vegetarian goodness amped with nutrient high quinoa. With a potato base, the quinoa acts as a binder eliminating the need for flour or egg. The spices add a subtle exotic flavour to the croquette. What I love about them is their versatility. They can be shaped like burger patties and provide an excellent vegetarian option for your friends at a BBQ. They can be stuffed inside wraps or pita breads with lashings of spicy sauce and green salad for a nutrient high meal. They are perfect mid-day lunchbox fillers and dressed up right can make a very sophisticated canapé at your party.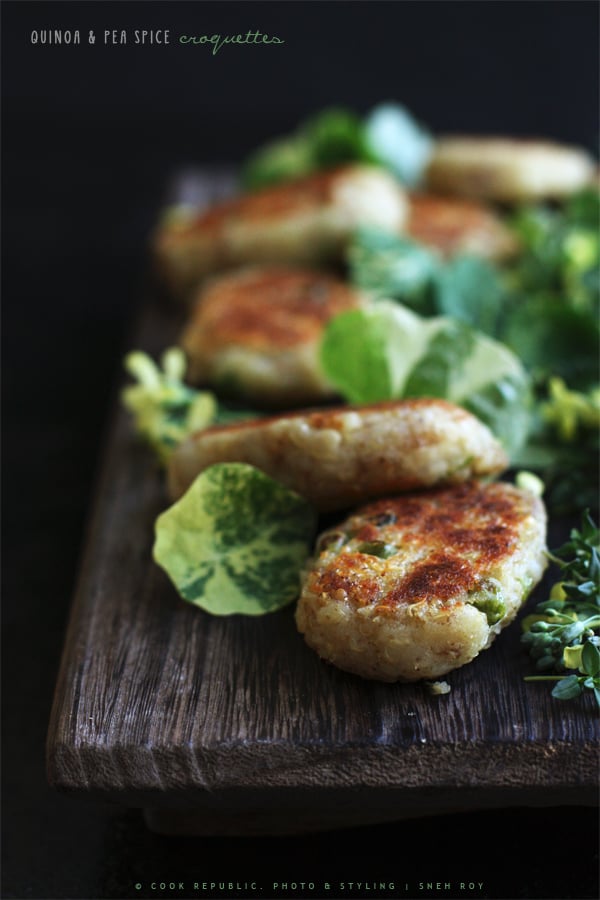 I have served these with nasturtium leaves and broccoli flowers both of which are in abundance in my veggie patch at the moment. Nasturtium leaves and flowers are both edible provided they are not sprayed. The leaves are akin to watercress and have a delicate peppery flavour. They go well with spice laden canapes and sweet tomato or chili based sauces.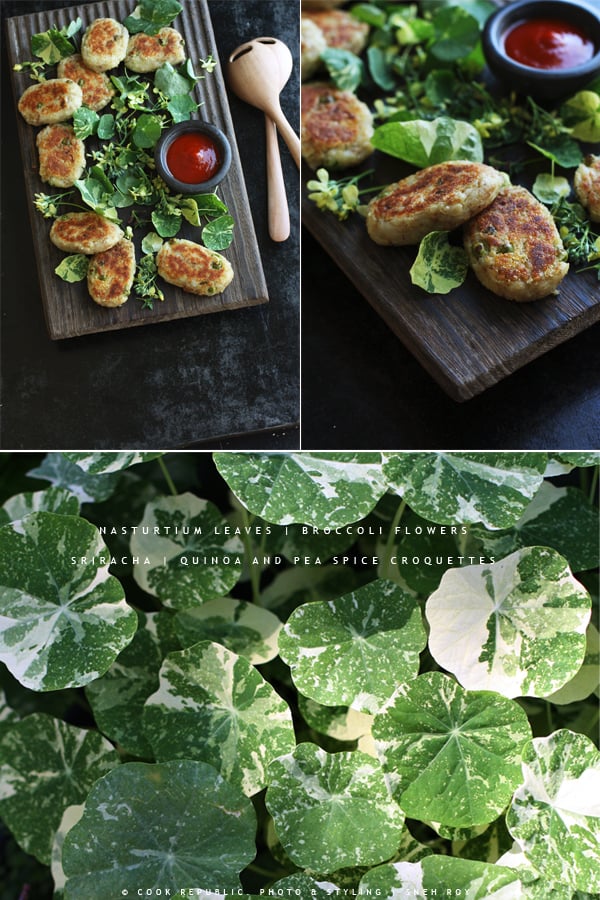 [print_this]
QUINOA AND PEA SPICE CROQUETTES
A delicious, healthy vegetarian snack for your lunchbox, brunch with the girls or to throw on the grill.
Makes – 12 to 15
Ingredients
2 large potatoes, boiled peeled and mashed
1 cup cooked quinoa
1/2 cup fresh or frozen peas
1/4 cup fresh coriander leaves, chopped
2 teaspoons ground cumin
1 teaspoon garama masala
2 cloves of garlic, finely chopped
salt to taste
few tablespoons olive oil for pan frying
Method
Heat one tablespoon oil on medium heat in a frying pan. Add garlic and peas. Sauté for a minute until soft. Remove from heat and tip into a large bowl. Wipe pan clean and return to low heat.
Add the potatoes, quinoa, coriander, salt, cumin and garam masala to the garlic and peas. Mix well and form into slightly flattened oblong croquettes.
Add a tablespoon of oil in the frying pan, increase heat to medium-high. When oil is hot, add four to five croquettes to tha pan depending on the size of the pan and cook each side for about four minutes flipping gently till done on both sides.
Repeat with remaining croquettes and oil. Serve hot with salad leaves and Sriracha sauce.
My Notes
The croquettes are delicate and need to be handled gently, especially while turning them over. I like to use a butter knife to turn them over gently.
If you find mixture hard to manipulate and shape, add 1/4 cup breadcrumbs. Chilling the mixture for 20 minutes helps too.
These can also be baked with a light spray of olive oil in a pre heated oven for 10 minutes each side at 200C.
[/print_this]