A delicious hipster twist on the world-famous American Buttermilk Fried Chicken by adding quinoa to the batter for added crunch and a dash of hot sauce for a chilli hit makes this an instant crowd pleaser. Serve heaped on tangy coleslaw in raw cabbage leaves bowl at your next party or game night!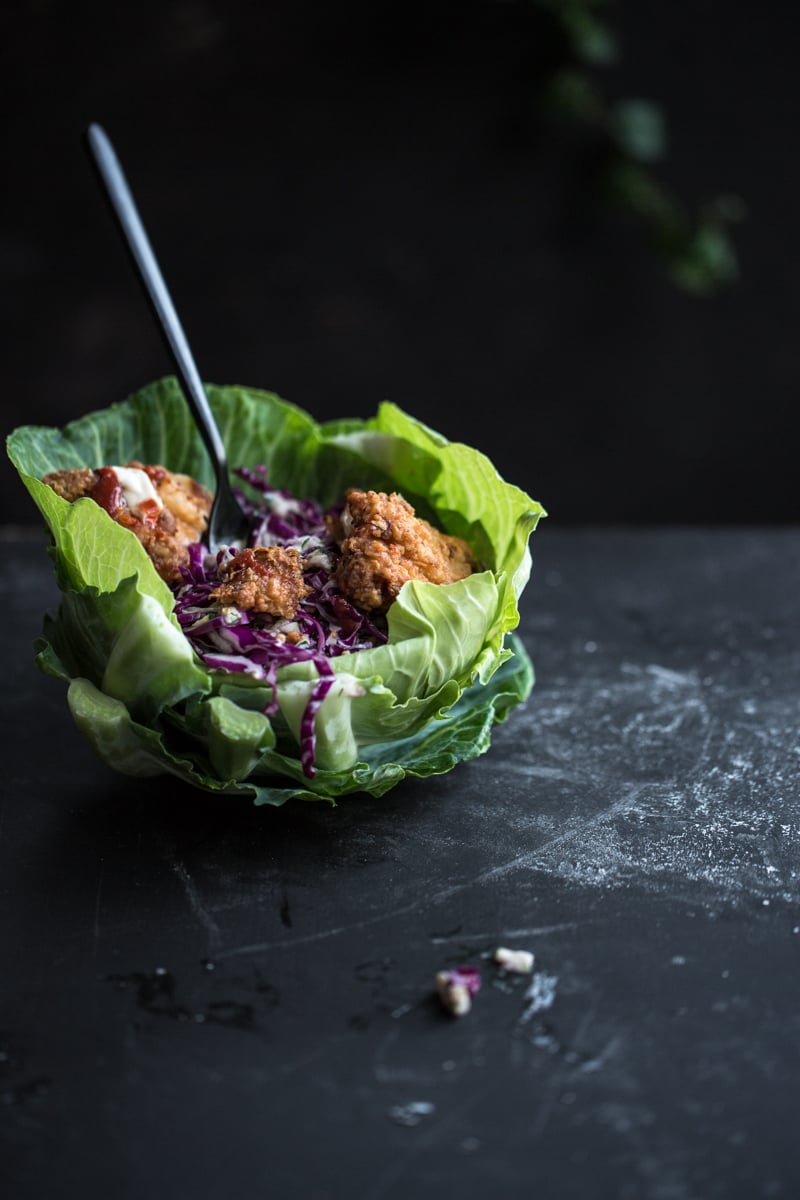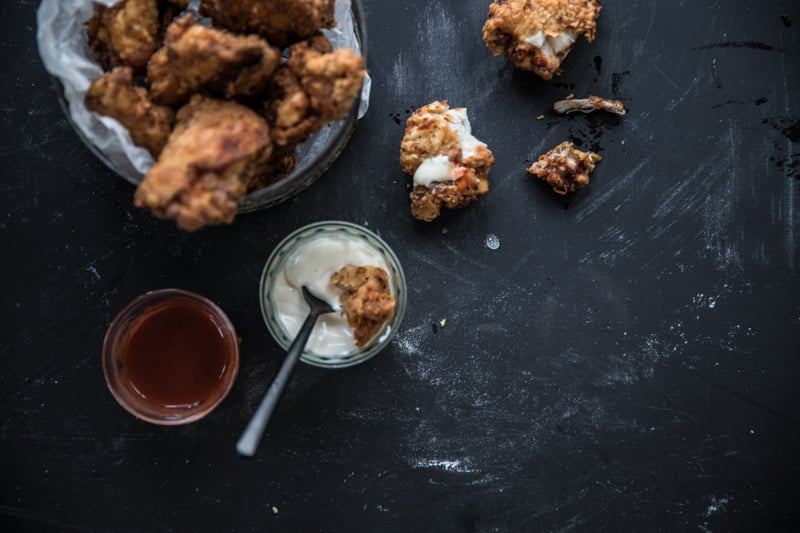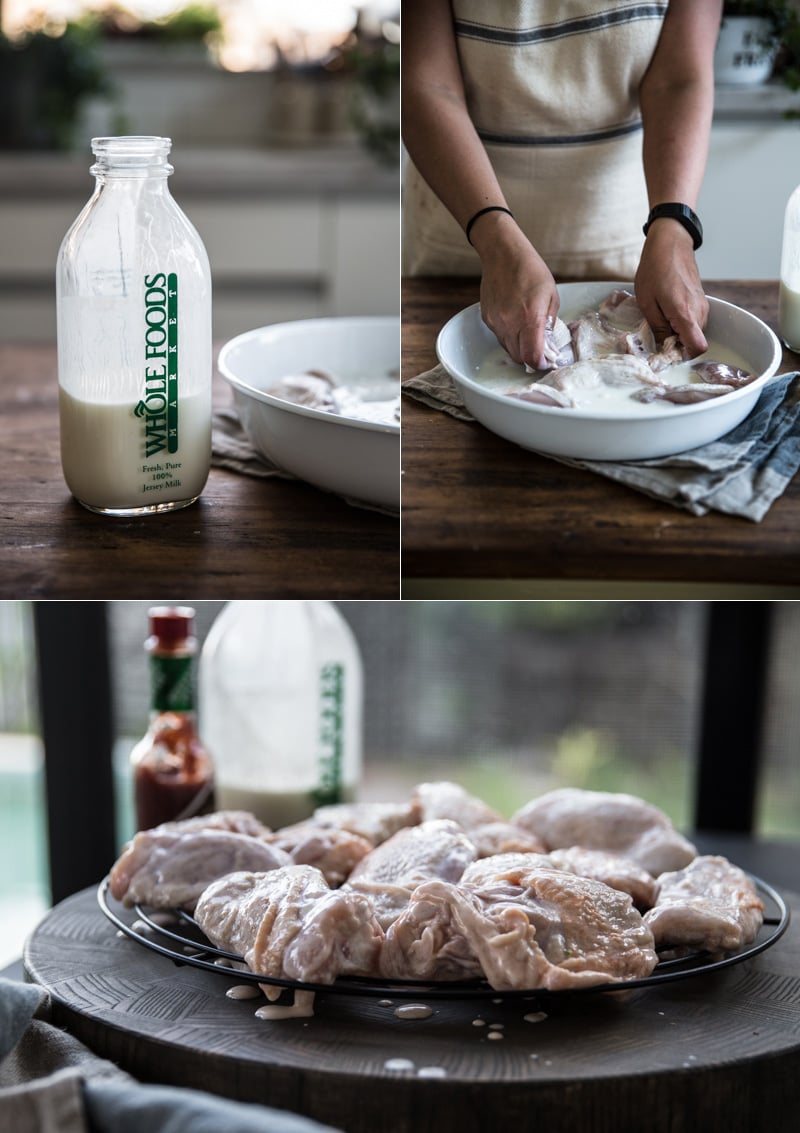 I often call this Hipster Fried Chicken because not only has fried chicken been elevated to the ranks of seriously-cool-modern-bistro-food-truck-fare but this fried chicken also has a shot of quinoa in the coating to get that added crunch. It is important to use chicken on bone for maximum flavor and succulence. I have used thigh cutlets and then sliced them in half leaving the bone in one part while the other is boneless. You could also use drumsticks or wings. I massage the chicken pieces in a buttermilk bath spiked with hot sauce (hello Tabasco!) and leave it to marinate in the fridge overnight. If I am time poor, an hour or two is fine for marinating. After a quick drain on wire racks, the chicken is ready to fry and get all golden and crunchy. I have served it with a deliciously good-looking purple cabbage slaw. In the past I have served the chicken in cabbage leaf bowls on top of the cabbage slaw. Perfect party fare!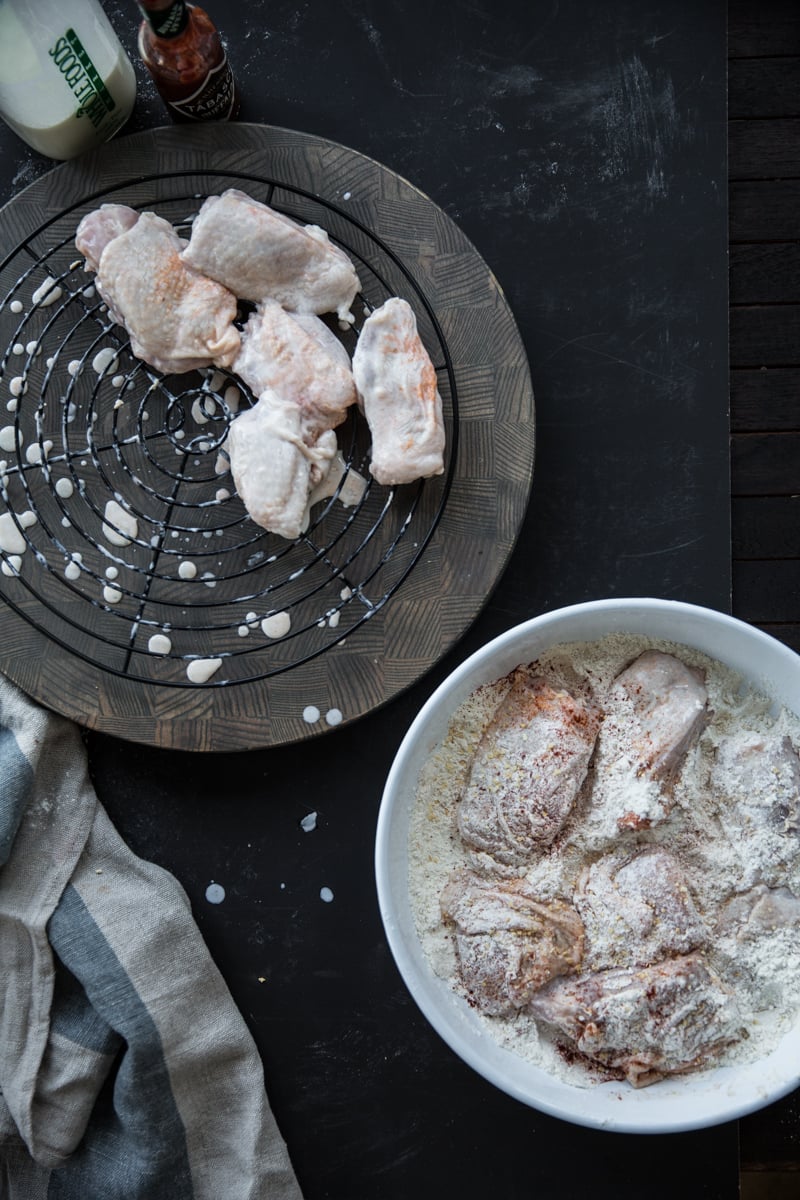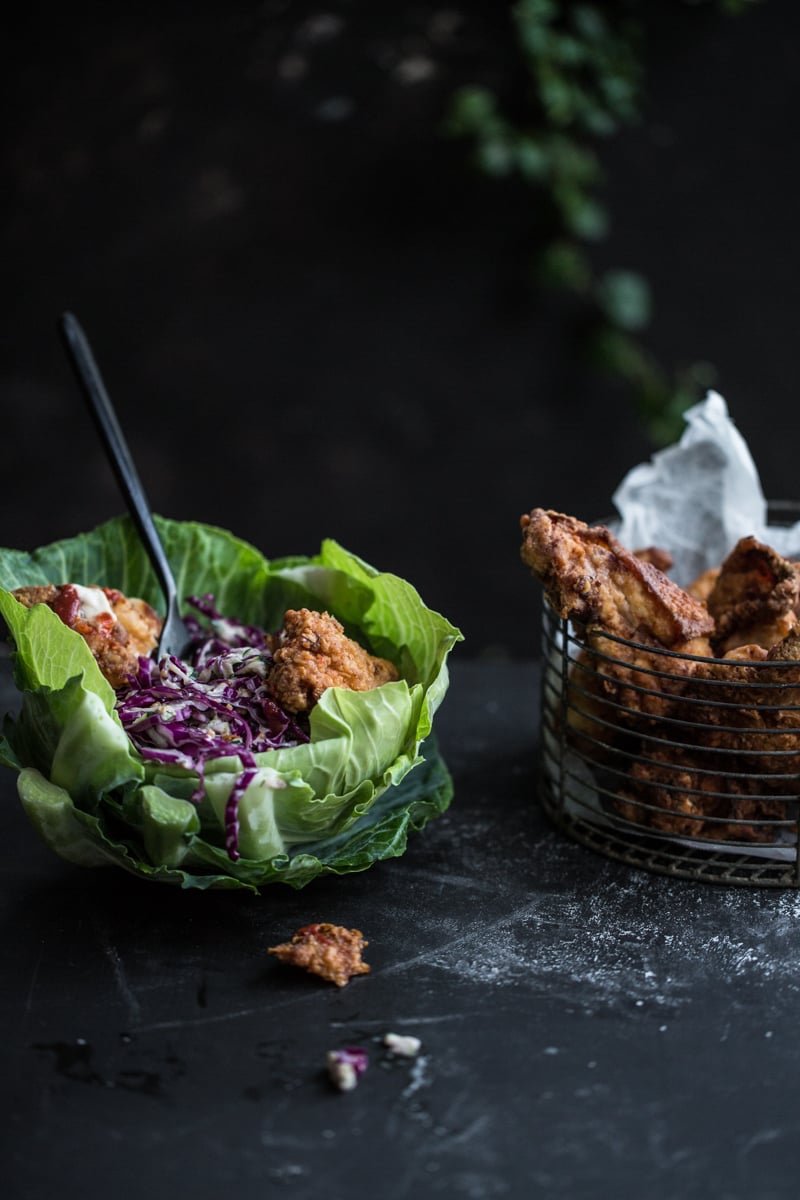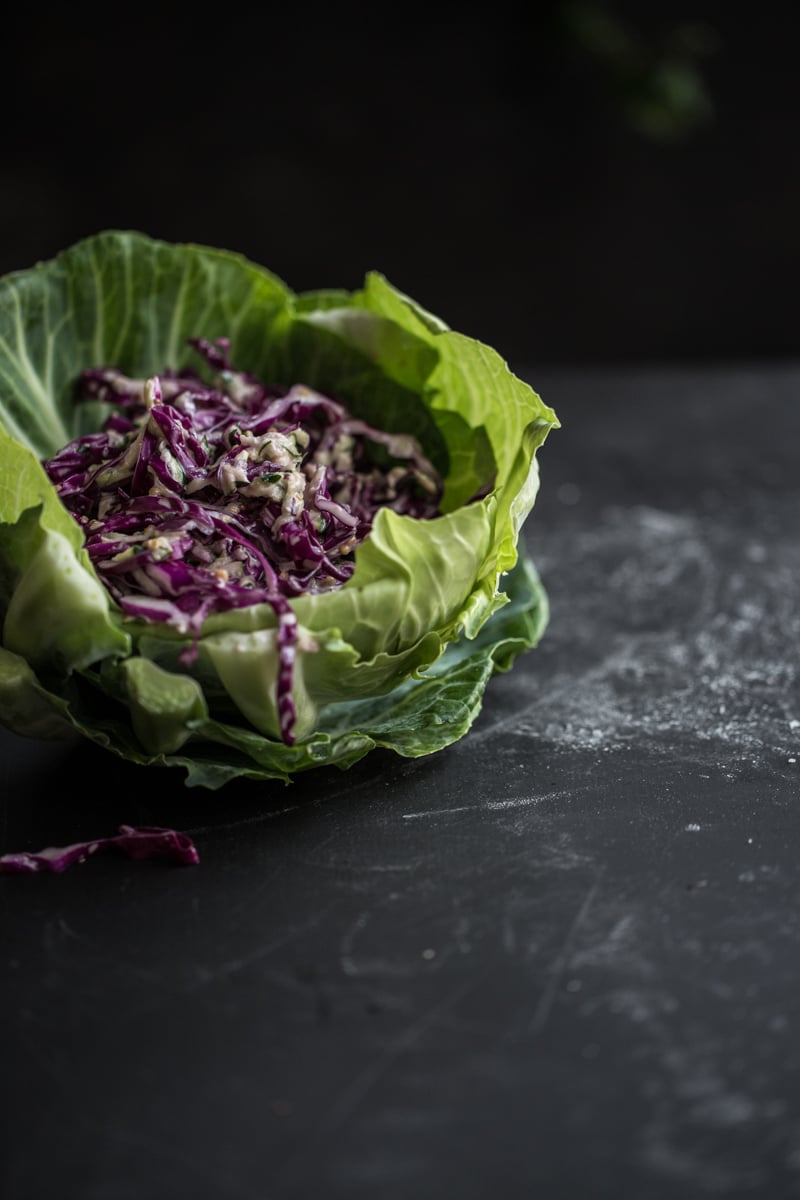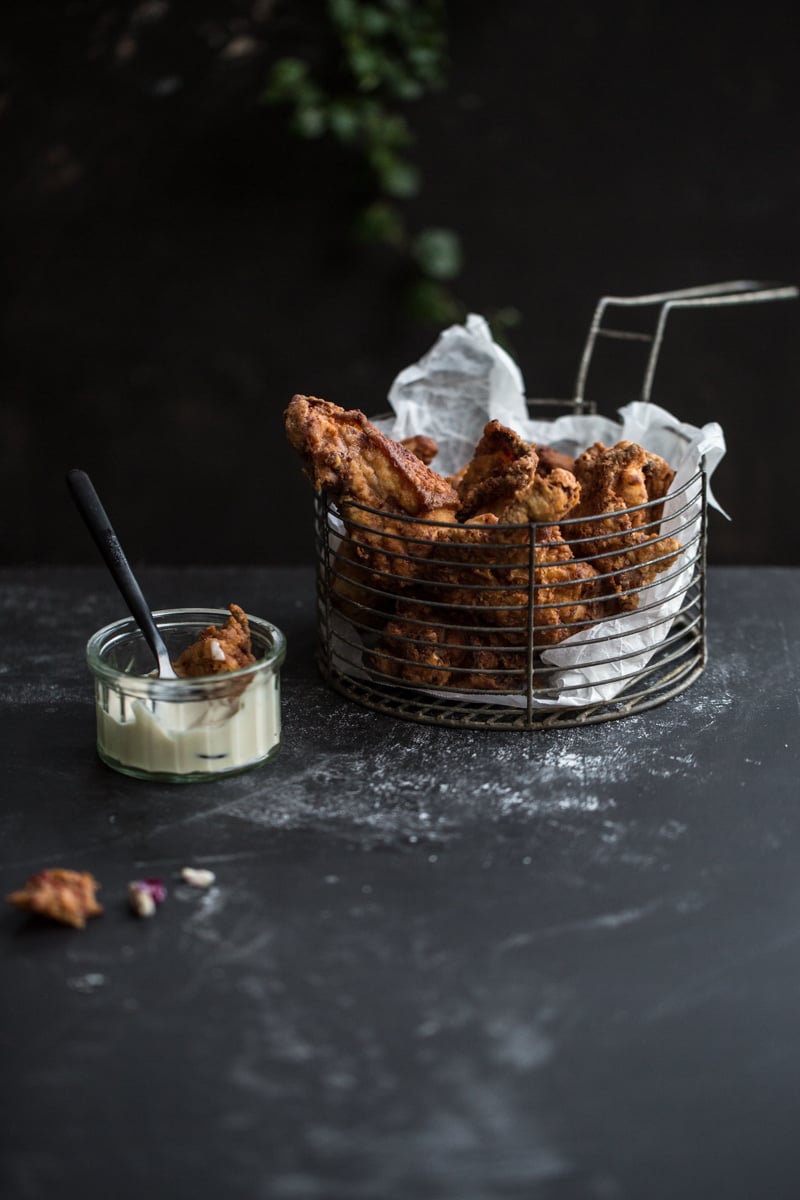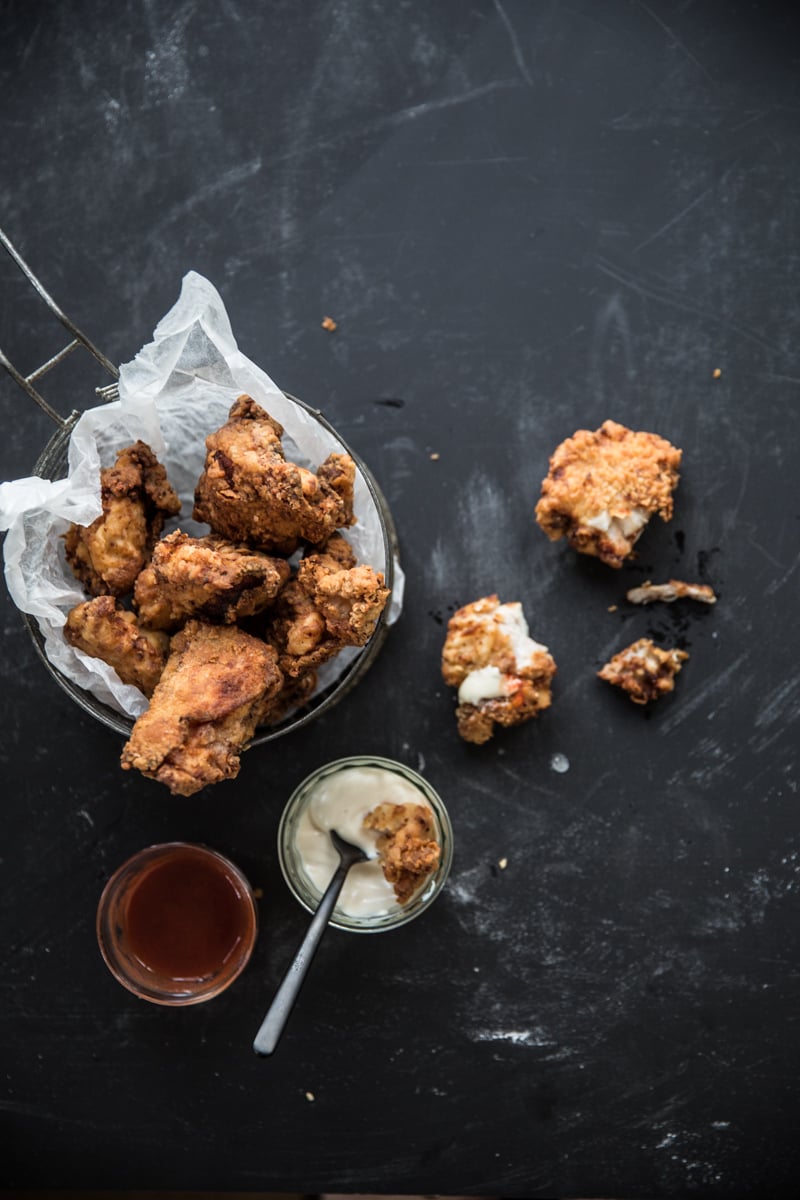 Recipe
Hungry For More Recipes? Subscribe to my newsletter. Check out Facebook, Instagram and Pinterest to see everything I share! And if you love cooking and new cookbooks, join my free Cooking Club on Facebook!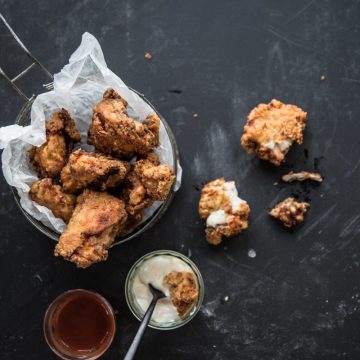 QUINOA BUTTERMILK FRIED CHICKEN WITH CABBAGE SLAW
A smashing buttermilk fried chicken recipe with a hipster twist! Quinoa in the crust adds an amazing crunch to this delicious fried chicken and heaped on tangy cabbage slaw and served in cabbage leaf bowls, this lip-smacking street food becomes an instant party hit.
Print Recipe
Ingredients
For the chicken
8

(

1

kg

)

chicken thigh cutlets

,

, skin on

2

cups

buttermilk

2

tablespoons

hot sauce
For the coating
1

cup

plain flour

2

teaspoons

sea salt flakes

2

tablespoons

dried garlic granules

1

tablespoon

dried onion flakes

1

tablespoon

smoked paprika

1

cup

cooked quinoa
For the slaw
¼

cup

mayonnaise

1

tablespoon

wholegrain mustard

1

tablespoon

rapadura sugar

150

g

purple cabbage

,

finely shredded

1

zucchini shredded

,

liquid squeezed and discarded

salt and pepper to taste

whole cabbage leaves

,

to serve

oil for frying
Instructions
Cut the chicken cutlets in half leaving the bone in one portion while the other is boneless. You will have 16 portions in total.

Place chicken portions in a shallow rimmed bowl. Pour buttermilk and hot sauce over the chicken. Massage the buttermilk mixture into the chicken using your fingertips. Cover with cling wrap and brine in the fridge overnight. Alternatively, place in the fridge to marinate for 1-2 hours.

Place a wire rack over a large bowl or chopping board. Place marinated chicken on the wire rack to drain the liquid marinade.

In another shallow rimmed bowl add all the ingredients for the coating and mix well. Place drained chicken portions in the flour mix and coat evenly.

Heat oil (with a high smoke point preferably sunflower oil or rice bran oil or canola oil) on high in a small deep saucepan or fryer. When the oil starts to smoke, reduce heat to medium and gently lower 4 chicken portions in the hot oil. Be careful to slide them in gently to avoid oil splashes. Cook the chicken for approximately 8-10 minutes, turning with a slotted spoon every now and then to ensure even frying. When golden and starting to brown after the said amount of time, remove from hot oil with a slotted spoon and drain on paper towels.

Repeat with remaining chicken portions, adjusting the heat (increasing it when you feel the oil has cooled and decreasing it when it starts to smoke again).

To make the slaw, place all ingredients in a large bowl and mix well.

To serve as party canapés, scoop coleslaw in cabbage leaves. Add fried chicken over the coleslaw and top with extra mayonnaise and hot sauce.
Notes
Fried chicken can be kept warm in the oven on low heat until ready to serve. If preparing ahead, warm the fried chicken in the oven at 160C for about 5-6 minutes. This will refresh and crisp it up.
Did you make my recipe?
I'd love to hear how you went! Tag me on Instagram @cookrepublic