This satisfying and hearty salad is made by roasting eggplant pieces rubbed with sumac and tossing them in a bowl with a garlic balsamic dressing tossed, some lentils, golden fried halloumi, pomegranate and herbs. My easy Halloumi Lentil And Roasted Eggplant Salad only takes 25 minutes to make and is insanely delicious! A great lemony, vegetarian Mediterranean salad that can be eaten warm or cold, especially
Jump to:
🍆 Why make this Roasted Eggplant Salad?
Imagine taking a mouthful of this salad and being hit with a world of flavour - sweet, sour, salty, savoury. Spice roasted eggplant bites, soft lentils, creamy halloumi, sweet pomegranate, crunchy onion and a tangy, delicious dressing that is slurp-worthy (the only real measure of a good salad!). A dish that goes beautifully This is why you must make my Halloumi, Lentil & Roasted Eggplant Salad,
It is a fuss-free, quick recipe. Only 25 minutes to make!
It has everything for a complete meal - protein, fiber, carbs and good fats!
It can be prepped ahead.
It can be eaten warm or cold.
📝 Ingredients & Substitutions
Eggplant - The star of this salad. I use the smaller, thinner Lebanese eggplant as it dries sufficiently while roasting and then soaks up the dressing just enough to give a really lovely eating experience. I acknowledge that eggplant is not for everyone and that a soggy, oil-ridden piece of eggplant is not at all pleasant. Hence my recipe only uses very little oil for roasting. I tested the recipe with both Lebanese and regular Globe (American) eggplant. I found that Lebanese eggplant would satisfy people who have an aversion to eggplant's texture while the Globe eggplant produces juicier, softer pieces (lack of skin) that can be enjoyed by people who like their eggplant to be meaty.
Lentils - I use canned, rinsed, and drained brown lentils from the pantry.
Halloumi - The original recipe didn't have Halloumi. It is a late addition that I have been making for the past few years. And it really makes this salad rounded and perfect. The golden roasted halloumi adds a sharp saltiness and creamy savouriness to the eggplant salad.
Onion - This recipe uses a red onion. Red onions are inherently better for raw salads while brown onions are used more for cooking.
Pomegranate - Fresh pomegranate arils are the best. You can substitute with frozen arils after thawing them. If you don't have access to pomegranate seeds, substitute with dried cranberries or fresh cherries (if they are in season).
Parsley & Mint - Use fresh parsley and mint for this recipe.
Spices - Sumac, sweet paprika and cinnamon are used for roasting the eggplant. Oregano and cumin are used in the dressing. Together, these spices form a distinct flavour profile that makes this Mediterranean salad truly delicious and more authentic. These spices are readily available at all supermarkets and small grocers.
Balsamic Vinegar - This is key to adding that sweet and sour flavour to the dressing. Aged balsamic vinegar is the best!
Garlic, lemon juice, and good quality extra-virgin olive oil.
Pomegranate Molasses - This is purely optional but a light drizzle of pomegranate molasses elevates this salad further. Traditionally, a lot of Middle-Eastern recipes have a drizzle of pomegranate molasses. This thick, syrupy, molten liquid is very sour with just a hint of sweetness. You can skip this or if you prefer your salad to have a bit of sweetness, add a very light drizzle of maple syrup. I use Pomegranate Molasses by Pariya.
🔪 How to make Roasted Eggplant Salad?
Marinate eggplant pieces with spices.
Spread on a baking tray.
3. Roast eggplant in the oven per recipe.
4. Make the dressing by mixing all ingredients together in a bowl.
5. Pan-fry Halloumi in a bit of oil until golden.
6. Mix all ingredients for the salad in a large bowl.
🍽️ Serving Suggestions & Storage
What to eat with this Roasted Eggplant Salad?
This beautiful eggplant salad is a complete meal in itself. I often serve it with the following.
A grilled piece of a nice white fish like Cod or Snapper rubbed merely with salt, pepper and oil.
A nice warming soup like this Roasted Garlic Tomato Soup.
Some nice Lebanese Flatbread (Manoushe) and Muhammara (Roast Capsicum And Walnut Dip).
Storage
Prepped and tossed salad can be stored in the fridge in an air-tight glass container for up to 2 days.
If meal prepping, store salad dressing separately. Store roasted eggplant, lentils, onion and herbs in a separate container. Make pan-fried halloumi fresh at the time of eating and toss everything up.

💜 More Eggplant Recipes To Make
Recipe
Hungry For More Recipes? Subscribe to my newsletter. Check out Facebook, Instagram and Pinterest to see everything I share! And if you love cooking and new cookbooks, join my free Cooking Club on Facebook!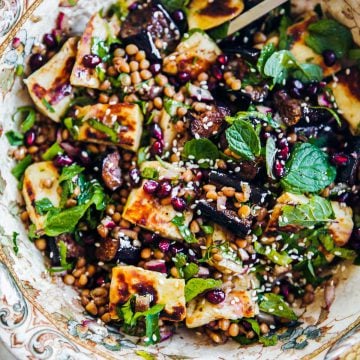 Halloumi Lentil Roasted Eggplant Salad
A beautiful salad of lentils topped with perfectly roasted eggplant, creamy golden fried halloumi, sweetened only by pomgranate and a touch of balsamic. This salad tastes great warm or cold and travels well.
Print Recipe
Rate / Comment
Ingredients
for the roasted eggplant
2

Lebanese eggplants

,

cut in half lengthways and chopped into 1-inch large pieces.

1

teaspoon

flakey salt

1/2

teaspoon

sumac

1

teaspoon

sweet paprika

1/4

teaspoon

ground cinnamon

1½

tablespoon

extra virgin olive oil
for the lentil salad
200g

halloumi

,

drained and cut into one-inch pieces

1

teaspoon

olive oil

400

g

canned lentils

,

rinsed and drained

1

red onion

,

diced

1/2

cup

(

1

cup

)

parsley

,

packed, chopped

1/3

cup

pomegranate seeds
for the dressing
3

garlic cloves

,

minced

3

tablespoons

extra virgin olive oil

2

teaspoons

balsamic vinegar

2

tablespoons

lemon juice

1

teaspoon

dried oregano

1/2

teaspoon

ground cumin

1

teaspoon

sea salt flakes

pinch of black pepper

1

teaspoon

sesame seeds
to serve
1/4

cup

mint leaves

,

packed

extra sesame seeds, pomegranate seeds

pomegranate molasses

,

to drizzle (optional)
Instructions
Preheat oven to 200°C (180°C fan-forced).

Place eggplant, salt, sumac, paprika, cinnamon and olive oil in a medium bowl. Toss gently to combine. Line a baking tray with baking paper. Roast in the pre-heated oven for 20 minutes.

To make the dressing, place all ingredients for dressing in a lidded mason jar and shake well to combine. Dressing can me made up to a day ahead and stored in the fridge.

Pan-fry halloumi pieces in a teaspoon of oil on both sides on low-medium heat until golden. (This takes about 4-5 minutes)

Place lentils, onion, pomegranate seeds and parsley in a large bowl.

Add the roasted eggplant and pan-fried halloumi. Add the dressing and mix well. Garnish with mint, pomegranate seeds and sesame seeds.
Notes
Eggplant - I use Lebanese eggplant for this salad (smaller elongated, thinner eggplants). These have less meat and roast to a slightly dry consistency which is immediately plumped up by the salad dressing. If you or your family is averse to eggplant texture, this is a good eggplant to roast as it isn't meaty or soggy like the bigger Globe eggplant (which is a good substitute if you don't mind a whole lot of eggplant when you eat). Halloumi - Greek halloumi adds a rich, creamy saltiness when pan-fried. If you'd like to make this salad vegan, just skip the halloumi or use a vegan version instead. Lentils - I use canned brown lentils for this recipe. They are easily available, cheap and filling. Pomegranate seeds - These add an amazing burst of tart sweetness to this roasted eggplant salad. If you don't have them on hand, add fresh cherries or dried cherries or dried cranberries for that tart sweetness. Pomegranate Molasses - This thick, molten, syrupy liquid is sour with a hint of sweet and is often used in Mediterranean cooking as a topping or garnish. It will make your salad extra tart. It is purely optional to use this. Sometimes, I substitute with a light drizzle of maple syrup instead for a bit of added sweetness. Sumac - This spice is a Middle-Eastern favourite. It is tart and has a zingy, lemony flavour. It is readily available at all supermarkets. Storage - Fully prepped salad can be made ahead and stored in the fridge in an air-tight container for up to 2 days. Dressing can be made and stored for almost 10 days.
Nutrition
Calories:
518
kcal
|
Carbohydrates:
42
g
|
Protein:
23
g
|
Fat:
31
g
|
Saturated Fat:
11
g
|
Polyunsaturated Fat:
3
g
|
Monounsaturated Fat:
16
g
|
Sodium:
1793
mg
|
Potassium:
1187
mg
|
Fiber:
17
g
|
Sugar:
13
g
|
Vitamin A:
461
IU
|
Vitamin C:
15
mg
|
Calcium:
581
mg
|
Iron:
5
mg
Did you make my recipe?
I'd love to hear how you went! Tag me on Instagram @cookrepublic