A gorgeous Rainbow Veggie Dal made with split chickpeas, spices and loads of colourful veggies. Easy, one-pot recipe packed with a world of flavour provides a great vegetarian, high-protein dinner option for weeknights. Can be made ahead and freezes well!
The story behind this dal is quite interesting. Since giving up dairy a year ago and basically taking stock of his own food and educating himself on what good food does to his body (I am so proud of you darling!), Nick became a regular at this health food market/store/cafe close to his workplace. He had a new lunch time hobby. Scouring the aisles and deli section at this cafe for a wholesome treat or afternoon snack. If I was lucky, he'd save me some and I would get a taste when he came back home in the evening. Most days though, I only heard rave reviews about what he had eaten.
On the rare occasions that he couldn't pack his own lunch at home (because I needed to either shoot it or we had just finished everything after a massive leftover night!), he would grab a delicious hot vegan lunch at this cafe. A serving of quinoa or brown rice with the choice of aromatic, healthy curries. There was this particular dal that he loved so much, that he brought home a container for me to try out. It was called Rainbow Veggie Dal. And it was delicious, my only critique being that they had gone a bit heavy handed with the turmeric which rendered it a tad bitter. (There is such a thing as too much turmeric!)
Anyways, life went on until one day Nick told me that his beloved cafe had changed ownership and that Rainbow Veggie Dal was no longer on the menu. Now, it is a good thing that I am a hoarder because I had saved that tall dal container from when he brought home the dal (I don't know why!! It had a cute shape?). And on it was a little nutritional information tag that listed the ingredients. So, began a week long experimentation project. All the ingredients but in the right quantities to get an even better tasting dal with that perfect texture. It worked and he was delighted and I was secretly happy that I could make it anytime I wanted!!
This Veggie Coconut Dal is absolutely gorgeous to look at and packed with delicate but complex flavours. And filled to the brim with veggies. The exact sequence of adding the ingredients is important to get the right texture. It is a very clever dal as the creamy base with a touch of sweetness is formed as a result of the pumpkin simmering and breaking down. I soak my chana dal (which is basically hulled split chickpeas) for at least 4-5 hours in cold water, as this makes the dal very easy to digest. No one likes a tummy ache after a delicious meal. If you can soak it overnight, even better.
The veggie coconut dal freezes really well and so makes it on my weekly meal-prep list quite regularly. It is wonderful to soak up with a good sourdough or fresh rotis. It is nice on steamed rice as well. If you thin it some more, you could enjoy it as a hearty chickpea and veggie soup. Absolutely versatile! So give it a go and leave me a comment/rating to tell me what you think. Don't forget to tag me on Instagram with #cookrepublic if you share a picture. Enjoy my lovelies! x
Recipe
Hungry For More Recipes? Subscribe to my newsletter. Check out Facebook, Instagram and Pinterest to see everything I share! And if you love cooking and new cookbooks, join my free Cooking Club on Facebook!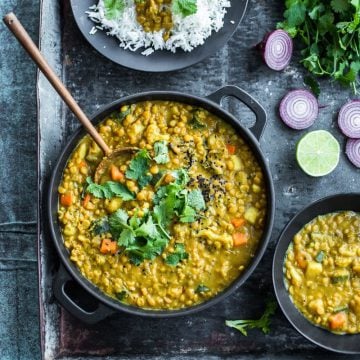 Ingredients
220

g

(

1

cups

)

chana dal

,

(split chickpea)

2

tablespoons

olive oil

4

garlic cloves

,

minced

1

teaspoon

grated ginger

1

large red onion

,

finely chopped

1

teaspoon

fennel seeds

1

teaspoon

mustard seeds

1

teaspoon

coriander seeds

1

carrot

,

medium, peeled and diced

1

potato

,

medium, peeled and cubed

1

cup

cauliflower florets

1

zucchini

,

small, cubed

1

cup

diced pumpkin

¼

cup

split red lentils

,

masoor daal

400

g

light coconut milk

1

teaspoon

ground turmeric

1

tablespoon

ground cumin

1

tablespoon

ground coriander

½

teaspoon

chilli powder

¼

teaspoon

ground cinnamon

2

teaspoons

sea salt flakes

300

ml

water

coriander leaves and sesame seeds

,

to garnish
Instructions
Rinse the chana dal several times and drain.

Soak chana dal in a bowl with enough cold water to cover it. Soak for at least 4-5 hours or overnight.

Heat olive oil in a deep saucepan or casserole pot (2-3 litre capacity) on medium. Add garlic, ginger, onion, fennel seed, mustard seed and coriander seed. Sauté for a few minutes, tossing constantly until onions starts caramelizing.

Add carrot, potato, cauliflower, zucchini and pumpkin. Reduce heat to medium low and cook for approximately 6-8 minutes until vegetables are glazed and turning a shade darker.

Add the soaked chana dal (along with soaking water) to the pot with the vegetables. Mix well.

Add split red lentils, coconut milk, spices, salt and water. Mix well. Increase heat to medium. Cover and simmer for 10 minutes.

Reduce heat to medium-low, cover and simmer for another 15-20 minutes. If starting to thicken rapidly, add half a cup of water, reduce heat slightly and continue simmering until veggies are done and chana dal is cooked but has a firm bite.

Serve hot garnished with freshly chopped coriander leaves and sesame seeds on a bed of steamed rice.

Serve with sliced red onions that have been soaked in cold water (for at least 10 minutes) and drained (this helps make them sweeter) and sliced lime.
Notes
You don't have to add the split red lentils but I find that it makes the base of the dal even more luscious.
Nutrition
Calories:
243
kcal
|
Carbohydrates:
35
g
|
Protein:
8
g
|
Fat:
8
g
|
Saturated Fat:
4
g
|
Polyunsaturated Fat:
1
g
|
Monounsaturated Fat:
2
g
|
Sodium:
649
mg
|
Potassium:
397
mg
|
Fiber:
11
g
|
Sugar:
3
g
|
Vitamin A:
1984
IU
|
Vitamin C:
21
mg
|
Calcium:
100
mg
|
Iron:
3
mg
Did you make my recipe?
I'd love to hear how you went! Tag me on Instagram @cookrepublic