What the heck is a Grandma Pie? I know you are thinking it, because that was my very first thought when I came across a Cauliflower Grandma Pie recipe on Bon Appetit that I HAD to make. So I decided to research. I went to Google. Google told me that a Grandma Pie was a deep dish pizza of sorts from Sicily that was made by stretching dough in an oiled, shallow, rimmed baking tray and dotting it with mozzarella, tomato sauce, garlic and olive. It was baked until bubbly and crispy. Yum! Filing this away in my ideas notebook for parties and gatherings.
The recipe I decided to try out had a few different elements. There was the pizza dough, the roasted cauliflower, the toasted breadcrumbs and then the final assembly. The original recipe called for anchovies, but I decided to keep it plant based by substituting anchovies with something that was as delicious, salty and punchy - olives! I used my trusty 30 minute pizza dough recipe and let it rise for about 2 hours because I had the whole afternoon stretched out before me. This has become an instant favourite in our home. I have now made it three times and it delivers without a hitch. It is one of the best cauliflower rich recipes that uses a whole head of this delicious vegetable. The balance of flavours is incredible and might I say, more grown up. Next time I'll add crushed red chilli flakes before I serve to add a whole new fiery dimension to the pizza/pie.
The whole combination of olive, capers, lemon and parsley invokes a languorous Mediterranean afternoon by the sea complete with a balmy breeze and shades of blue stretching to infinity. This makes this perfect for the gorgeous late winter sunshine we've been having here in Sydney ahead of Spring next week. I love massive tray bakes. They can be a bit of work but the generous quantities mean that once ready to be served, they are spectacular on the table and you can just kick back and relax to a glass of bubbly while guests help themselves to many helpings.
Recipe
Hungry For More Recipes? Subscribe to my newsletter. Check out Facebook, Instagram and Pinterest to see everything I share! And if you love cooking and new cookbooks, join my free Cooking Club on Facebook!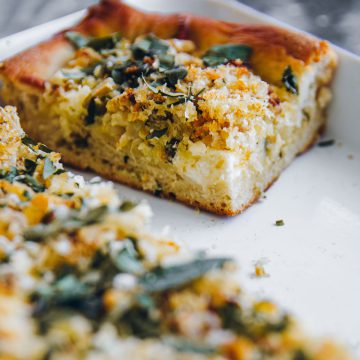 ROASTED CAULIFLOWER AND RICOTTA GRANDMA PIE
A delicious deep dish pizza baked in a big tray is perfect for a party or gathering. Plant based, this Grandma Pie is gorgeous with the roasted cauliflower and all the salty punchy flavours of the Mediterranean - capers and olives dotted over mozzarella and ricotta on a thin and crispy pizza base. Adapted from a
Bon Appetit
recipe.
Print Recipe
Rate / Comment
Ingredients
for the cauliflower
1

small head

,

700g of cauliflower florets

1

large lemon

,

cut into quarters and seeded

5

garlic cloves

,

minced

1/4

cup

45g drained and chopped capers

1/4

cup

45g pitted and chopped green olives

1/4

cup

60ml olive oil

1

teaspoon

sea salt flakes

,

or to taste

freshly ground black pepper
for the breadcrumbs
1

cup

fresh breadcrumbs

1/4

cup

60ml olive oil

1/2

cup

grated parmesan
for the pizza base
750

g

unbleached baker's flour

,

or regular baker's flour

200

g

semolina

2

teaspoons

sea salt flakes

1

tablespoon

caster sugar

1

tablespoon

12g dried yeast

2

tablespoons

olive oil

extra flour for dusting
to assemble
1 1/2

cups

mozzarella

,

grated

1

cup

ricotta

1/2

cup

freshly chopped parsley

drizzle of olive oil
Instructions
to prepare the cauliflower
Preheat oven to 200C. Line a large rimmed baking sheet with baking paper.

Place all ingredients for cauliflower in a large bowl and toss well. Spread the cauliflower mix on the prepared tray and roast in the pre-heated oven for 25 minutes.

Remove and cool completely. Squeeze the lemon juice over the cauliflower and discard the lemons. Mix well and set aside until ready to use.
to prepare the pizza dough
Place caster sugar, yeast and olive oil in a small bowl with 1/4 cup (60ml) warm water. Mix lightly and set aside for 5-10 minutes to bubble and froth.

Place flour, semolina and salt in a large mixing bowl. Toss lightly and make a well in the centre.

Pour the frothy yeast mixture in this well over the flour. Pour 600ml warm (tepid) water in the centre over the flour as well. Using the dough hook attachment on your stand mixer, knead for 4-5 minutes until the dough has come together. Alternatively, knead the dough using your palm and back of your hand in the bowl for a few minutes until it comes together.

Dust a clean work surface with extra flour and place your wet dough on top of it. Using both hands, knead the dough pushing away from you using the palm of your hand and then rolling it toward you using the fingers and thumb. Do this for a few minutes until the dough forms a smooth ball.

Place dough ball in a lightly oiled glass/ceramic/metal bowl and cover with a clean tea towel. Rest in a warm spot in your kitchen for 30 minutes to 2 hours (ideal). The dough would have doubled in size. It is now ready to use.
to prep the breadcrumbs
Spread the breadcrumbs in a square baking dish and toss well with the olive oil. Toast in a hot 200C oven for 4-6 minutes watching the breadcrumbs so they don't burn.

Remove from oven when golden and toasted. cool completely. Then mix with parmesan and set aside.
to assemble the Grandma Pie
Oil a large 36 X 28 cm rimmed baking tray. Pre heat oven to 205C (convention)/185C (fan forced).

Roll then stretch the pizza dough to about a 1 cm thickness and place over the prepared tray, making sure the dough sits snugly inside the rim. Any dough bits that hang over the top of the rim can be trimmed.

Scatter mozzarella evenly over the dough surface. Dot with ricotta. Scatter with cauliflower mix.

Bake in the pre-heated oven for 25 minutes. Remove and scatter with the breadcrumb mixture and drizzle with extra oil. Return to the oven for another minute or two. When done, remove from the oven. Scatter with chopped parsley and chilli flakes (if using). Cut into slices and serve hot.
Did you make my recipe?
I'd love to hear how you went! Tag me on Instagram @cookrepublic