A good ol' Thai Tofu Pad See Ew for your weeknight dinners. Easy, quick and authentic, this noodle stir-fry is made with a sauce that has been perfected dozens of times. Tastes just like takeaway Pad See Ew, you'll want to make this every week!
Making Pad See Ew At Home
I can't tell you how many batches of Pad See Ew I have stir-fried in the past two years. We don't eat out much, even before Covid. on those rare occasions when we frequented our favourite Thai restaurant or ordered takeaway, two dishes were always ordered. Pad Kee Mao for the spice lovers in our family and Pad See Ew for the gentle diners. With its sweet and salty sauce coating silky flat wide noodles, luscious egg and tofu complimenting the vibrant just cooked gai-lan, Pad See Ew was a family favourite!
Then came Covid and I discovered online shopping and realized that I could order fresh flat wide rice noodles online. That was a game-changer! Read my notes (after the recipe) for fresh rice noodle substitutions. So, I started cooking Pad See Ew every week. It is a surprisingly easy stir-fry to make if you have all the ingredients. The first couple of weeks, there was something lacking in the sauce. Either the final noodles were too dry or the sauce wasn't salty or sweet enough.
One of the things I acknowledged early on was that restaurant/takeaway Pad See Ew was dripping in oil. It was probably the reason why it was absolutely delicious. It was just the nature of the dish. Rice noodles literally soak up the sauce and if you don't use enough oil, it gets gluggy and the strands stick to each other. I didn't want to use too much oil. And thanks to all my experimentation, I have managed to create a Pad See Ew that only requires two tablespoons of oil. If you use three tablespoons, it gets more authentic and luscious. I'll leave it up to you.
The Proof Is In The Sauce
All you really need to make a good Pad See Ew is the perfect stir-fry sauce. Restaurants and takeaway places always use the most authentic sauces for the cuisine they cook. These sauces (in case of Pad See Ew - a special dark Thai soy sauce that happens to be saltier) are not always easy to find. The sauces I am using are generic and can be found at all Asian or regular supermarkets. Getting the combination of sweet and salty right is the key to this dish.
Pad See Ew is sweet and salty. You can't skimp on either. You can't say "That is too much soy sauce!" if you want that authentic taste. Just cook sparingly and occasionally but cook it right, I say. For this stir-fry, I use a combination of
light soy sauce (for saltiness) / I use Kikkoman Gluten Free Sauce or Tamari
dark sweet soy sauce (for sweetness) / I use ABC Kecap Manis
oyster sauce (for complexity) / I use Ayam Oyster or Vegetarian Oyster Sauces
fish sauce (for salty-sourness ) / I use Squid brand fish sauce
coconut sugar (for added caramel sweetness)
In my notes (after the recipe), I have included substitutions for oyster sauce and fish sauce if you want to make this dish vegetarian/vegan. My Pad See Ew is a pure Tofu version. To that effect, I have jazzed up the tofu to crispy fry it at the start of the stir-fry process and have also added Chinese five-spice powder for a deliciously complex flavour. This is of course optional and non-traditional, but it is so good!
Using The Wok Clock And Stir-Frying In A Large Wok
I always like to prep and measure out all the stir-fry ingredients. Lay them out in a circular clock arrangement starting at twelve o'clock and going clockwise in the order in which they go into the wok. I use a large 30-34cm wok and use the highest heat my induction cooktop can go to. I use a flat wooden or steel turner/spatula and tongs to loosen up, lift and toss the noodles without breaking them. This recipe will serve two people as a main and four people as a side dish.
If you make this Pad See Ew, I would love to hear your feedback in the comments below. Don't forget to tag me on Instagram with your stir-fries. Happy cooking!
Recipe
Hungry For More Recipes? Subscribe to my newsletter. Check out Facebook, Instagram and Pinterest to see everything I share! And if you love cooking and new cookbooks, join my free Cooking Club on Facebook!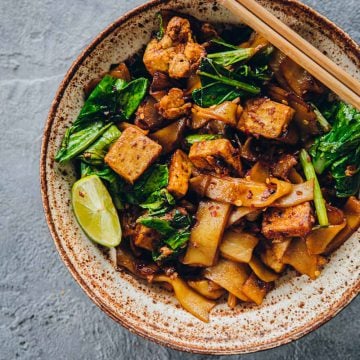 Ingredients
350

g

tofu cut into bite-sized 1-inch rectangles

1

teaspoon

sesame oil

1

teaspoon

crushed sea salt flakes

¼

teaspoon

white pepper

½

teaspoon

Chinese 5-Spice powder

,

optional

2

tablespoons

cornflour
For the Pad See Ew
3

tablespoons

peanut/vegetable oil

250

g

dry wide flat rice noodles OR 500g fresh flat wide rice noodles

,

Sen Yai*

2

tablespoons

peanut oil

,

(or grapeseed oil)

5

garlic cloves

,

minced

4

stems Chinese Broccoli

,

(gai lan) cut into bite sized pieces

2

eggs

,

whisked

2

tablespoons

light soy sauce

2

tablespoon

dark sweet soy sauce

,

(kecap manis)

2

tablespoon

oyster sauce

2

teaspoon

fish sauce

2

tablespoons

coconut sugar

,

or brown sugar

2

tablespoons

water

red chilli flakes and lime wedges

,

to serve
Instructions
Cook noodles as per the packet instructions (see notes for noodle preparation).

To make the tofu, place all ingredients in a bowl and toss and mix well.

To make the stir-fry sauce, mix light soy sauce, dark sweet soy sauce, oyster sauce, fish sauce, sugar and water in a small bowl.

Heat the oil in a large wok on high.

Add the marinated tofu and stir-fry for 2-3 minutes on high, tossing constantly until tofu is golden.

Add the garlic and stir-fry for a few seconds. Add the Chinese broccoli and stir-fry for a few seconds until the greens are glossy. Push everything to one side of the wok and add the whisked egg in the empty wok space. Stir-fry for a few seconds breaking up the egg as it cooks. Then mix the cooked egg with the rest of the ingredients in the pan.

Add noodles and sauce. Mix well, tossing constantly for 3-4 minutes until thoroughly mixed and hot throughout.

Serve hot with a sprinkling of crushed red chilli flakes and lime wedges
Notes
* Noodles for Pad See Ew – Traditionally, wide flat rice noodles (called Sen Yai) are used to make Pad See Ew. These are wider than your standard Pad Thai rice noodle or Vermicelli noodle. They are only available as fresh noodles. I often find them in the fridge section of Asian supermarkets. Some online grocery stores/supermarkets also stock them. Search for "fresh rice noodles" to find them online.  When cooking these fresh noodles, you only need to warm them in the microwave to soften them up as they are already cooked and then use them in your stir-fry.
When you can't find fresh wide rice noodles (which will be often), use dry Pad Thai noodles or the widest flat rice noodles (rice stick) instead. These are my goto. They are available everywhere. They are narrower than the traditional Pad See Ew noodles. They come in packs of 250g. When cooked, these yield 500g fresh cooked rice noodles. To cook them, simply submerge them in a bowl filled with boiling water for 4-5 minutes till they soften up. Drain the water and use the noodles in your stir-fry.
Make This Recipe Vegetarian - Substitute fish sauce with lime juice and oyster sauce with vegetarian oyster sauce or hoisin sauce.
Make This Recipe Vegan - Skip the egg. Substitute fish sauce with lime juice and oyster sauce with vegetarian oyster sauce or hoisin sauce.
Make This Gluten Free - Make sure all the sauces you are using are gluten-free.
Did you make my recipe?
I'd love to hear how you went! Tag me on Instagram @cookrepublic