Wholesome delicious Breakfast Carrot Muffins baked with spelt flour and lots of spices. Topped with pepita and oats for that extra crunch. Golden, warming and great to snack on!
A Grown-Up Carrot Muffin
When my boys were little and I mean really little - barely knee high and graduating from preschool to kindy, I used to make these Petite Carrot Muffins for them. "Babay Muffins!", my youngest used to call them and they were by far his most favourite thing to eat in his lunchbox. Over the years, I made them more wholesome, pushing the boundaries of carrot muffins and what they were supposed to look and taste like.
Now my boys are in high school and unbeknown to my youngest (who is now 13!), these muffins are a completely different story. They are more wholesome and rustic with spelt flour. They have very little unrefined sugar, they are packed with spices, they are dairy-free and brimming with double the amount of vibrant orange carrots. And they are topped with beautiful pepita seeds and oats for that extra crunch. A very grown-up carrot muffin that is not only beautiful to look at but perfect for snacking on any time of the day by young ones and grown-ups alike. The funniest part? He still thinks these are the same Babay Muffins he used to love.
Baking Muffins Without Paper Cups
If you grease your pans well, you don't need paper cases for baking. In the past, I used to use them quite extensively, but I often found that if it was an especially sticky muffin then a quarter of it would be stuck to the paper case when you tried to peel it off. Ever since I discovered Williams Sonoma Bakeware, I have completely stopped using baking paper to line my pans.
The silver TraditionalTouch followed by the Goldtouch series is my favourite. They are high quality, thick, heavy bakeware that have a beautiful matte finish. And they bake everything evenly without ever sticking or burning. I generously grease my pans with butter before baking and pop the batter straight into the pan. And the baked cake/muffin unmoulds perfectly every single time.
A regular feature of my weekly meal preps, I often start baking these muffins first thing in the morning. The warm smell of baking spices is absolutely beautiful. Everyone knows instantly what they will be having along with their cups of coffee and tea. It is a good start to the day. And it is filled with carrots!
Recipe
Hungry For More Recipes? Subscribe to my newsletter. Check out Facebook, Instagram and Pinterest to see everything I share! And if you love cooking and new cookbooks, join my free Cooking Club on Facebook!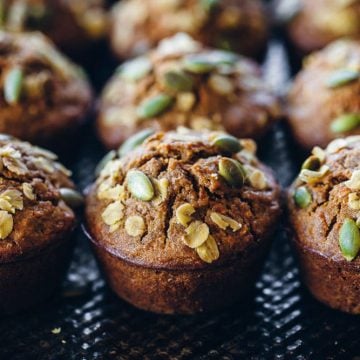 Ingredients
200

g

spelt flour

50

g

plain flour

1

teaspoon

baking powder

1

teaspoon

ground cinnamon

1

teaspoon

mixed spice

Pinch

of salt

125

g

unrefined rapadura/coconut sugar

100

ml

light/fruity olive oil

100

ml

unsweetened soy milk

2

eggs

,

lightly whisked

2

(

220

g

)

large carrots

,

finely grated

Pepitas and rolled oats

,

for topping
Instructions
Pre-heat oven to 190°C (170°C fan-forced).

Grease the holes of a muffin pan with butter or line the holes with paper cups.

Add spelt flour, plain flour, baking powder, ground cinnamon, mixed spice, salt and sugar to a large bowl. Toss and mix.

Add olive oil, soy milk, eggs and carrot to the bowl. Mix gently with a wooden spoon until just combined and there are no dry flour bits left in the bowl.

Spoon batter in each of the muffin holes/paper cases until two-thirds full. Sprinkle each muffin with pepitas and rolled oats.

Bake in the preheated oven for 20-22 minutes until golden and risen. Turn off the oven and let the muffins crisp up in the hot oven for another 3-4 minutes. Remove from the oven and cool slightly. If you had spooned the batter directly into the muffin pan without using paper cases, the muffins will have shrunk away from the sides and are ready to be unmoulded easily and gently.

Enjoy warm or store in a lidded glass container in a cool corner of your kitchen for up to 4 days. Muffins can also be frozen in individual ziplock bags or a large freezer-safe container, separated by baking paper for up to a month.
Did you make my recipe?
I'd love to hear how you went! Tag me on Instagram @cookrepublic