A delicious quick-to-make breakfast of sweet French Toast baked in a tray and served laden with fresh berries, whipped cream and a tart tangy yuzu (citrus) curd will make your weekend mornings with the family even more special.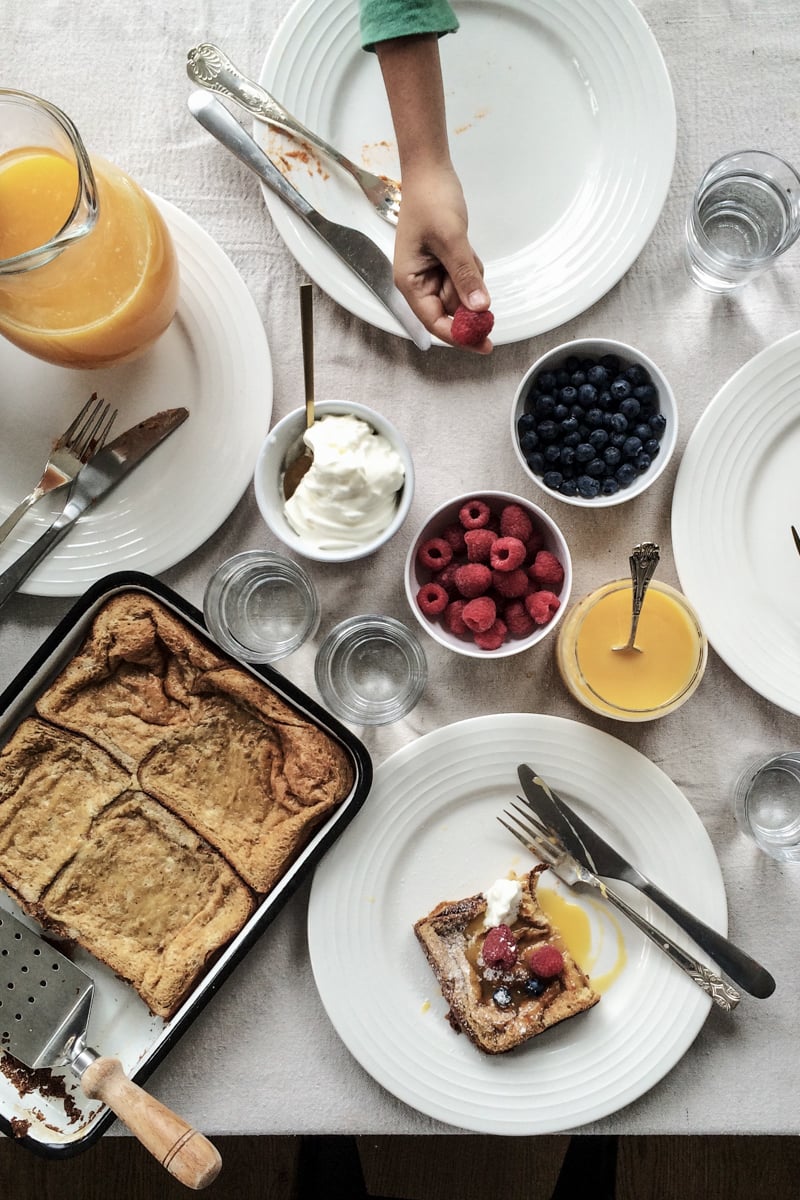 I love the novelty and fanfare of weekend breakfast. No one is rushing off to work or school which means we are all hanging out in the kitchen putting out the plates, squeezing fresh orange juice, setting napkins at the table (fancy!) and getting ready to indulge and have something naughty and nice. Nick makes a mean savoury French toast coated with herbs and chilli which gets requested on most Sundays but every now and then when we have exhausted our waffle rotations, we love having this simple tray baked sweet French toast. It is the most ingenious way to have French toast that ensures you have perfectly cooked egg coated slices of bread without any of the mushy insides you get when you often cook in the pan. The recipe below is our favourite version to have, drizzled with a new found love - yuzu curd.
Yuzu is a highly fragrant citrus fruit hailing from East Asia especially popular in Japan and Korea. A cross between the sour mandarin and a knobbly citrus fruit called Ichang Papeda, this bright canary yellow fruit has all the beautiful tones and flavours of mandarin paired with the tartness of grapefruit and is divine in desserts and cocktails. I bought Yuzu juice from an online website in Australia (a Google search will reveal many sources) and used that for this recipe. The curd making is quite straightforward. If you don't have access to yuzu, just make lemon curd or passionfruit curd to go with the French toast. Seasonal berries add that extra dimension. The French toast can be prepped the night before (make the egg mix and arrange slices in tray) but in either case, it comes together in just under half an hour and the kids love getting involved. The leftovers (which happens only when I make two trays) get repurposed as dessert with a giant dollop of ice cream atop the slices, chopped nuts and chocolate sauce.
In the spirit of playing catch up, school holidays have been quite uneventful. We have been doing a lot of nothing which is always great for the soul. We are staying indoors and dry in light of a winter like cold snap in Sydney. Yoshi, my chicken passed yesterday. She was the one I picked out at the coop nearly 5 years ago along with Mario (RIP), Toad (RIP) and Luigi. Yoshi had Cocci. By the time we figured that out, it was quite advanced and she had to be laid to rest. She spent the last night inside with us, getting a couple of warm baths and a massage. She was the youngest when we got her, the most feisty, most curious, most stubborn and most friendly. She got carried the most (I almost carried her once even though I am scared of all birds and animals - almost!). I will miss her dearly, her getting-into-everything attitude and her gorgeous chocolate brown speckled feathers. At our breakfast, we raised a toast to her with our water filled glasses. RIP Yoshi. You were a good chicken. But even so amidst the bittersweet cycle of life and death, stepping on lego pieces, gardening, seeking sun and brunching hard, board games and movie nights, not doing laundry and cooking for the sheer joy; my heart is full. Hope yours is too and that you have a fab weekend. x
On a side note, most images in this post were shot on my iPhone 5s and edited in Lightroom. I have taken up enjoying the moments in my kitchen so much more rather than obsessing about the perfect shot. Not shooting with the camera is ultimately very liberating and so much quicker. Don't forget to rate the recipe below when you comment and if you bake your own version of French toast, do share it with me using #cookrepublic.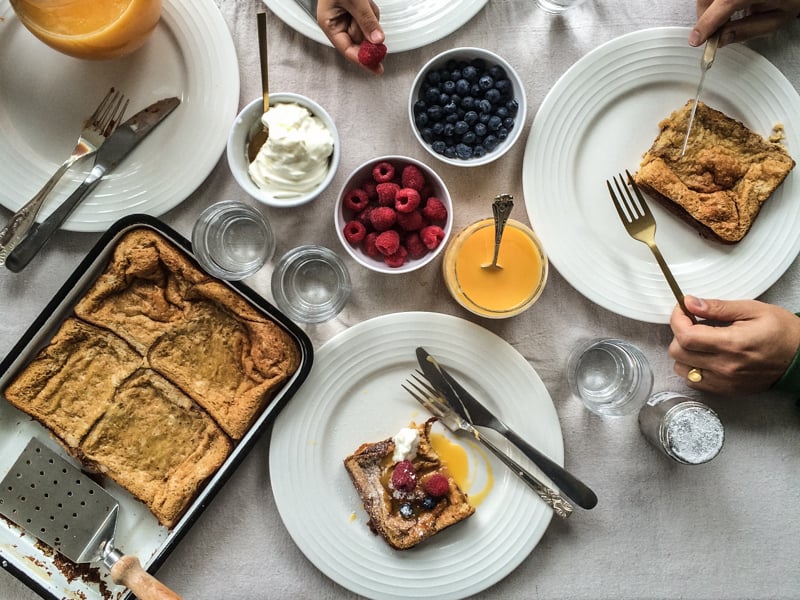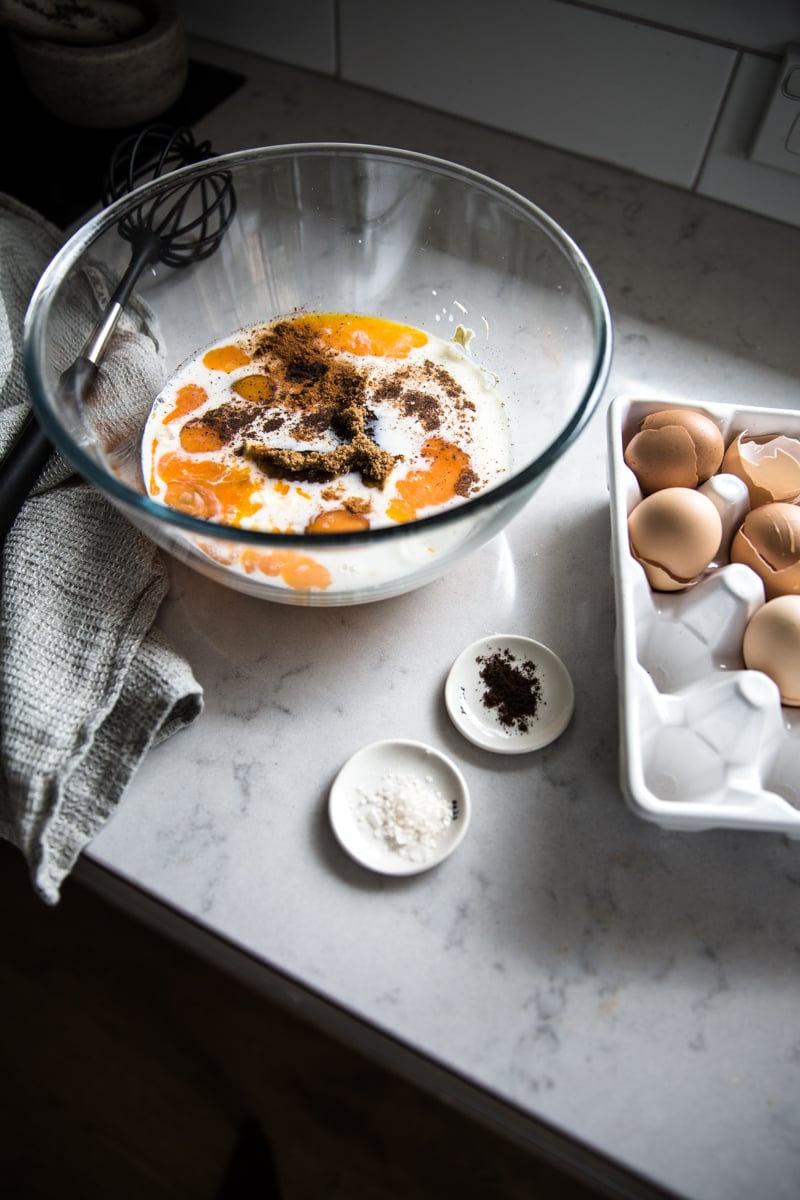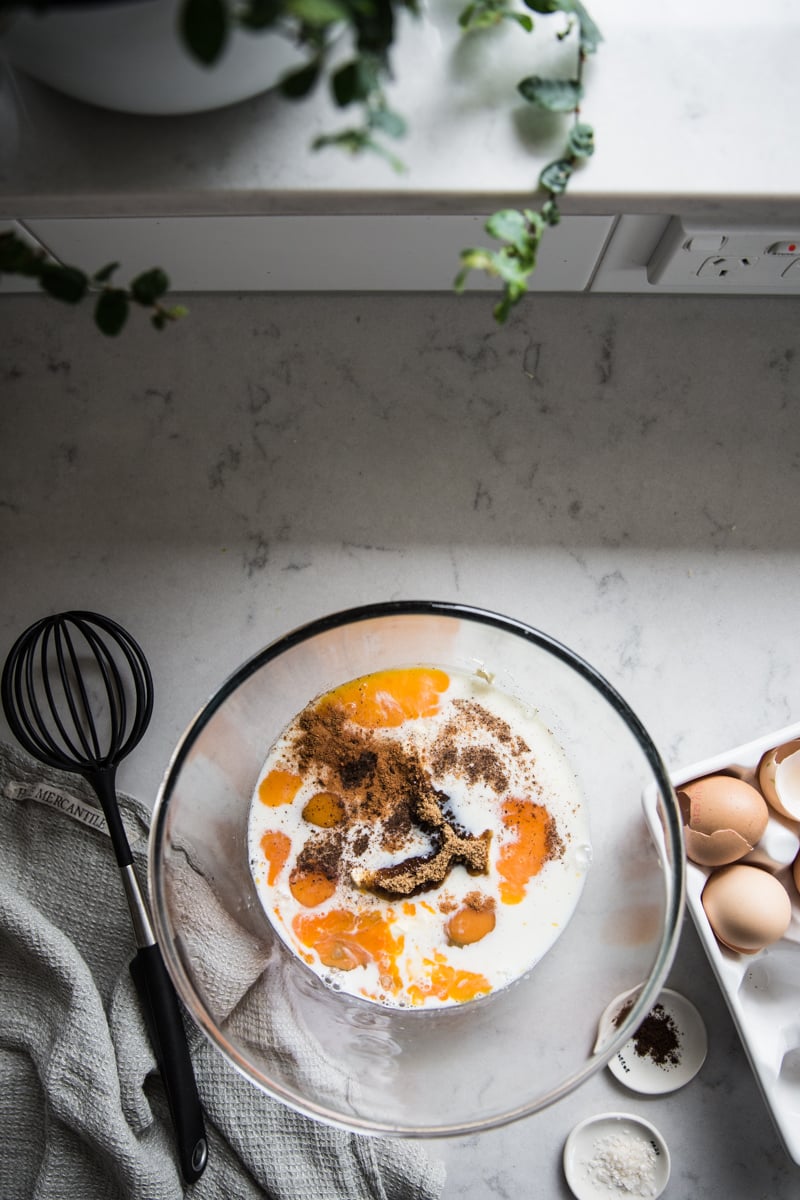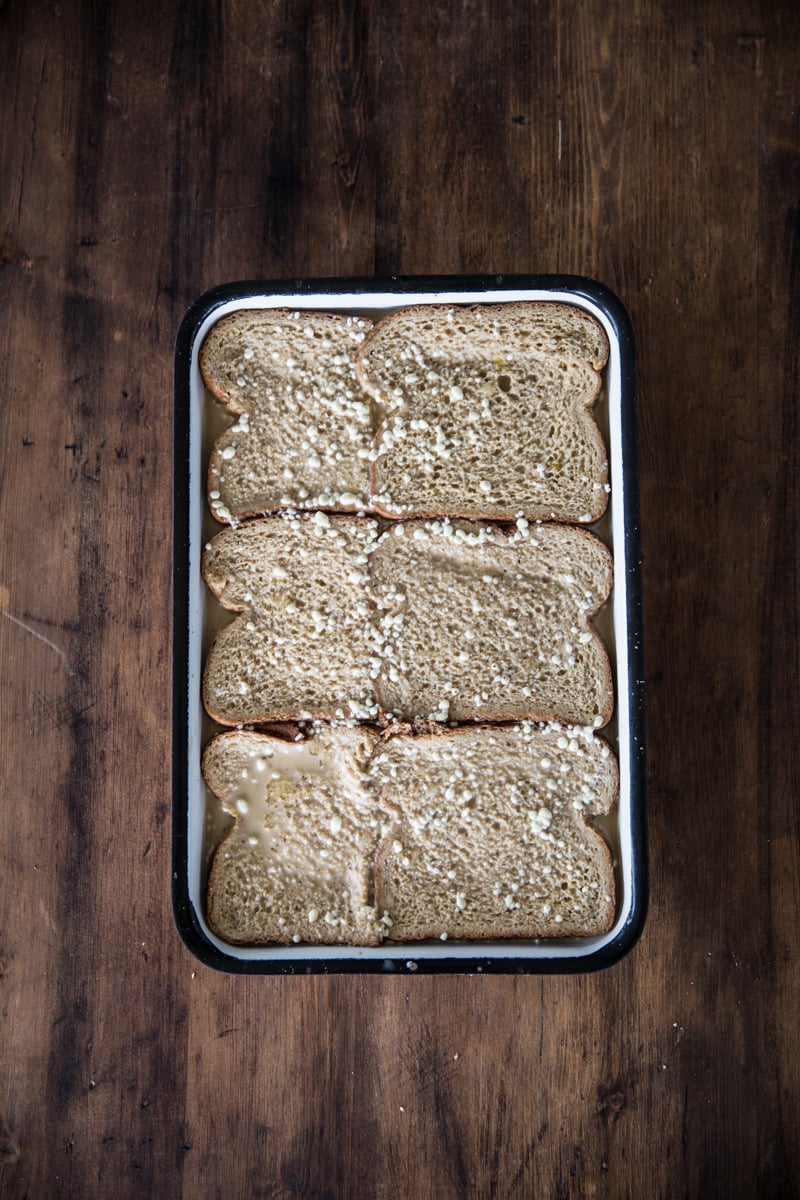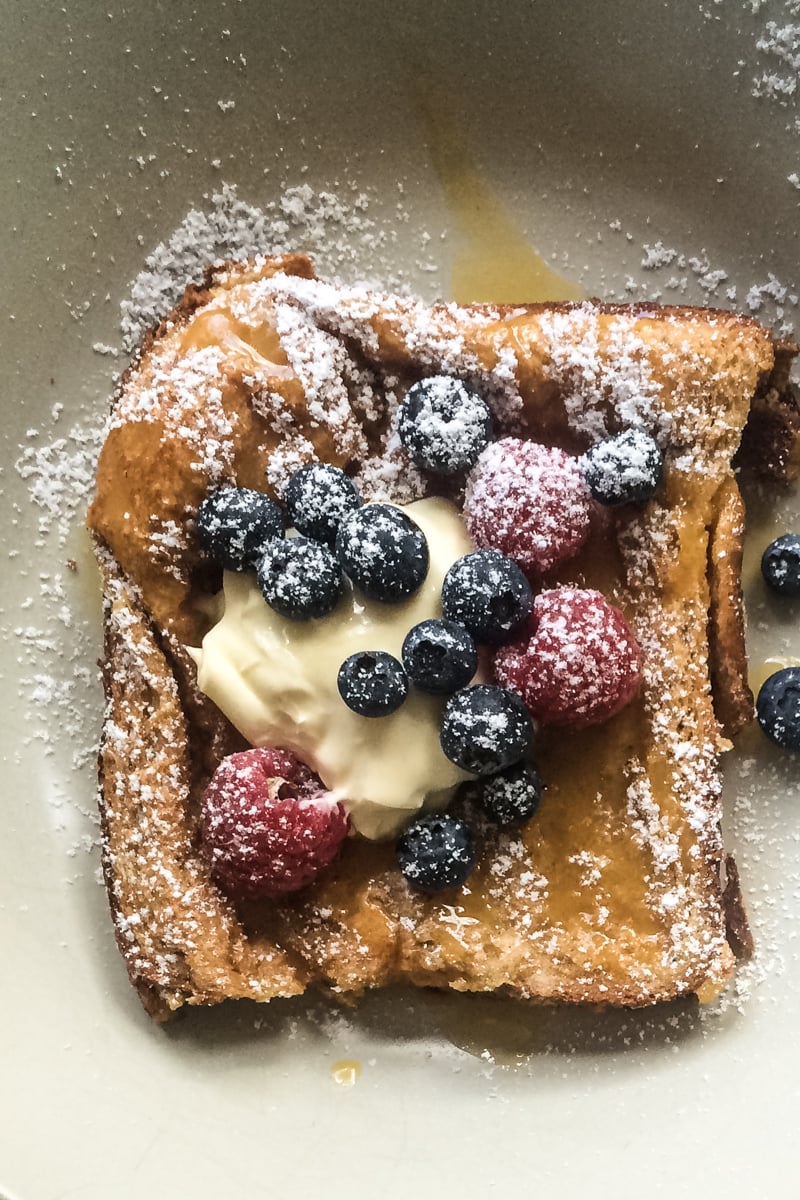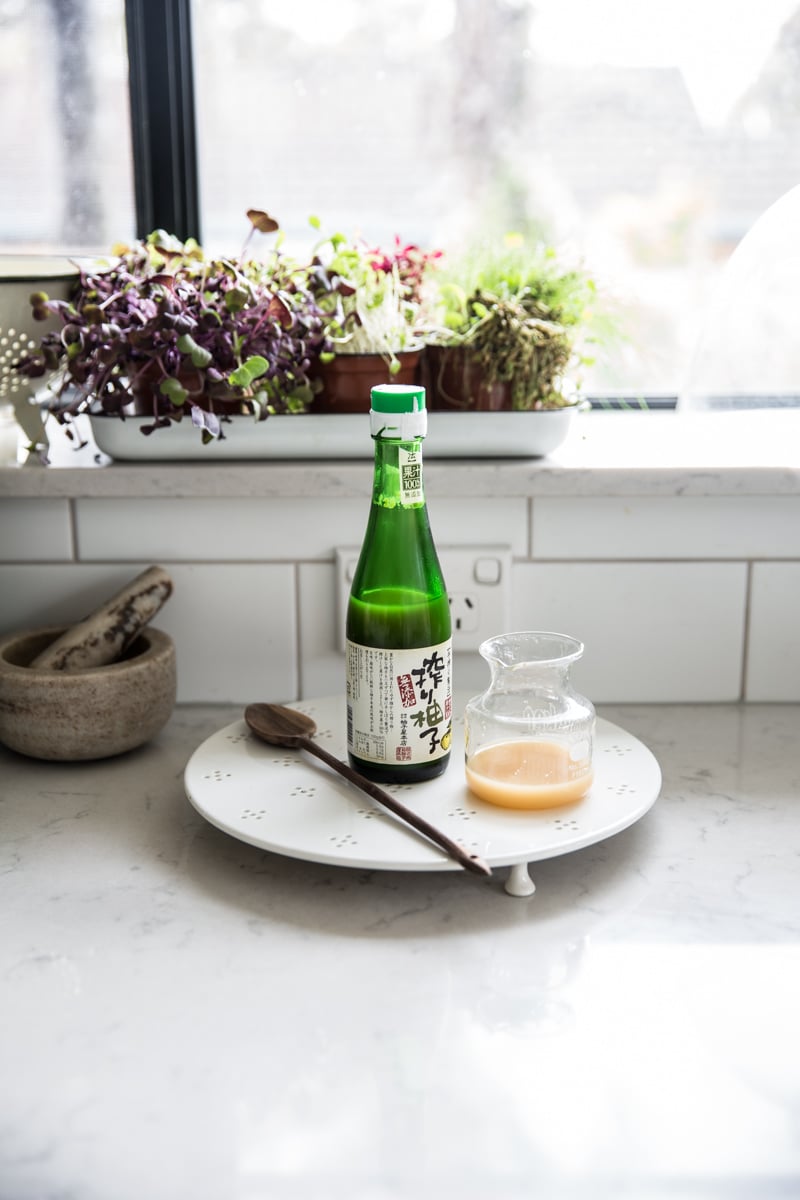 Recipe
Hungry For More Recipes? Subscribe to my newsletter. Check out Facebook, Instagram and Pinterest to see everything I share! And if you love cooking and new cookbooks, join my free Cooking Club on Facebook!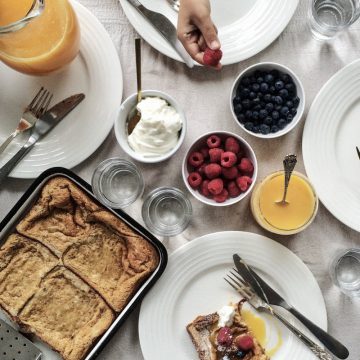 TRAY BAKED FRENCH TOAST WITH YUZU CURD
Lay bread slices in a tray, pour over egg mixture and bake. A yummy tray of baked French Toast is perfect to start your weekends with the family and it is so easy and quick, even the kids would love to help. Top with heaps of fresh berries, whipped cream and a tangy citrus curd made with yuzu fruit for a nourishing breakfast.
Print Recipe
Rate / Comment
Ingredients
melted butter to grease

6

bread slices

,

I used rye bread

1

cup

(

250

ml

)

milk

8

eggs

1/2

cup

(

125

ml

)

cream

2

tablespoons

rapadura sugar

1/4

teaspoon

sea salt flakes

1

teaspoon

vanilla powder or extract

icing sugar

,

to dust

yuzu curd

,

to serve

berries

,

to serve

whipped cream

,

to serve
for the yuzu curd
2

eggs

3

egg yolks

160

g

caster sugar

80

g

cold butter

80

ml

yuzu juice
Instructions
Preheat the oven to 180C. Grease a 20X30cm base measurement rectangular baking tray with butter.

Arrange the bread in the baking tray.

Combine milk, eggs, cream, sugar, salt and vanilla in a bowl. Whisk until pale and fluffy.

Pour over the bread, making sure it is all covered with the egg mixture. Press down the edges and corners to make sure they are submerged. Stand for 10 minutes.

Place the baking dish in the oven and bake for 20-25 minutes until golden and puffed. Remove from oven and cool slightly.

Cut away portions and serve with berries, yuzu curd, cream and dusted with icing sugar.
to make yuzu curd
Whisk eggs, egg yolks and sugar together in a large bowl until pale and fluffy. Pour into a heavy bottomed saucepan on low heat.

Add yuzu juice and butter. Simmer gently, stirring constantly until the mixture starts to thicken and coats the back of the stirring spoon (like custard).

Remove from heat and strain into a glass jar. Cover with cling foil until completely cooled. Secure a tight lid on the jar and store in the fridge for up to ten days.
Did you make my recipe?
I'd love to hear how you went! Tag me on Instagram @cookrepublic