A Triple Ginger Spice Loaf is full of warmth and incredible spice flavours. A beautiful spelt based loaf cake boosted with three kids of ginger, this will make you think of cool country evenings by the fire with a cup of tea in hand. Absolutely delicious!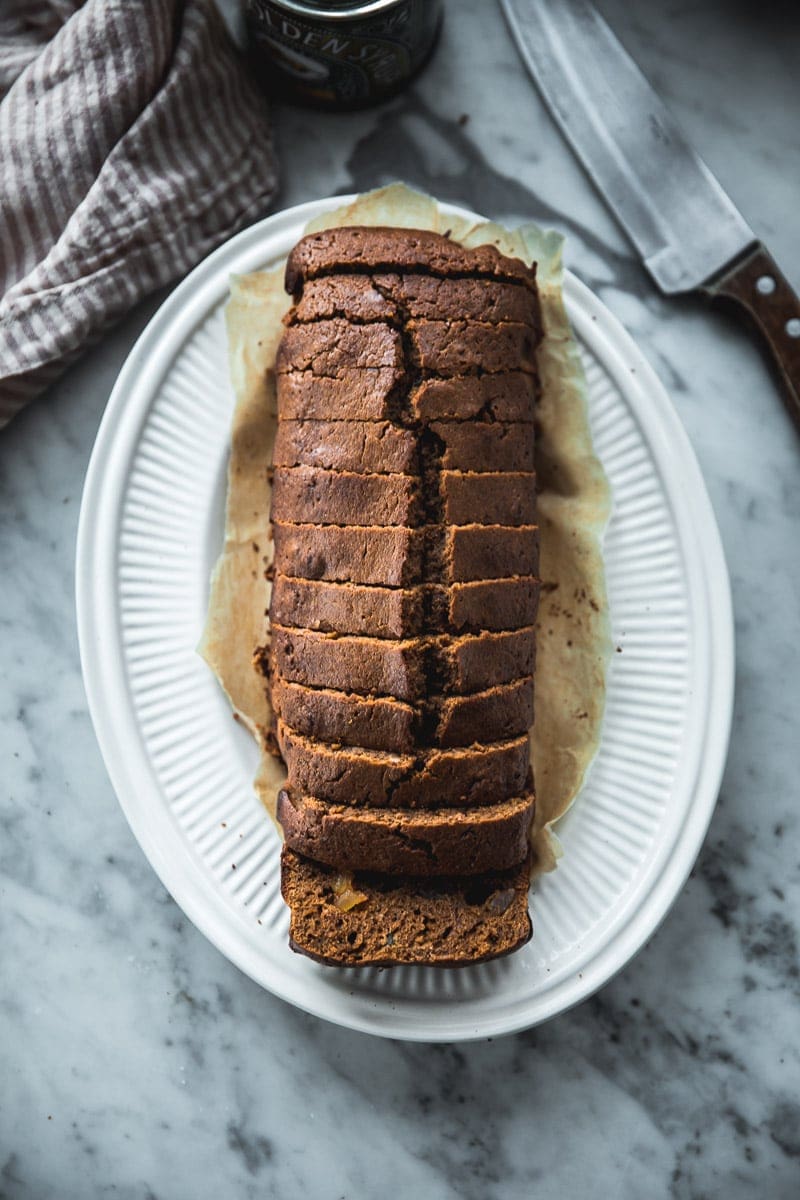 The best cakes come in a loaf shape
Robust sturdy loaf cakes are my jam. I say this on repeat every time I post yet another robust sturdy loaf cake. Loaf cakes that are country-inspired or hail from quaint little bakeries in the mountains. Those are the cookbooks I buy and bake from. When I first saw the Triple Ginger Loaf from Sophie Hanson's A Basket By The Door Cookbook (one of my favourite cookbooks of recent times), I wanted to bake it ASAP. The first time, I baked the recipe as is and it was delightful. And then I baked it again with my own spin. And I loved it even more.
I must've baked this Triple Ginger Spice Loaf at least a dozen times by now and it is utterly satisfying and completely addictive come 3 o'clock when my soul hankers for a cup of hot coffee or tea. In comparison to the original recipe, my loaf is dairy-free and spelt based while amping the spice factor as well. If you are a fan of ginger and warming bakes, you will love this loaf. My favourite part is when I am munching on a slice and bite into a piece of crystallized ginger. It makes me all kinds of happy!
A note on molasses
Molasses add a deep, earthy, sticky, decadent quality to this Triple Ginger Spice Loaf. You only need a little, but a little goes a long way. Think of molasses as a salted caramel wrapped in campfire smoke and a blanket. I think that is probably what it tastes like straight out of the jar. And when added to a wholesome bake, you can imagine the depth of flavour and old-fashioned sticky-treacle charm it adds to it.
So molasses is basically a thick, dark, strong flavoured syrup made from sugar cane. I like having a jar of molasses in my pantry. It lasts for ages and as I mentioned before, you don't need much. I buy an organic version by the Spiral Foods brand. It can be a bit hard to find, but if you get it, you've hit the jackpot.
We are in the middle of winter here in Australia but regardless of where you are, you must make this Triple Ginger Spice Loaf your weekend baking project. Maybe bake two and give one away to a ginger-loving friend. I find that the spice and ginger flavours deepen after the first two days and is even more delicious (unless you polish it off before that). If you bake this loaf, I would love to hear your feedback in the comments below. Share your bakes with me on Instagram by tagging @cookrepublic #cookrepublic. Happy baking guys! x
Recipe
Hungry For More Recipes? Subscribe to my newsletter. Check out Facebook, Instagram and Pinterest to see everything I share! And if you love cooking and new cookbooks, join my free Cooking Club on Facebook!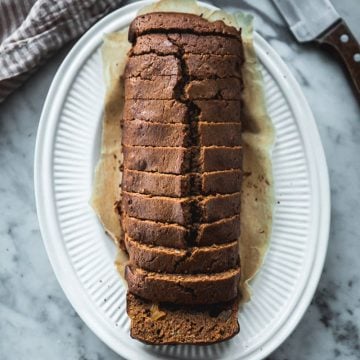 TRIPLE GINGER SPICE LOAF
A deliciously dark and warming afternoon treat, this ginger and spice packed loaf gets better with each passing day and makes you think of cool country afternoons by the fire, a cup of tea in hand. Adapted from A Basket By The Door - Sophie Hanson.
Print Recipe
Rate / Comment
Ingredients
1 1/2

cups

(

230

g

)

spelt flour

1

teaspoon

baking powder

2

teaspoons

ground ginger

1

teaspoon

mixed spice

1/2

teaspoon

ground cardamom

pinch

of salt

100

ml

extra virgin olive oil

1/2

cup

(

100

g

)

rapadura or brown sugar

2

tablespoons

molasses

1/4

cup

60g coconut yoghurt

3

eggs

2

tablespoons

boiling water

1

teaspoon

bicarbonate of soda

1/4

cup

(

40

g

)

fresh grated ginger

1/3

cups

(

80

g

)

crystallized ginger

,

chopped fine
Instructions
Preheat oven to 180°C convention (350°F) / 160°C fan-forced/convection (320°F). Grease a loaf tin (I used a 24cm X 10cm tin) and line it with baking paper.

Sift the flour, baking powder, ground ginger, mixed spice, cardamom and salt in a large bowl.

Place olive oil, sugar, molasses and yoghurt in the bowl of an electric mixer and beat for a couple of minutes until light and fluffy. Add eggs and continue beating for another minute until creamy.

Put hot water and bicarbonate of soda in a small bowl and mix well. Add this to the egg mixture and mix gently by hand. Add the dry flour mixture to this wet mixture along with the grated and crystallized ginger. Gently fold a couple of times until thoroughly incorporated.

Spoon into the prepared tin and bake in the pre-heated oven for approximately 45-50 minutes until the loaf feels springy and pulls away from the edges.

Remove from the oven and cool in the tin.

Enjoy warm or toasted. Individual slices can be wrapped in baking paper and stored in ziplock bags in the freezer for up to a month. The loaf itself will keep in a cool corner of your kitchen for 4 days.
Notes
If you don't have molasses, substitute with maple syrup or dark agave syrup.
Did you make my recipe?
I'd love to hear how you went! Tag me on Instagram @cookrepublic