First, you make slow-poached quinces and then you make this gorgeous Rosemary And Spice Quince Loaf. Another spectacular addition to my Sturdy Loaves Series, this loaf cake has all the country feels with deliciously rustic rye and almond base. Packed with lots of fragrant spices and then topped and baked with poached quinces that grow darker and even more scrumptious atop the cake as it bakes. It is something you must absolutely try if you can find some quinces. A true keeper of a recipe.
Not all quinces are made equal
As you all know, we have been isolating for almost 9 weeks now. And by that, I mean hardcore isolating. In almost 9 weeks, I haven't set foot in a shop or market. I have miraculously done all my produce shopping (which includes farmer's markets, fresh and pantry supplies, bakery, meat and seafood) online. At times, it is really challenging, but it has almost become a game and I find it quite fun to keep orders rolling in from various sources, stocking my pantry, planning my meals, testing and creating recipes.
When I saw quinces pop up online on various websites about a month ago, I was all over it. Soon, I was literally swimming in quinces (I still am!). I realized that not all quinces were the same. I mean, I always thought that a quince was a quince. But apparently not. Some had smooth deep yellow skin (Smyrna and Champion varieties) while some had paler skin with fuzz and brown spots (Pineapple varieties). Upon research, I also found out that on cooking different varieties will turn different shades of pink and some will turn orange.
There is nothing more seductive than a quince that turns a voluptuous deep rosy pink. Luckily, the varieties available through all these sources yielded really deep pink flesh upon cooking. That made the photographer in me incredibly happy. In fact, one important thing to remember is that if you cook the quinces longer (or first poach them and then roast them), they will invariably turn a dark shade of dusky jewelled pink.
Rosemary And Spice Are Ultimate Flavour Partners For A Quince
This recipe testing was quite fun. Whenever I have unusual ingredients to play with, I always pull out my recipe creation arsenal - Nikki Segnit's Flavour Thesaurus. Once I established the flavour notes for quince and what ingredients would lift it, I settled on lots of fresh rosemary and spice. Rosemary is one of my favourite ingredients for baking. Besides the obvious Anzac biscuits, I love adding it to granola and other cookies as well.
If I thought the quince was delicious after it was poached, I wasn't ready for how much more delicious it got after being baked on top of this cake. The rosemary, ginger and cardamom ended up giving this loaf a delicious warmth that stayed with me long after you I had finished my slice. If you don't have quinces on hand and MUST BAKE this stunning loaf, read my notes after the recipe for substitutions.
In the past couple of weeks, I have baked several of these loaves and dropped them off at doorsteps of special people around me. This weekend, I am making a quince jam and a quince tart and already getting excited thinking about it.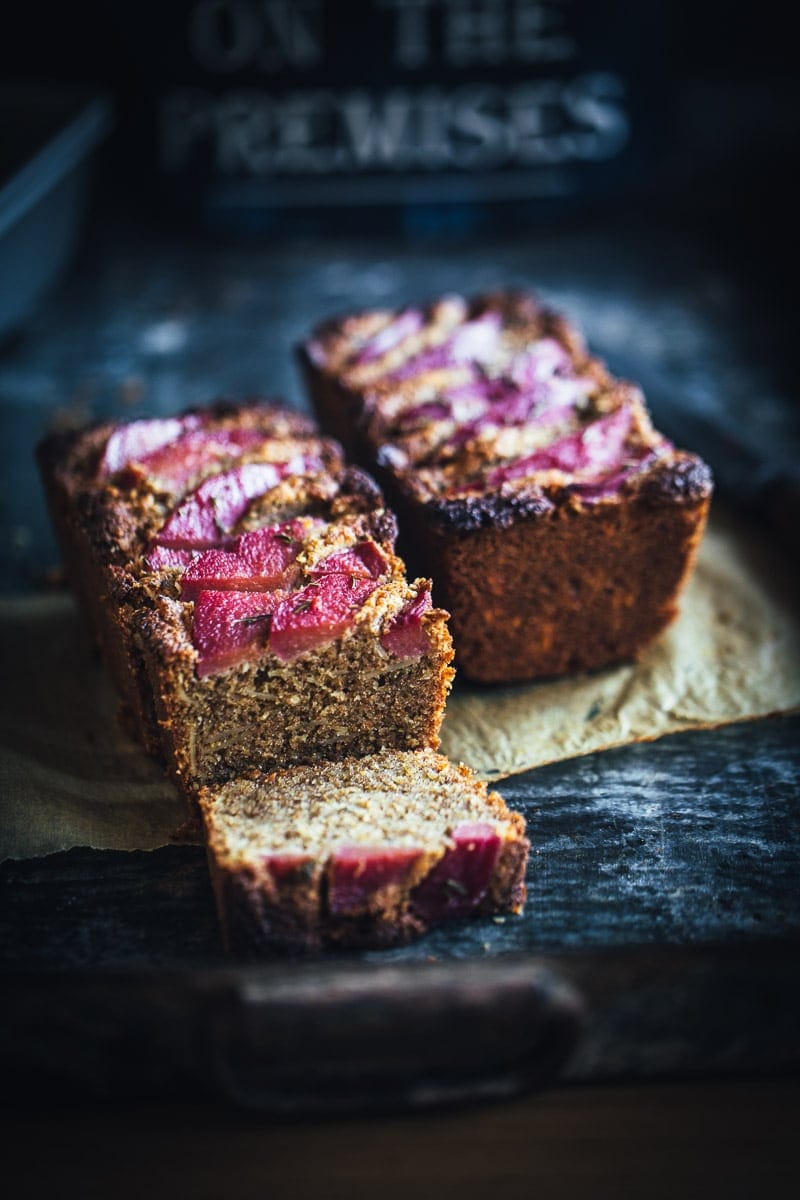 I hope you make this absolutely gorgeous Rosemary And Spice Quince Loaf. Tag me on Instagram @cookrepublic to show me your loaves and don't forget to leave your feedback in the comments below. Happy Baking!
Recipe
Hungry For More Recipes? Subscribe to my newsletter. Check out Facebook, Instagram and Pinterest to see everything I share! And if you love cooking and new cookbooks, join my free Cooking Club on Facebook!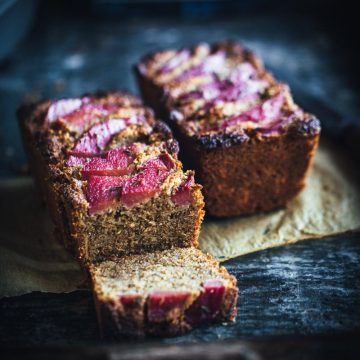 Ingredients
150

g

softened butter

2/3

cup

(

140

g

)

raw sugar

3

eggs

1

teaspoon

vanilla extract

½

teaspoon

ground cardamom

1

tablespoon

freshly grated ginger

1

tablespoon

finely chopped fresh rosemary leaves

1

cup

(

140

g

)

rye flour

½

cup

(

60

g

)

almond meal

½

cup

(

60

g

)

almond flakes

1 ½

teaspoons

baking powder

Pinch

of salt

4

quarter slices poached quince

Extra raw sugar to sprinkle

Extra chopped rosemary leaves to sprinkle
Instructions
Pre-heat the oven to 180°C (convention)/160°C (fan-forced/convection).

Place butter and sugar in the bowl of an electric mixer. Beat for a few minutes until pale and fluffy. Gradually add the eggs, vanilla, cardamom and ginger and continue beating for 2-3 more minutes.

Add rosemary, rye flour, almond meal, almond flakes, baking powder and salt to the egg mixture in the bowl. Using a wooden or silicone spoon, mix the batter gently by hand until just but thoroughly combined. Make sure there are no dry flour bits or wet eggy mixture at the bottom of the bowl (Do not overmix).

Grease and line 2 mini loaf pans (15.5cm X 9cm) or 1 standard loaf pan (21cm X 11cm) with baking paper. If using 2 mini loaf pans, divide batter equally between the loaf pans filling each pan 2/3rds to the top. If using 1 standard loaf pan, spoon all the batter in the one loaf pan.

Using a sharp knife, cut each quarter of the poached quince slice into three narrow slices. Top the cake batter with the quince slices, placing the slices at equal intervals. Sprinkle the extra sugar and rosemary leaves on top.

Bake in the preheated oven for 50-60 minutes until starting to brown around the edges and cooked through the centre when tested with a skewer down the middle.

Remove from oven and cool completely before slicing with a sharp knife so as to cut cleanly through the quince. Enjoy as-is or warmed up with a bit of clotted cream.
Notes
If you don't have quince and would still like to make this loaf, lightly poach a whole peeled apple or pear in a heavy-bottomed saucepan submerged in 2 cups water, 1/2 cup fruity red wine, orange peels, cinnamon stick, star anise, dash of honey and 1/2 cup sugar for 30 minutes on medium heat. Then cool and cut into slices. Use those slices in this recipe instead of quince. But honestly, look for quinces, as they are divine!
Did you make my recipe?
I'd love to hear how you went! Tag me on Instagram @cookrepublic