This Vegan Chickpea Omelette is inspired by the Gujarati Pudla - a breakfast pancake made with besan flour, chopped tomatoes and spices. It is delicious, wholesome, healthy and ready in minutes. A great morning or afternoon snack with incredible health benefits.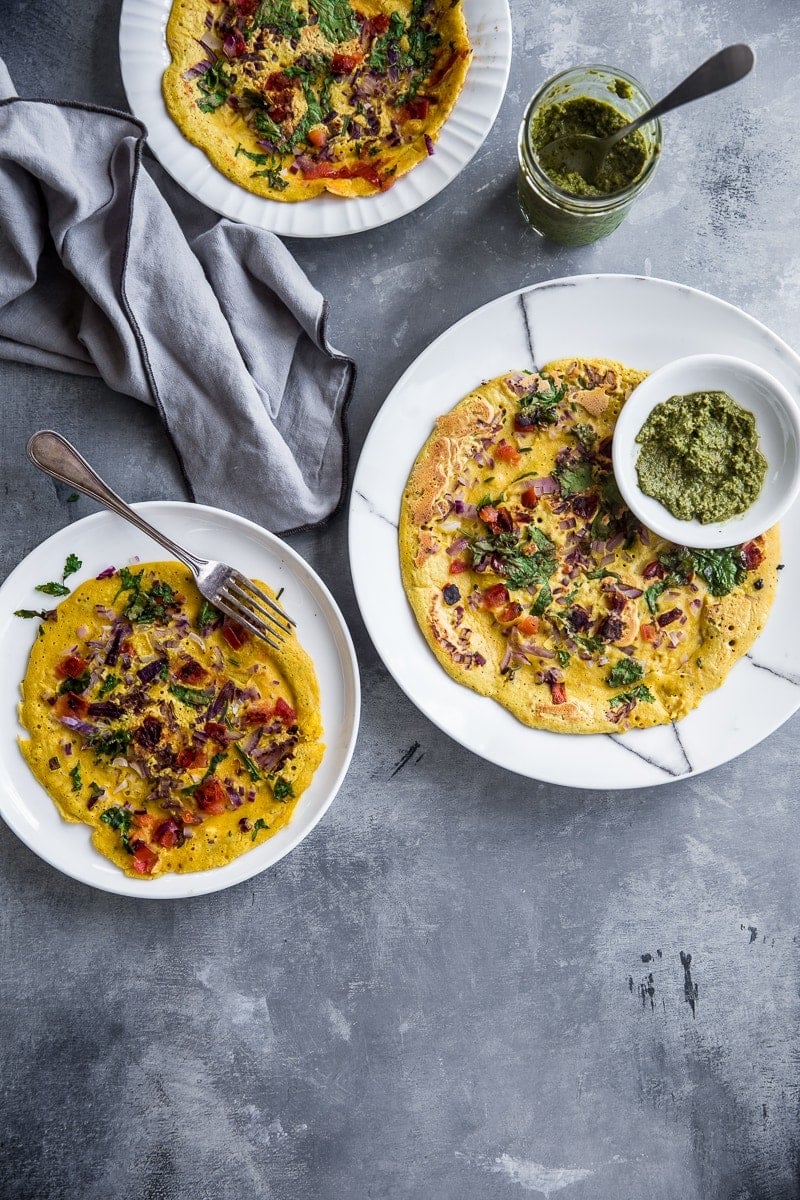 Eggless Omelettes Made With Besan Flour Are A Popular Indian Breakfast
I was first introduced to an eggless (vegan) omelette as a child. I must've been four or five years old when mum presented Tomato Omelette one Sunday morning after I had watched the newest episode of Star Trek on telly. I actually have a very vivid memory of that day and the excitement of a new omelette variation as I was a complete and utter egg fiend and omelette was my jam. But the whole breakfast was a sham. When I tasted the omelette, it wasn't fluffy at all.
I was annoyed with mum for passing it off as an omelette with every fibre of my five-year-old self. I didn't quite enjoy being tricked into eating an omelette that had no egg in it. I was even more mortified when I learned that it was made of besan (chickpea flour) and was actually called pudla, the exotic Indian cousin of the socca. But to be completely honest, it tasted great. All those tangy street flavours in a hot crispy savoury pancake that had brown frilly edges and a soft centre with the finely chopped veggies cooked to charred perfection. So I forgave mum and asked for seconds.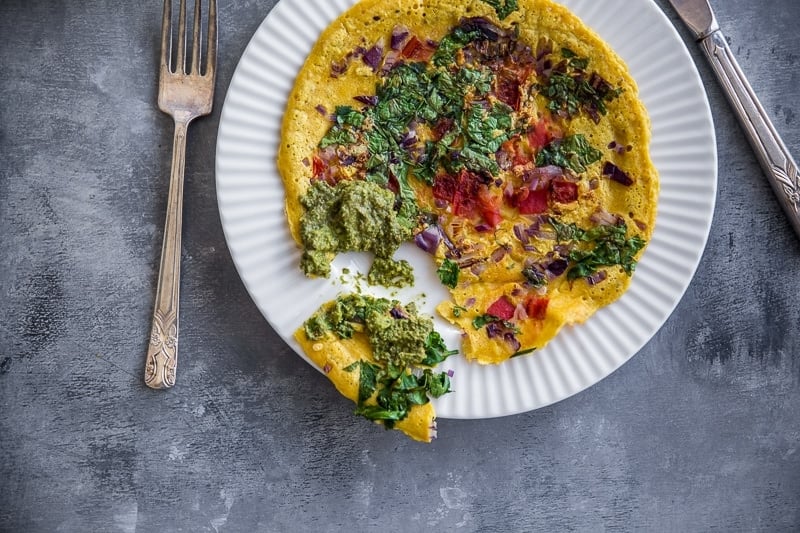 In recent weeks, we've had to rethink our diet in order to reduce cholesterol and lose a bit of that stubborn mid-life weight which believe it or not hugs you even tighter the minute you turn 40 and just won't let go. As a result, Nick and I are having no more than one or two eggs a week. Which means returning to the food we grew up on (vegetarian)  and re-inventing some breakfast classics with a vegan flair. Like this chickpea masala omelette from my childhood. While mum's version only had tomatoes and coriander, mine has onion and green chilli too. Onion, tomato and coriander really is the trifecta of Indian street food and go really well together. The omelette itself is super easy to make and is so delicious that the boys love it for a hot after school snack. I always have a version of this green chutney in my fridge (as part of my weekly Sunday meal prep) and it lifts this chickpea omelette to new heights.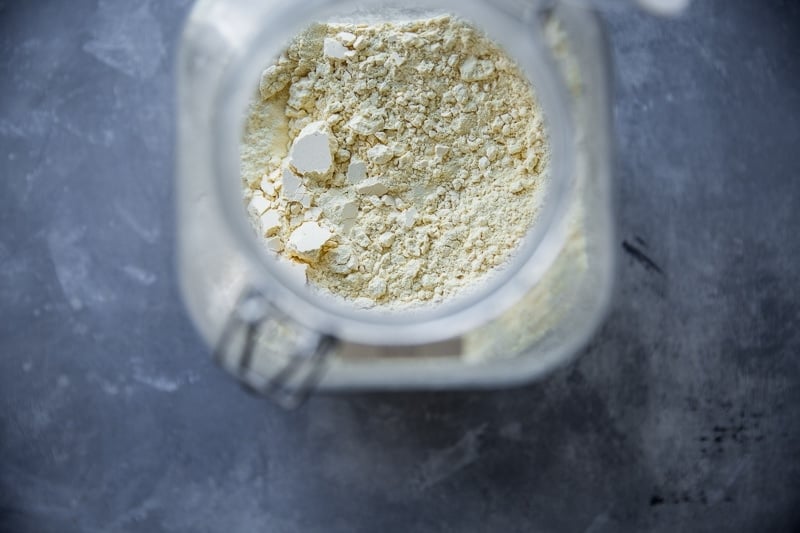 What Goes In A Vegan Chickpea Omelette?
Indian cuisine is not just mere science but a balanced art form. Take for example, this recipe. I love the fact that a simple recipe like this that has the power to be a complete meal and is so easy to make, ticks all the right boxes. Let's have a look at some key ingredients that make this omelette delicious as well as nutritious.
Chickpea - It is an excellent source of protein, fibre, iron, magnesium and zinc. It helps you feel fuller for longer and also supports digestion and blood sugar regulation.
Carom Seed (Ajwain) - The batter for this chickpea omelette has carom (ajwain) seeds. Chickpea is known to cause bloating and flatulence in a lot of people and ajwain combats that as it has stomach strengthening properties and helps eliminate indigestion and heartburn.
Turmeric - A good dose of turmeric helps reduce inflammation in the body. The spice also helps produce serotonin and dopamine, both of which enhance and stabilise the mood.
Onion - Blood sugar regulation from the onion is one of its biggest health benefits (perfect for the afternoon when you start craving that sweet treat with your coffee!). Onion also helps with digestive health, is loaded with antioxidants and has antibacterial properties.,
Veggies & Herbs - Lots of plant goodness from tomato and coriander and a metabolic boost from the chilli to snap you out of your afternoon stupor.
These Vegan Chickpea Omelettes can be made ahead of time and stored in the fridge. They warm up nicely in the microwave. They are also great as wraps for a marinated pan-fried piece of tofu or paneer or chicken. Remember to season well with salt as chickpea is a salt guzzler and an underseasoned chickpea omelette isn't fun at all. The batter should taste salty and that is your gauge for the perfect taste. When I recently asked you for your recipe requests, a lot of you wanted recipes for quick nutritious meals that were great for kids as well as adults and even better for lunch boxes. A lot of you were very interested in this chickpea omelette recipe every time I shared it on Instagram, so it is the first in the list of requests I am sharing. My 13 year old loves it and so does my usually fussy 9-year-old. If you make it and love it, please do share your thoughts/ratings in the comments below. Enjoy! x
Recipe
Hungry For More Recipes? Subscribe to my newsletter. Check out Facebook, Instagram and Pinterest to see everything I share! And if you love cooking and new cookbooks, join my free Cooking Club on Facebook!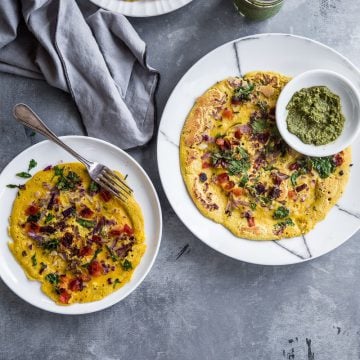 Ingredients
1 1/2

cups

(

175

g

)

besan (fine chickpea flour)

1

teaspoon

sea salt flakes

1/2

teaspoon

baking powder

1/2

teaspoon

ground turmeric

1

teaspoon

ground coriander

1/4

teaspoon

ground red chilli

,

optional

1/2

teaspoon

ajwain

,

carom seeds

1 1/2

cups

(

375

ml

)

warm water

1

medium tomato

,

deseeded and finely chopped

1

red onion

,

finely chopped

1

long green chilli

,

deseeded and thinly sliced

handful of fresh coriander leaves

,

chopped

olive oil

,

for pan frying
Instructions
Place besan, salt, baking powder, turmeric, coriander, chilli powder, ajwain seeds and water in a medium bowl. Whisk with a balloon whisk until smooth. Set aside for 5-10 minutes.

Heat a medium saucepan/crepe pan on medium-low. Drizzle a small amount of olive oil (approximately 1/2 teaspoon) on the pan. Using a ladle, gently drop half a cup of batter on the pan. Using the back of the ladle, swirl the batter fanning out from the centre so it spreads in a circular shape about 18-20cm in diameter. Increase heat to medium and let the batter cook for a few seconds. When bubbles start to appear on the surface, scatter onion, tomato, green chilli and coriander leaves on the surface. Gently flip the omelette to cook the side with the veggies on for approximately 1-2 minutes.

Remove on to a serving plate and serve immediately with green chutney or your favourite hot sauce. Repeat with the remaining batter and veggies.
Notes
Although chickpea flour (besan) is of a uniform consistency everywhere, sometimes it maybe more coarse than fine. This affects the amount of water to be used and the thickness of the batter. Ideally, the batter should be like a pancake batter. Just thin enough to pour without being runny. If you feel the batter is too thin, add a tablespoon of the besan to even it out and vice versa (with the water if it is too thick).
Did you make my recipe?
I'd love to hear how you went! Tag me on Instagram @cookrepublic