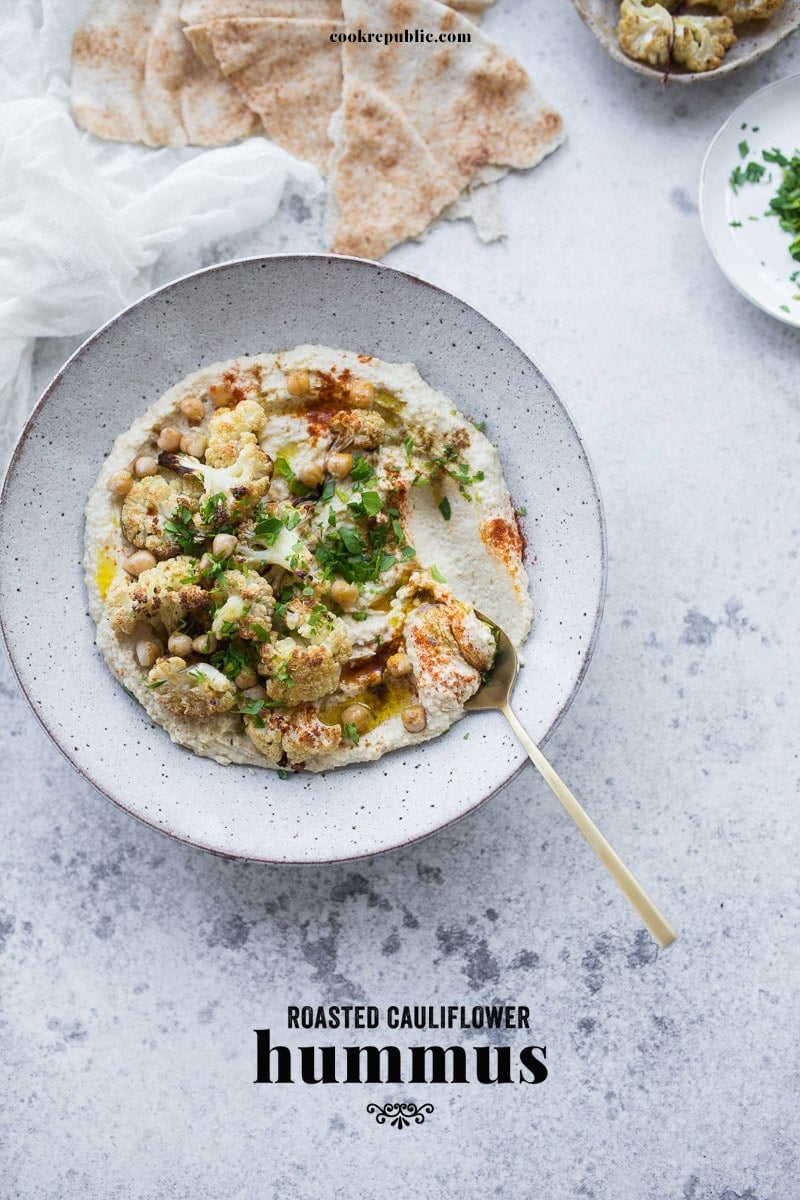 About four years ago, our local market got a new stall. A lovely Persian man selling the most divine Middle-Eastern dips. They became the talk of our then-active book club and the star of many of our monthly brunches. All were vegetarian, gluten and dairy free and brimming with delicious flavours of exotic spices. Out of all the ones I would bring back home with me every week, the cauliflower dip was my absolute favourite. And that is what it was called. Cauliflower Dip. After a year or so, I decided it was time to save a bit of money and try making it at home since we had graduated to polishing off not one but two tubs of this dip every week.
After much experimentation and weeks of trying out various ingredients, I eventually realised that it was merely a very good hummus with mashed roast cauliflower swirled through it. That realisation was a game changer. Roasted Cauliflower Hummus. Who would've thought!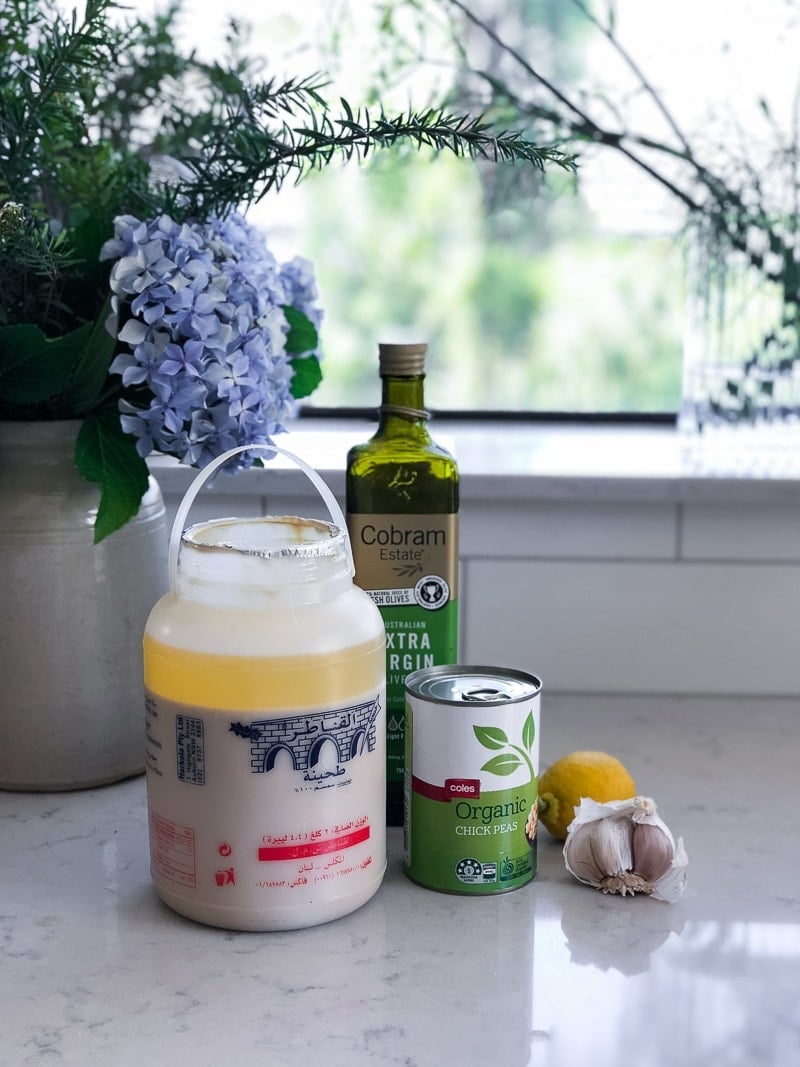 Now everyone has a favourite way of making hummus. And there are two sides to the hummus camp. Grainy and textural or silky smooth. Ever the diplomats, we fall somewhere smack in the middle of these two camps. I could tell you that a very good hummus would involve soaking my chickpeas overnight, pressure cooking them until beautifully tender and then pureeing them to a texture so smooth, it would put a silk scarf to shame. But I am a busy mum and a realist. Canned chickpeas are my saving grace and secret weapon. And I have figured out a way to blend them into a smooth enough delicious hummus in the quickest possible time - 5 minutes.
The secret? Roasted garlic (because no one like a pungent hummus!), aquafaba (the liquid in the chickpea can!) and a good quality tahini (the runnier the better!).
Roasting cauliflower has become second nature in our kitchen. In the past year or so we have become as fluent with roasting cauliflower as we are with making a cup of coffee. The hummus is great on its own but with the cauliflower it is a tiny bit spectacular. I usually mash the roasted cauliflower through the hummus (market stall style) but have lately started serving it as you see it in the pictures. Heaped on top of swirled hummus, garnished with extra chickpeas, parsley, olive oil and spices. It looks really pretty and adds a luxe factor to a simple brunch in a matter of minutes.
This roasted cauliflower hummus is a great addition to a buddha bowl, for jazzing up these falafel wraps, or just snacking on with a plate full of fresh chopped crunchy veggies.
If you make it and love it, please do leave a feedback and rating in the comment below. I always love hearing how the recipes turn out for you! Sneh x
Recipe
Hungry For More Recipes? Subscribe to my newsletter. Check out Facebook, Instagram and Pinterest to see everything I share! And if you love cooking and new cookbooks, join my free Cooking Club on Facebook!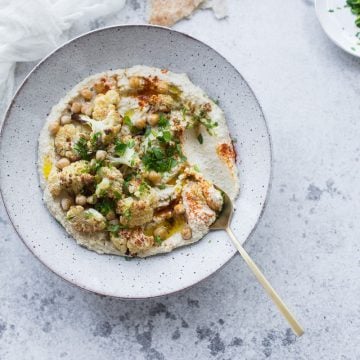 ROASTED CAULIFLOWER HUMMUS
An exciting roasted cauliflower variation for all you hummus lovers! Creamy, smooth hummus swirled with gorgeous caramelised melt-in-your-mouth cauliflower. This recipe is a fast, healthy and filling snack for you at work or the kids after school.
Print Recipe
Rate / Comment
Ingredients
for the cauliflower
350

g

cauliflower florets

drizzle of olive oil

pinch

of salt and pepper
for the hummus
1

can

,

400g chickpeas

1/4

cup

tahini

3

roasted garlic cloves

1

tablespoon

lemon juice

1

teaspoon

ground cumin

1/4

cup

(

60

ml

)

aquafaba (chickpea soaking liquid from the can)

1/4

cup

(

60

ml

)

warm water

1/2

teaspoon

sea salt flakes
to garnish
handful of finely chopped parsley

olive oil for drizzling

sprinkling of sweet paprika and ground cumin

pan roasted chickpeas

,

optional
Instructions
Preheat oven to 180°C. Place cauliflower florets on a lined baking tray. Drizzle with olive oil and sprinkle with sea salt flakes and pepper. Mix gently to coat the florets evenly with the oil and seasoning.

Roast in the pre-heated oven for approximately 35-40 minutes until cauliflower florets are caramelised and tender. (Check at around the 25 minute mark to ensure that the florets are not starting to burn. If they are, reduce oven temperature slightly and extend roasting time by 10-15 minutes. I also like to add the garlic cloves at this 25 minute mark for roasting.)

Remove cauliflower from oven when done and allow to cool. Peel garlic cloves.

Add all ingredients for the hummus to a food processor or blender and blend/process until smooth (approximately 2 minutes). Check for seasoning and make sure it is salted to liking. If you want it thinner, add more water.

Scoop hummus into a serving bowl. Using the back of a spoon, make swirling indentations in the hummus. Drizzle olive oil over these grooves in the hummus. Sprinkle paprika and cumin. Top with roasted cauliflower, chickpeas (if using) and parsley. Serve immediately with flatbreads or carrot sticks.
Notes
Roast garlic adds a fantastic sweet depth of flavour to the hummus and makes it more-ish and less pungent. If you don't have roast garlic on hand or forget to roast it with the cauliflower, pan toasting unpeeled cloves for 10 minutes also helps.
Good quality tahini is a must. It tends to be loose and runny thereby making your hummus a silky dream. Look for traditional Middle Eastern brands in specialty delis and grocers.
The chickpea soaking liquid from the can (aquafaba) is key to blending a smooth hummus.
Did you make my recipe?
I'd love to hear how you went! Tag me on Instagram @cookrepublic