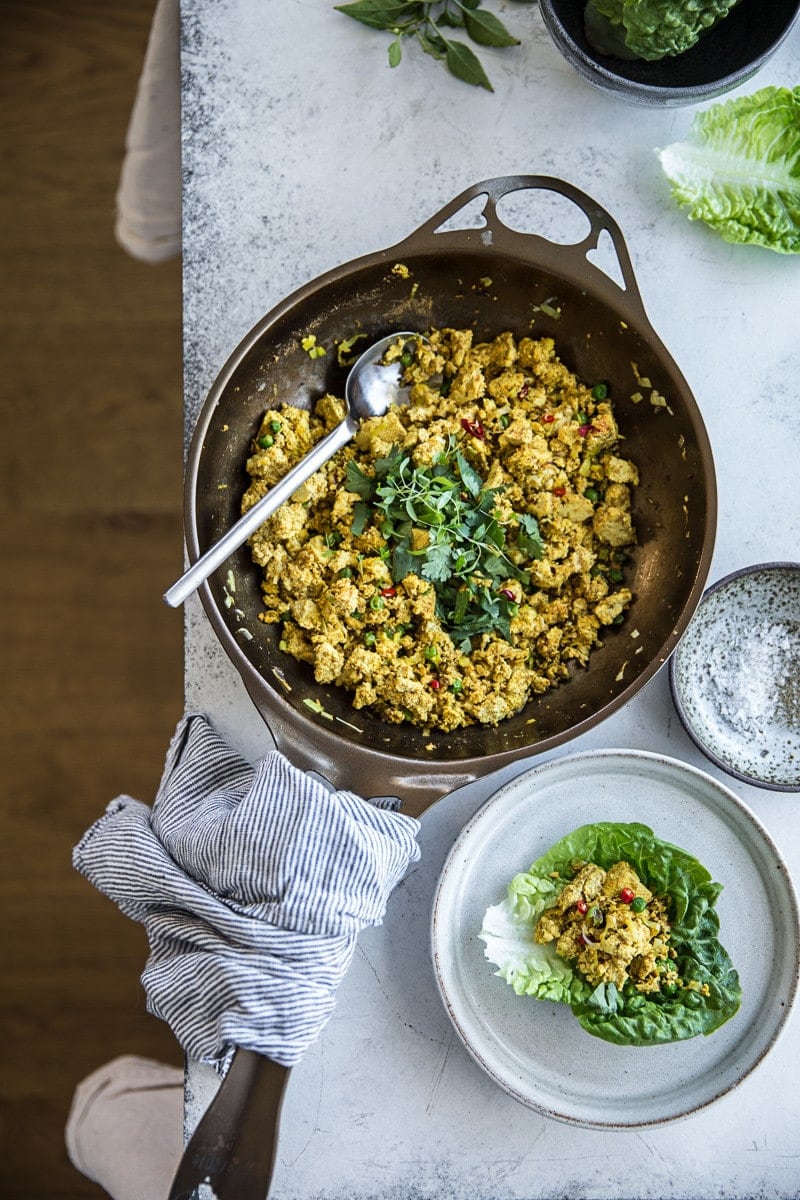 A lot has happened in the chicken coop in the past two years. We first brought home three Isa Brown hens in late 2011 - Mario, Luigi and Yoshi. A year later we added the majestic black Australorp Toad to the family. Then in 2014, we lost Mario, Yoshi and Toad to tumours and fox attacks. Our chicken coop now houses Luigi with some hybrid additions - Professor Snape, Snowy, Baymax and Storm. Five feisty free ranging hens feeding on homemade porridge with oats, tuna, sesame seeds, garlic and greens. Four to five fresh eggs daily. It's a good arrangement. One that I often take for granted because I forget how expensive trays of free range organic eggs cost at the shops. I also forget how tedious it was to source eggs when I was growing up in India.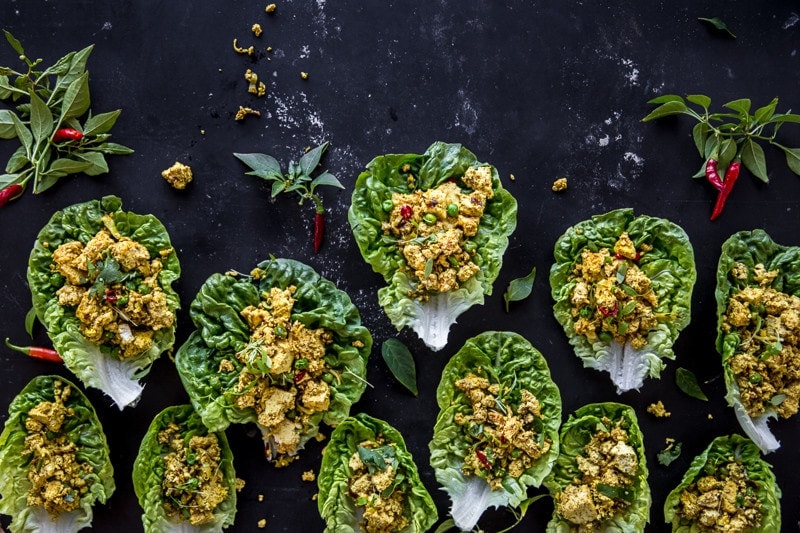 When I was little, there was one egg shop in my little town. One! We had to ride our two wheeler 20 minutes to reach that shop and often queue up to buy fresh eggs. If we wanted to cook chicken (which was once or twice a year), we had to inform the egg guy a week in advance so he could arrange for a hen to be put aside. Even back then I was a big fan of eggs. I could happily eat them day and night. But because of their scarce availability and steep price, we would often cook an eggless scramble that funnily enough was even more delicious than the egg version. We would cook this scramble with home made paneer, spices and herbs.
When I was living in Singapore, I started cooking this trusty recipe with tofu and believe it or not, it evolved into an even more delicious version of itself. I must add that I also amped up the spices and played a bit with texture. I still make this warming and aromatic scramble often. Mostly for me at lunchtime. It goes down a treat with chopped raw greens on top, simply forked into your mouth when warm. It also delights in a wholemeal wrap with chopped greens and a hot sauce or as a spring party canape on baby cos lettuce leaves. With a generous scoop of homemade vegan kimchi added for good measure.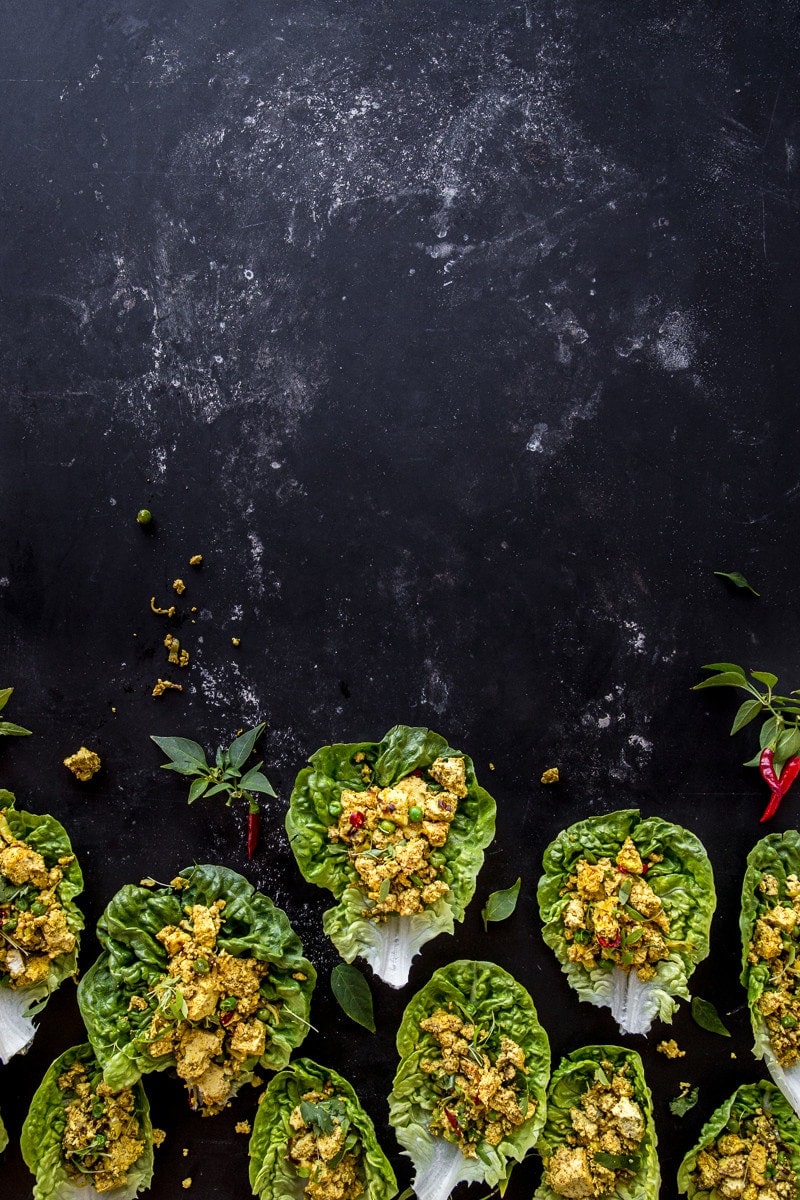 I use organic tofu by Simply Better Foods. It is certified organic, non GMO and preservative free. I buy it at my local Coles. It is a really lovely product, creamy but firm with a great texture and locally made from organic soy beans grown along the farming regions of Victoria and New South Wales. This dish is a fast breakfast or lunch idea. It also makes a super quick side to a main meal. Above all, it is delicious hot or cold and only takes 12 minutes. If you make it, do share your feedback below and rate the recipe so others get inspired to make it too. Share your pictures with me on Instagram @cookrepublic. Thanks lovelies! x
Recipe
Hungry For More Recipes? Subscribe to my newsletter. Check out Facebook, Instagram and Pinterest to see everything I share! And if you love cooking and new cookbooks, join my free Cooking Club on Facebook!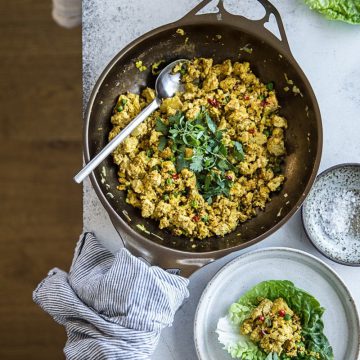 VEGAN SCRAMBLED SPICE EGGS
A great little satisfying dish to add to your vegetarian recipe repertoire. With big flavours and a great texture, this tofu and spice scramble ticks all the boxes. Nut free and cooked with the goodness of turmeric, this dish is vegan and gluten free friendly.
Print Recipe
Rate / Comment
Ingredients
2

tablespoons

olive oil

1

leek

,

trimmed, white part finely chopped

2

garlic cloves

,

crushed

1

small red chilli

,

finely chopped

1

cup

(

150

g

)

frozen green peas

500

g

firm tofu

,

crumbled

1/2

teaspoon

ground turmeric

1

teaspoon

sweet paprika

1

tablespoon

ground cumin

1/4

cup

(

62.5

ml

)

coconut milk

1 1/2

teaspoons

sea salt flakes

1/2

cup

fresh coriander leaves

,

chopped
Instructions
Heat oil in a small skillet or wok on medium. Add leek, garlic, chilli and peas. Sauté for a few minutes until leek starts to sweat and everything has softened.

Add the crumbled tofu to the wok. Add the spices, coconut milk and salt. Using a wooden spatula, start breaking up the tofu and mixing all the ingredients as you do so. Turn constantly to avoid sticking. Cook for 5-6 minutes until evenly mixed and heated through.

Remove from heat. Top with freshly chopped coriander and serve hot.

If you love extra heat, add another chopped red chilli or top with your favourite hot sauce. Eat straight up or rolled in whole wheat wraps or lettuce leaves.
Notes
I love the flavour of ghee with the spices, so I often use ghee to fry the tofu instead of olive oil.
A traditional Indian egg scramble would have onion in the base. I find leek to be infinitely more delicious as it softens really well and adds a touch of sweetness to the scramble.
Did you make my recipe?
I'd love to hear how you went! Tag me on Instagram @cookrepublic
Note - The gorgeous Aus-Ion steel wok was sent to me by Aussie company Solidteknics. It is seriously the best carbon steel cookware I have used. It gleams when seasoned and heats up incredibly fast on my induction cooktop. We make a lot of Asian stir-fries and quick dry curries and small batch sauces. This is perfect for those quick meals.