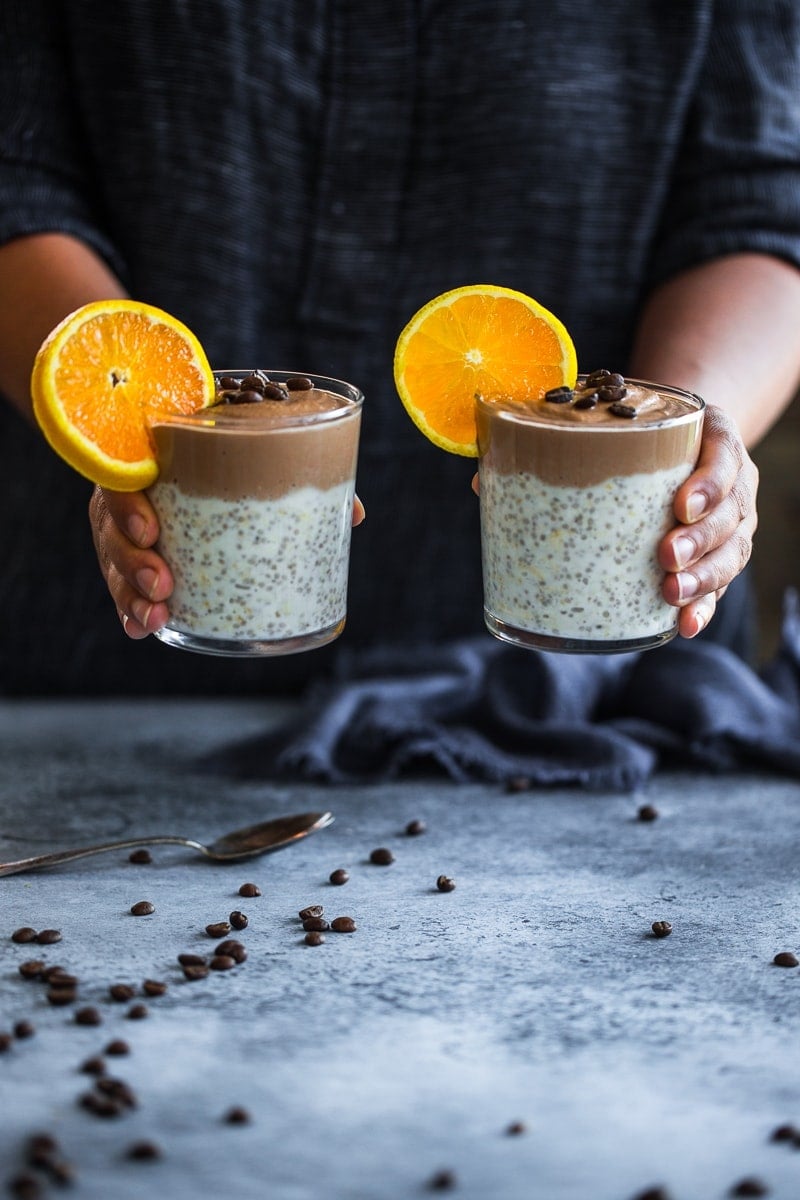 When the chill of the new season sets in, autumn traditions are awakened from their deep slumber. After the daily bowls of hot creamy oats are dished out and my tribe heads out to work and learn; I linger in the dappled sunlight streaming in my kitchen windows. And indulge in one of my favourite autumn traditions. Grinding coffee beans by hand and losing myself in the rich aroma of coffee as it slowly percolates on the heat in my old Italian percolator.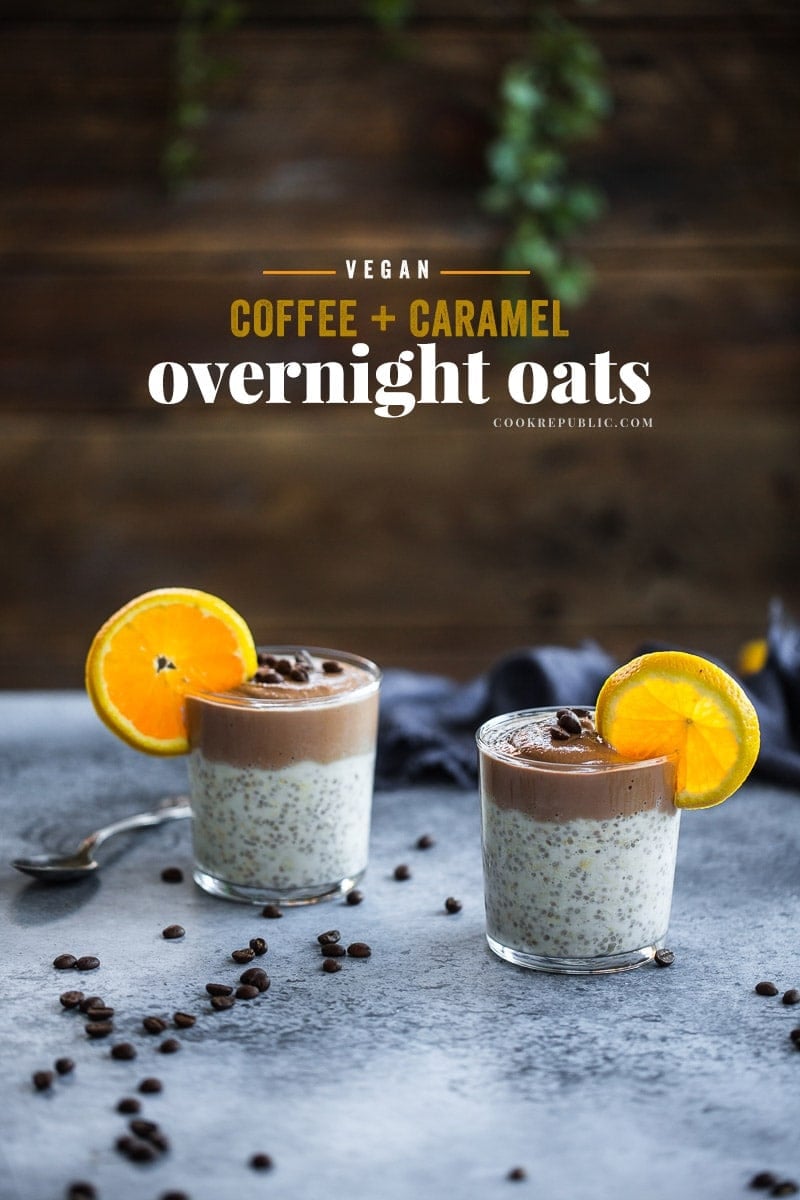 Lately, I have been using the exquisitely roasted coffee beans from Jamaica Blue. All their coffee is Rainforest Alliance Certified. My current favourite is their newly released limited edition Costa Rica Single Origin. It is exclusively sourced from the happiest place on earth – Costa Rica. Grown via environmentally sustainable practices and produced as a result of a thriving community coffee culture, these are truly happy beans. And the coffee they produce is a delicious happy cup – smooth silky coffee with rich milk chocolate flavours and a nutty pecan finish with a crispy citrus intensity. How delicious does that sound?
In fact, I was so inspired by the beautiful mix of flavours produced by the Costa Rica Single Origin that I decided to re-imagine the coffee by using it in a much-loved family recipe. My Vegan Overnight Oats. There is something utterly delicious about cold creamy oats swirled with a rich coffee and nut-based fudge sauce. An indulgent and healthy way to start your day while you bask in the soft autumn sun. This overnight oat recipe is truly simple – you just mix the oats and let them sit in the fridge overnight. You brew the coffee and make the delicious nutty coffee fudge sauce. You top the cold oats with the warm (or cold) coffee fudge sauce and dig in with a spoon. Absolutely luxurious!
There are so many elements to this activity that I enjoy. It is definitely a meditative exercise for me. I have a small manual coffee grinder that I use to grind fresh beans in every other morning. A couple of minutes with the beans in the grinder and it produces enough coffee grounds to make a delicious cup. It also gives my arms a good gentle workout.
The aroma of freshly ground coffee beans is truly exquisite. I have a few different Italian stove-top percolators that are all very good and reliable (Bialetti does an induction safe one as well!). Filtered water goes in the bottom and the grounds sit in the perforated cup. Within just a few minutes of being on the cooktop, creamy rich coffee is extracted. It allows me to wander in my head, the ritual of coffee making flowing fluidly from years of practice while all my creative senses are ignited.
The coffee caramel fudge sauce is a dream! Super easy to make by soaking cashew nuts, it is full of good fats and a subtle richness and the right amount of sweetness. A jar of this fudge sauce will sit happily in your fridge for 3-4 days. And you can use it to top anything you like. I even love having a scoop of it on its own and often smear it on my toast! Yum!
It is a saying in Jamaica "wan wan coco full baskit."
Take your time. Slow down. Stop rushing. You will achieve your goals.
Jamaica Blue live by this sentiment. And I feel like they are kindred spirits because it is something I am fully invested in too. The slowing down and smelling good coffee philosophy is embraced wholeheartedly in our home.
I hope you enjoy this special coffee breakfast recipe. If you make it and love it, please let me know what you think by leaving a comment/rating below. I would love to see your coffee Overnight Oat creations, so don't forget to tag me @cookrepublic when you post on Instagram.
Recipe
Hungry For More Recipes? Subscribe to my newsletter. Check out Facebook, Instagram and Pinterest to see everything I share! And if you love cooking and new cookbooks, join my free Cooking Club on Facebook!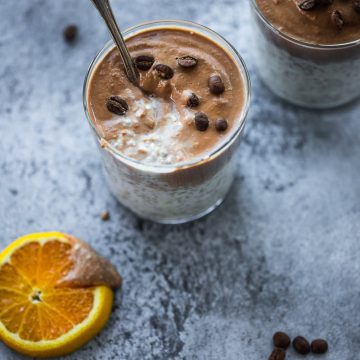 Ingredients
For the overnight oats
1

cup

(

100

g

)

rolled oats

2

tablespoons

white chia seeds

375

ml

nut milk

,

(or coconut rice milk or rice milk)

1

tablespoon

maple syrup

¼

teaspoon

vanilla extract
For the coffee caramel sauce
1

cup

(

140

g

)

cashew nuts

1

tablespoon

cacao powder

2

tablespoons

maple syrup

190

ml

freshly brewed Jamaica Blue Costa Rica Single Origin espresso coffee
To garnish
Jamaica Blue Costa Rica Single Origin coffee beans

Orange slices
Instructions
Place all ingredients for the overnight oats in a medium bowl. Mix well. Cover and refrigerate for at least 3-4 hours or overnight.

To make the coffee caramel sauce, soak cashew nuts in boiling water for 15 minutes. Drain.

Place soaked cashew nuts, cacao powder, maple syrup and espresso coffee in the jug of a blender. Process until smooth. Refrigerate until ready to use.

To serve, divide oat mixture equally into two 300ml glasses. Top with cold coffee caramel sauce (Sauce can be used cold or warmed in the microwave for 20-30 seconds for hot fudge sauce). Garnish with coffee beans and serve with a slice of orange.
Did you make my recipe?
I'd love to hear how you went! Tag me on Instagram @cookrepublic
disclaimer - This post is sponsored by Jamaica Blue. Thoughts and opinions regarding coffee are my own. I would only ever recommend and promote something that I love and use myself.
Costa Rica Single Origin available for a limited time at Jamaica Blue, find your nearest café, here.