When I posted these vegan tahini cookies last month, I was blown away by your awesome response to the cookies. Who knew so many of you craved that early evening sweet energy hit in the form of a healthy cookie? So many of you made them and loved them. So many of you posted on Instagram and so many of you wrote in with your glowing feedback asking for more quick vegan cookie recipes! Always happy to oblige, today I have another absolutely delicious vegan cookie recipe for you - my 8 Ingredient Chocolate And Almond Butter Cookie.
I have been making these cookies for the past few weeks and they are simply gorgeous. They basically have all the ingredients that I put in our morning smoothie and then some for a nourishing low sugar treat packed with lots of fibre and protein. A great way to get your daily dose of oats, nuts and seeds. I have been quite taken by almond butter lately. It is just incredibly more-ish. I am loving this almond butter by Melrose. It has a beautiful nutty roasted almond flavour and absolutely no additives other than just almonds.
There is no added sugar, the chocolate that you add will melt and give it that tiny hit of sweetness it requires. I have used cashew milk, nut milk and rice milk on different occasions and the result is always the same. I mix the cookie batter by hand (almond butter can be a pain to mix with a spoon so just dig in with your hand as if you were kneading dough). And then just shape them in cookies and bake them for 10 minutes.
The best part is that if you don't want to bake them, this is one cookie dough that you can absolutely eat raw. It is utterly delicious and I have shared some suggestions on how you could freeze the cookie dough in the notes below. I have also started adding the number of times I test a recipe in the recipe below, just so you know that it has been tested a few times for you to try with confidence.
Enjoy the cookies! I would love to hear your feedback in the comments below. Please do leave a rating if you make this and love it. It definitely helps others try out the recipes too! Thanks lovelies! Sneh x
Recipe
Hungry For More Recipes? Subscribe to my newsletter. Check out Facebook, Instagram and Pinterest to see everything I share! And if you love cooking and new cookbooks, join my free Cooking Club on Facebook!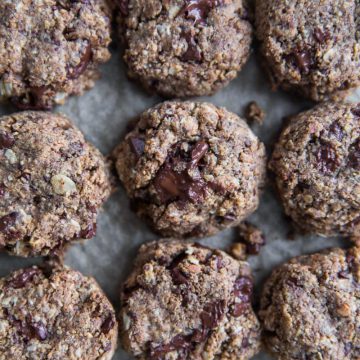 Ingredients
3/4

cup

(

60

g

)

rolled oats

5

tablespoons

(

105

g

)

almond butter

4

tablespoons

(

70

g

)

chopped dark chocolate

1/4

cup

(

55

ml

)

nut milk

,

(or rice milk)

1

tablespoon

melted unrefined coconut oil

2

tablespoons

brown flax meal

,

or ground flax seeds

1

teaspoon

vanilla extract

pinch

of sea salt
Instructions
Pre-heat oven to 190°C (convention)/ 170°C (fan-forced/convection). Line a rimmed baking sheet with baking paper.

Place all ingredients for the cookie in a medium bowl. Using your hand, mix and knead the cookie batter into a soft dough (It is impossible to mix evenly with a spoon due to the nature of almond butter. I find using the hand to squish and mix ingredients is faster and more effective).

Divide the mixture into 9 equal portions. Roll each portion into a ball, place on the lined cookie sheet (3-4cm apart) and flatten slightly with your fingertips. Alternatively, use a small (1 tablespoon size) ice cream scoop to drop cookie batter on to the prepared sheet (3-4cm apart). Flatten slightly with your fingertips.

Bake in the pre-heated oven for approximately 10 minutes. Remove from oven when the time is up. Cool completely on the baking sheet before storing in an air tight container.

Cookies will keep well at room temperature for up to 2 days, in the fridge for up to 7 days and in the freezer for up to 2 months.
Notes
You can use your favourite regular dark chocolate if a vegan diet is not an issue.
If you don't have flax meal, grind some flaxseeds into a powder and use that instead. Flax meal and flax seeds can be easily sourced from health aisles of supermarkets or online health and specialty grocery stores.
Cookie batter can be stored raw (without baking) in the fridge for up to 3 days and enjoyed with a spoon. Alternatively press cookie batter into a small tray, cut into squares and store in the freezer in ziplock bags. A great frozen treat to nibble on at night or with your coffee in the afternoon.
Did you make my recipe?
I'd love to hear how you went! Tag me on Instagram @cookrepublic