Japanese-inspired instant stir-fried Vegan Ginger Soy Tomato Noodles make a delicious meal any time of the day. These can also be made ahead and taste amazing hot or cold!

A Teppanyaki-Inspired Dish
Almost two decades ago when I was living in Singapore, Nick and I were out exploring eating places one Friday night as we usually did. With endless dining options available at the countless food courts, we settled on a Teppanyaki station situated in the middle of the food hall. The Teppanyaki plates were curved all the way around forming a circle, with the chefs cooking away in perfect symphony in the middle of the circle. Plexiglass panels placed around the hot grill plates at regular intervals provided the barrier for the splatters to be contained.
We were fascinated by the omelette section and decided to try a Wok Omelette With Teppanyaki Noodles. The chef chopped and stir-fried the spice-laden noodles on the hot plate with expertise that was mesmerizing. On a hollow hob next to the plate, a deep round-bottomed wok was on the ready, hot and sizzling. The chef added two whisked eggs into the hot wok, swirled it once and then again; letting the egg coat the entire surface of the wok. The egg cooked in a matter of seconds and with a flourish, he lifted the wok and slid out the slightly bowl-shaped, paper-thin omelette onto a large plate.
Next, he added the stir-fried noodles onto the omelette and using his spatula, rolled the noodles into the omelette like a burrito. He topped it with the customary Kewpie mayonnaise, hot sauce, bonito flakes, crushed seaweed, Shichimi Togarashi and Furikake. It was an absolutely delicious noodle dish. One that I had to come back home and try for myself. Over the years, I mastered the wok omelettes in my 28cm carbon steel wok (on induction!). And these noodles became a fixture at special breakfasts at home.
The noodles are so full of flavour, the ginger, soy and tomato really shine in this dish. They are also amazingly easy to make and keep well in the fridge. They often feature in my weekly meal prep sessions. They are so flexible too. Oftentimes, I have them ready to go, fully cooked and stored in the fridge. When everyone is hungry, whether it is breakfast or a light lunch, all I need to do is whip up some wok omelettes and stuff the noodles in them. Absolutely delicious!
Recipe
Hungry For More Recipes? Subscribe to my newsletter. Check out Facebook, Instagram and Pinterest to see everything I share! And if you love cooking and new cookbooks, join my free Cooking Club on Facebook!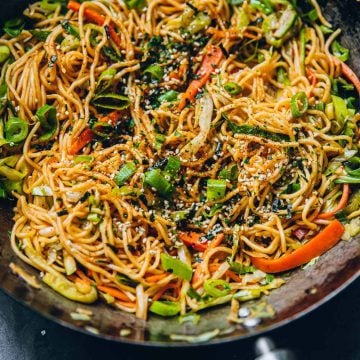 Ingredients
1

tablespoon

grapeseed oil

1

inch

ginger piece

,

thinly sliced and cut into straws

1

medium carrot

,

peeled, trimmed and cut into matchsticks

1

cup

thinly shredded cabbage

1

small zucchini

,

spiralized or cut into thin strips

2

cups

cooked thin Chowmein Noodles*

1

teaspoon

tamari or light soy sauce

1

teaspoon

dark soy sauce

1

tablespoon

white vinegar

2

tablespoon

tomato ketchup

1

teaspoon

Sriracha

1/4

teaspoon

white pepper

2

spring onions

,

finely chopped

Sea Salt flakes to taste

Furikake and Shichimi Togarashi

,

to serve
Instructions
Heat the grapeseed oil in the wok on high. Add ginger, carrot, cabbage and zucchini. Stir fry for half a minute, tossing constantly until all the veggies are glazed and starting to soften.

Add the noodles to the wok. Add tamari (or soy sauce), dark soy sauce, white vinegar, ketchup, Sriracha, white pepper and spring onion. Stir fry for a minute or two, tossing constantly until everything is thoroughly coated in the sauces and heated through.

Taste and see if you need salt. Adjust accordingly. Remove from heat.

Sprinkle with Furikake and Shichimi Togarashi. Serve immediately.
Notes
Cooking Noodles - You can use dry Chowmein/egg noodles or ramen noodles or thin egg noodle pasta for this recipe. Noodles can be cooked as per packet instructions - usually in a pot of rapidly boiling water for 2-3 minutes. Once cooked, drain the hot water and rinse in cold water several times until the noodles are cold, the starch has been washed off and each noodle strand is silky and separate. At this point in time, if you aren't going to cook the noodles straight away, store them in a bowl of cold tap water until ready to use. When ready to stir-fry, drain and use. Furikake - Furikake is a Japanese seasoning often added to rice and grills. It consists of toasted sesame seeds, nori, salt and sugar. If you can't find Furikake, add a teaspoon of toasted sesame seeds and a teaspoon of crushed nori (seaweed sheet). Shichimi Togarashi - A Japanese seasoning blend, Shichimi adds a depth of flavour to a finished dish. It usually consists of Japanese red pepper flakes, hemp seeds, white and black sesame seeds, nori (seaweed), ginger, poppy seeds and orange peel. Its fine if you can't find it, just sub with sesame seeds and nori instead.
Did you make my recipe?
I'd love to hear how you went! Tag me on Instagram @cookrepublic