Inspired by the famous Hummingbird Cake, these Hummingbird Muffins are rustic and wholesome banana and pineapple muffins made with spelt flour, pecans, fruit and spices. A great sturdy muffin with caramel notes that freezes well and tastes super delicious.
What's a Hummingbird Muffin?
One of my favourite cakes to eat is a Hummingbird Cake. I don't know why I love it more - because of the name or the truly beautiful and delightfully moist taste and texture? The name itself has a very interesting history. The Hummingbird Cake is an iconic dessert from Jamaica. Created sometime in the sixties the cake was named after the island's national bird, the scissorstail hummingbird. The recipe for the Hummingbird Cake along with other Jamaican recipes was sent in media press kits to America as part of a Jamaican tourist campaign.
Adopted in the Southern parts of America from the early seventies, the Hummingbird Cake was a decadent layered banana, pineapple and spice cake studded with pecans and covered in rich cream cheese frosting. My Hummingbird Muffin is an everyday ode to that spectacularly indulgent dessert. Wholesome, healthier and utterly delicious, the hummingbird muffins are an easy one-bowl baking recipe that I love making every other week.
A Delicious New Variation To The Banana Muffin
I have been collecting cookbooks since I was 15. That makes nearly ... very nearly 3 decades of collecting cookbooks. That means I have a lot of old, rare, out of print cookbooks with yellowing pages. Years ago, in one such American cookbook bought at a used book store, that actually has no cover (or the first few pages) I came across a recipe for Doctor Bird Cake. The name and the ingredient list really called out to me. It was so long ago, that I actually had to go to the library to look up references for Doctor Bird Cake (early internet days!). Doctor Bird is what the Hummingbird is called in Jamaica, I was to find out.
For many years, I made the decadent layered dessert cake for special occasions. It was only a few years ago when baking banana muffins one morning that I had an epiphany.
Why not make Hummingbird Muffins? I thought to myself.
So, I mixed all the ingredients and topped them with pecans. I even added a lighter, healthier take on the cream cheese frosting by dolloping cream cheese and sprinkling a little sugar and spice on top.
These muffins are something else. As you bite into the soft crumb and much on a toasted, spice covered pecan; you will be wondering where these have been all your life! I know, I always do. Hope you enjoy baking these muffins. Please share your muffin pictures with me on Instagram @cookrepublic #cookrepublic or drop me a comment and let me know what you think here. Happy baking! x
Recipe
Hungry For More Recipes? Subscribe to my newsletter. Check out Facebook, Instagram and Pinterest to see everything I share! And if you love cooking and new cookbooks, join my free Cooking Club on Facebook!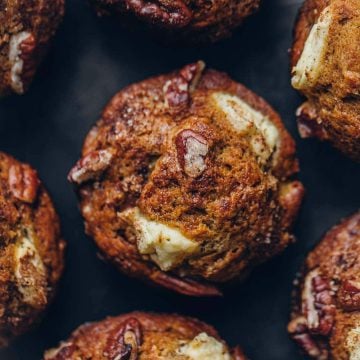 Ingredients
½

cup

(

125

ml

)

olive oil

2

eggs

,

lightly whisked

1

teaspoon

vanilla extract

1

cup

mashed banana

½

cup

canned pineapple

,

crushed and drained

¾

cup

rapadura sugar + extra for sprinkling

1

cup

(

150

g

)

spelt flour

½

cup

(

80

g

)

plain flour

1

teaspoon

bicarbonate of soda

½

teaspoon

sea salt flakes

1

teaspoon

ground cinnamon

½

teaspoon

ground cardamom

¼

teaspoon

ground nutmeg

Handful of chopped pecans

2

tablespoons

cream cheese
Instructions
Preheat oven to 190°C (170°C fan-forced)/ 374°F (338°F fan-forced).

Add olive oil, egg, vanilla, banana, pineapple and sugar to a large bowl. Mix well with a large wooden/silicone spoon until thoroughly combined.

Add spelt flour, plain flour, bicarbonate of soda and salt. Mix with a wooden/silicone spoon until just combined and lumpy.

Grease nine holes of a muffin pan with butter/olive oil or line the holes with paper cups.

Mix ground cinnamon, cardamom and nutmeg in a small bowl.

Spoon batter in each of the muffin holes/paper cases until two-thirds full. Top each muffin with pieces of pecans. Add a couple of tiny dollops of cream cheese on top. Sprinkle with the spice mix and extra sugar.

Bake in the preheated oven for approximately 18-20 minutes until golden and risen. Turn off the oven and let the muffins crisp up in the hot oven for another 3-4 minutes. Remove from the oven and cool slightly. If you had spooned the batter directly into the muffin pan without using paper cases, the muffins will have shrunk away from the sides and are ready to be unmoulded easily and gently.

Enjoy warm or store in a lidded glass container in a cool corner of your kitchen for up to 4 days. Muffins can also be frozen in individual ziplock bags or a large freezer-safe container, separated by baking paper for up to a month.
Notes
Spelt Flour - can be replaced with wholemeal flour, plain flour or buckwheat flour in the same quantity as in the recipe. Make Gluten-Free - Replace spelt flour and plain with buckwheat flour or a mix of buckwheat and sorghum flours in the same quantity as in the recipe. Rapadura sugar - is unrefined palm sugar or panela. It can be substituted with coconut sugar or regular brown sugar in the same quantities. Spices - can be mixed in the batter when adding the flours instead of topping at the end.
Did you make my recipe?
I'd love to hear how you went! Tag me on Instagram @cookrepublic