The delicious Vegan Zucchini Corn Fritter packed with big juicy corn kernels, lots of spice and alliums; makes a great breakfast or after-school snack. Topped with relish, salad greens and a grilled protein of choice, it becomes an excellent light lunch!
How Do You Make A Good Vegan Fritter?
If I had a penny for every time someone asks me this question, well I would have a big jar full of pennies. You see, growing up in India eggs only had two purposes. To become an omelet for a hot breakfast or to be baked into a butter cake for a special occasion. The notion of adding eggs to batters was non-existent. All our fritters and pancakes were egg-free and only relied on water and occasionally milk.
So the answer to that question "How do you make a good vegan fritter?" is really simple - leave the egg out and don't add any dairy in any form! Whether the veggies you use have starch or not, water is often enough to bind the flour and other ingredients into a solid batter that will not be soggy/gluggy/hard when cooked.
Salting Zucchinis
As with all my other zucchini recipes, salting a zucchini is the very first and very essential step to make good fritters. The salt draws the excess liquid out which you can squeeze and discard. This liquid would have otherwise waterlogged your fritter and rendered it into a hot soggy mess.
I have tried not salting and squeezing the zucchini too. I was curious to see what the end result was if I cleverly avoided the salting and squeezing and just let the natural liquid of the zucchini become the binder rather than using water. It didn't work. It is very hard to predict how much liquid a zucchini will release. Whereas if you squeeze the zucchini dry, and add water; you know exactly how much water to add to make the perfect fritter.
The recipe below makes 4 large fritters. You could make 6-7 small ones too. I like them large as I make them during meal prep for early morning breakfasts or early light lunches. When they are large like this, they can be popped in a toaster to warm up from the fridge. They also become a substantial meal when topped with some smoked salmon, a nice relish or salsa verde and salad greens.
Recipe
Hungry For More Recipes? Subscribe to my newsletter. Check out Facebook, Instagram and Pinterest to see everything I share! And if you love cooking and new cookbooks, join my free Cooking Club on Facebook!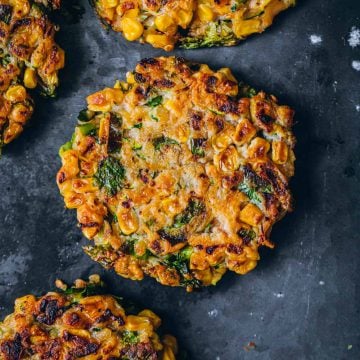 Ingredients
1

(

200

g

)

medium zucchini

,

grated

1

cup

corn kernels

,

fresh or canned

½

cup

spring onion

,

sliced (green only)

Handful of coriander leaves

,

chopped

1

teaspoon

red chilli flakes

1

teaspoon

smoked paprika

1

teaspoon

wholegrain mustard

1

tablespoon

onion flakes

2

garlic cloves

,

minced

1

cup

(

150

g

)

plain flour

1

teaspoon

sea salt flakes + extra for salting the zucchini

½

teaspoon

baking powder

½

cup

water

Olive oil for frying
Instructions
Place grated zucchini in a bowl. Sprinkle with a large pinch of sea salt flakes. Mix well and set aside for 10 minutes.

Add corn kernels, spring onion, coriander, chilli flakes, smoked paprika, mustard, onion flakes, flour, salt and baking powder in a large bowl.

Transfer the grated zucchini into a sieve or perforated colander. Rest it on top of a solid bowl or sink and squeeze and drain as much liquid as you can from the zucchini.

Add the squeezed zucchini to the large bowl with all the other ingredients. Add water and mix to form a thick fritter batter.

Heat a teaspoon of olive oil in a cast-iron frying pan on medium. Add a quarter of the batter in a 5-inch round and ½-inch high fritter into the pan. Cook each side for 4-5 minutes until golden and cooked through the middle. If starting to brown too quickly, reduce heat by a little to allow the fritter to cook through the middle.

Repeat with the remaining batter. Cooked fritters can be eaten straight away with a relish and salad greens. The fritters keep well in the fridge for up to 2 days. They can be frozen, wrapped in baking paper and stored in freezer safe containers for up to 2 weeks.
Notes
Make It Gluten-Free: These delicious fritters can be made gluten-free by swapping plain flour for gluten-free flour in the same quantity. Corn Kernels: Canned corn kernels are very convenient to use in this recipe as you don't have to worry about corn being in season. Drain the brine out completely if using canned corn kernels. Onion Flakes: These can be bought at the spice section in supermarkets. They are dehydrated onion bits that add massive flavour to the fritters. If you can't find them, just leave them out or add a tablespoon of chives (fresh or dried) instead.
Did you make my recipe?
I'd love to hear how you went! Tag me on Instagram @cookrepublic