Tired of the same old banana bread? Try my easy, one-bowl, mix-and-bake banana bread recipe with a delicious new flavour twist - coffee! Perfect for those busy mornings, this coffee banana bread toasts really well and can be made ahead and frozen for a quick breakfast on the run.
Jump to:
⭐ Why you'll love this Coffee Banana Bread
I know what you are thinking! Another banana bread recipe? You only ever need one good banana bread recipe. But this one is different. I promise!
New flavour - It has delicious instant coffee granules stirred through it. The slight bitterness of the coffee makes the sweetness of the bananas really shine. A very fun and exciting flavour to try out the next time you bake banana bread.
Cafe-style - My recipe makes a beautiful loaf with a high-top, just like the one at your favourite cafe.
Freezes well - Thick slices of the baked coffee banana bread freeze really well. I wrap each slice in baking paper and seal it in individual ziplock bags to be frozen. On busy mornings, frozen slices go straight into the toaster for a quick breakfast. How handy is that?
It is a solid recipe - It really works every time! How do I know that? It's because I have tried and tested this recipe a total of seven times and made it foolproof for you. Plus, everyone loves it. Yes, even the kids!
🍌 Ingredients
Bananas - Bananas that are half black on the outside are a good amount of overripe and have the right sweetness for this bread.
Olive Oil - A light-flavoured olive oil is a good choice as it doesn't overpower the taste of the bananas. For more tasty variations, try using macadamia or walnut oil.
Yoghurt - Thick Greek yoghurt adds a delicious tang to this bread and makes the crumb super moist.
Sugar - I use unrefined sugar in my banana bread recipes. Called panela or rapadura sugar, this is a form of palm sugar. It is more wholesome and has a rich caramel taste. Coconut sugar is the most accurate substitution for rapadura sugar. (see my notes on sugar)
Coffee - I use instant coffee granules. These are textural and don't break down in the batter.
Flours - This recipe uses a combination of spelt flour and plain flour. Spelt is an ancient grain and has many important nutrients like iron and zinc. It is high in protein, carbs and fibre. It adds a nuttiness and rustic quality to the banana bread. Plain flour adds body and volume to the batter, making the bread rise beautifully.
Eggs and vanilla - The approximate weight of each egg used in the recipe is around 65g. At supermarkets, these eggs are usually labelled as "large eggs". I use a pure vanilla extract that has a very concentrated taste.
Baking Soda And Baking Powder - You must use both for this recipe. Just one by itself will not give you a loaf with a beautiful high-top. A combination of baking soda and bicarbonate of soda helps the coffee banana bread rise perfectly during baking.
🥣 Step By Step Instructions
Step 1 - Add sugar, eggs, vanilla and olive oil to a bowl.
Step 2 - Beat using an electric mixer for approximately 2 minutes until light and foamy.
Step 3 - Place banana pieces in a bowl. Use a fork to mash them really well until smooth.
Step 4 - Add the mashed banana to the egg-sugar mixture and beat for 30 seconds until the batter is smooth.
Step 5 - Add yoghurt to the wet mixture and beat with an electric beater for a few seconds until it is incorporated and the batter is lump-free.
Step 6 - Add spelt flour, sifted plain flour, baking powder and bicarbonate of soda to the bowl. Use a silicone/wooden spoon to incorporate the dry ingredients into the wet ingredients until just combined.
Step 7 - Add coffee to the batter.
Step 8 - Mix gently with a wooden spoon until the coffee is evenly distributed in the batter.
Step 9 - Pour batter into a lined loaf tin and bake the coffee banana bread as per the recipe.
🍽 Serving Suggestions
The best way to enjoy this beautiful Coffee Banana Bread is to slice and eat it warm - straight out of the oven! Here are some more clever instant dessert ideas to serve this delicious bread,
Toast the bread and slather it with this Raw Cacao Fudge Frosting. Yum!
Warm a slice of the banana bread in the microwave, top it with a dollop of this No-Churn Condensed Milk Ice Cream and serve alongside a boozy Tiramisu Martini. A guaranteed hit at dinner parties!
Banana Bread French Toast - Whisk egg, vanilla, a dash of milk and sugar in a bowl. Dip the coffee banana bread slices in the egg mixture and pan-fry in some butter until golden. Top with fresh berries, whipped cream and icing sugar.
Instant Banana Bread Trifle - Cut the coffee banana bread into cubes. Layer in a small glass bowl. Top with store-bought custard. Repeat the bread cubes and custard layer, finishing off with chopped strawberries and a sprinkle of cocoa powder.
📝 Baking Tips
Mashing banana - Mash the banana really well and ensure that it is smooth and not chunky. The smooth mash gives the coffee banana bread a beautiful texture. I use a fork to mash the bananas really well. You can always use the blender if you like.
Don't skip the yoghurt! - The acidity in the yoghurt helps activate the baking soda which makes this banana bread very light and fluffy. You can substitute regular yoghurt with a vegan version like coconut yoghurt or sour cream and the end result will stay the same.
🍞 FAQs
Can I substitute flax eggs for regular eggs in this recipe?
Yes, of course, you can! To make one flax egg, mix 1 tablespoon flax meal with 3 tablespoons water. Mix well and set aside for 10 minutes. Use this mixture instead of one regular egg. Remember, the texture of the coffee banana bread will be denser if you use flax eggs. But, it will also still be delicious!
How to best store the Coffee Banana Bread?
After baking, remove the bread from the oven and cool it completely in the tin. Slice and store in an air-tight box in a cool corner of your kitchen for a day. It is better to store it in the fridge, where it will stay fresh for up to 4 days.
How to freeze Coffee Banana Bread?
Never freeze a whole loaf of bread. Not only will you have to thaw the bread for longer, but you will be forced to use it all up at once. The best way to freeze this loaf is to first cut it into thick slices. These slices can be wrapped in baking paper and stored in individual ziplock bags or freezer-safe containers in the freezer for up to 2 weeks.
How can I reheat my frozen slice of the Coffee Banana Bread?
A frozen slice of the bread can be popped straight into the toaster and toasted on a high setting. You can also add the slice to an air fryer and air fry on 200°C for approximately 3 minutes. The quickest way to heat it is to warm it in the microwave on full power for 2-3 minutes.
💛 More Recipes You Will Love
Recipe
Hungry For More Recipes? Subscribe to my newsletter. Check out Facebook, Instagram and Pinterest to see everything I share! And if you love cooking and new cookbooks, join my free Cooking Club on Facebook!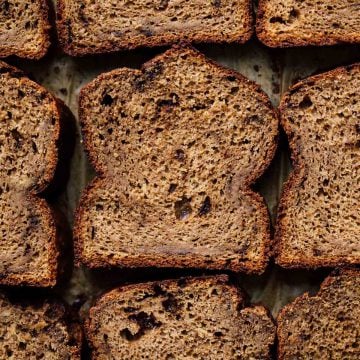 Coffee Banana Bread
Coffee adds a delicious new variation to your regular banana bread recipe - an easy, one-bowl recipe that has a moist crumb, toasts well and can be baked and frozen for easy weekday breakfasts.
Print Recipe
Rate / Comment
Ingredients
¾

cup

(

115

g

)

brown sugar

1/3

cup

(

80

ml

)

light olive oil

2

eggs

2

teaspoons

vanilla extract

1 ½

cups

(

250

g

)

overripe banana

,

mashed with a fork (note 1)

1

cup

(

270

g

)

Greek yoghurt

,

(note 5)

1

cup

(

160

g

)

spelt flour

1

cup

(

150

g

)

plain flour

,

sifted

1

teaspoon

baking powder

1

teaspoon

bicarbonate of soda

2

tablespoons

instant coffee

,

(note 6)
Instructions
Preheat oven to 190°C (170°C fan-forced). Grease and line a large loaf tin with baking paper.

Beat sugar, oil, eggs and vanilla extract with an electric beater until pale and creamy.

Add mashed banana and yoghurt. Beat for a couple of minutes until thoroughly combined.

Sift spelt flour, sifted plain flour, baking powder and bicarbonate of soda over the wet mixture.

Using a silicone/wooden spoon mix the dry ingredients into the wet ingredients until just combined. Add the coffee and mix gently until evenly distributed.

Pour banana bread batter into the prepared tin.

Bake in the pre-heated oven for approximately 45-50 minutes until well risen, browned on top and cooked through the middle when tested with a wooden skewer.

Remove from the oven. Cool completely in the tin. Slice and serve.
Notes
Mashing Banana - Make sure you mash the banana really well, ensuring all lumps are mashed and the mixture is smooth. This gives the bread a really lovely texture.
Storage - Loaf will keep fresh in a cool corner of your kitchen for up to 2 days, in the fridge for up to 5 days. Slices can also be individually wrapped in baking paper and frozen in ziplock bags in the freezer. They keep in the freezer for up to a month and can be popped in the toaster to be reheated.
 Sugar - Rapadura sugar (unrefined sugar) can be substituted with coconut sugar or brown sugar. Brown sugar is slightly sweeter than rapadura/coconut sugar so your resulting loaf will be a touch sweeter.
Flour - Spelt flour can be replaced with wholemeal flour in the same quantity.
Yoghurt - Yoghurt adds acidity to the batter which activates the baking soda making the bread light and airy. When substituting yoghurt, make sure you are using an appropriate acidity source like coconut/plant yoghurt or sour cream. Both of these substitutions must be in the same quantities as the yoghurt in the recipe.
Coffee - Instant coffee granules don't blend in the batter and keep their shape, thereby resulting in a crumb with flecks of delicious bitter coffee. If you want to use extracted coffee instead, add 25ml of strong espresso (brewed/extracted) along with a tablespoon of plain flour to the batter.
 Make It Dairy Free - Replace Greek yoghurt with coconut or plant-based yoghurt.
Make It Eggless - Replace one regular egg with one flax egg. You will need 2 flax eggs for this recipe. To make one flax egg, mix 1 tablespoon flax meal with 3 tablespoons water, mix well and set aside for 10 minutes.
Nutrition
Calories:
372
kcal
|
Carbohydrates:
61
g
|
Protein:
7
g
|
Fat:
11
g
|
Saturated Fat:
1
g
|
Polyunsaturated Fat:
2
g
|
Monounsaturated Fat:
7
g
|
Trans Fat:
0.004
g
|
Cholesterol:
1
mg
|
Sodium:
210
mg
|
Potassium:
249
mg
|
Fiber:
5
g
|
Sugar:
30
g
|
Vitamin A:
30
IU
|
Vitamin C:
4
mg
|
Calcium:
72
mg
|
Iron:
2
mg
Did you make my recipe?
I'd love to hear how you went! Tag me on Instagram @cookrepublic