Try my easy, one-pot Vegan Dal Makhani, the most delicious Indian dal ever. This traditional dal makhani recipe has been made lighter and healthier but tastes just like the one at the restaurant. The best part is that it pretty much cooks by itself in the slow cooker, last for days, and can also be made ahead and frozen.
Jump to:
What is Dal Makhani?
A simple dal is a staple at virtually every meal in an Indian household. The most common everyday dals are masoor dal (red lentils), mung dal (small yellow lentils/split and dehusked mung bean), toor dal (split pigeon peas) or chana dal (split yellow peas). But there is a special kind of dal hailing from Punjab in northern India which has the title of the king of dals. It is called Dal Makhani, is made with black whole urad dal, and is truly a celebratory dal.
From gracing the menu of every single restaurant specializing in North Indian cuisine to roadside eateries called dhabas, dal makhani is a smoky, creamy concoction of lentils slow-cooked till they melt in your mouth, clever spices and loads of butter. After all, it has to live up to its name makhani, which in the world of Indian cuisine means made in a rich sauce of butter, onion, tomato and cream.
Cooking with Black Urad Dal or Black Matpe Bean
Dal Makhani is traditionally made with black urad dal (also known as black matpe bean, black gram or mungo bean). It looks like a black mung bean. Black urad dal is tough and needs a longer cooking time. Soaking is a must for this dal to achieve optimum creaminess. Slow cooking really helps draw out the flavour of the bean and makes it melt-in-you-mouth. And the bean holds its shape even after six hours in the slow cooker, making this dal makhani a textural delight.

How to make Dal Makhani healthier and delicious
Dal makhani is a rich dal. Which is why most people in India seldom cook it at home. It is predominantly served at weddings and is a must-have indulgence when dining at restaurants. We love dal makhani at home so much, that I have created a lighter version that is vegan and doesn't have copious amounts of butter, ghee and cream to overload your system. In fact, a blind taste test would find you hard-pressed to differentiate between the traditional dairy-laden version and this lighter one. It is that good! And oh so creamy.
Here is how I make this Vegan Dal Makhani healthier and packed with that rich, traditional flavour.
Ensure the black urad dal gets a good soak before cooking. This activates the bean and draws out the flavour during cooking.
Use a generous amount of aromatics and spices when cooking the dal.
Add a tarka/tadka (tempering with oil and whole spices) to the finished dal for an extra flavour boost.
Substitute butter and cream with light coconut milk.
Traditional dal makhani would have a smoky flavour from being cooked on coals, I have imparted the same flavour using smoked paprika.
Ingredients And Substitutions
With a humble list of ingredients you will find very easily in your supermarket or regular grocery store, this dal is incredibly delicious in its simplicity. Here is what you will need.
How to make Dal Makhani?
Wash black urad dal in cold water.
Rinse it several times and drain. Pick out any impurities (broken dal etc.)
3. Soak black urad dal in hot water.
4. As it soaks, the dal will swell up and the water will reduce.
5. Add urad dal and soaking water to the slow cooker.
6. Fry whole spices, ginger and garlic in oil.
7. Cook the onion until caramelized.
8. Add ground spices.
9. Cook mixture until soft and fragrant.
10. Add onion and spice mixture to the slow cooker.
11. Add canned tomatoes to the slow cooker.
12. Add coconut milk.
13. Mix well and cook for a few hours.
14. When cooked the dal makhani will be creamy and luscious.
15. Fish out the whole spices and discard.
16. Make the tarka by frying chilli and ginger in oil.
Ladle the chilli-ginger-oil tarka on top of the dal makhani. Drizzle with whipped coconut cream. Garnish with coriander.
Health benefits of black urad dal or black lentils.
Black urad or black gram as is commonly known in India has incredible health benefits.
Black urad dal is an excellent source of both soluble and insoluble fiber, making it a great liver stimulant and wonderful for digestion.
It is extremely rich in magnesium and potassium, thereby promoting heart health and maintaining healthy cholesterol levels.
It is rich in iron, boosting energy levels and great for skin and hair health.
Serving Suggestions
I cook this dal makhani overnight in a slow cooker, it cannot get easier than that. But I have also cooked it on the hob and in the oven. It is extremely versatile (I have shared both methods below).
So the next time you have a dinner party, make this effortless dal makhani along with these dishes to wow your guests.
Recipe FAQs
What is a tarka/tadka?
A tarka (or tadka) is a tempering technique used in Indian cooking to finish off a usually bland dish like a dal for extra flavour.

In this technique, whole spices like garlic, ginger, chilli, cumin seeds, mustard seeds and curry leaves are lightly fried in oil until fragrant and then ladled over the finished dish.
Can I freeze Dal Makhani?
Tes, you can freeze this dal in airtight freezer-safe containers in the freezer for up to a month. To reheat, simply pop it in the microwave. You may need to add a bit of water to loosen the dal as it thaws.
What lentil can I use to make Dal Makhani?
Traditionally Dal Makhani is made with black urad dal which is actually a bean. It is also known as black matpe bean or mungo bean. It looks like a smaller version of black turtle beans (commonly used for Mexican cooking).
Recipe
Hungry For More Recipes? Subscribe to my newsletter. Check out Facebook, Instagram and Pinterest to see everything I share! And if you love cooking and new cookbooks, join my free Cooking Club on Facebook!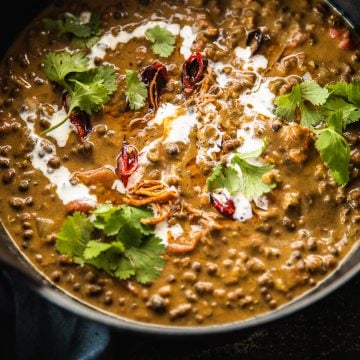 Ingredients
for the dal (lentils)
300

g

black urad dal

4

cups

water

,

(for soaking)
for the dal base
2

tablespoons

extra virgin olive oil

,

or coconut oil

1

red onion

,

finely diced

1

tablespoon

grated ginger

4

garlic cloves

,

minced

3

bay leaves

1

cinnamon stick

1

teaspoon

ground turmeric

2

teaspoons

ground cumin

2

teaspoons

ground coriander

1

teaspoon

ground garam masala

1/2

teaspoon

red chilli powder

,

(or sweet paprika)

1/2

teaspoon

smoked paprika

400

g

diced tomatoes

,

canned

300

ml

coconut milk

,

full fat

2

teaspoons

flaky salt
for the tempering (tadka/tarka)
1

tablespoon

extra virgin olive oil

,

or ghee

1

tablespoon

red cayenne chilli

,

thinly sliced

1/2

inch

ginger

,

julienned
to finish
handful of fresh coriander leaves

2

tablespoons

whipped coconut cream
Instructions
Wash, rinse and soak the urad dal in 4 cups of cool water for 2 hours or 4 cups of hot water for 1 hour.

Place soaked dal along with the soaking water in the bowl of a slow cooker and cook on high for half an hour.
Prepare the tempering
Heat olive oil in a large shallow frying pan. Sauté onion, ginger, garlic, bay leaves and cinnamon on medium for a couple of minutes until onion is caramelised.

Add turmeric, coriander, cumin, garam masala, chilli and paprika. Sauté for a couple of minutes until spices are toasted and aromatic.

Add the tempering to the dal in the slow cooker. Add the tomatoes, coconut milk and salt. Mix well.

Cover and slow cook on low for 6 hours. The consistency of the finished dal should be that of a loose porridge. If it is drier than that, add half a cup of water to loosen the dal in the last stages of cooking.
To finish the dal
Heat oil in a small frying pan on medium heat. Sauté the chilli and ginger strips for 30 seconds until golden. Remove from heat and pour over the dal.

Garnish with coriander and swirl through the coconut cream. Serve hot with rotis or steamed rice and lemon wedges on the side.
Notes
COOKTOP METHOD - Place the soaked dal along with soaking water in a large deep Dutch oven or heavy-bottomed saucepan. Cook on medium-high for an hour. Add the tempering, tomatoes, coconut milk and salt. Mix well. Cover and cook on medium for half an hour. Reduce heat to low and simmer (covered) for 3-4 hours until dal is tender but still has a bite. The consistency should be that of a loose porridge. If it is too dry, add half a cup of water and cook until warmed through. Finish as per above. Luxury Version - For a rich decadent version, replace olive oil with butter and whipped coconut cream (to finish) with fresh cream. Batch Cooking - I often double the recipe, slow cook and cool it completely before packing it away in freezer-safe containers. Stays well in the freezer for up to two months and thaws beautifully in the fridge or microwave when ready to use.
Nutrition
Calories:
354
kcal
|
Carbohydrates:
33
g
|
Protein:
14
g
|
Fat:
20
g
|
Saturated Fat:
12
g
|
Polyunsaturated Fat:
1
g
|
Monounsaturated Fat:
6
g
|
Sodium:
816
mg
|
Potassium:
317
mg
|
Fiber:
12
g
|
Sugar:
2
g
|
Vitamin A:
252
IU
|
Vitamin C:
14
mg
|
Calcium:
89
mg
|
Iron:
7
mg
Did you make my recipe?
I'd love to hear how you went! Tag me on Instagram @cookrepublic