Have you always wanted to make Vibrant Green Palak Paneer - bright green and fresh without any additives? My easy fifteen-minute recipe teaches you the traditional blanching technique that creates restaurant-style, traditional palak paneer. The greenest version you have ever seen. Lighter and utterly delicious too!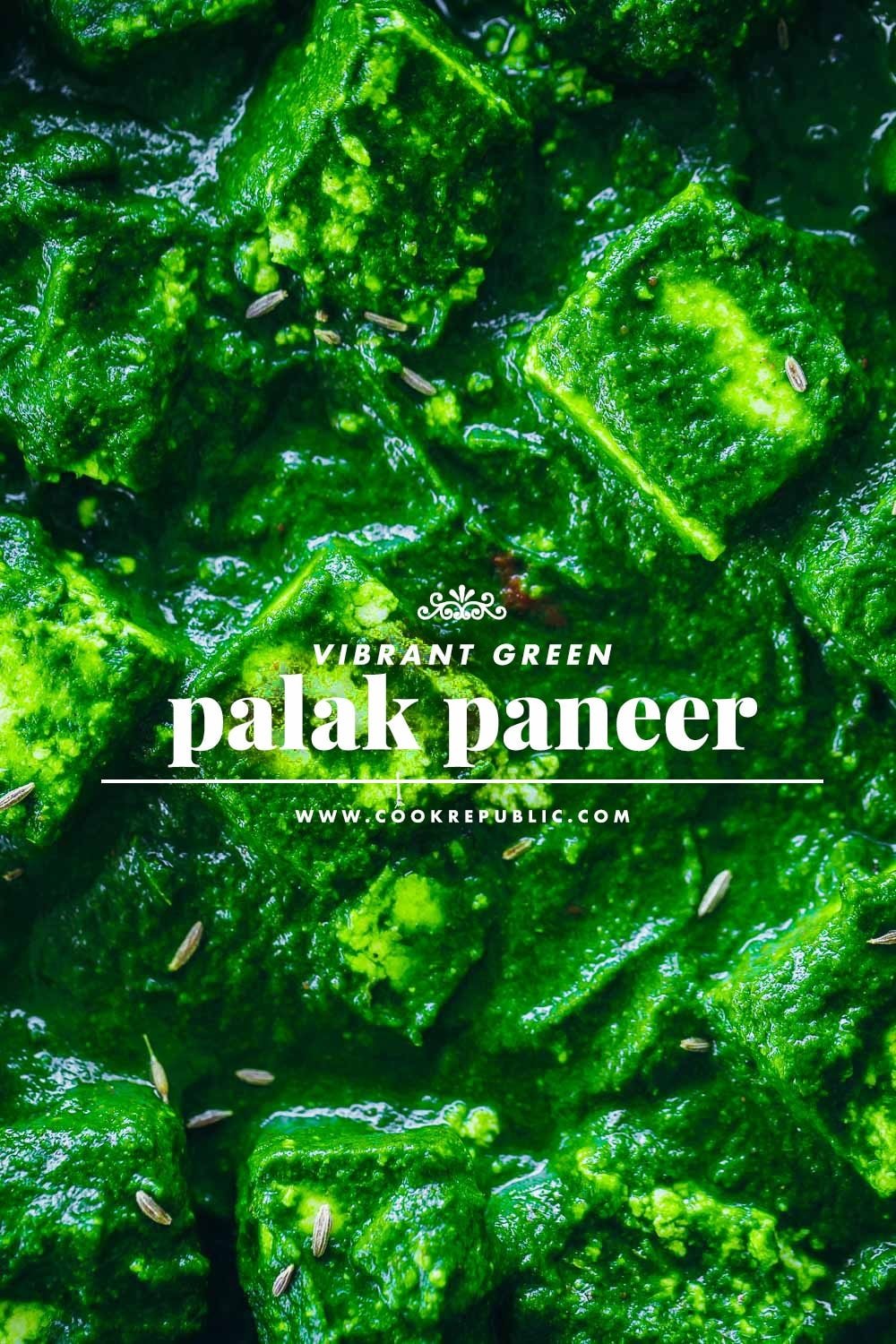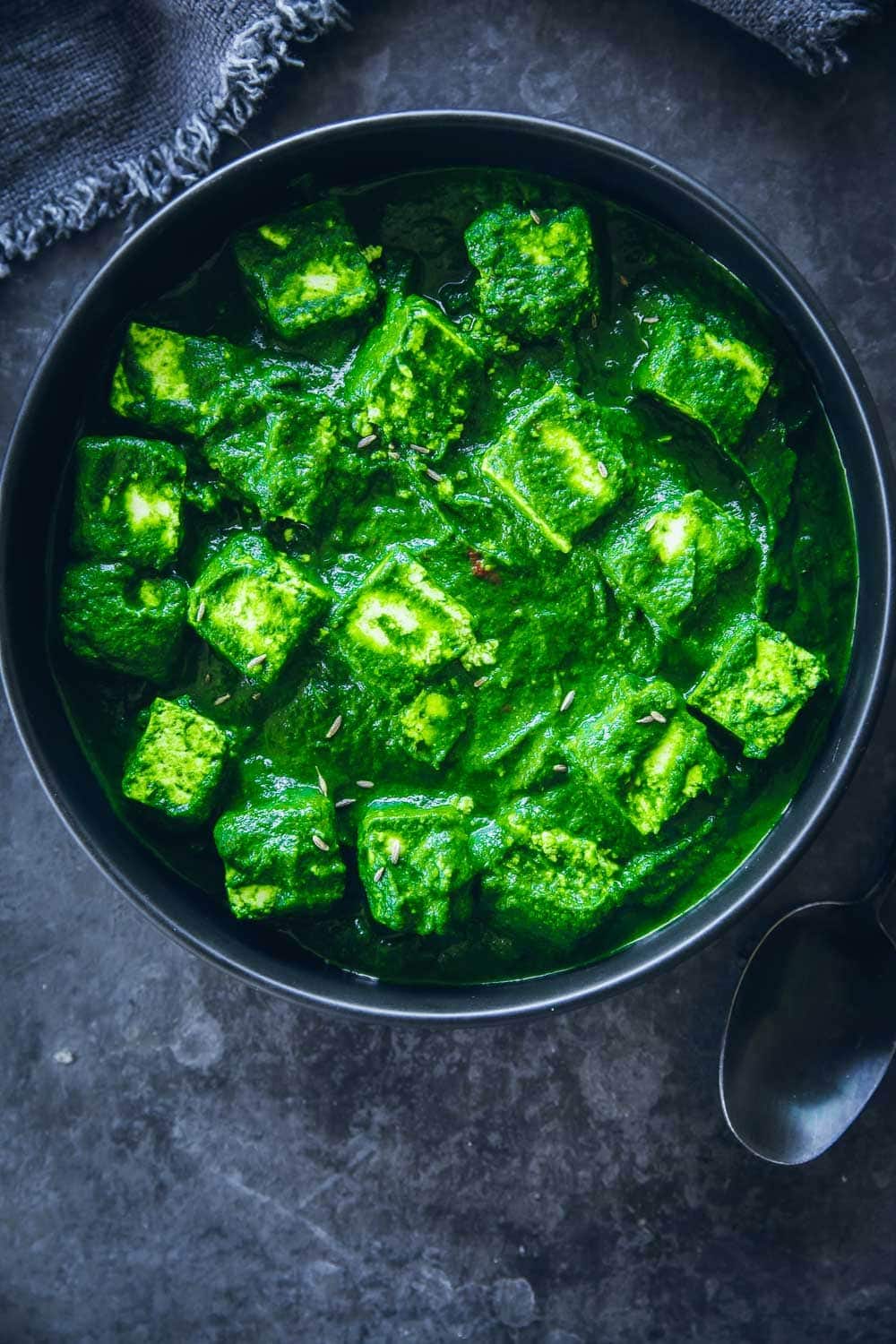 How To Make beautiful Green Palak Paneer?
In the past, I have shared a recipe that uses frozen spinach/kale. An easy and convenient recipe when you can't get your hands on fresh bunches of English spinach. In recent months, I have reverted to cooking Palak Paneer the traditional way. It is what creates a really vibrant green palak paneer like the kind you find in good Indian restaurants. And the flavour is reminiscent of rustic, roadside dhabas/eating shacks in India that sell hot Punjabi style Palak Paneer with gnarly naans.
Firstly, can you believe that this recipe only takes fifteen minutes? You need about 250 grams of spinach. I find 3 bunches of English spinach yields this amount. I pick the leaves, wash them really well and then blanch them in hot boiling water for a minute or two before dousing them in an ice-filled cold water bath. This stops the cooking process and retains that vibrant green colour.
You don't need a lot of spices for this dish as the flavour of spinach needs to come through green and strong. My recipe is a really light and healthier version of the traditional recipe without compromising on the taste. In my recipe notes, I share a tempering technique I use to add an extra layer of oomph and decadence to this recipe for special occasions. The Palak Paneer can be cooked a day or two ahead and reheated. It keeps well in the fridge for 2-3 days. It goes really well with rice or naan.
A few things to remember about Spinach
Always wash spinach in cold water. Spinach carries a lot of dirt and sand and washing, rinsing and draining is a must to remove all the grit.
Spinach has an inherent bitterness that you can get rid of by clever cooking. One of the tricks is to not overcook it. Overcooking spinach not only increases the oxidisation and turns it darker but also brings out the bitterness of the leafy vegetable. Cook it strictly for the amount of time mentioned in the recipe
Make sure you pick only the leaves and remove all the stems. The stems make the dish more fibrous (less smooth) and add to the bitterness.
If you can't find English spinach, substitute it with baby spinach leaves. Baby spinach leaves are inherently sweeter than spinach with larger leaves. This will remedy the bitterness issue altogether. Baby spinach leaves only need to be blanched in hot water for 15-20 seconds before going in the ice water bath as they are more delicate.
And lastly, adding lemon or some kind of sourness combats some of the bitterness in the recipe.
Recipe
Hungry For More Recipes? Subscribe to my newsletter. Check out Facebook, Instagram and Pinterest to see everything I share! And if you love cooking and new cookbooks, join my free Cooking Club on Facebook!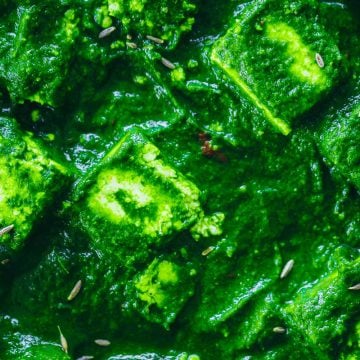 VIBRANT GREEN PALAK PANEER
A beautifully vibrant green, restaurant-style Palak Paneer that is lighter and packed with authentic flavour.
Print Recipe
Rate / Comment
Ingredients
250

g

fresh English spinach leaves*

,

from 3 bunches

Pinch

of salt

300

g

fresh paneer

,

cut into cubes

2

tablespoons

olive oil

1

medium green cayenne chilli

,

roughly chopped

150

g

onion

,

roughly chopped

6

garlic cloves

,

medium-sized, chopped

½

inch

piece of ginger

,

sliced

½

teaspoon

cumin seeds

1

bay leaf

3

cloves

3

peppercorns

¼

teaspoon

ground turmeric

½

teaspoon

red chilli powder

1

teaspoon

methi (dried fenugreek leaves)**

¼

teaspoon

amchur (dried mango powder)***

1

teaspoon

garam masala

1

teaspoon

sea salt flakes
Instructions
Pick leaves from three bunches of English spinach. Wash and rinse them in cold water to remove sand and dirt. Bring a pot of water to boil. Add spinach leaves with a pinch of salt to the hot water and cook for 2 minutes. While the leaves are cooking, add cold water to a large bowl/basin. Add ice cubes to ensure the water is very cold. As soon as the 2 minutes are up, scoop the spinach leaves into the ice water bath and submerge them completely. Set aside.

Heat 1 tablespoon oil in a sauté pan on medium. Add green chilli, onion, garlic and ginger. Cook for approximately 8 minutes, tossing constantly until onion is glazed and caramelized.

Add the onion mixture to a blender. Scoop the spinach leaves out of the cold water, squeeze them lightly and add to the blender with ½ cup cold water from the bowl. Blend into a very smooth purée.

Heat the remaining tablespoon of oil in the same sauté pan on medium. Add cumin seeds, bay leaf, cloves and peppercorns. When the whole spices turn fragrant in a few seconds, reduce heat to low and add the spinach purée to the pan. Mix well.

Add turmeric, chilli powder and methi. Increase heat to medium-low and cook for a minute.

Add paneer, amchur, garam masala and salt. Mix gently and continue cooking on medium low for another 2 minutes until heated through.

Remove from heat and serve hot.
Notes
*Spinach – Cook the spinach for the exact amount of time stipulated in the recipe to ensure you retain the vibrant green colour. (2 minutes blanching in hot water, a long soak in the ice bath, and 2-3 minutes final cooking time). Overcooking the spinach will result in more oxidization and the spinach will become darker. Make sure you are picking only the leaves and removing all the hard stems to ensure that your dish is not bitter.
**Methi - Methi is dried fenugreek leaves and is available at Indian supermarkets and specialty spice stores. If you can't find it, just skip it.
***Amchur – Amchur is dried mango powder and is available in specialty spice stores and Indian supermarkets. It adds a touch of sourness to the dish. If you can't find amchur, add 1 tablespoon of lemon juice. This also helps reduce the bitterness of spinach.
For more decadence, use ghee instead of olive oil and add a tablespoon of cream to the finished dish.
Extra Tempering – I often add this extra tempering when preparing this Palak Paneer dish for special occasions or entertaining. It is a technique often used in restaurants and adds an entirely new dimension to this already delicious recipe. After the dish is done cooking, heat two tablespoons of ghee/olive oil in a small frying pan on medium-low heat. Add ½ teaspoon of cumin seeds, 3 large garlic cloves sliced thinly and smashed, one whole red dried chilli (or a teaspoon of red chilli flakes) and ¼ teaspoon red chilli powder. Cook only for a few seconds until the cumin seeds start spluttering and garlic is gently caramelized. Remove from heat and pour over the finished dish.
Paneer – Paneer can be added in its raw form or you could pan fry in a bit of oil until slightly golden (like in this recipe) and add that to the curry.
Make It Vegan – Substitute paneer with tofu in the main recipe.
Did you make my recipe?
I'd love to hear how you went! Tag me on Instagram @cookrepublic