These are very good breakfast veggie muffins. They are a nutrition powerhouse and packed with leek, spring onion, carrot, spinach, garlic, spelt, quinoa, oats and spices. Perfect to snack on with a dollop of mango or tomato relish! Yum!
Jump to:
Why these Veggie Muffins are so popular?
Almost a decade ago, I put up a recipe of simple veggie muffins that I used to bake often for the boys. The muffins had the usual veggies - carrot, zucchini, spring onions and a good amount of cheese (the boys loved cheese back then!). These muffins were so popular at home and on the blog that they even made it into my cookbook and graced the cover of the Daily Telegraph Sunday Home edition when our family was featured in a picnic spread. They were great for back then. But now, a new veggie muffin is on the rise. A veggie-packed, powerhouse of a muffin brimming with spices, flavour and texture. One that will quickly become a favourite in your home too!
Ingredients
You'll need
Leeks, Spring onions, garlic
Carrot
Spinach
Eggs, milk and olive oil
Oats and quinoa
Spelt flour
Thyme, paprika, turmeric and chilli
Health Benefits
With the goodness of prebiotics, turmeric, spinach, spelt, oat and quinoa; this muffin covers all the bases. High in fiber, iron, protein and good fats, this Breakfast Muffin makes a really good light meal. Especially with a dollop of mango chutney or tomato relish. One could even squash it like a burger patty and stuff in some lettuce leaves for a really fresh green burger. Best of all, it is a hot favourite for adding to our this-and-that-bowl meals. It's a name we have come up for a lunch of this and that all added to a bowl - a veggie muffin, homemade salsa verde, chickpea chaat salad and a little protein of choice on the side.


How to bake a perfect Veggie Muffin
You can't go wrong with this recipe, no matter where in the world you might be. I have added gram and ml measurements if you wanted to be precise (as we all know cups sizes vary in different parts of the world). The recipe uses spelt flour to add a good amount of heft to the muffin. You can substitute it with other wholesome flours like wholemeal or even buckwheat and sorghum (gluten-free options). The cooked quinoa I usually make at the start of all my meal prep sessions comes in handy here.
Do not be alarmed by how wet the batter is. This is essential to baking a muffin that has a moist crumb and isn't too dry. The oat in the recipe helps bake it to the perfect consistency, soaking up the excess moisture as it bakes. The resulting crust is golden with a crunch. Absolutely delicious.
In my recipe below, I have used almond milk. You are of course free to use any milk. I have used eggs but in the recipe notes, I explain how you can make this recipe vegan. I hope you bake this on the weekend. I would love to hear your thoughts on the taste, I find it incredibly more-ish! Happy baking!
Recipe
Hungry For More Recipes? Subscribe to my newsletter. Check out Facebook, Instagram and Pinterest to see everything I share! And if you love cooking and new cookbooks, join my free Cooking Club on Facebook!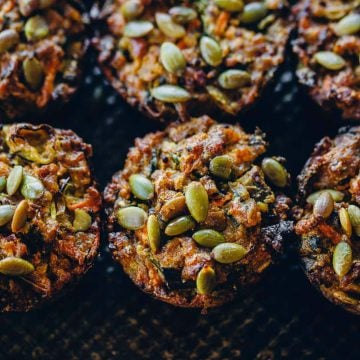 Ingredients
1

cup

(

160

g

)

spelt flour

1/2

cup

(

45

grams

)

rolled oats

1/2

cup

(

110

grams

)

cooked quinoa

2

teaspoons

baking powder

1

teaspoon

dried thyme

1

teaspoon

sweet paprika

½

teaspoon

ground turmeric

1

teaspoon

red chilli flakes

1

teaspoon

sea salt flakes

1

tablespoon

olive oil

1

large leek

,

thinly sliced and chopped (white only)

4

garlic cloves

,

minced

4

spring onions

,

thinly sliced (green only)

2

(

60

grams

)

large handfuls baby spinach leaves, chopped

1

medium carrot

,

peeled and grated

½

cup

(

125

ml

)

olive oil

2

eggs

,

lightly whisked

¼

cup

(

60

ml

)

milk of choice

3

teaspoons

wholegrain mustard

pepitas

,

(pumpkin seeds)
Instructions
Pre-heat oven to 200°C (180°C fan-forced). Grease the holes of a 12-hole muffin pan with butter or line them with paper cases.

Add spelt flour, rolled oats, cooked quinoa, baking powder, thyme, paprika, turmeric, chilli and salt to a large bowl.

Heat a tablespoon of oil in a medium frying pan on medium. Add leek and garlic. Sauté for a few minutes until caramelized. Add spring onion. Cook for 1-2 minutes until glazed. Add spinach and cook for a further minute until spinach is wilted. Remove from heat and cool slightly.

Add cooked greens to the bowl of the flour mix.

Add carrot, oil, eggs, milk and mustard. Mix well using a wooden spoon until just combined.

Spoon muffin batter into the prepared muffin holes until each is two thirds full. Sprinkle muffins with pumpkin seeds.

Bake in the pre-heated oven for 30-35 minutes until golden on top. Remove from the oven. Enjoy warm or store in fridge for up to three days and in the freezer for up to two weeks.
Notes
The batter will be quite wet. This is okay. It firms up really well after baking and keeps the veggie muffin from becoming dry. The resulting muffin will be moist with a crispy golden exterior and lots of texture and crunch.
Make It Gluten-Free - Substitute spelt flour with buckwheat or sorghum flour. Make sure the oats you are using are gluten-free oats.
Make It Vegan - Substitute eggs with flax eggs (1 flax egg = 1 tablespoon flax meal + 3 tablespoons water. Mix and allow to set and become viscose for 15 minutes before using)
Did you make my recipe?
I'd love to hear how you went! Tag me on Instagram @cookrepublic