Create the most authentic and delicious version of the famous Indian vego curry - Palak Paneer, but with a twist! Using kale! A gorgeous, silky green weeknight option for a quick family meal, Kale Paneer can be frozen and easily packed in lunch boxes for a nutritious work lunch.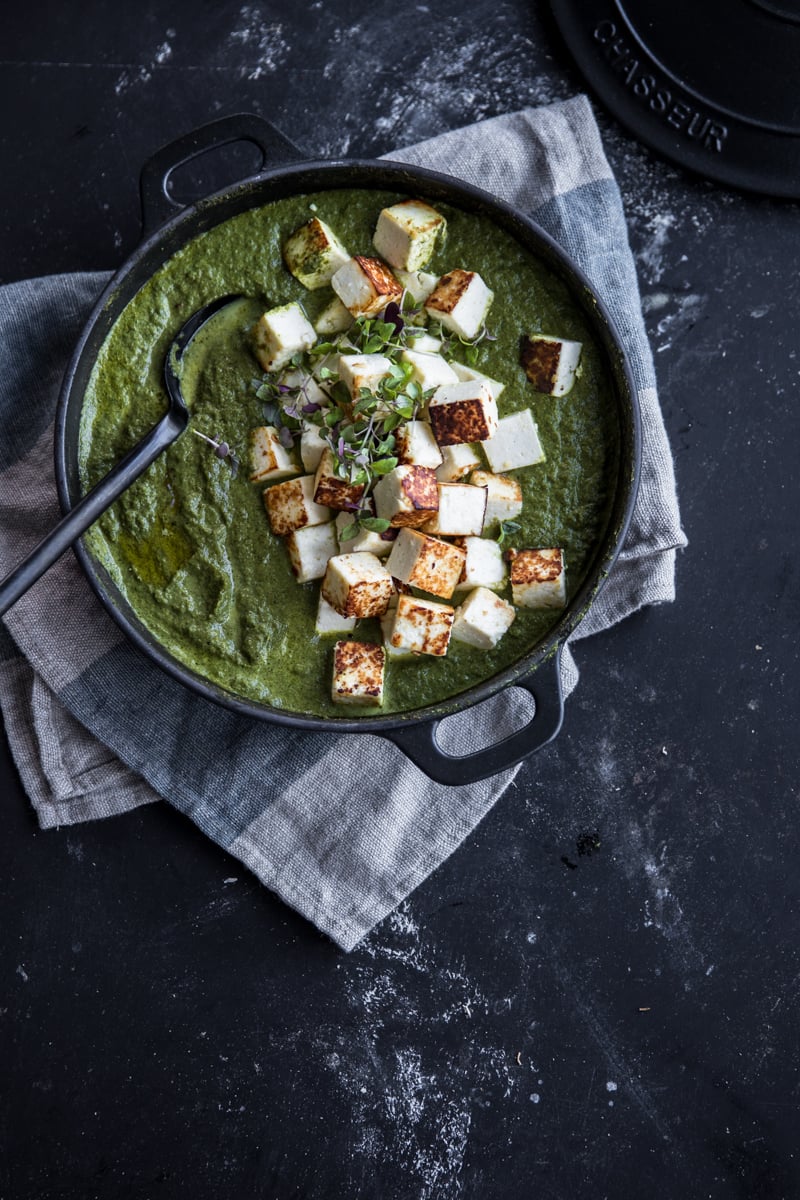 We are a regular Popeye family. Spinach features heavily in our meals. From daals and curries to pastas and one pan meals. Palak Paneer was one of my most favourite meal while growing up. I have made several versions of it over the years based on all the different variations I have sampled in different eateries. But the silky smooth sauce of the traditional version cradling the most delectable cubes of golden fried paneer has my heart. With smoky garlic undertones, this is the version most likely to be found in good restaurants across India and is actually quite a cinch to make.
It is in fact, my go to recipe when inspiration and time are both lacking. To enable this quick meal as a backup, I always make sure I have two packs of frozen spinach in my freezer and two packs of fresh paneer from the deli in my fridge. These ingredients are so routine that they don't even need to be on a shopping list, I automatically head for them as I stroll through the aisles at the supermarket. A testament to the number of times this dish gets made at home.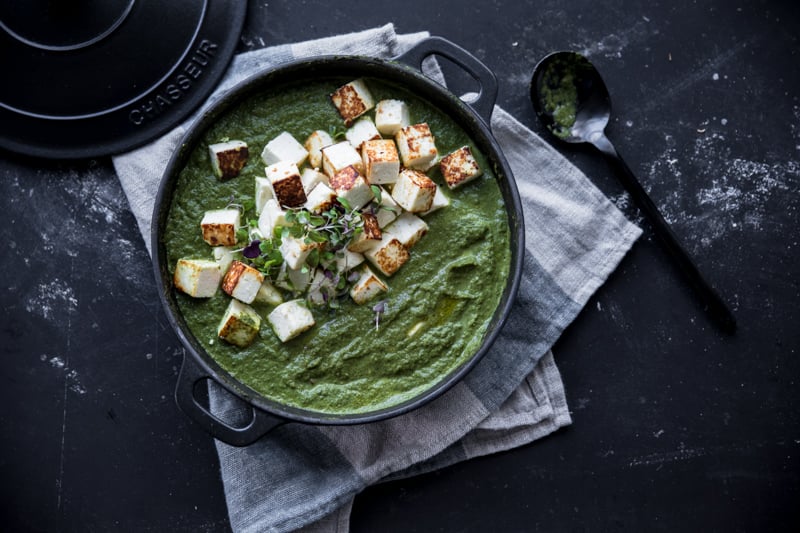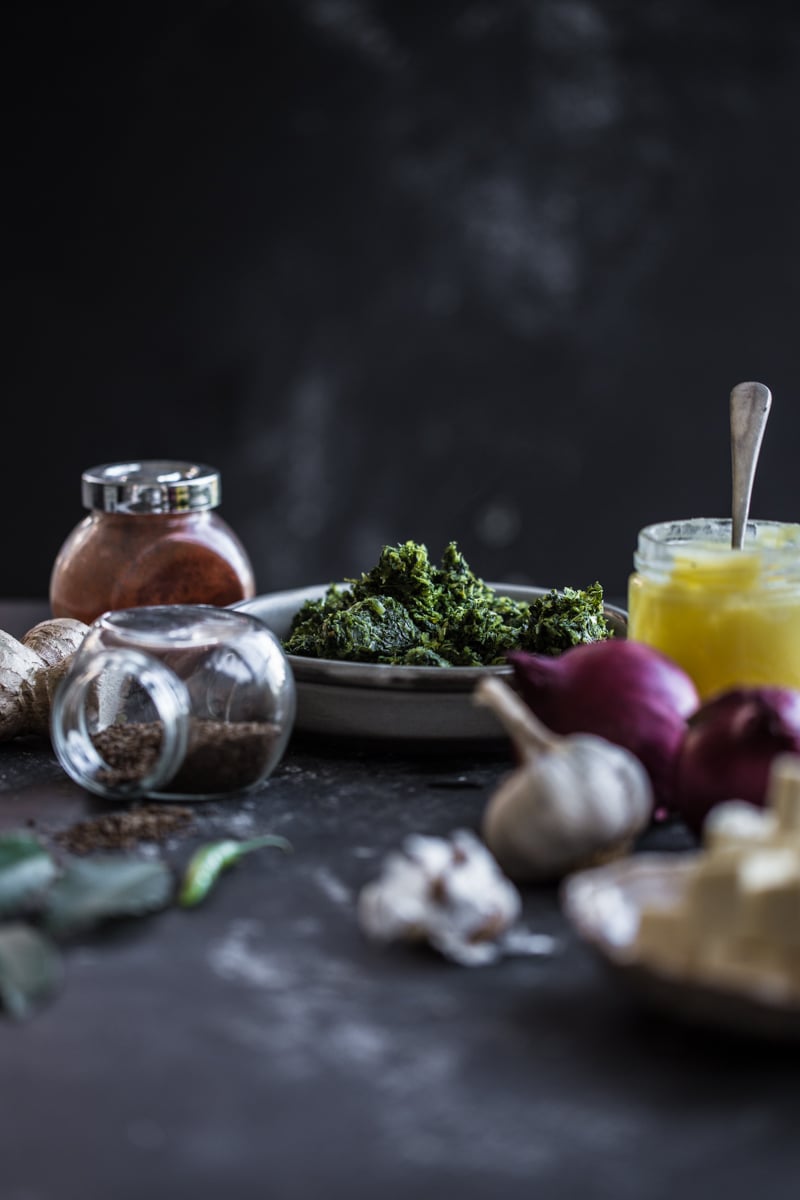 After making the age old Palak Paneer for the umpteenth time, as I leafed through the pages of my cookbook for dinner inspiration; I had an epiphany. In my cookbook, I have a recipe for Kale And Spinach Soup. Why not give the good old Palak Paneer a fabulously modern twist and make it with kale? It was about time the bunnies stopped having the fresh bunches of kale I bought for them every week. We deserved full access to those green leafy bouquets as well. So I started making Kale Paneer instead and quite frankly, they both taste very similar.
The spinach version tends to be silkier (because obviously spinach is a more delicate leaf) while the kale version seems to be nuttier and more smoky. My local supermarket has started stocking packs of chopped frozen kale. So these tend to get picked up at my weekly shop as well. Most of the time, I will add the paneer cubes unadulterated. But occasionally, I'll pan fry them in a bit of ghee till they start turning golden and the dish will instantly acquire a wow factor both in looks and taste. The trick to getting a silky smooth sauce is first steaming the greens briefly before pulverising in a blender. This breaks down their fibrous structure.
Hope you enjoy this clever and economical bit of weeknight cooking. Don't forget to rate the recipe when you comment below. Tag your creations with #cookrepublic when you share on social media. I always love to see what everyone is cooking from the blog! x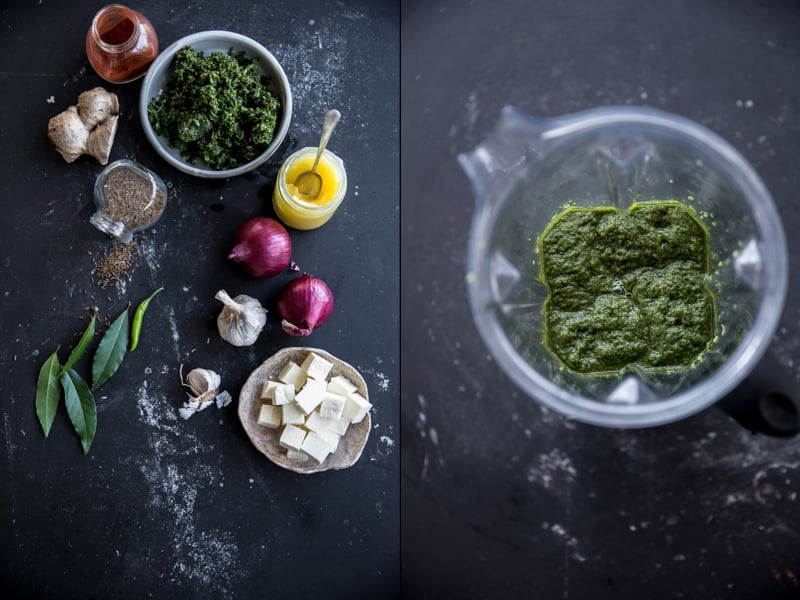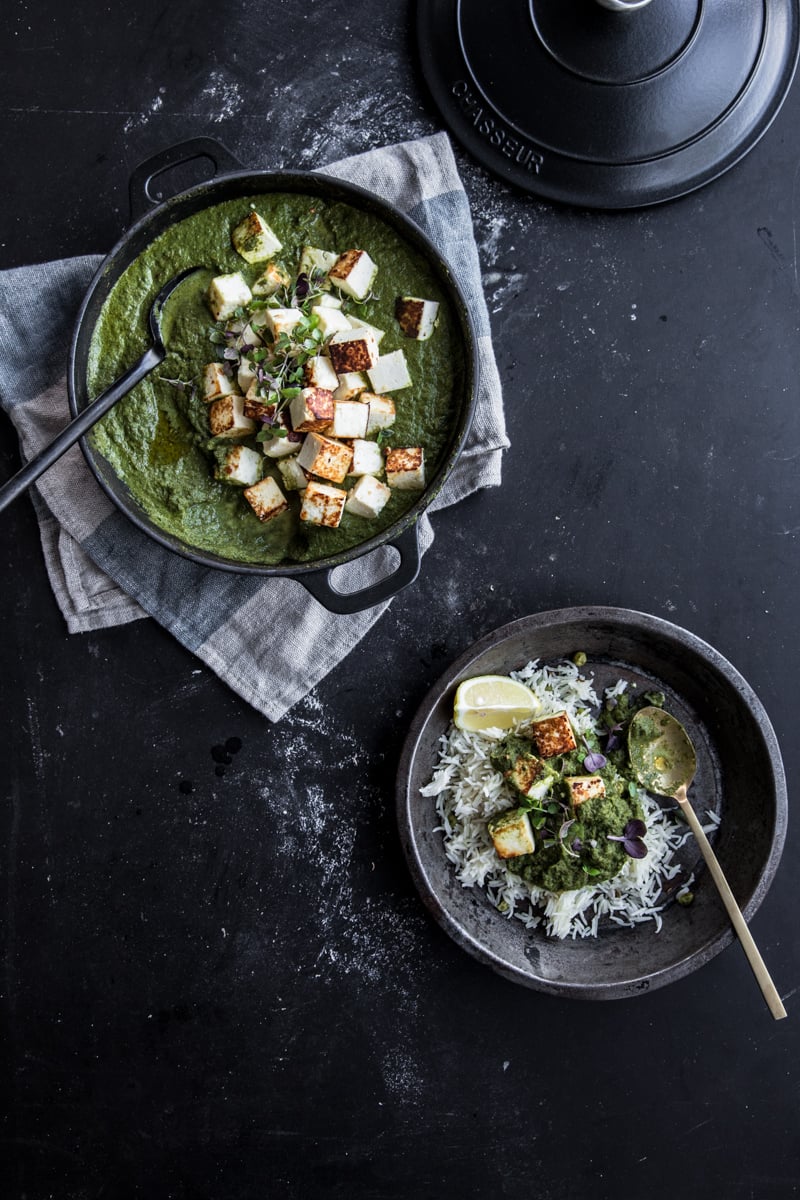 Recipe
Hungry For More Recipes? Subscribe to my newsletter. Check out Facebook, Instagram and Pinterest to see everything I share! And if you love cooking and new cookbooks, join my free Cooking Club on Facebook!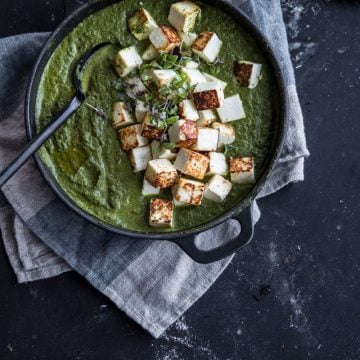 KALE PANEER
A delicious, nutritious and easy weeknight meal option, Kale Paneer is a fabulously modern take on the famous Indian vegetarian dish - Palak Paneer. Can be made with fresh or frozen kale. The curry freezes well and transports beautifully for work lunches.
Print Recipe
Rate / Comment
Ingredients
500

g

frozen chopped kale

2

large red onions

,

coarsely chopped

4

garlic cloves

3

cm

flat piece of ginger

1

small green chili

1

tablespoon

ghee

1

teaspoon

cumin seeds

1

bay leaf

1

tablespoon

ground cumin

½

teaspoon

garam masala

¼

teaspoon

red chili powder

2 ½

teaspoon

sea salt flakes

¼

cup

fresh cream

500

g

fresh paneer

,

cubed

knob of butter and micro herbs

,

to serve
Instructions
Fill a large saucepan with water about 3cm deep. Place a steaming insert/steamer basket inside the saucepan making sure it doesn't touch the water. Place frozen kale on the steamer basket, cover and steam on high for approximately 8 minutes until kale is a shade darker and looks a bit wilted. Remove from heat and cool slightly.

Place steamed kale, onion, garlic, ginger and chili in the jug of a blender along with 1 cup of water. Blend for a couple of minutes until silky smooth. Set aside.

Heat ghee in a sauté pan or small wok on medium. Add the cumin seeds and bay leaf. Fry for a few seconds until starting to sizzle and spurt. Slowly add the kale purée to the hot pan. Reduce heat to low and cook while stirring gently and occasionally for approximately 10 minutes. Add ground cumin, garam masala, chili powder and salt. Mix well and cook for another 10 minutes. If the sauce starts to feel a bit dry, add a quarter cup water to loosen it. Add cream and paneer. Mix well. Cook for a further 3-4 minutes until cream is well incorporated and warmed through. Remove from heat.

Garnish with herbs. Serve hot with a knob of butter along with steamed rice or naan.
Notes
For a golden paneer option pan fry paneer in a bit of ghee in a wide frying pan on medium heat, tossing constantly.
At any time towards the end of the cooking process or after, if you feel the sauce is getting too thick or stodgy then loosen it with 1/4 cup water.
Did you make my recipe?
I'd love to hear how you went! Tag me on Instagram @cookrepublic