What if I told you that you could have a bowl of piping hot, fluffy, perfectly steamed Basmati rice ready in just 2 minutes? You wouldn't believe me! But it's true. No rice cooker? No rice cooking training? NO PROBLEM!! Tilda's ready-to-heat steamed rice packs cook in the microwave in 2 minutes!! And then, you can use the perfectly cooked Basmati rice to create your own stir-fries, pilafs and salads in mere minutes! Like my jam-packed with flavour Vegan Taco Rice Salad.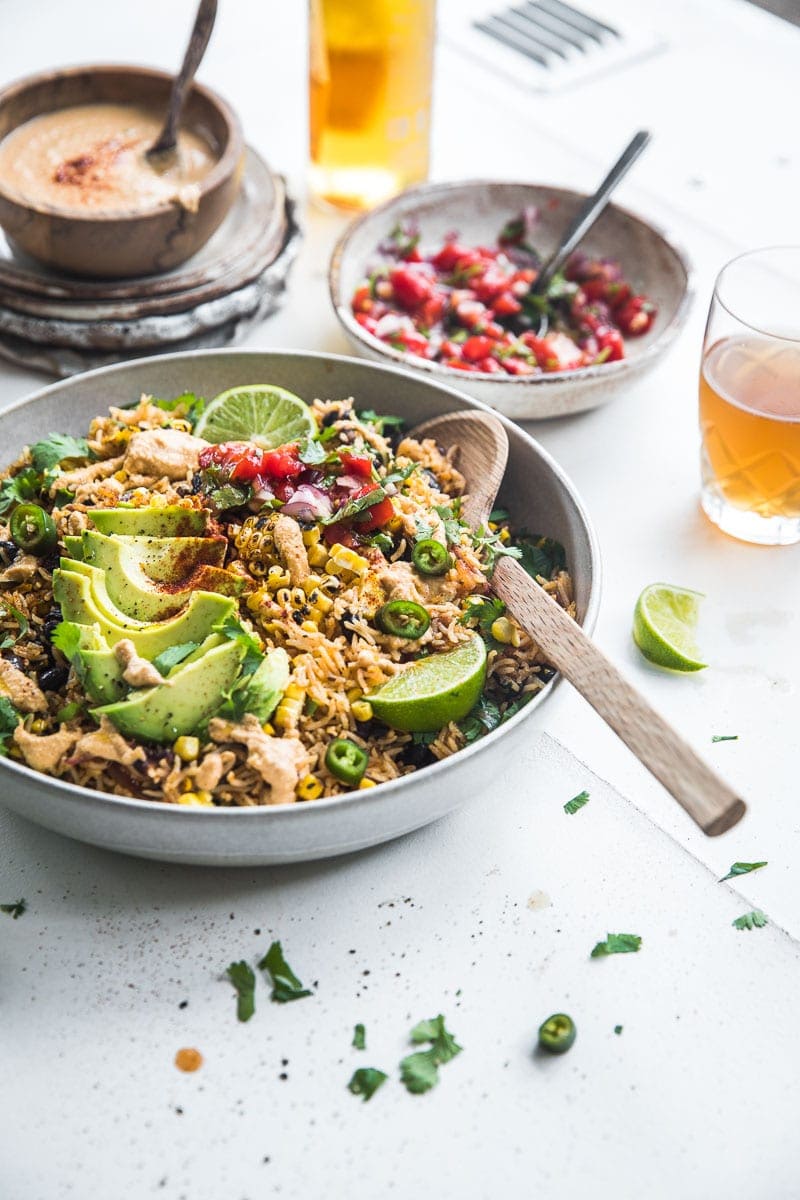 Why Basmati Rice is the best?
We are a family of rice eaters. We eat rice at least four to five times a week. Basmati rice is our rice of choice. Basmati is gluten-free and low in fat. It contains all eight essential amino acids, folic acid, and is very low in sodium and has no cholesterol. It also has a low to medium glycemic index, which means that energy is released at a slower, steadier rate leading to a more balanced level of energy. Basmati literally translates to "full of fragrance". It is supremely aromatic and a real joy to cook and eat. Having grown up in India, Basmati is more than just rice. It is a way of life.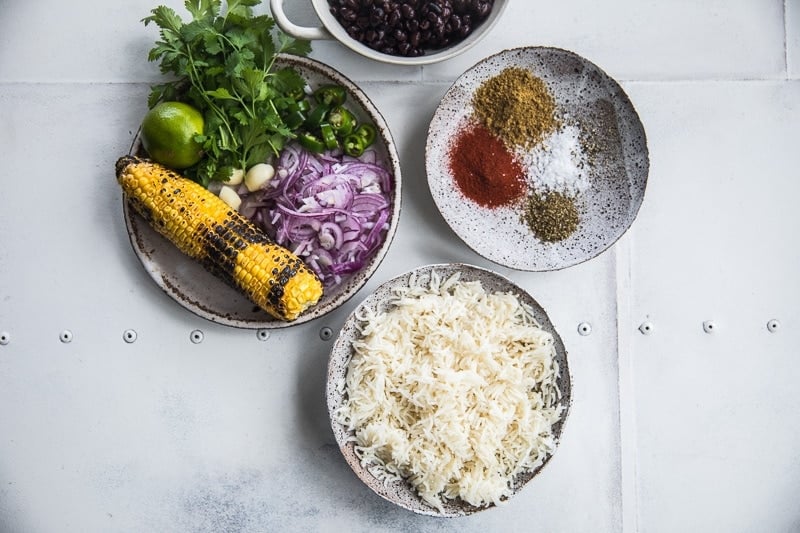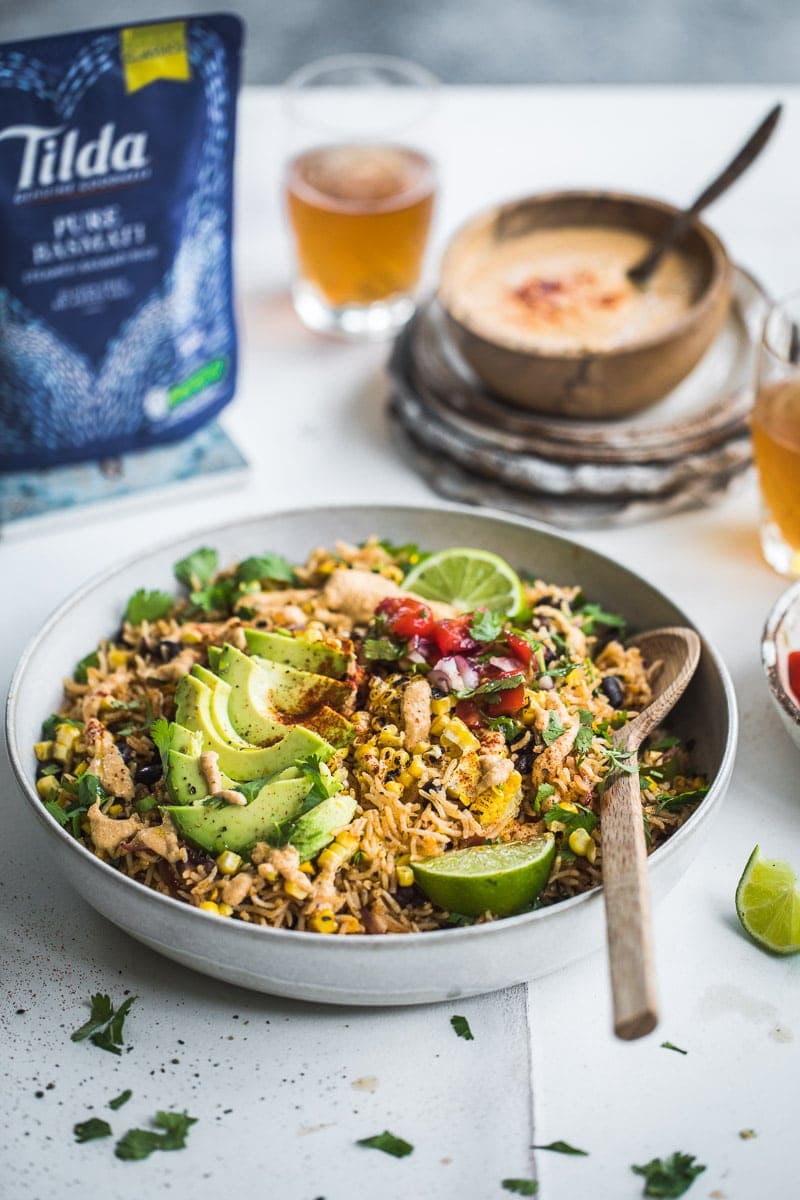 Tilda ready-to-heat rice packs are so convenient ...
In recent years, I have been pre-dominantly using the Tilda brand for Basmati and Jasmine rice. I just love the quality of rice and the perfect grains that cook beautifully every single time. But what I love the most is their ready-to-heat varieties of steamed rice that cook in the microwave in just 2 minutes.
These ready to heat gluten-free packs come in a range of delightful flavours – Pure Basmati, Brown Basmati, Coconut Basmati and Coconut Chilli & Lemongrass Basmati. All packs have pure natural ingredients you would find in your pantry. Nothing more. Their Basmati rice grains are aromatic and perfect in every bite.
The Pure Basmati pack which is my favourite, has steamed rice and just a bit of rice bran oil. It is gluten free, has no added salt and is free of any kind of nasties. Just the perfect thing to create a variety of delicious meals in minutes. I use it most often to create this delicious version of Mexican Dirty Rice – a Warm Taco Rice Salad that is perfect for warmer days with a chilled drink to wash down all the spices.
Instant Mexican Vegan Taco Rice with all the big flavours ...
You can't go past smoked paprika, cumin and lime to get the fiesta started. Add Mexican staples like cooked black beans, charred corn, jalapeno and avocado and you have a salad worthy of celebration. And if you make this Taco Rice Salad your blank canvas, you can build upon that and create an entire table of exciting sides to go with it.
I deliberately make this vegan/vegetarian and serve protein on the side so everyone can have what they prefer. As we head into peak summer, I also like to add chopped ripe mangoes or nectarines for a little fruity hit. Goes really well with some pico de gallo and a nice vegan queso dip.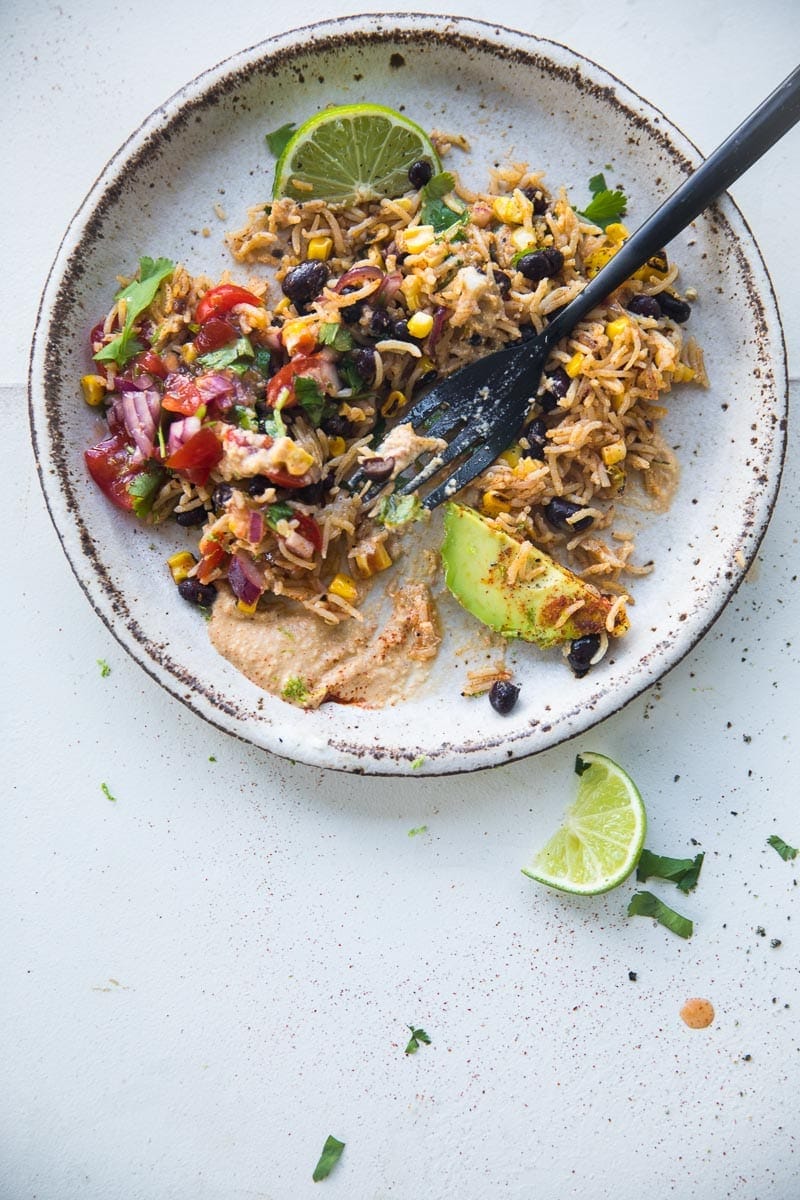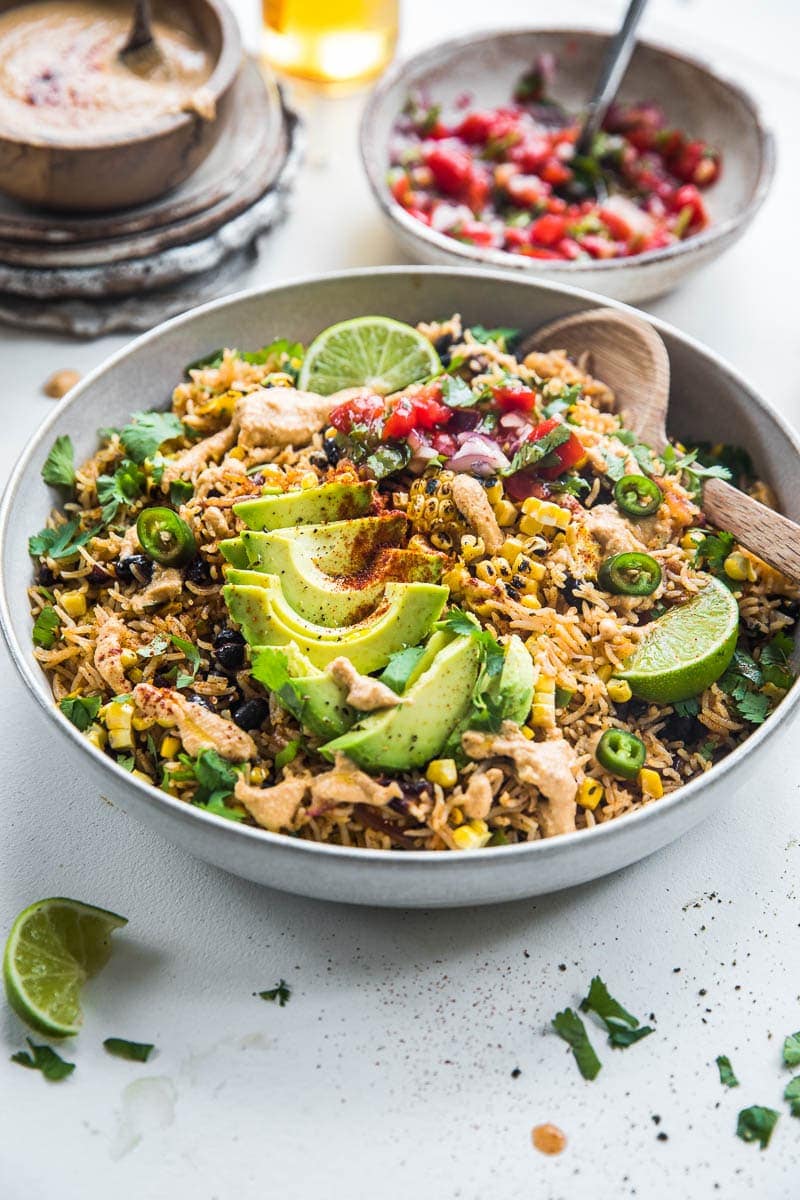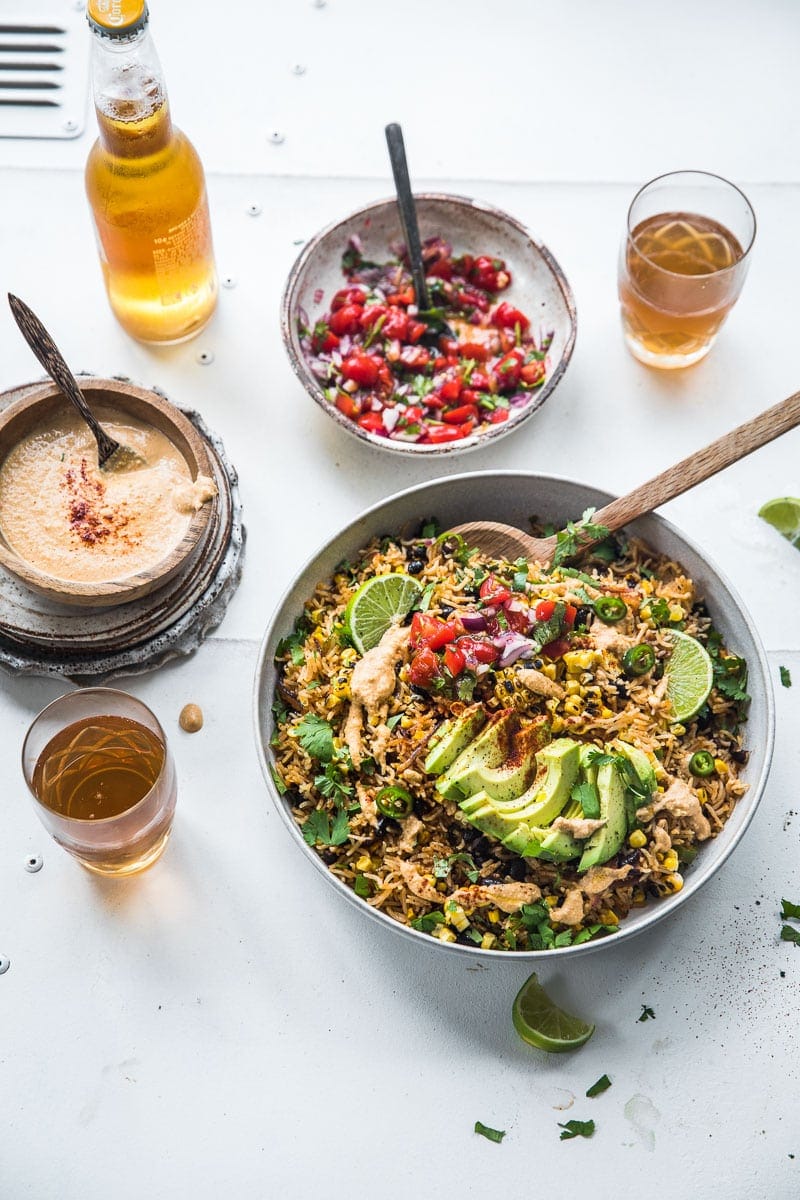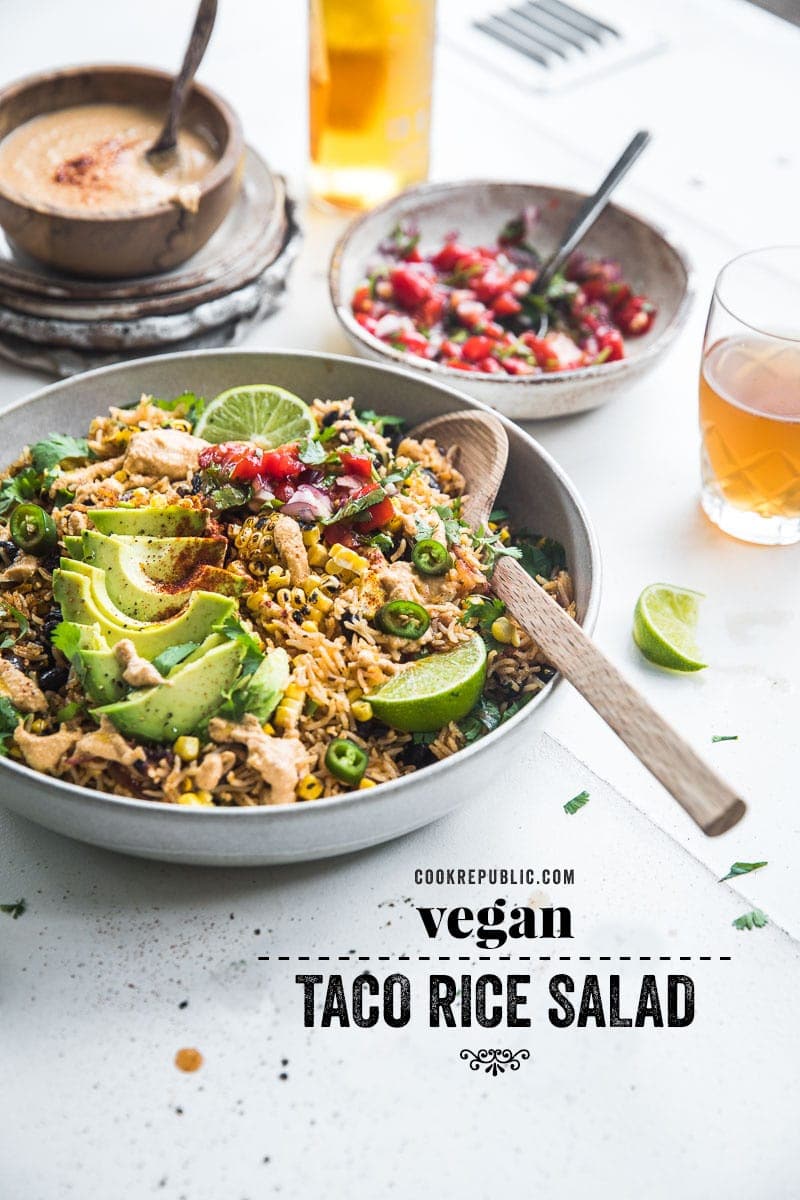 If you make and love this flavour-packed, plant-based Vegan Taco Rice Salad; let me know what you think in the comments below. I love reading your feedback and it helps others wanting to try the recipe. Don't forget to share your Taco Rice Bowls with me on Instagram @cookrepublic #cookrepublic. Buen Provecho! x
Recipe
Hungry For More Recipes? Subscribe to my newsletter. Check out Facebook, Instagram and Pinterest to see everything I share! And if you love cooking and new cookbooks, join my free Cooking Club on Facebook!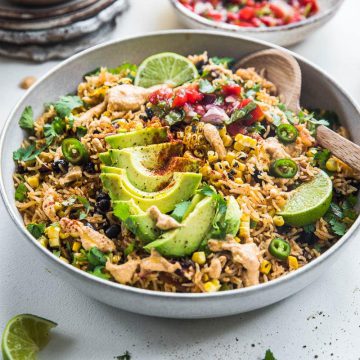 Ingredients
2

X 250g packs Tilda Pure Basmati steamed rice

,

approximately 3 cups cooked rice

2½

tablespoons

extra virgin olive oil

3

garlic cloves

,

minced

1

red onion

,

thinly sliced

1

jalapeno

,

sliced

1

corn cob

,

roasted and kernels removed

1

cup

cooked black beans

1½

teaspoons

smoked paprika

2

teaspoons

ground cumin

1

teaspoon

dried oregano

1

lime

,

zested

1

tablespoon

lime juice

1

teaspoon

sea salt flakes

Freshly ground black pepper

¼

cup

fresh coriander leaves

,

chopped

avocado slices, lime wedges, pico de gallo, queso dip

,

- to serve
Instructions
Cook Tilda Pure Basmati Rice in the microwave as per the packet instructions. Place cooked rice in a medium bowl and fluff up with a fork.

Heat oil in a large sauté pan (or a large frying pan) on medium. Add garlic, onion and jalapeno. Sauté for a couple of minutes until onion starts to caramelize.

Add the cooked rice, corn, black beans, paprika, cumin, oregano, lime zest and juice, salt and pepper. Mix well. Sauté for a couple of minutes until heated through. Adjust seasoning as required. Add coriander leaves. Mix and remove from heat.

Serve in a large bowl topped with avocado slices and lime wedges. Top with pico de gallo * and queso dip**.
Notes
* Pico de gallo is a tomato based fresh salsa made with chopped tomato, onion, jalapeno, lime, coriander and salt.
**A queso dip is a Mexican cheese dip flavoured with chillies and spices.
The salad can also be topped with store bought salsa, hot sauce and freshly grated mild cheese if you don't have the time to make pico de gallo or queso dip.
Did you make my recipe?
I'd love to hear how you went! Tag me on Instagram @cookrepublic
Disclaimer – This post is sponsored by Tilda. Tilda rice is a constant in my pantry and I have been cooking it for many years to create beautiful rice dishes. All opinions are honest and based on my continued love for this product.