I've never come across a papaya lassi on a menu anywhere. I wonder why because it is so darned delicious! And takes literally a few minutes to make. A papaya lassi is absolutely one of the best ways to ensure you eat more of this amazing fruit with all its glorious health benefits.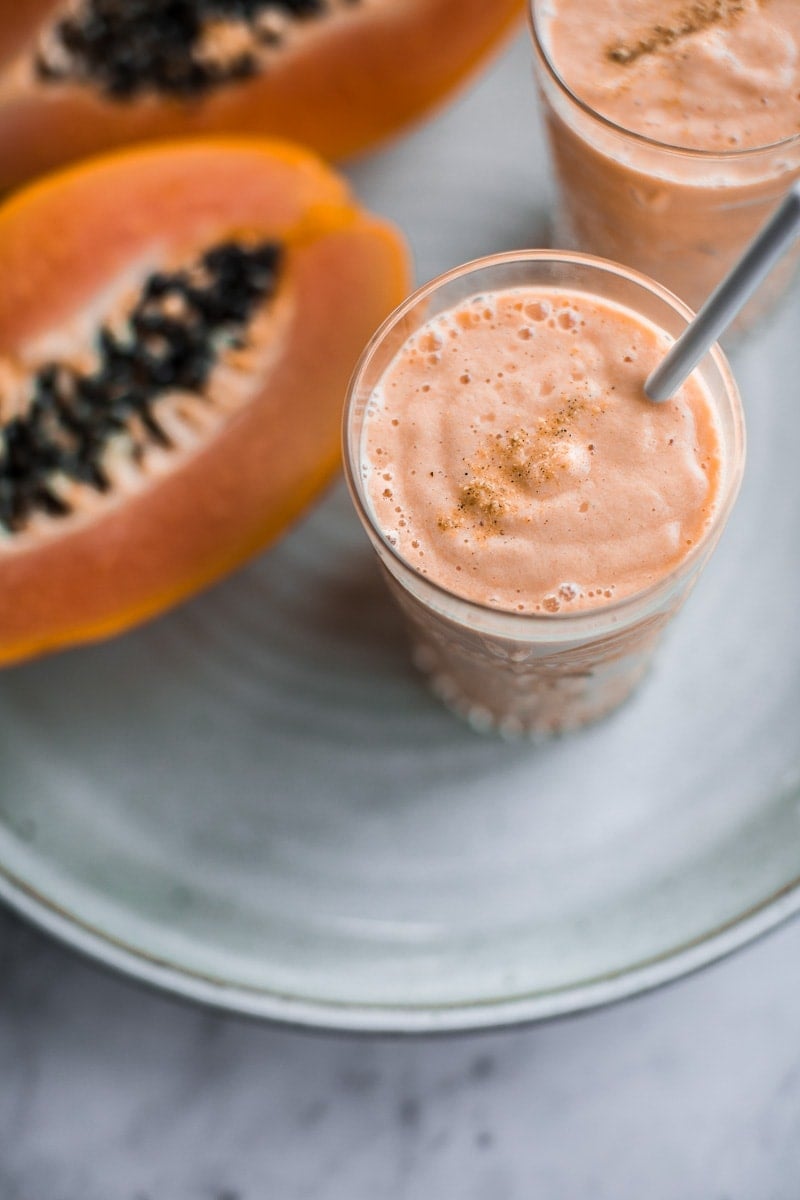 Why a papaya lassi works!
As a general rule of thumb, any stone fruit or fruit with gorgeous soft flesh would be delicious when blitzed with some yoghurt. The lassi made famous by mango is a traditional Indian drink of blended fruit, yoghurt and spices - most likely cardamom. If you look at cardamom's flavour notes, it is sweet and floral with delicate eucalyptus notes. A perfect match for mango, coconut, peach, pear, strawberry, persimmon and papaya.
Papaya with its glorious orange buttery soft flesh and exotic musky flavour, works really well with yoghurt (especially coconut yoghurt!) and cardamom. And that is why a papaya lassi is a no brainer.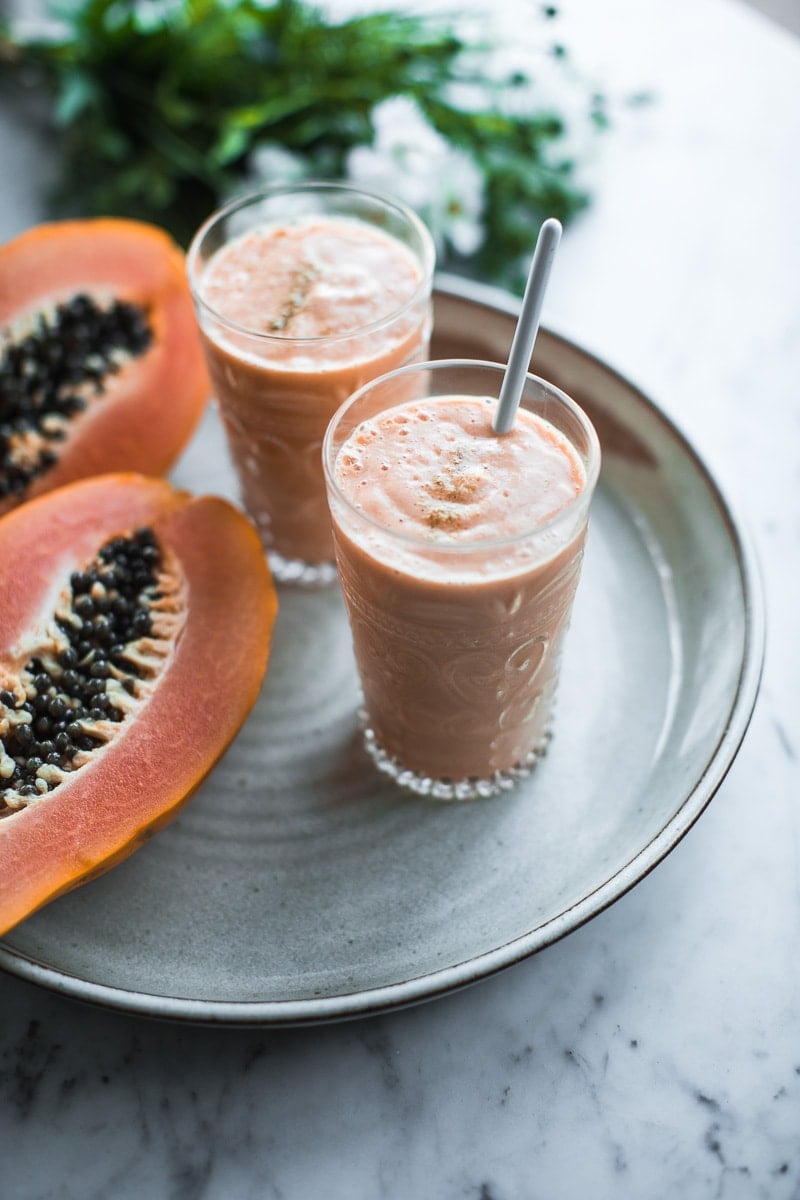 Why papaya might be the healthiest fruit on the planet?
A small papaya (that I have come to realize I can devour in a single sitting!) has almost 200% of your daily recommended Vitamin C intake. And a good amount of potassium and magnesium. An incredibly good source of fiber and folic acid, papaya can lower bad cholesterol and regulate digestion. Being super-rich in lycopene, papaya is known to reduce the risk of colon and prostate cancer.
A bowl full of papaya every other day might be excellent for building up your immunity while providing your gut with all the good bacteria it needs to thrive and flourish. Cut papaya keeps in the fridge for up to 2 days and can be frozen for up to 2 months. When they are in season, choose the ripest papayas you can find, peel deseed and cube them to freeze for the offseason. This papaya lassi is a great way to use up fresh or frozen papaya.
How do you eat your daily papaya? I usually just drizzle the flesh with lime juice and scoop and eat it with a spoon. I have recently started making this super delicious Papaya Ceviche. And now this papaya lassi is keeping things interesting in the daily-papaya-eating-department. If you have a fun way of having papayas, please do share! x
Recipe
Hungry For More Recipes? Subscribe to my newsletter. Check out Facebook, Instagram and Pinterest to see everything I share! And if you love cooking and new cookbooks, join my free Cooking Club on Facebook!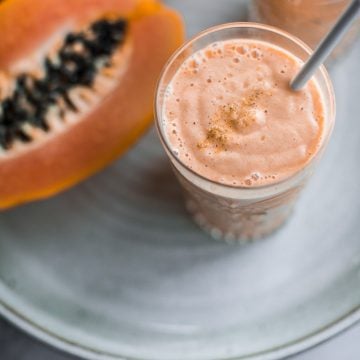 Ingredients
1

small ripe red papaya

,

approx 500g

1

cup

Greek yoghurt

1

tablespoon

maple syrup

1

teaspoon

ground cardamom + extra for sprinkling

1/2

cup

crushed ice
Instructions
Cut the papaya in half (lengthways). Using a spoon, scoop out the seeds and discard. Using a sharp paring knife, carefully peel the papaya. Place the papaya cut side down on a chopping board and cut into small pieces.

Place papaya pieces, yoghurt, cardamom, maple syrup and ice in the jug of a blender. Blend until smooth.

Pour into two 500ml capacity tall glasses. Sprinkle with extra cardamom and serve.
Notes
Ensure papaya is ripe. I usually buy a firm bright yellow papaya with smooth skin and then allow it to fully ripen in my fruit bowl for 1-3 days. A nicely ripened papaya will be very fragrant, a deep coral orange colour and starting to form a couple of soft spots on the surface. You will be able to press your thumb into the flesh.
Make It Vegan - Use coconut yoghurt instead of regular yoghurt.
Did you make my recipe?
I'd love to hear how you went! Tag me on Instagram @cookrepublic