You know that Christmas is not too far away when the first batch of cherries start appearing at the markets in mid-November.  Cherries are just beautiful. Their delicate flavour and intense juicy red flesh make for excellent desserts. But the most magical thing about cherries is that if you cook with the bright red flesh and incorporate it in say, a mousse or an ice cream; it turns into the most beautiful blush coloured dessert.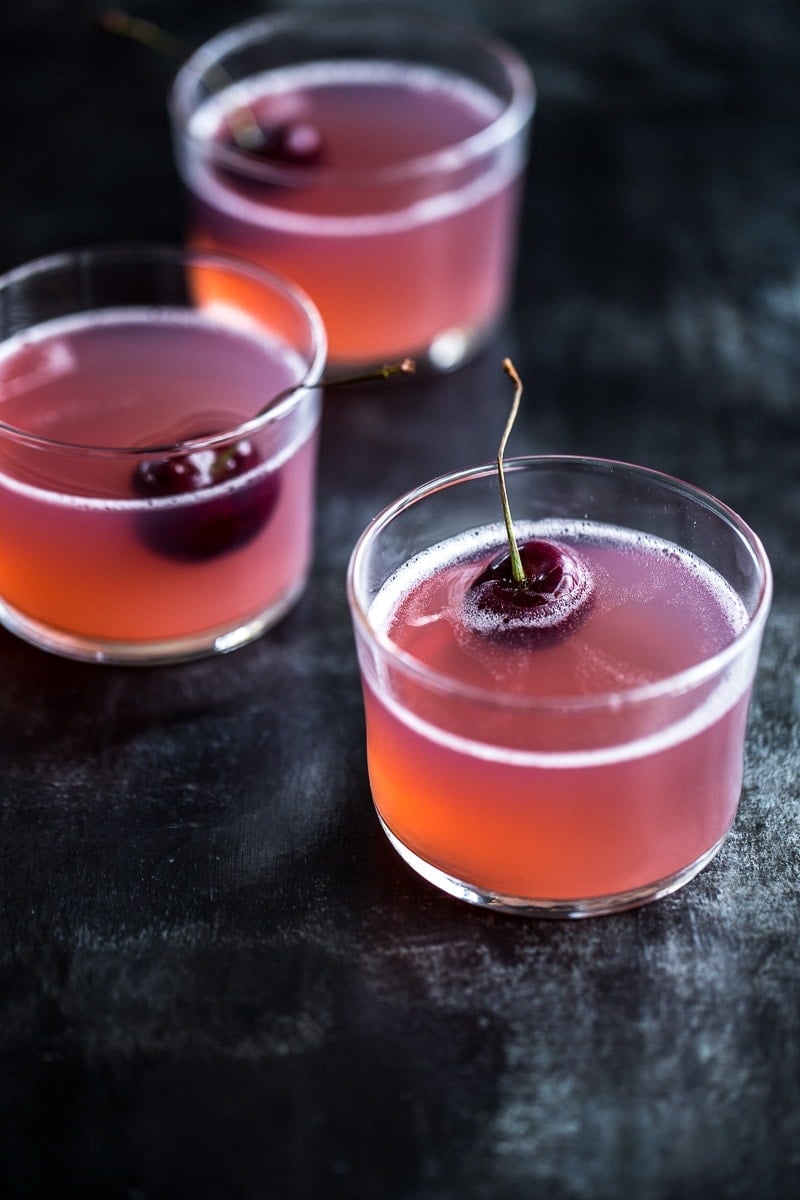 Earlier this week, I managed to score a nice big box of cherries to eat, cook and bake with.  After a day of planning cherry recipes for the blog, I was making a Cherry Spritz using my SodaStream Sparkling Water Maker. Freshly squeezed cherry juice and sparkling water (have you tried it? It is the most delicious thing.) And then I had an epiphany! What if I made a sparkling cherry jelly. A beautiful blush Cherry Jelly with bubbles on the surface!
I wanted a clean, light dessert that would almost act like a palate cleanser after dinner. So playing on the flavours of that Cherry Spritz, I introduced gelatine to the mix. And voila! I had petite little glasses filled with gorgeous blush pink coloured wobbly cherry jellies – with lots of bubbles on the surface.
All you have to do is simmer the cherries with all the flavourings in a saucepan, add the gelatine and sparkling water. Mix and strain and set. It couldn't be any simpler!
How do you get the cherries to float in the jelly?
As a food photographer and stylist, I am always thinking outside the box and trying to achieve visual results that will make you pause and think! For this cherry jelly, you could garnish the finished jelly with a cherry on top. But where's the fun in that? I wanted to float and embed the cherry - suspended in the jelly. So much more magical! It was achieved with a very simple trick. Once I filled the glasses with the jelly mix, I suspended a cherry with the stalk intact in the liquid and taped the stalk to the edge of the glass with masking tape. I then placed the glasses to set in the fridge. The cherry jelly set with the cherry floating in the liquid. So cool, right?
This sparkling cherry jelly is a really simple recipe as you will see in the video below. Once the jelly is set,  serve with a cherry on top and maybe a little dollop of vanilla ice cream and chocolate sauce if you aren't fussy about it being a palate cleanser. You could make it fancier with whipped cream and chocolate shavings. Maximum impact with very little effort, just like most recipes you will find on my blog. The best part? This cherry jelly can be made up to a week in advance. So make sure you put it on your festive menu this year!
I hope you enjoyed yet another fun SodaStream recipe. If you make this delightful Sparkling Cherry Jelly, I would love to hear your feedback in the comments below. Enjoy! x
Recipe
Hungry For More Recipes? Subscribe to my newsletter. Check out Facebook, Instagram and Pinterest to see everything I share! And if you love cooking and new cookbooks, join my free Cooking Club on Facebook!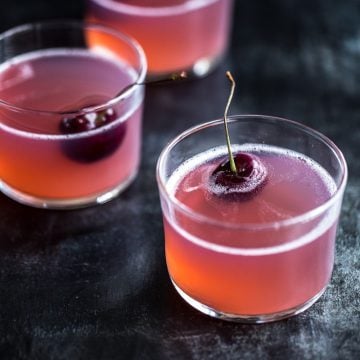 Ingredients
300

ml

water

1

tablespoon

gelatine powder

½

cup

(

120

g

)

caster sugar

6

cherries

,

pitted and crushed

2-

star anise pods

300

ml

sparkling water

4

fresh cherries

,

to serve

chocolate sauce

,

to serve
Instructions
Place 100ml tepid water in a small bowl. Sprinkle gelatine powder over the water. Allow to bloom for 5 minutes.

Place remaining water, caster sugar, pitted cherries and star anise pods in a medium saucepan. Bring to a boil and remove from heat. Add the gelatine mix. Stir well to ensure that sugar has melted.

Strain into a 1 litre capacity jug. Add sparkling water to the strained mixture.

Pour jelly mix in 4 X 200ml capacity glasses/clear dessert bowls.

Place a cherry in each glass. Lift it so it is half outside the jelly and half suspended in it. Tape the cherry stalk to the side of the bowl white masking tape to hold it in place.

Chill the jelly cups in the fridge for at least 4-5 hours.

Serve chilled with chocolate sauce drizzled on top.
Notes
Make It Vegan - Use agar agar to set the jelly instead of gelatine.
Did you make my recipe?
I'd love to hear how you went! Tag me on Instagram @cookrepublic
Note – This post is sponsored by Sodastream. The recipe and video were specially created for Sodastream's Spirit machines. It is a brand/product that I love and have been using for almost a decade. I believe that using Sodastream is not only fun but helps reduce plastic bottle usage and waste. All opinions and musings are my own.