When you have very little time but need to put out a showstopping salad that is sure to impress everyone, make this - Watermelon Feta Salad With Pickled Shallots! Bursting with unbelievable fresh flavours, this easy to make and utterly delicious salad is perfect for hot days. With juicy, sweet watermelon cubes, salty feta cubes, punchy olives and chilli flakes and the sweet tang of oranges coupled with my instant house-pickled shallots, this salad is a crowd-pleaser!
A Classic Watermelon Feta Salad With A Twist
A classic watermelon salad would ideally have watermelon, feta and mint with citrus and oil-based dressing. Sounds simple and delicious enough. But you can quickly attain gourmet status by giving this Watermelon Feta Salad a few simple ingredient upgrades. Sliced black olives, crushed red chilli flakes, some lemon thyme and rocket, a juicy bright orange to not only make the salad look sensational but to balance the flavours of sweet, salty and spicy by tipping the scales in the sour category.
But wait! A raw, summery salad isn't quite complete without the crunch and punch of onion. I have been adding raw onion (with a cold water treatment technique that I learned in my childhood while helping mum prep in the kitchen) to my watermelon feta salad for years. But recently, when I started making pickled onions every week as part of my meal prep, I decided to try these out in my watermelon salad. Instant flavour upgrade!
Instant Pickling Method for Shallots
My usual pickled onions are pickled the traditional way but heating the brine and pouring over the onion. But this instant-pickling method adopts the cold-water pickling technique I mentioned earlier. This ensures that the onion retains its crunch and bite but loses its pungency and spice. I also use shallots instead of onion, because shallots are inherently sweeter and not at all spicy and thereby perfect for this raw salad.
To create instant pickled shallots, all you need to do is soak the shallot slices in the vinegar mix for 15 minutes (minimum). This will give you the most delicious, mouth-puckeringly sweet and crunchy shallots that elevate this watermelon and feta salad gloriously.
Cutting Watermelon Into Perfect Cubes
And make sure that you are cutting your watermelon into 3-4cm cubes. There are many videos floating around the internet on how to cut watermelon into cubes. Believe me, you'll want to take a look. No matter, how adept you think you might be at cutting watermelon, chances are you might end up with wedges instead of batons. And when you cut wedges into cubes, you mostly get triangles. I always do. So looking at pictures has helped me perfect cutting watermelon into perfect cubes.
Try this delicious Watermelon Feta Salad with Pickled Shallots and let me know what you think. It is such a divine looking salad for impressing people on short notice.
Recipe
Hungry For More Recipes? Subscribe to my newsletter. Check out Facebook, Instagram and Pinterest to see everything I share! And if you love cooking and new cookbooks, join my free Cooking Club on Facebook!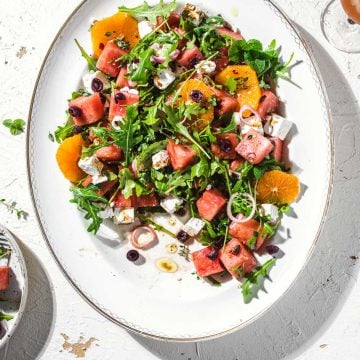 WATERMELON FETA SALAD WITH PICKLED SHALLOTS
An easy, delicious summer salad bursting with fresh flavours and hitting all the flavour notes with sweet, salty, spicy and sour! Watermelon, feta, olives, chilli, orange and house-pickled shallots create a crowd-pleasing salad that will wow everyone!
Print Recipe
Rate / Comment
Ingredients
for the salad
4

cups

(

650

g

)

watermelon

,

cubed

1/2

cup

feta cheese

,

cubed or crumbled

1/3

cup

sliced black olives

1/2

teaspoon

crushed chilli flakes

2

cups

packed

,

rocket leaves

handful of mint leaves

12

lemon thyme sprigs

,

(leaves picked)

1

orange

,

peeled and sliced into rounds
for the salad dressing
2

tablespoons

extra-virgin olive oil

1

tablespoon

balsamic vinegar

sea salt flakes and freshly ground black pepper

,

to taste
for the pickled shallots
2

French shallots

,

peeled and thinly sliced

1/4

teaspoon

sea salt flakes

1

teaspoon

sugar

4

lemon thyme sprigs

1/3

cup

cup rice wine vinegar

crushed black pepper
Instructions
Add all ingredients for pickled shallots in a medium bowl. Ensure that shallots are completely submerged in the vinegar. Cover and rest for 15-30 minutes. When ready to use, drain the vinegar or simply scoop out the shallot slices.

Prepare the dressing by mixing all ingredients for the dressing in a little lidded jar and shaking well.

In a large bowl add watermelon, feta, olives, chilli, lemon thyme, mint, orange, rocket and pickled shallot. Drizzle the dressing over the salad. Toss and mix gently until dressing is evenly distributed. Scoop into a large serving platter or salad bowl. Enjoy.
Notes
Make sure that your watermelon cubes are about 3cm and evenly cut for a beautiful looking salad with easy eatability factor.
Did you make my recipe?
I'd love to hear how you went! Tag me on Instagram @cookrepublic