You know that delicious Chinese Eggplant dish you had at the restaurant that you just can't stop thinking about? Delicious stir-fried eggplant pieces coated in a sticky, sweet and spicy chilli garlic sauce? Your prayers have been answered because I have perfected that Chinese Chilli Eggplant dish and made it into a super-easy 10-minute vegan recipe that will save your weeknight dinners!
How To Cook The Perfect Eggplant Dish
Cooking eggplant perfectly is an art. It isn't difficult. But it requires a knowledge of how to treat this delicious fruit in order to create a texturally perfect dish that isn't slimy or raw or soggy. The best way of cooking eggplant is to roast it on an open fire. The next best way is to wok-fry it on high heat for a very short time till it chars and soaks up all the oils, spices and sauces and then to cover and steam it gently for a few minutes till it reaches tender perfection.
For today's recipe which I have been cooking for a few years now and which often comes into play after I have made one too many Baba Ghanoush and Nasu Dengaku. After those two fan favourites, this Vegan Chinese Chilli Eggplant recipe is an absolute winner when you have a hankering for an Asian-style dinner, have only 10 minutes and a whole eggplant sitting on your fridge shelf. The best part is, this recipe will NEVER fail. I promise you that. I must've cooked it a hundred times always following the quantities and instructions to the letter. It is always perfect.
The Deal With Eggplant And Oil
Barring eggplant dips and bakes, whenever eggplant is cooked in a pan; it needs extra oil than if you were cooking a different vegetable. Eggplant can also soak up a lot of oil. It is just the nature of eggplant. It is like a sponge soaking up whatever liquid it comes in contact with. So you have to know the right amount of oil to add in order to cook the eggplant perfectly but not have it greasy and swimming in it. Using healthier oils is always a plus.
This recipe requires 3 tablespoons of oil (olive oil and sesame oil). I have tried this recipe with 1,2,3 and 4 tablespoons of oil. I found that 3 tablespoon yields the best result if you are using a big eggplant (500-600g) as stipulated in the recipe. You can get away with 2 tablespoons if you absolutely must cut back on the oil but 1 tablespoon yields a not-very-succulent dish whereas 4 tablespoons make it greasy.
The Vegan Chinese Chilli Eggplant Wok Clock
As with all my stir-fries, I like providing a handy wok clock for your stir-frying pleasure. Ensure you are using a medium-sized wok (24-28cm at least). Carbon steel woks are the best. Pay attention to the heat levels in the recipe instructions. Stir-Frying is an art too and just like making pancakes, it requires constant adjustments to the heat to yield the best results. Make sure your eggplant is cut as instructed in the Recipe Notes. It makes a huge impact on the final dish and the soaking up of flavours, not to mention the eating pleasure. For a Chinese stir-fry, I like to slice all ingredients thinly and at an angle. More surface area for the sauces to stick to and thinner slices to ensure that the ingredients are cooked in a short amount of time.
Place the ingredients in the order in which they will go into the wok, starting at 12'clock and moving clockwise.
Olive Oil And Sesame Oil
Garlic
Ginger
Chilli
Eggplant
Sauces, Sugar, Salt, Pepper
Vegetable Stock
Spring Onion & Sesame
This Chinese Chilli Eggplant goes really well with steam rice and is saucy enough to not need anything else. If you make this, I'd love to hear your feedback in the comments below or on Instagram. Enjoy!
Recipe
Hungry For More Recipes? Subscribe to my newsletter. Check out Facebook, Instagram and Pinterest to see everything I share! And if you love cooking and new cookbooks, join my free Cooking Club on Facebook!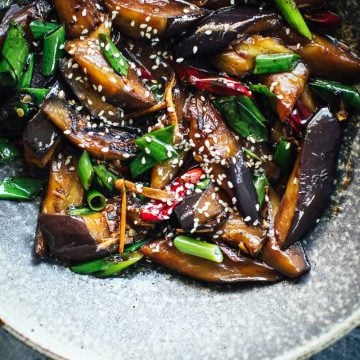 VEGAN CHINESE CHILLI EGGPLANT
A super delicious, 10-min quick stir-fry that tastes exactly like that Chinese Eggplant dish you had at the restaurant. This Vegan Chinese Chilli Eggplant will become an instant favourite at the dinner table.
Print Recipe
Rate / Comment
Ingredients
2

tablespoons

extra virgin olive oil

1

tablespoon

sesame oil

1

long red chilli

,

thinly sliced

4

garlic cloves

,

minced

1-

inch

ginger piece

,

thinly sliced and julienned

1

large eggplant

,

500-600g cut into long, angled slices*

1

tablespoon

light soy sauce

2

tablespoons

hoisin sauce

2

teaspoons

sugar

sea salt flakes and freshly ground black pepper

,

to taste

1/4

cup

(

60

ml

)

vegetable stock

1/2

cup

sliced spring onion

,

green only

white sesame seeds

,

to garnish
Instructions
Heat a medium wok on medium-high heat.

Add olive and sesame oils. Add chilli, garlic and ginger.  Stir-fry for a few seconds until starting to turn golden.

Add eggplant and increase heat to high. Stir-fry tossing constantly for approximately 1 minute until eggplant is thoroughly coated in oil and starting to char.

Add soy sauce, hoisin sauce, sugar, salt and pepper. Mix well and stir-fry for a few seconds.

Add vegetable stock. Cover the wok with a lid. Reduce heat to medium and cook for 8 minutes.

Remove from heat and spoon into a serving dish. Return wok to the heat. Add spring onion and flash fry for a few seconds until just glazed. Add spring onion to the eggplant in the serving dish and toss gently. Garnish with sesame seeds and serve hot with steamed rice.
Notes
*See the process shots above to cut the eggplant perfectly for this stir-fry dish. You want each slice to be slightly long but bite-sized with a small amount of skin and lots of flesh. To do this, I chop the stem off. I slice the eggplant lengthways into 4-5 long, thick slices. I make a single cut down the middle (lengthways). This gives me 8 thick and long eggplant batons. I slice each baton at a slight angle to get 4 almost diamond-shaped pieces.
Did you make my recipe?
I'd love to hear how you went! Tag me on Instagram @cookrepublic