Tahini is not only wonderful in savoury sauces and dips but absolutely divine in baking. There is something truly more-ish about a sweet, baked, sesame treat. It is chewy (due to the fluid stretchy nature of tahini) and crumbly (due to the almond meal) all at once. An almond and tahini cookie that requires only 5 ingredients and 15 minutes to make. And one you need to make weekly if you want to snack better at 3pm and reap the health benefits of tahini.
Tahini Cookies Are So Good For Your Health
Did you know that tahini (sesame paste) is super dense in essential vitamins and minerals? With a good dose of magnesium, potassium, iron, protein and healthy fats, it assists in providing you with a boost of energy, healthy skin and muscle tone. It also assists in liver detoxification (so don't go and have this cookie with your coffee or you will negate its goodness) and helps with weight loss.
For the past few weeks, I have been baking versions of these cookies every week. The biggest challenge was getting the flavours right and making it vegan. Tahini can have an overpowering taste if you don't complement it well with other ingredients. For my cookies, I have kept it simple. With almond meal as the base and tahini as the emulsifier, all I have added to it is maple syrup, vanilla and salt (which of course balances the bitterness of tahini and the sweetness of maple to perfection!). Because it has no dairy or eggs, it keeps well for up to a week at room temperature (I actually made a separate batch to test this out as all the batches I was making were gone in 3 days!).
Tips For Vegan Tahini Cookies
A. I tested this with honey, but prefer this version with maple syrup instead. The honey version is delicious too but I feel this one is better. (I have included honey variation in the Recipe Notes).
B. I made several batches where I rolled them in between the palm of my hands and flattened them on the baking tray and then several other versions where I dropped scoops of the dough on the tray with an ice cream/cookie scoop and then flattened it. I found that the hand-rolled versions had a smoother exterior (which you see in all the baked pictures) whereas the ice cream scoop method gave a rougher exterior to the cookie. Both versions had a perfectly chewy cookie on the inside.
Enjoy the cookies! I would love to hear your feedback in the comments below. Please do leave a rating if you make this and love it. It definitely helps others try out the recipes too! Thanks dearies! Sneh x
Recipe
Hungry For More Recipes? Subscribe to my newsletter. Check out Facebook, Instagram and Pinterest to see everything I share! And if you love cooking and new cookbooks, join my free Cooking Club on Facebook!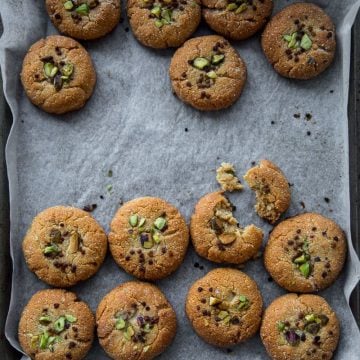 Ingredients
2

cups

(

225

g

)

almond meal

3/4

cup

(

200

g

)

tahini

1/2

cup

(

130

ml

)

maple syrup

1/2

teaspoon

sea salt flakes

2

teaspoons

vanilla extract

crushed cacoa nibs

,

chopped pistachios - to garnish
Instructions
Preheat oven to 170°C (convention)/150°C (fan-forced/convection). Line a rimmed cookie sheet/tray with baking paper.

Place tahini, maple syrup, salt and vanilla in a medium heavy bottomed saucepan on medium heat. Heat for a few minutes, stirring constantly until smooth and blended. Remove from heat and allow to cool for 10-15 minutes.

Add almond meal to the tahini maple mixture and mix until a rough dough forms.

Roll 1-2 tablespoons worth of the dough in the palm of your hands into a ball. Place on the prepared tray and flatten slightly with your fingertips. Alternatively use an ice cream or cookie scoop to drop dollops of the dough on the prepared tray and flatten with your fingers.

If decorating, press the toppings (nuts, seeds etc) on top of the cookie discs in the centre. Bake in the pre-heated oven for approximately 10 minutes. Switch off the oven and let the cookies brown slightly in the hot oven for another 5 minutes before removing.

Cool on wire racks. Store in air tight containers at room temperature for up to a week.
Notes
Non Vegan Version - Use 150g honey instead of the maple syrup. Add 1/2 teaspoon baking powder to the cookie dough. This version will give you a slightly darker cookie so remove the cookies from the oven straightaway after the 10 minute baking mark.
Cookie Toppings - You can use a selection of chopped nuts (pistachios), whole nuts (almonds), crushed cacao nibs or seeds (sesame).
Tahini Usage - I like to use a traditional brand of Tahini imported from Lebanon. It is really runny and smooth which it really easy to cook and bake with (cookies, sauces etc..). You can see a picture of the massive jar on this post.
Did you make my recipe?
I'd love to hear how you went! Tag me on Instagram @cookrepublic