Nestled in the gorgeous bushland of the Hawkesbury region north of Sydney amongst the gum trees is Billabong Retreat – an all-inclusive wellness haven created to envelop you in self-love, a sense of wonder, natural beauty and the joy of birdsong lilting through the gentle breeze. Designed and created by Paul and Tory von Bergen, their story of how they built it on dreams and passion is truly inspiring. With 30 beds in cabins perched amongst the treetops and natural rock formations, this eco-yoga retreat offers daily yoga, mindfulness, and meditation sessions.
A lush tranquil setting overlooking a true blue Aussie Billabong dotted by a sea of pink and blue water lilies, Billabong Retreat is an amazing combination of rustic seclusion and modern amenities. With resort styled swimming pool, fully equipped spa offering massages and healing treatments, delicious organic food cooked on site, a stunning yoga studio with an amazing view of the treetops and various indoor and outdoor reading and meditation areas equipped with hammocks, lounges, books, guitars and activities - there is plenty for everyone to do and if you choose, to not do.
A few weeks ago after roping in my brother to babysit the boys, Nick and I drove a mere 30 minutes from home to spend a relaxing day at Billabong Retreat. What I loved about the place was the people – every single person there had such a sense of warmth and calm. From the chef to the yoga instructor to the massage therapist, they were all not only friendly and kind but so full of information and passion. After a cup of tea taking in the incredible atmosphere on the huge balcony, Nick and I joined a meditation class taking place in the studio.
Our instructor led us through a mantra chanting session (something I used to only do when I was in high school and had completely forgotten about). A bit hesitant at first, we all joined in slowly and before long, I was part of this beautiful melodious group chant that made my insides hum. At the end of which I felt invigorated. With good reason too. You see, chanting (especially Ommm) activates the pituitary gland through the vocal cords (one of the first things I loved at my daily yoga class with mum when I was in school. My mum is a yoga instructor). This helps balance your hormones, opens up your sinuses to clear airways, strengthens and lengthens your spinal cord with the breaths you take, clears your mind, reduces stress and increases focus while providing positive vibrating energy for your whole body.
After the meditation session, Nick and I explored the whole property. We walked along the Billabong (an Aussie term for a little lake or isolated pond left behind due to the river changing course). I was mesmerized by the hundreds of water lilies swaying above the lily pads. We spent some time in the meditation hut perched on the Billabong, relaxing on the hammocks. Time really seemed to have slowed down, there was a gentle lull accentuated by the sounds of nature – the scurrying of the blue tongue lizards on the tree trunks, the birdsongs, the light drizzle breaking the water's surface and the ebb and flow of the water as this old man with a snorkel swam at least 30 laps in the dark water.
We headed back to the spa for our massages where I had the best massage of my life (and I don't say that lightly because I try and get a massage done every couple of months). The natural oils used were amazing and I also got a wealth of information on how to use magnesium to heal different parts of my body. And then it was time for lunch.
Food was truly the highlight of our trip. Beautiful delicious abundant vegetarian meals are cooked by the resident chef from biodynamic, seasonal and locally sourced ingredients. Each meal is thoughtfully planned and created to not only provide a visually inviting experience but optimum nutrition (check out their blog for some truly exciting vegetarian recipes).
Our lunch was cooked by Chef Simon Favorito and included a table full of dishes we could pick and choose from. Crispy Chickpeas, Eggplant and Kale with warming spices (that I have tried to recreate), Golden Sesame Dukkah, Basil Parsley Pesto, Cashew Sauce, Pickled Red Cabbage and Quinoa Pumpkin. Afternoon snack was a Caramel Date Bliss Ball and there was free-flowing tea and coffee throughout the day. After lunch, there was an informative workshop on living foods teaching about kefir, kombucha, sauerkraut and all kinds of fermentation.
We wrapped up our day with a 90-minute intense yoga session that woke up bits of me I didn't know existed. We left feeling thoroughly pampered, nourished and calm. I felt like we managed to do so much in the space of a few hours yet we had so much time to just relax and unwind. I loved the fact that you can do your own thing, that you can set your own pace in this wonderful place and at the end of it you leave armed with the knowledge that will better your daily life and that of your family. It is also very affordable and would make an excellent getaway for a special occasion or even a wonderful present for someone you love. Ages 12 and up are welcome, which would make taking your son/daughter along an extra special outing. Nick and I can't wait to get back and immerse ourselves once again in that wonderful atmosphere of peace and tranquility.
Today's recipe is inspired by one of the gorgeous dishes we had for lunch at Billabong Retreat. I have been trying to re-create the flavour and texture and I am very happy with the result. This dish requires you to make Crispy Chickpeas (I have included the recipe for that and lots of helpful tips here). This dish is very nourishing and adheres to the Ayurvedic style of cooking and eating. It has fennel and cumin seeds, both of which are very helpful for digestion. As is eggplant. Kale is a great detoxifier. Which leads me to believe that this salad (or stir-fry or dry curry if you may) is suited for assisting in weight loss and gut health while boosting fibre. It is a bit dry on its own and is meant to be had with a sauce drizzled on top (try my turmeric tahini sauce) or with a daal on the side (try my Turmeric Daal).
Cooking this dish is like a dance with the heat. You go high and then medium and then low and then high again for short bursts of time to get the perfect symphony of flavours and textures. I hope you enjoy this dish. I make it now once every week and often a big spoonful of it gets added to my Buddha bowl. Enjoy it! If you make it, I would love to hear your feedback in the comments below. Sneh x
More Easy Chickpea Recipes
Recipe
Hungry For More Recipes? Subscribe to my newsletter. Check out Facebook, Instagram and Pinterest to see everything I share! And if you love cooking and new cookbooks, join my free Cooking Club on Facebook!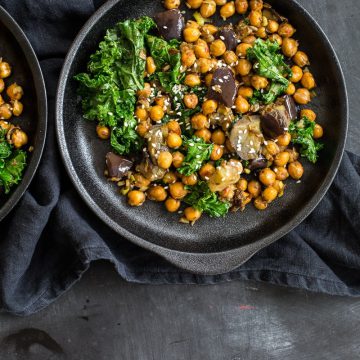 Ingredients
1

tablespoon

olive oil

1

tablespoon

fennel seeds

½

teaspoon

cumin seeds

1

leek

,

finely chopped (white only)

1

(

150

g

)

small eggplant

,

cubed

1

cup

packed kale

,

chopped

1

cup

(

250

g

) roasted chickpeas

½

teaspoon

ground cumin

1

teaspoon

sea salt flakes

sesame seeds
Instructions
Add oil to a large frying pan on high. Add fennel seeds, cumin seeds and leek. Sauté for a few seconds and reduce heat to medium. Continue sautéing for a minute or two until leek starts to caramelise.

Add eggplant. Sauté for 3-4 minutes on medium heat until glazed and a shade darker.

Add 1/4 cup water, cover with a lid, reduce heat to low and simmer for 5 minutes.

Remove the lid, increase heat to high and cook for a few seconds until the veggies start to sizzle. Add roasted chickpeas, chopped kale, ground cumin and salt. Mix well. Cook for a minute until kale starts to wilt and chickpeas are heated through.

Remove from heat and sprinkle with sesame seeds. Serve hot with a tahini sauce and pickled beetroot along with quinoa or couscous.
Notes
You don't have to use roasted chickpeas for this recipe, regular canned chickpeas are fine too. But the crispy roasted chickpeas add a lovely texture to the salad and make it nice and dry.
Do not be tempted to add salt in the beginning while cooking the eggplant. This will enable eggplant to release liquid which will result in a soggy mess.
Did you make my recipe?
I'd love to hear how you went! Tag me on Instagram @cookrepublic
disclaimer - We were kindly invited to Billabong Retreat for the day and our whole day was sponsored by them. My opinion of Billabong, my musings and words are my own.