The custard-like, velvet-smooth cheesecake with the burnt top, the world-famous Burnt Basque Cheesecake is one of the easiest desserts you can make. Blend 7 ingredients in a blender, pour in a cake tin and pop in the Air Fryer for just under half an hour for a decadent, delicious dessert that you will want to make again and again!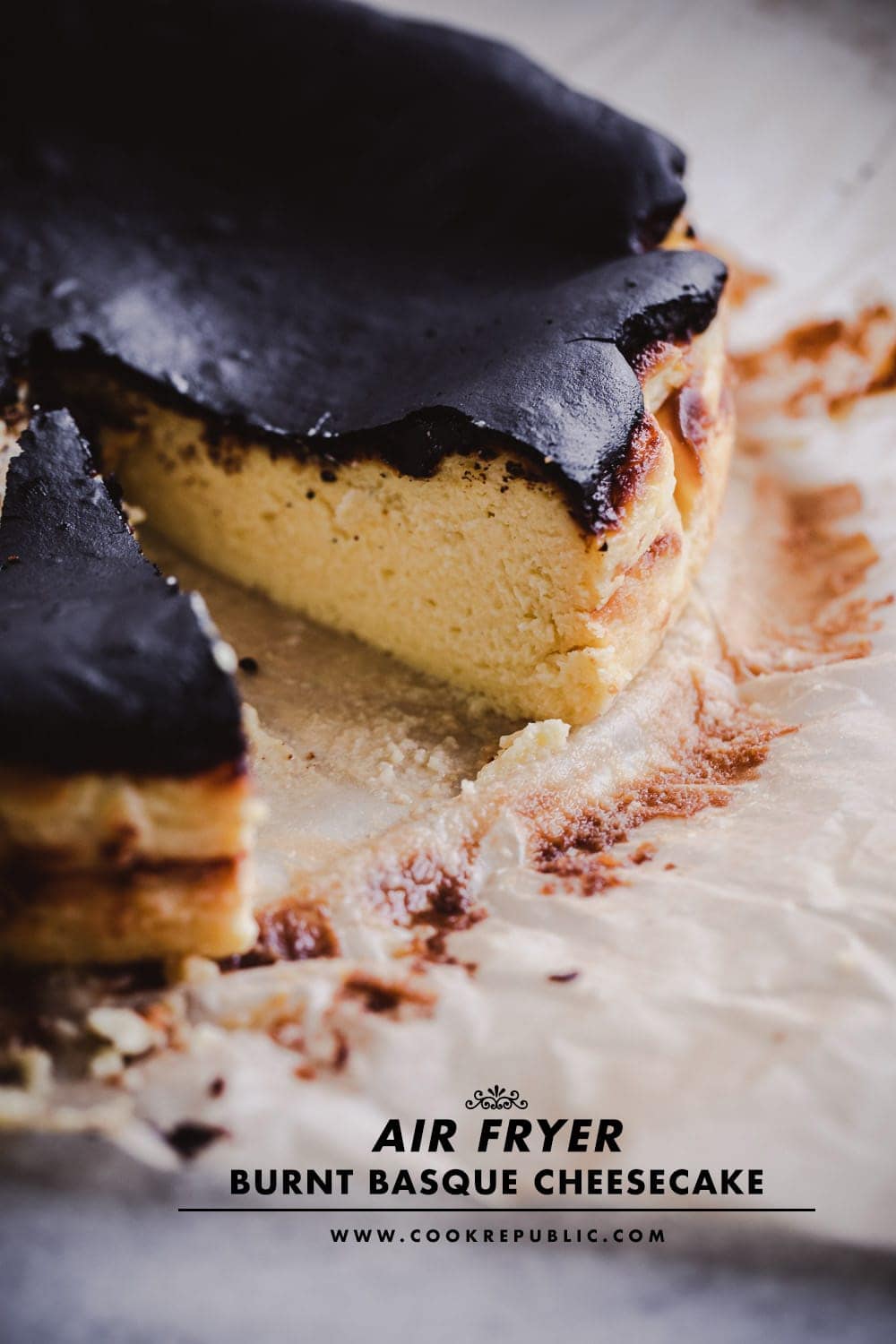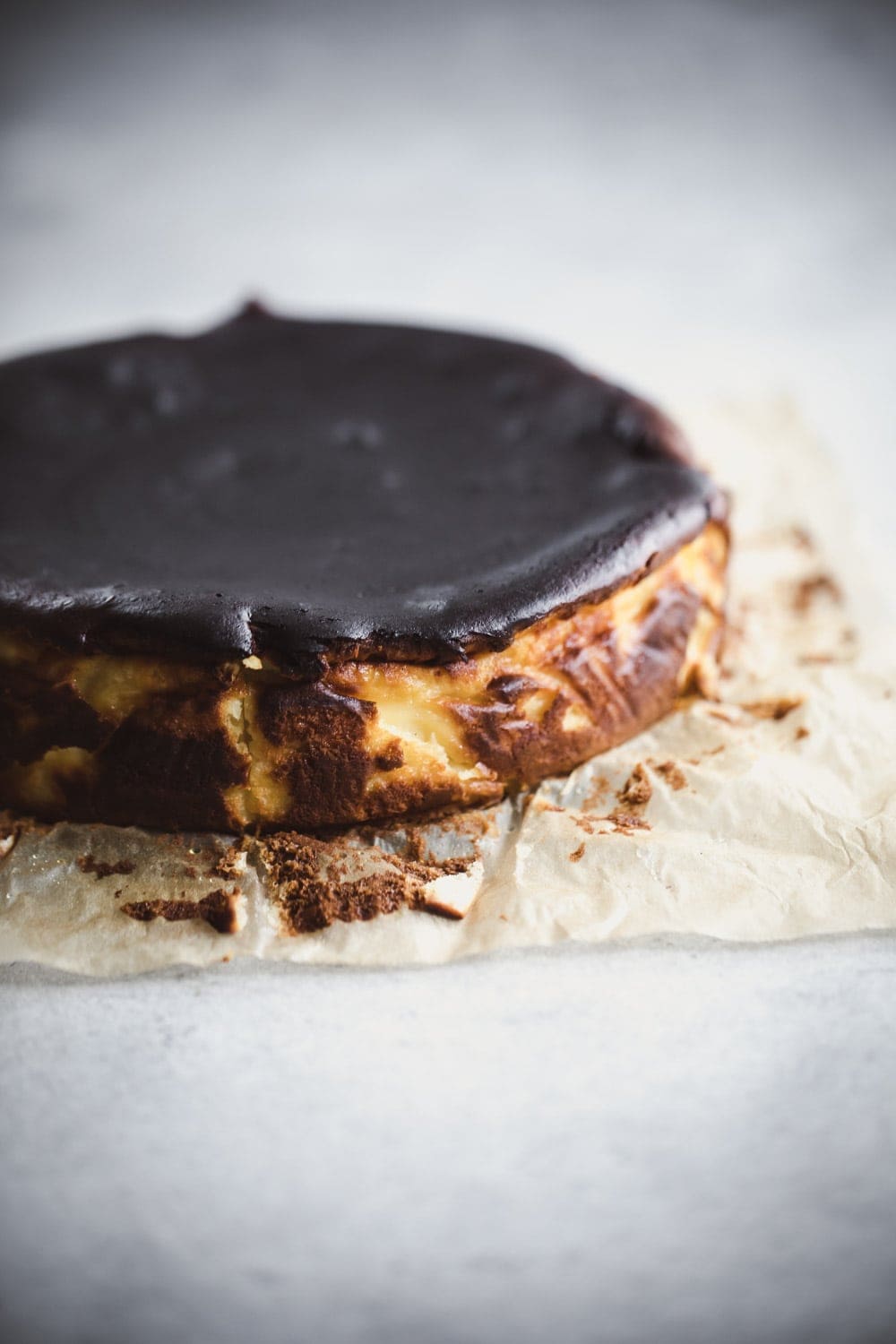 The Irresistible Burnt Basque Cheesecake
If you were to ever eat only one cheesecake, let it be the Burnt Basque Cheesecake. Invented in 1990 by chef Santiago Rivera of La Viña in San Sebastian, Spain; this bold and decadent dessert is a new and extremely popular addition to the culinary world. Called "Burnt" cheesecake due to its iconic almost-scorched dark surface, this cheesecake will have you begging for more. No questions about it! Now, how about an Air fryer Burnt Basque Cheesecake?
A traditional cheesecake is cooked low and slow and often in a water bath in the oven. But a Burnt Basque Cheesecake is the opposite. You cook it at a high temperature for a shorter period to get that gorgeous burnt crust and silky, custard-like molten interior. Which makes it the perfect candidate for an Air Fryer.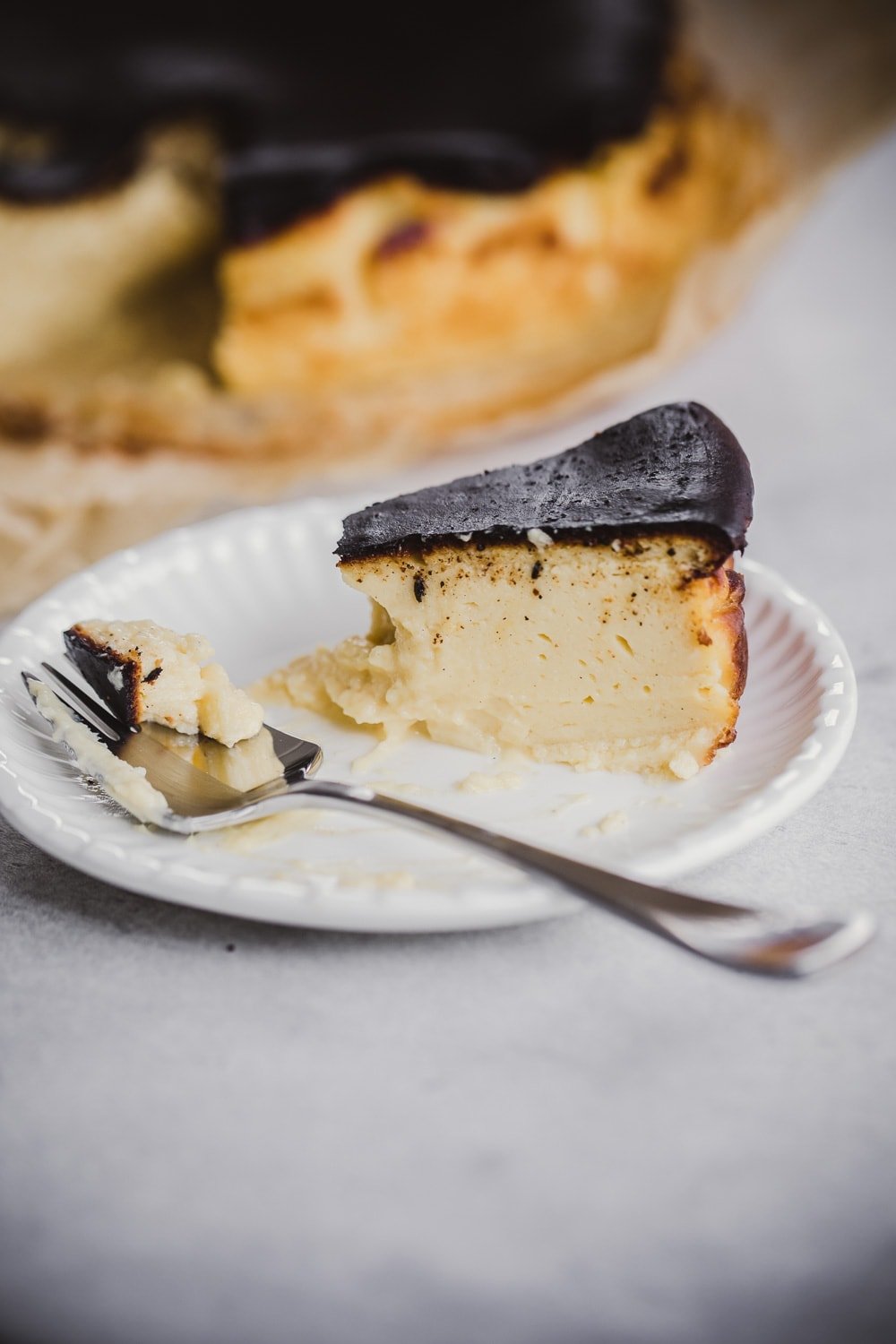 Air frying A Cheesecake In The InstantPot Air fryer
When I started a collaboration with InstantPot to test and create recipes for their newly launched Instant Vortex Plus Air Fryer Oven, I knew what I was going to create. An Air Fryer Burnt Basque Cheesecake! The premise of the cheesecake was perfectly suited to what an Air Fryer does – cook things quickly at high heat. And the Instant Vortex Plus Air Fryer Oven is so much more than an Air Fryer – it can air fry, roast, broil, bake, reheat or dehydrate. It is incredibly easy to use with a light-up panel and touch buttons. Its compact size and beautiful steel and black construction mean that it doesn't take up a lot of real estate and looks very sleek on your counter. I can see the immense value of this appliance for people who don't have ovens or need one appliance that can do a lot of things including baking.
So, when I started recipe testing, I decided to both bake and air fry the cheesecake. Both end results were amazing and pretty comparable. This Burnt Basque Cheesecake is one of the easiest desserts you will make with an incredibly delicious end result. You blend the ingredients in a blender, pour in a tin and air fry or bake. And don't be alarmed by the burnt top, the cake is called "Burnt" Basque Cheesecake for a reason. The bitterness of the burnt crust offsets the creamy tang and sweetness of the cheesecake perfectly. Match made in heaven.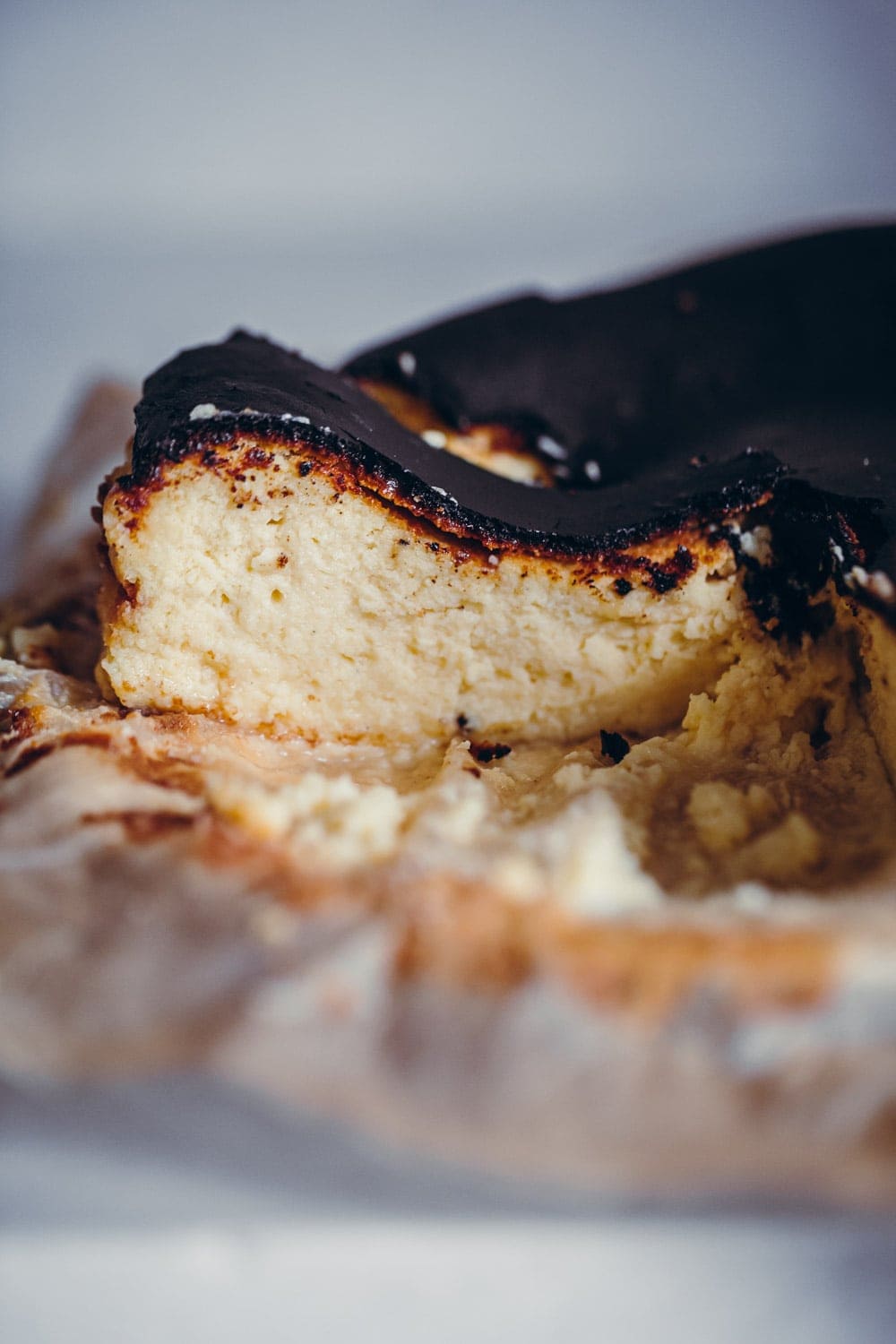 Some key things to remember to make the most perfect Burnt Basque Cheesecake
Make sure your ingredients are at room temperature – cream cheese and eggs. This will ensure quick and even blending in the blender.
Do not overmix the cheesecake batter. The ideal blending time is 30-60 seconds.
Always line the tin with baking paper to facilitate easy removal and unmoulding of the cheesecake after baking.
The cake will be jiggly around the middle when you finish baking. This is okay and is what you want for that silky custard interior.
Remove cake from oven and allow to cool to room temperature. The cake will sink quite a bit at this time. This is okay.
Chill the cake in the fridge for 4-5 hours or overnight. This will allow the cheesecake to set completely. Do not be tempted to cut into the cheesecake while it is still warm. (Although it tastes amazing, the centre will be too gooey)
Recipe
Hungry For More Recipes? Subscribe to my newsletter. Check out Facebook, Instagram and Pinterest to see everything I share! And if you love cooking and new cookbooks, join my free Cooking Club on Facebook!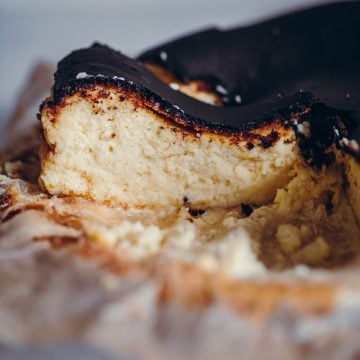 Ingredients
500

g

cream cheese

375

ml

thickened cream

5

eggs

40

g

plain flour

335

g

raw sugar

2

teaspoons

vanilla extract

Pinch

of salt
Instructions
Pre-heat the Instant Vortex Plus Air Fryer Oven on the Bake setting at 180°C.

Grease a 20cm springform/round baking tin and line it with baking paper. Make sure the paper is just enough to line the tin and have a slight overhang.

Use cream cheese at room temperature. Break up the cream cheese block and add to the jug of a blender. Add thickened cream, eggs, flour, sugar, vanilla and salt. Process on high for a minute until smooth and well combined.

Pour the cheesecake batter into the prepared baking tin.

When the Air fryer Oven is pre-heated (it will beep and ask for food to be put in), place the cake tin on the lowest tray of the oven. Bake at 180°C for 25 minutes. Increase oven temperature to 190°C and bake for a further 5 minutes to burn the top and allow the cake to cook through the middle.

Remove from the oven. Cool in the tin for an hour. Allow to set completely by chilling in the fridge for 4-5 hours before slicing and serving.
Notes
Air Fry function – This Burnt Basque Cheesecake can also be baked using the Air Fry function at 180°C for 25 minutes and an additional 2 minutes at 200°C.
I have used a wider/shallower cake tin because I am cooking this in the Air Fryer with a shorter cooking time. A wider/shallower pan allows more even baking of the cheesecake. You can use a smaller/higher cake tin but you might have to increase the cooking time in order for the cheesecake to cook through the middle.
Did you make my recipe?
I'd love to hear how you went! Tag me on Instagram @cookrepublic
disclaimer - This post is sponsored by Instantpot Australia. This recipe was meticulously tested multiple times and created for them. All opinions are my own. I am thoroughly enjoying using this beautifully advanced Air Fryer and looking forward to sharing more recipes with you.