This is my recipe for a basic Aloo Tikki - a spiced Indian Potato Patty served with fresh green chutney. The Indian counterpart of a hash brown, the famous Aloo Tikki is a favourite snack served with chai. Also used as a base for many street style chaat recipes, hot aloo tikkis are topped with chickpea curry, salad veggies and sweet and sour chutneys for a delicious meal.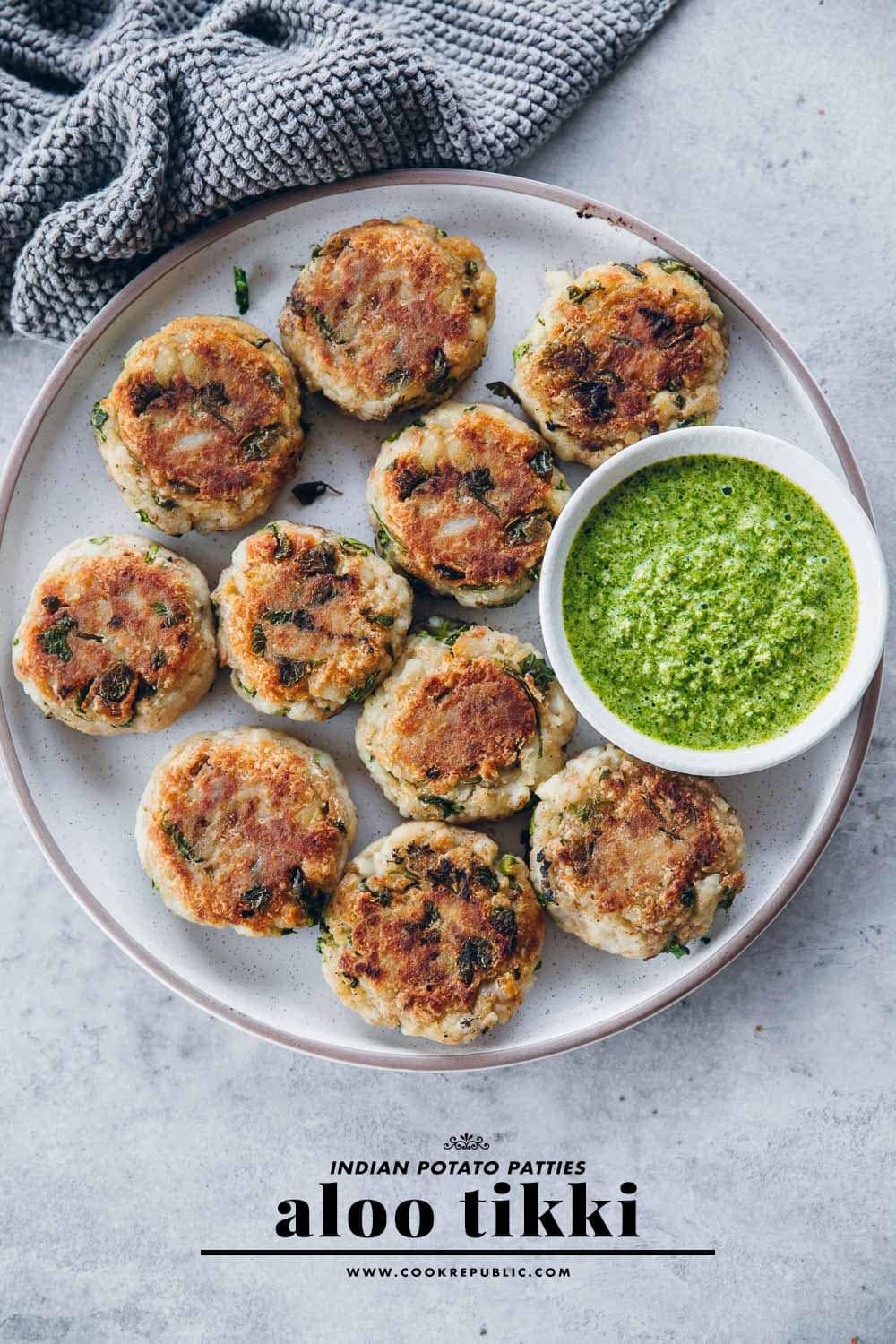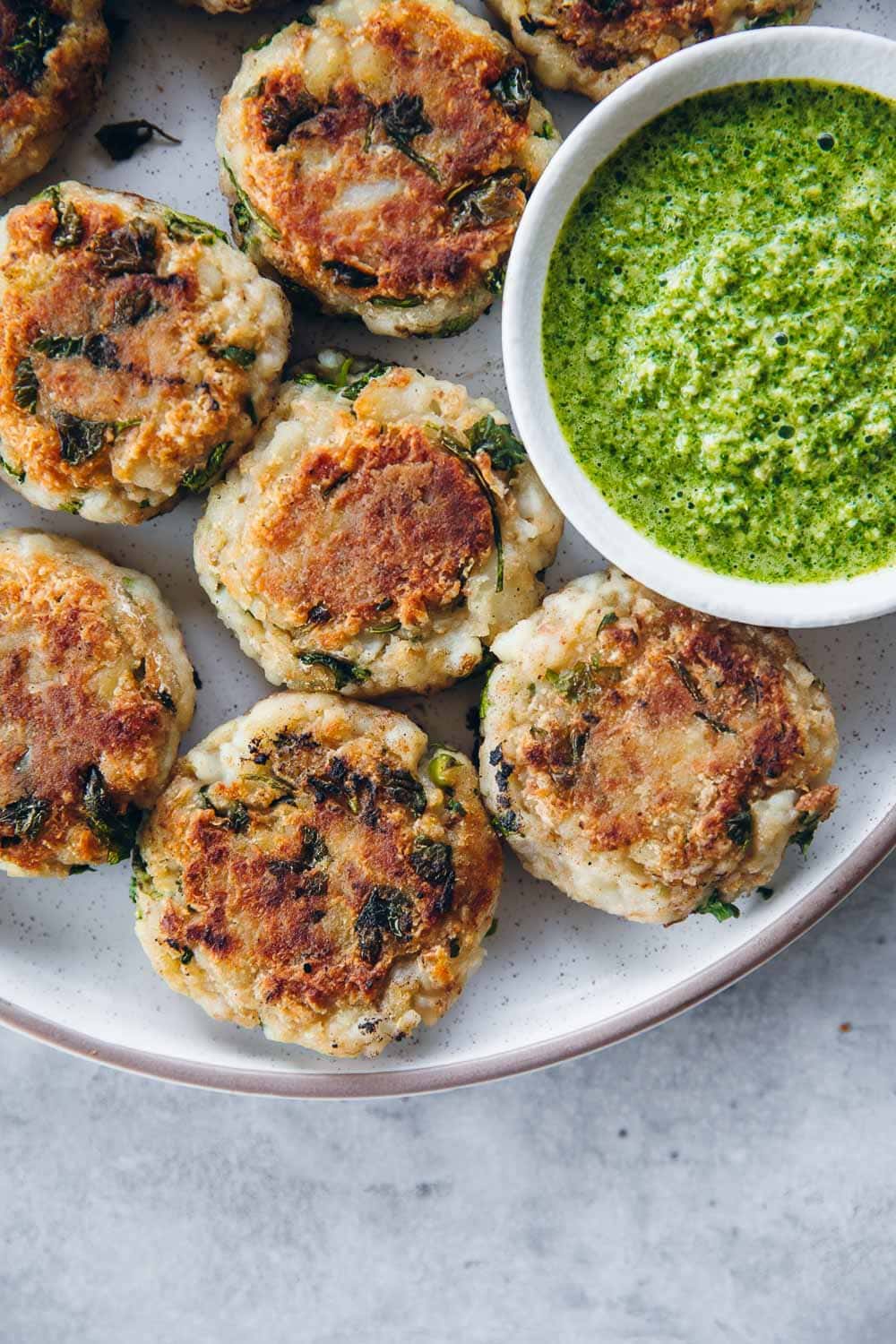 Aloo Tikki - The Indian Counterpart To The Hash Brown
The premise is simple. Boil and mash some potatoes, add stale bread and spices. Mix, shape and fry for a delicious golden chai-time snack. This is the everyday version of the famous Aloo Tikki, a snack very common in Indian homes. It is hard to resist golden fried potato in any form really. But when you spice it up with chilli and ginger and chat masala and serve it up with a big bowl of fresh green chutney, it becomes irresistible.
Mum used to give stale bread a super quick dunk in a bowl of water to soften it. It was then squeezed till very dry, torn into tiny pieces and added to the boiled potato as a binder. This method although effective in India I grew up in decades ago, (maybe it was the fact that bread was more authentic and baked with only a handful of ingredients?) is quite hit and miss now depending on what bread you use. Sometimes, the bread is so soft (probably the use of emulsifiers) that it completely disintegrates when you dunk it in water.
But, I have found a very effective method. I just make fresh breadcrumbs from sliced bread that is a few days old by blitzing it in a small food processor. If you can't make fresh breadcrumbs, I would suggest the use of panko crumbs or even powdered rice flakes/rice flour if you want to make this gluten-free. The idea is to get a soft but firm enough consistency to the potato mixture, one that will hold its shape when pan-fried.
Pan Frying, Shallow Frying or Deep Frying - What Is The Difference?
Pan-frying is when you add minimal oil to a frying pan, just enough to coat the base of the pan.
Shallow-frying is when you add enough oil to a pan to coat the base and come up a couple of centimetres along the edges. When you place your item in it to fry, it submerges partially in the oil.
Deep-frying is when you fill a saucepan or deep frying pan with enough oil to completely submerge the item you are frying.
If you google aloo tikki, you will find many recipes and pictures where there is an even golden coating all over the tikki including the sides. This may look very different to my tikkis. This is because those recipes use a lot of oil for frying (they are either shallow-fried or deep-fried). When the tikkis are partially submerged in the oil, the sides of the tikkis will form a golden crust. I pan-fry my patties. I only add 1.5-2 tablespoons per 5 patties. The oil only coats the base of the frying pan. This is how my mum used to make it. That coupled with the low and slow technique (see my notes) cooks the tikkis to a good consistency. Tender and moist on the side with a good crust. It is a technique I also use for all my beetroot burger and chickpea burger recipes.
Recipe
Hungry For More Recipes? Subscribe to my newsletter. Check out Facebook, Instagram and Pinterest to see everything I share! And if you love cooking and new cookbooks, join my free Cooking Club on Facebook!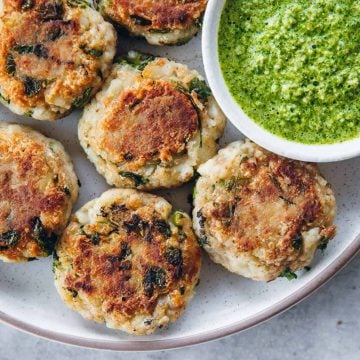 Ingredients
2

(

450

g

)

large potatoes

,

boiled and peeled

2

bread slices

,

crumbed

1

tablespoon

cornflour

1

teaspoon

ground cumin

1/2

teaspoon

chat masala/amchur

,

dried mango powder

1/2

teaspoon

red chilli powder

,

optional

1

teaspoon

grated ginger

1/2

long green cayenne chilli

,

deseeded and finely chopped

1/4

cup

fresh coriander leaves

,

chopped

1/2

teaspoon

sea salt flakes or to taste

plain flour

,

to dust

oil

,

for pan frying
Instructions
Place boiled potato in a large bowl. Mash with a potato masher until quite smooth.

Add fresh breadcrumbs, cornflour, cumin, chat masala, red chilli powder (if using), ginger, green chilli, coriander and salt. Using your hand, mash and mix well until thoroughly combined and a soft dough is formed.

With clean hands, take about half a cup of mixture in your palm. Shape into a round ball and then flatten to form a half-inch thick disc or patty. Place on a plate lined with baking paper. Repeat with the remaining mixture.

Heat oil in a medium shallow frying pan on medium heat. Ensure that the oil covers the base of the pan (You will need about 1.5 tablespoons for a small-medium frying pan).

Scoop a couple of tablespoons of plain flour in a small shallow bowl.

Dust each potato patty on either side with the plain flour and place in the hot pan. Cook on medium-low heat for approximately 6-7 minutes on each side. If it starts to brown too quickly, reduce the heat and continue cooking. Repeat with all the aloo tikkis.

When cooked through and golden on both sides, remove aloo tikkis to a plate and serve hot with green chutney or ketchup.
Notes
Make It Gluten Free

- Use gluten-free bread slices.
It is important to cook the patties on low-medium heat, adjusting the heat frequently to avoid burning. The longer cooking time on a lower heat ensures a patty that is perfectly cooked, crispy and golden on the outside. When the patty is hot, it will be soft. When it cools, it will become tougher and easier to hold.
Aloo tikkis can be cooked and stored in the fridge for up to 3 days. They can be quickly reheated in the microwave or air fryer. The aloo tikki mixture can also be prepared in advance and stored in the fridge for up to 2 days.
Did you make my recipe?
I'd love to hear how you went! Tag me on Instagram @cookrepublic