It's here! My Vegan Chickpea Green Garden Burger that you have all been waiting for. It is packed with all the garden veggies and good spices and makes the best kind of weekday lunch. Smooshed in a soft burger bun with more good things like tahini sauce, smashed avocado and beetroot relish, this chickpea and zucchini burger is like a party in your mouth and must be made today!
What's a Garden Burger?
A Garden Burger is a plant-based burger packed with green goodness from the garden. My veggie burger has a chickpea base and is packed with leek, spring onion and zucchini. It is rolled in green pumpkin seeds and cooked until golden. Finally, it is smooshed in a burger bun with more veggies and herbs - beetroot, avocado, dill, onion and lettuce.
The inspiration for my Chickpea Green Garden Burger
Every year my girlfriends and I trek down to the Finders Keepers markets in Sydney - once during winter and once during summer. When we first started going to the markets, the line-up of food trucks included the infamous Veggie Patch Van. Inspired by the Paddock To Plate concept, this hippie food truck had reached notoriety for its flavour-packed veggie fast food. Think Veggie Chickpea Burgers served with golden halloumi and crispy sweet potato fries. I was gutted when they stopped making an appearance a few years ago and took it upon myself to not only recreate their delicious Chickpea Burger, but to make it vegan, gluten-free and even yummier. And so the Green Garden Burger was born!
The recipe for the original burger mix had a chickpea and zucchini base but also a whole lot of feta and parmesan. My goal was to eliminate the cheese but still bring that sharp salty and savoury flavour to the chickpea burger while keeping it green. A result easily achieved with nutritional yeast which is also a good protein source. And I definitely didn't hold back on the ginger, garlic and spices. Because with anything that needs to be pan-fried, one must always remember that the flavour dulls after cooking. So to ensure that you don't have bland burger patties, you must always amp up the spices in the mix.
Chickpea Garden Burger - a high protein meal-prep favourite
There are three vegan burger recipes I have created and cook regularly. This Vegan Chickpea Green Garden Burger, the super delicious Vegan Beetroot Burger and the Sweet Potato Red Kidney Bean Burger from my cookbook Tasty Express. All three have very different flavour profiles and I can't really decide which one is my absolute favourite. But today's Vegan Chickpea Burger comes very close and I especially love how much tastier it becomes with all the sauces and condiments.
The chickpea burger is the sturdiest, making it a dream to meal prep. Chickpeas are such a fabulous source of protein and add a meaty earthiness to the burger. Because the recipe is so ridiculously easy to make, I often prep this in advance during my Sunday meal prep sessions. The filling sits in a glass container in my fridge for a few days and I quickly shape the patties and fry them for hot burgers on demand. I also use the filling to stuff sandwiches or shape into a thick flat pancake and serve topped with salad and relishes.
Trick to cooking the perfect veggie garden burger
In India, pure potato patties are very commonplace for a dish called "Ragda Pattice" which is essentially golden potato patties topped with spicy chickpea curry and toppings that include chopped onion, sweet and sour date sauces, spicy chilli sauce and lots of coriander. A taco of sorts. The potato patties have boiled mashed potatoes, breadcrumbs and salt. They are delicate and hence a special trick is utilised for making sure they are golden and bound well. It is important to remember this special trick for making veggie or vegan burgers as they are very different to meat burgers and don't have a whole lot of binding going on. The trick is to slow cook them on the pan till they are dry to the touch and firm in the middle.
Making flatter patties is another way of ensuring that the middle of your burger patty is completely cooked. I always like to roll my burgers in seeds before pan-frying them to give them a bit of texture and crunch. Remember that the burger mixture should be of a firm dough-like consistency. If you feel it is too loose and wet and sticks everywhere when you try and shape it, increase the amount of breadcrumbs by a tablespoon. Also, remember to chill the burger patties in the fridge for 30-60 minutes prior to pan-frying. This firms the burgers up. It is not essential to do this but makes the frying easier. This Vegan Chickpea Burger can be cooked and stored in the fridge for up to 4 days and in the freezer (separated by baking paper) for up to a month.
Recipe
Hungry For More Recipes? Subscribe to my newsletter. Check out Facebook, Instagram and Pinterest to see everything I share! And if you love cooking and new cookbooks, join my free Cooking Club on Facebook!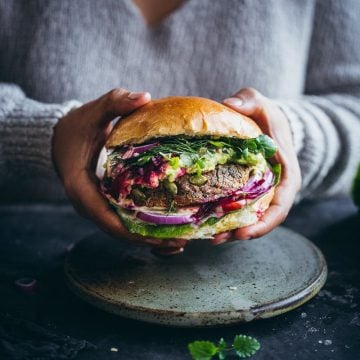 VEGAN CHICKPEA GREEN GARDEN BURGER
A delicious, high-protein, gluten-free Vegan Chickpea Burger packed with veggies and spices for a satisfying green weekday lunch.
Print Recipe
Rate / Comment
Ingredients
1

tablespoon

olive oil

1

leek

,

chopped

1

teaspoon

cumin seeds

1

tablespoon

ginger

,

grated

4

garlic cloves

,

minced

1

teaspoon

red chilli flakes

250

g

canned chickpeas

,

drained

1

tablespoon

fresh dill

,

chopped

2

spring onions

,

thinly sliced (white and green)

150

g

zucchini

,

grated, squeezed and liquid drained

1 ½

teaspoons

sea salt flakes

1

tablespoon

nutritional yeast

½

teaspoon

smoked paprika

1

teaspoon

baking powder

40

g

chickpea flour

1

tablespoon

gluten-free breadcrumbs

,

(dry)

2

tablespoons

pepita seeds

Oil

,

to pan fry

Burger buns, turmeric tahini sauce, pickled onion, smashed avocado, beetroot relish, lettuce, tomato, extra dill, - to serve
Instructions
Heat 1 tablespoon oil in a large shallow frying pan on medium. Add leek, cumin seeds, ginger, garlic and chilli flakes. Sauté for a minute or two until leek starts caramelizing.

Add chickpea. Increase heat to medium-high. Cook for 3-4 minutes until chickpeas are heated through and the mixture has dried a bit. Turn off heat.

Using a potato masher, mash the chickpeas until you get a coarse mixture.

Add dill, spring onions, zucchini, salt, nutritional yeast, paprika, baking powder, chickpea flour (besan) and breadcrumbs. Mix well using a spoon. Taste the mix and adjust seasoning. The burger mixture should be like a soft but firm dough consistency (if it is too loose, add extra breadcrumbs until you get a dough you can shape into a patty).

Line a baking tray with baking paper. Place pepita seeds in a medium shallow bowl. Take about half a cup of the burger mixture in your hand and shape it into a half inch high patty. Place the burger patty gently on the pepitas. Turn it gently so the pepitas coat the other side as well. Place on the baking paper.  Repeat with the remaining burger mixture. You can refrigerate the mixture in the fridge for 30 minutes to 1 hour in order to ensure easy frying

Heat oil in a large frying pan on medium low. Place two patties in the pan. Shallow fry each side for 3-4 minutes until golden. Then reduce heat to low and continue to cook for at least 8-10 minutes on each side, turning gently a couple of times (total time about 16-20 minutes). This slow cooking ensures that your burger patty cooks through and through and that there are no soggy bits in the middle. Remove from the pan when firm, cooked with golden sides and quite dry. Repeat for the remaining burger mixture.

Burgers can be stored in the fridge in an air-tight container (separated by baking paper) for up to 4 days and in the freezer for up to a month.

To serve the chickpea and green garden burger, slice a burger bun in half. Smear some tahini sauce on each side. Add a lettuce leaf to one half of the bun, top with a huge slice of tomato, some pickled onion, a little beetroot relish, more tahini sauce. Place the burger patty on top. Add smashed avocado over the burger patty, top with more relish and dill. Cover the other half of the burger bun and enjoy.
Notes
I don't always roll the burgers in pepitas. Although the pepitas add a nice crunch and nuttiness, they aren't essential.
I use Panko crumbs for this recipe and any recipe that requires crumbing or crisping. Panko crumbs are made from crustless white bread and hence are drier than regular breadcrumbs creating. This makes things crispier when cooking.
Nutrition
Calories:
164
kcal
|
Carbohydrates:
21
g
|
Protein:
8
g
|
Fat:
6
g
|
Saturated Fat:
1
g
|
Polyunsaturated Fat:
2
g
|
Monounsaturated Fat:
3
g
|
Trans Fat:
0.002
g
|
Sodium:
955
mg
|
Potassium:
363
mg
|
Fiber:
5
g
|
Sugar:
3
g
|
Vitamin A:
648
IU
|
Vitamin C:
9
mg
|
Calcium:
100
mg
|
Iron:
3
mg
Did you make my recipe?
I'd love to hear how you went! Tag me on Instagram @cookrepublic