This Vegan Beetroot Quinoa Burger has been a few months in the making. Using a Donna Hay recipe as my base, I set out to eliminate the egg and the feta which formed a large part of that recipe. The flavours were also very mild and to me, that translates as bland. I love my food with a bit of oomph and the best way to do that is through spices and the magic of vegetables like garlic, onion and leek that stir up a bit of excitement in any recipe.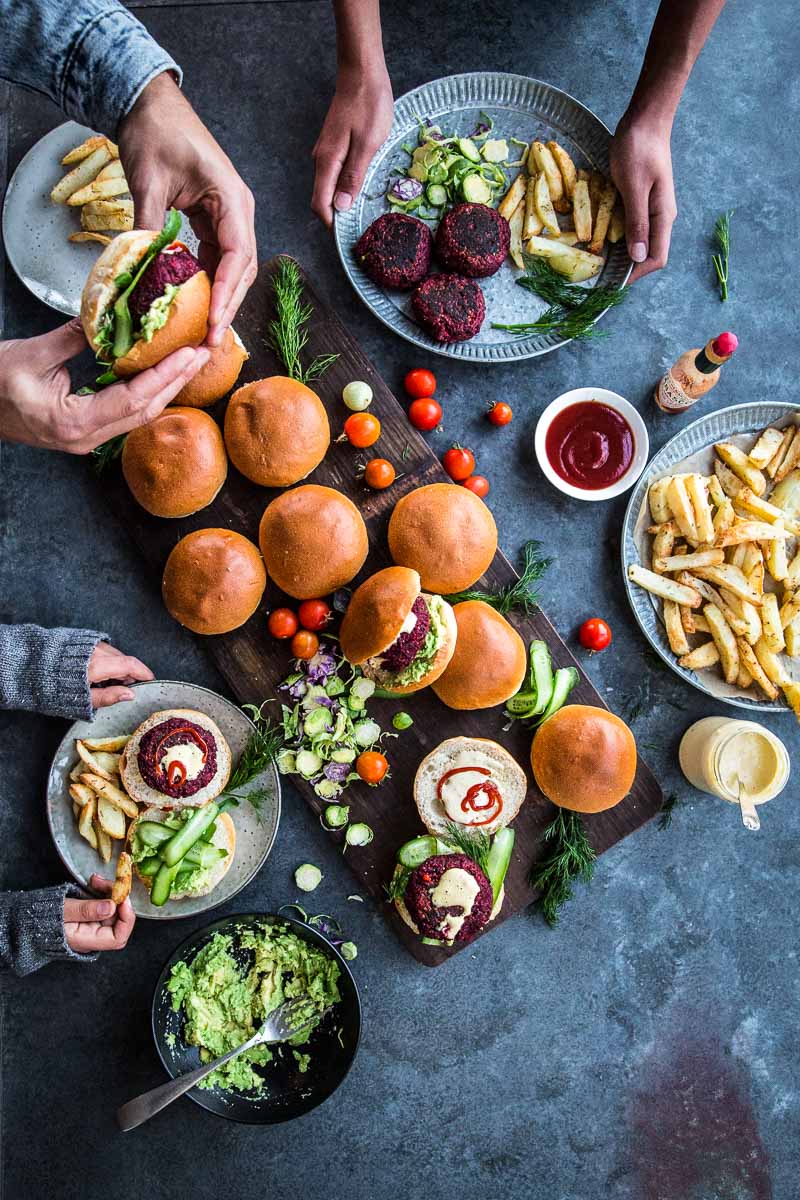 Beetroot is a great choice for a meat-free vegan burger.
While I wanted to make this beetroot burger vegan, I also decided to make it gluten-free. Two birds and all. It would mean that I could cook this without worry when entertaining friends with various intolerances. And so the base recipe that inspired me chopped and changed so much so that it became a new recipe entirely. One that I cooked at least 8-10 times before deciding that it was absolutely perfect to be tried out in your kitchens.
Beetroot is an obvious choice for a vegan burger because it resembles meat when grated and cooked. If you are a hardcore vegetarian/vegan; don't let that deter you. Because I think the use of beetroot is quite clever. It has an earthy sweetness that is absolutely delicious when cooked with the right spices. It has enough liquid content (unlike zucchini which will literally flood your recipe) to bind things perfectly. And it has to be one of the most nourishing veggies out there with immense health benefits.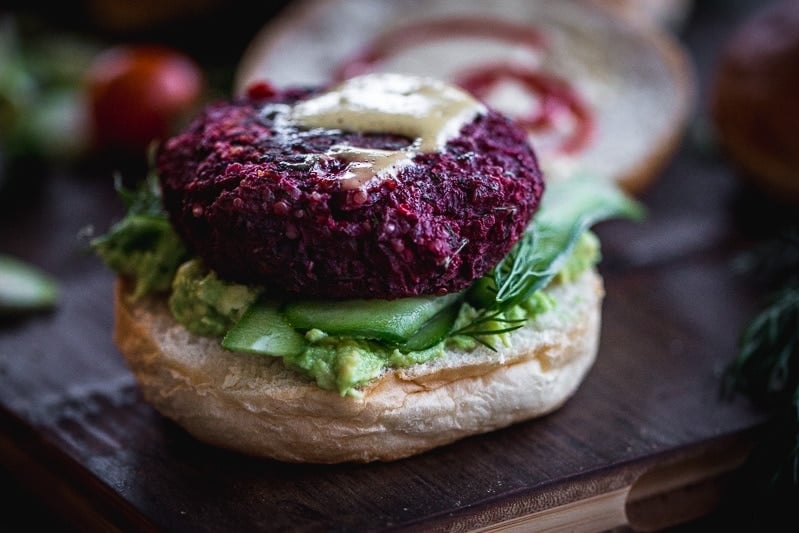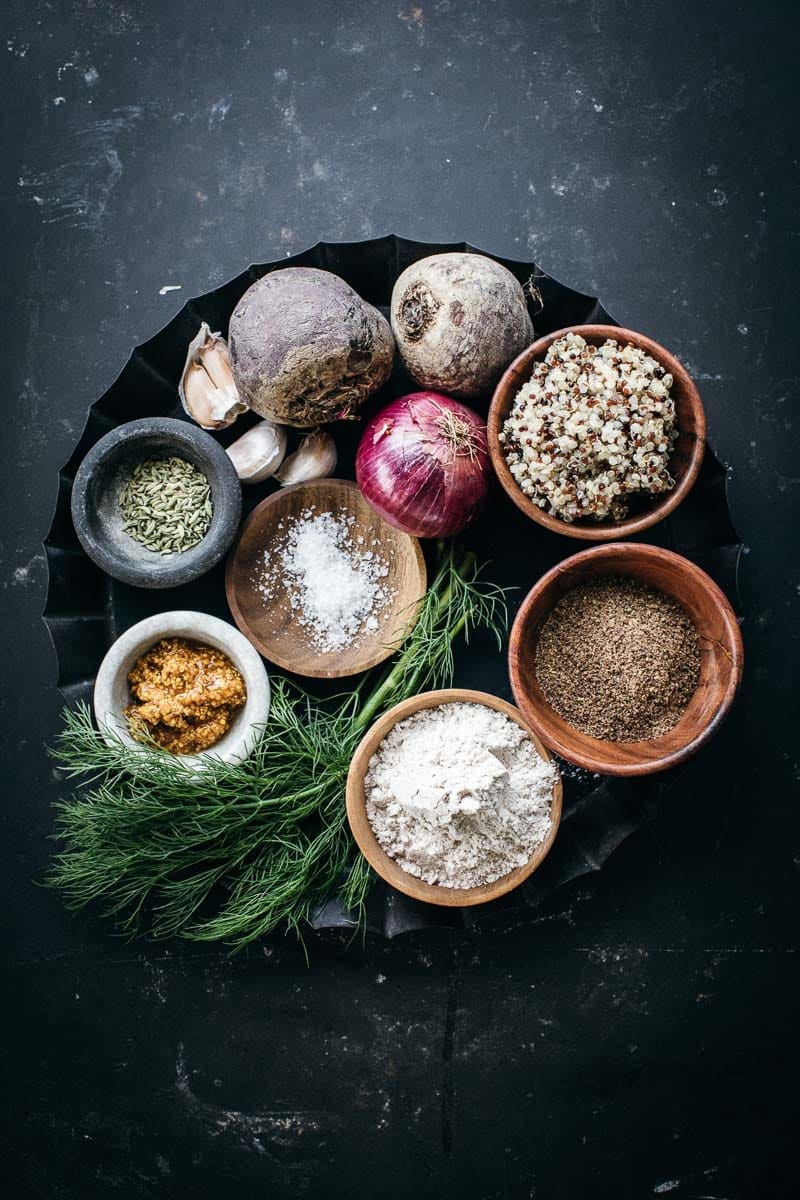 A vegan burger patty is very different from a meat burger patty.
Every time I follow a rigorous recipe testing schedule, I learn a lot about it. There is so much more to a recipe than just the right quantity of ingredients. How tiny or large you chop your ingredients, the order in which you add the ingredients, the temperature of ingredients or ovens, the heat at which you cook on the hob, the material of the pan you use etc.. are all wildcards that will wildly change the outcome of your recipe. And so, I try and give explicit instructions so that when you try it out, it is basically the same version that I cooked in my kitchen.
I like to prep this recipe carefully in a meditative state during my meal prep sessions. In recent times, I have realized that using my knife/grater to chop and grate instead of chucking everything in a food processor gives me more control over the texture and taste of the finished dish while also connecting me more to the food. After adding everything to the bowl, I actually knead it like I would knead dough and form the patties. And then comes the most important part - pan-frying.
Unlike a meat patty recipe which will cook through to the middle, a raw vegetable patty doesn't quite enjoy the same benefits. If you cook it on medium or high heat, the outside will be browned/burned while the inside might feel like a freshly grated salad. Um, not good!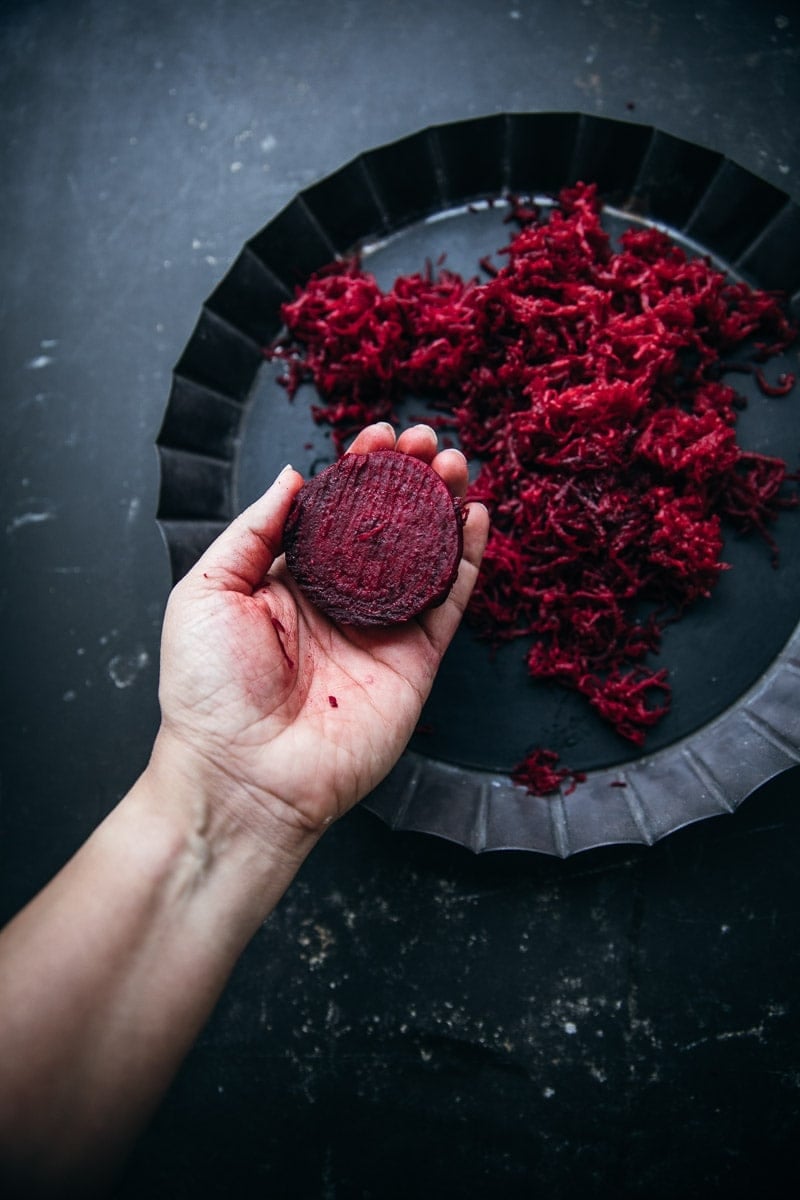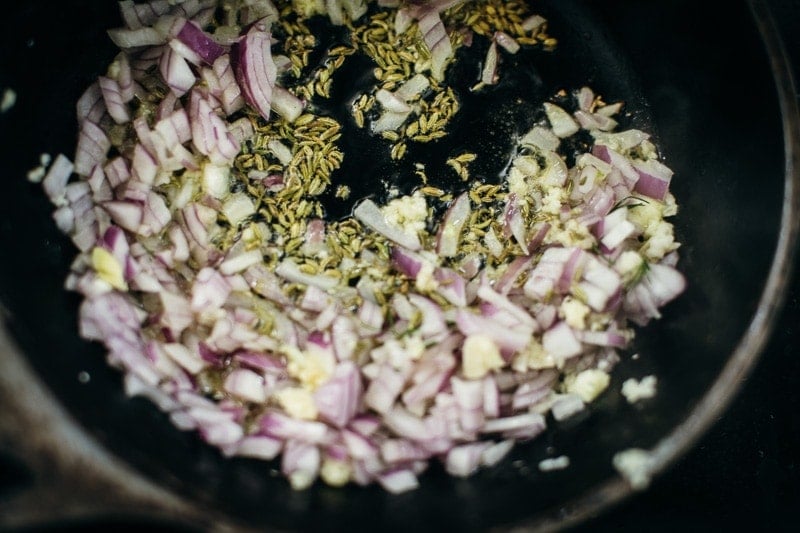 Simple tips to follow for the perfect beetroot patty.
So the biggest trick here is to pan-fry your patties on a slow flame/low heat with a bit of olive oil on a large frying pan (so you can do 6 to 8 at once) for a reasonably long period of time - 10 to 12 minutes each side. You do this till the patty feels dry on the outside and quite firm when you pick it up. That is a perfect veggie patty. It means that the vegetable (beetroot), the binder (quinoa and flax meal) and the buffer (flour) have all compacted and cooked perfectly to create a juicy veggie burger.
This is a trick I learned from my mum when I was in school. Mum would make potato and breadcrumb patties that she would pop on a big frying pan with a bit of oil on super low heat and literally just walk away for half an hour. She would come back and flip them and then walk away again. The slow-cooked potato patties are one of the best ones I have had - crispy on the outside and perfectly cooked but juicy potato on the inside.
The fennel and mustard is a flavour combination you have to try. Together they make this burger incredibly tasty with a slight tang and a bit of heat. My favourite accompaniments to this burger are a quick guacamole, some sliced red onions (soaked in cold water for 5 minutes and drained to get rid of the spiciness), shaved cucumbers and brussels sprouts, pickles and hot sauce. If I have a homemade aioli lying around, that is great too. Stuffed in brioche buns, anything you add to this burger will taste fantastic.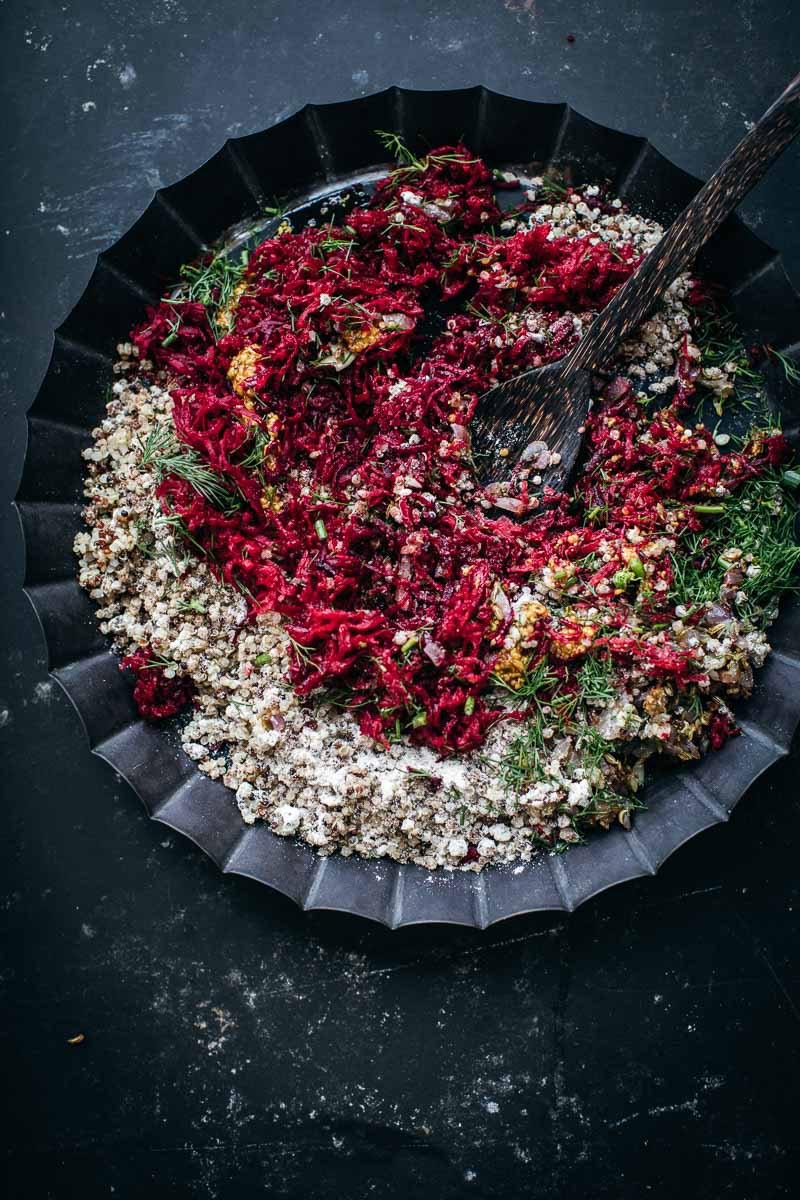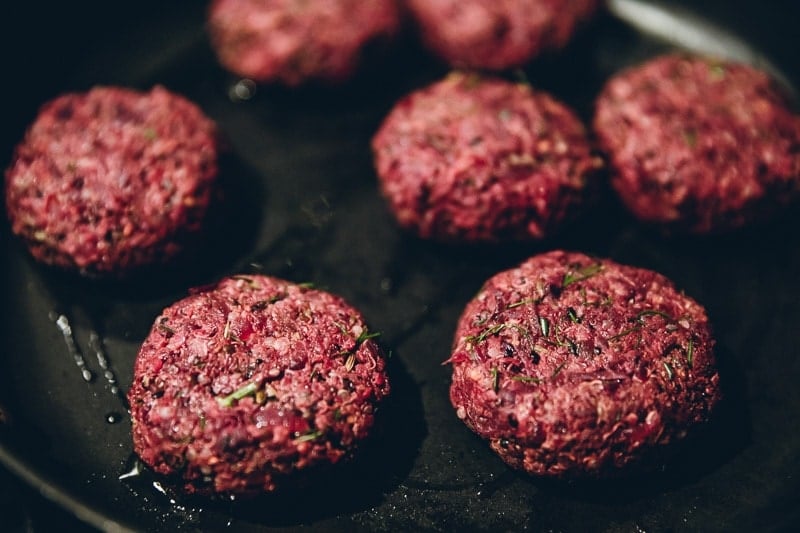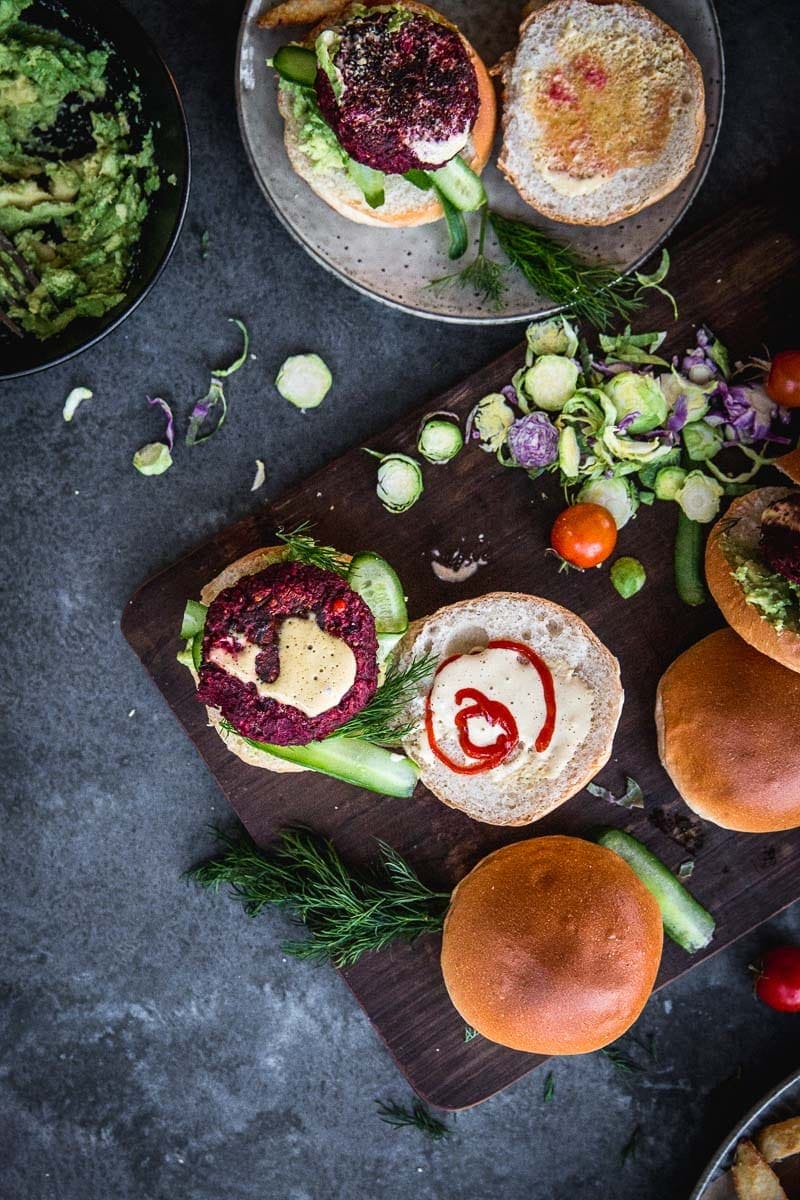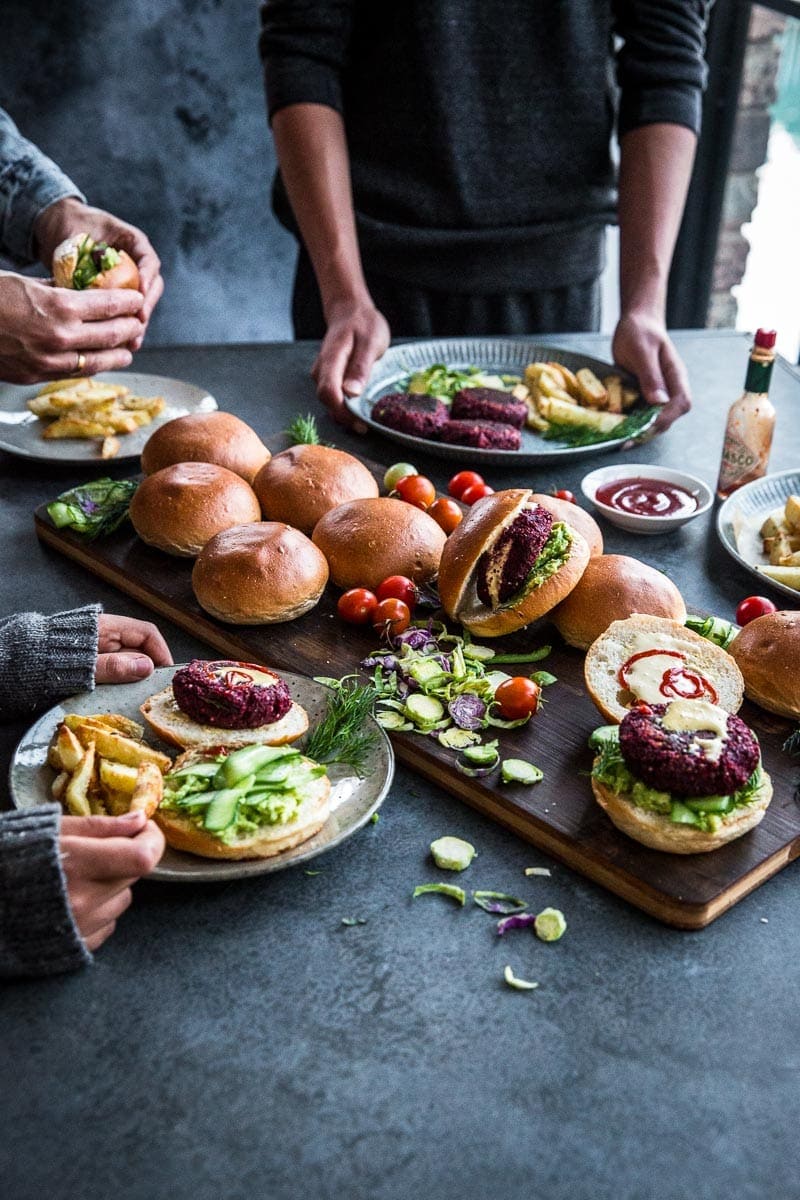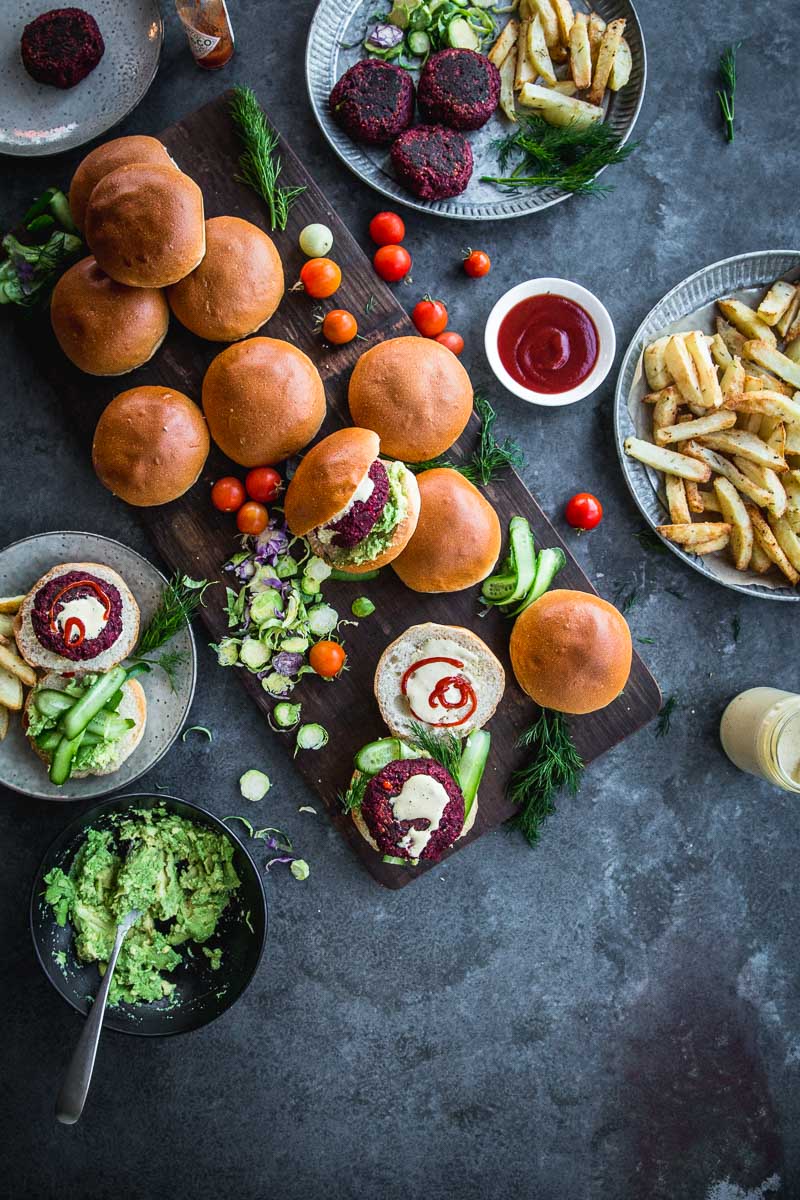 Show me your beetroot burgers on Instagram by tagging me @cookrepublic #cookrepublic. If you make and love these, I'd love your feedback in the comment/ratings below. It encourages others to try out the recipe too! Thanks! x
Hungry For More Recipes? Subscribe to my newsletter. Check out Facebook, Instagram and Pinterest to see everything I share! And if you love cooking and new cookbooks, join my free Cooking Club on Facebook!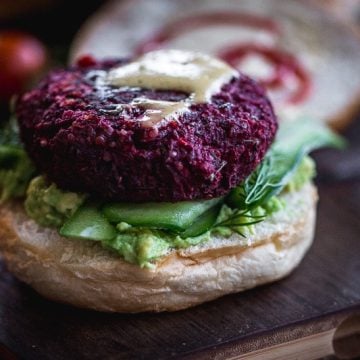 Ingredients
2

tablespoons

olive oil

1

teaspoon

fennel seeds

1

red onion

,

finely chopped

3

large garlic cloves

,

minced

1

cup

185g cooked mixed quinoa (mix of red and white)

2

(

450

g

)

raw beetroot

,

peeled and grated

1/2

cup

(

90

g

)

buckwheat flour

1/4

cup

dill

,

chopped

1

tablespoon

grain mustard

2

tablespoons

flaxmeal

1

teaspoon

sea salt flakes
Instructions
Heat 1 tablespoon olive oil in a medium saucepan. Add fennel seeds, onion and garlic. Sauté on medium heat until onions are caramelized. Remove from heat. Place mixture in a large bowl.

Add quinoa, beetroot, buckwheat flour, dill, mustard, flax meal and salt to the bowl. Mix well. Take about half a cup of the mixture in the palm of your hands and shape into a patty. Repeat with the remaining mixture.

Heat the other tablespoon of olive oil in a large frying pan on medium-low. Gently place the patties in the frying pan. Reduce heat to low and cook for 10-12 minutes. Flip the patties and cook on low for another 10-12 minutes until the patties are golden all over and quite dry to touch.

Remove and serve hot with burger buns, guacamole, shaved cucumbers, sliced onion and hot sauce.
Notes
Meal Prep - Burger mixture can be prepped a day or two in advance. Alternatively, raw burger patties can be prepped and stored in the fridge for up to three days before being cooked. Freezing - Cooked patties will keep well in the freezer for up to a month and can be thawed and re-crisped on a pan when ready to use. Scaling - Recipe can be easily doubled.
Did you make my recipe?
I'd love to hear how you went! Tag me on Instagram @cookrepublic
One Year Ago – CRISPY CAULIFLOWER BUFFALO WINGS WITH SOUR CASHEW CREAM
Two Years Ago – PINEAPPLE COCONUT LOAF
Three Years Ago – SLOW ROASTED CAULIFLOWER SALAD WITH SWEET POTATO HUMMUS
Five Years Ago – NO CHURN CONDENSED MILK AND JAM ICE CREAM
Six Years Ago – GREEK ALMOND COOKIES
Seven Years Ago – NUTELLA BUTTER CAKE
Eight Years Ago – KARI AYAM - MALAYSIAN CURRY CHICKEN
Ten Years Ago – CRAISIN AND COCONUT BISCUITS
Eleven Years Ago - ROSE PETAL ICE CREAM