Another beautiful, sturdy loaf to add to the Sturdy Loaf Appreciation Club - this Chocolate Apricot Marble Loaf is as delicious as it is fun! Marble cakes are delightful and bring a child-like glee to the cake table and this loaf is no exception. Not only do you get two delicious flavours in one but the joy you feel as you slice into a marble loaf, revealing the swirls inside is just amazing!
The Sturdy Loaf Appreciation Club
Are you a member? Do you love cakes that are baked as loaves. Loaves that stand tall and proud and have sharp angles. Ones that are easy to bake and easy to take and can be toasted if you so fancy, with butter. In recent years, I have forgone round cakes almost completely (except if they are for a birthday) and have resorted to baking loaves out of all my cake recipes. It is utterly convenient and easy to portion and serve. You must absolutely try it.
Today's recipe is an old favourite and adapted from Trine Hahnemann's Scandinavian Baking cookbook. Trine talks about her fondness for stale cakes, cakes that are a day or two old. These cakes often baked with butter, toughen to an almost sourdough consistency in the cold weather and are robust enough to dunk in your coffee if you have managed to save them for three days or so. This Chocolate Apricot Marble Loaf has been given a citrus twist. I have also reduced the sugar from the original recipe. I love how lemon not only lifts the apricot but also the chocolate. It is a beautiful loaf that is fun to bake and tastes even more delicious the next day.
A Versatile Loaf With Many Purposes
I have baked this as a round cake and stacked it on top of a plain chocolate cake and iced the whole thing with some luscious chocolate ganache for a birthday. I have toasted slices and topped with a scoop of vanilla ice cream and a drizzle of chocolate sauce for dessert. When I don't have dried apricots on hand, I substitute with chopped dried prunes or candied orange peel. It is wholly versatile and works beautifully no matter what you throw at it. It also freezes really well. I often make two bowls of batter with all my loaf cakes and bake one to eat and one to freeze.
And it is the best loaf to drop at a friend's doorstep. You always get an animated text telling you what a fabulous surprise they got when they sliced into it. Oh Yes! That child-like delight. I hope you bake this gorgeous loaf and share it with me on Instagram by tagging me #cookrepublic @cookrepublic. Happy Baking my lovely friends!
Recipe
Hungry For More Recipes? Subscribe to my newsletter. Check out Facebook, Instagram and Pinterest to see everything I share! And if you love cooking and new cookbooks, join my free Cooking Club on Facebook!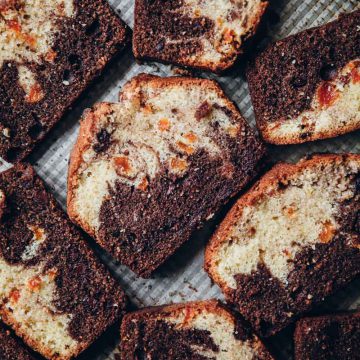 Ingredients
250

g

butter

,

softened

200

g

raw sugar

4

eggs

220

g

plain flour

,

sifted

1/2

teaspoon

baking powder

1/2

teaspoon

sea salt flakes

,

crushed

2

tablespoons

milk of choice

50

g

dark chocolate

,

chopped

2

tablespoon

dark cocoa powder

30

g

dried apricot

,

chopped

zest of 1 small lemon
Instructions
Pre-heat oven to 180°C (160°C fan-forced). Grease and line a 1.5 litre loaf tin (base measurements 10cm X 20cm X 7cm) with baking paper.

Beat butter, sugar and eggs with an electric beater until pale and fluffy.

Add flour, baking powder, salt and milk to the egg mixture. Beat for a few seconds until thoroughly combined and smooth.

Divide mixture into two bowls.

To one bowl, add the dark chocolate and cocoa powder. Mix well.

To the other bowl of batter, add chopped apricot and lemon zest. Mix well.

Spoon chocolate batter into the prepared tin covering the entire base of the tin. Spoon the apricot batter on top of the chocolate batter and spread evenly throughout the tin.

Push a wooden chopstick or a wooden spoon straight down into the batter and dredge up the chocolate batter through the apricot batter bringing it up to the surface in a swirly motion. Do this a total of 3-4 times in different spots to create a marble effect through the batter.

Bake in the pre-heated oven for approximately one hour. Check if the cake is done by inserting a wooden skewer through the middle. If it doesn't come out clean, bake for another 5 minutes.

Remove from the oven when completely cooked. Cool completely in the tin. Slice and serve.
Notes
You can use chocolate chips instead of chopped chocolate and cacao powder instead of cocoa powder.
Did you make my recipe?
I'd love to hear how you went! Tag me on Instagram @cookrepublic