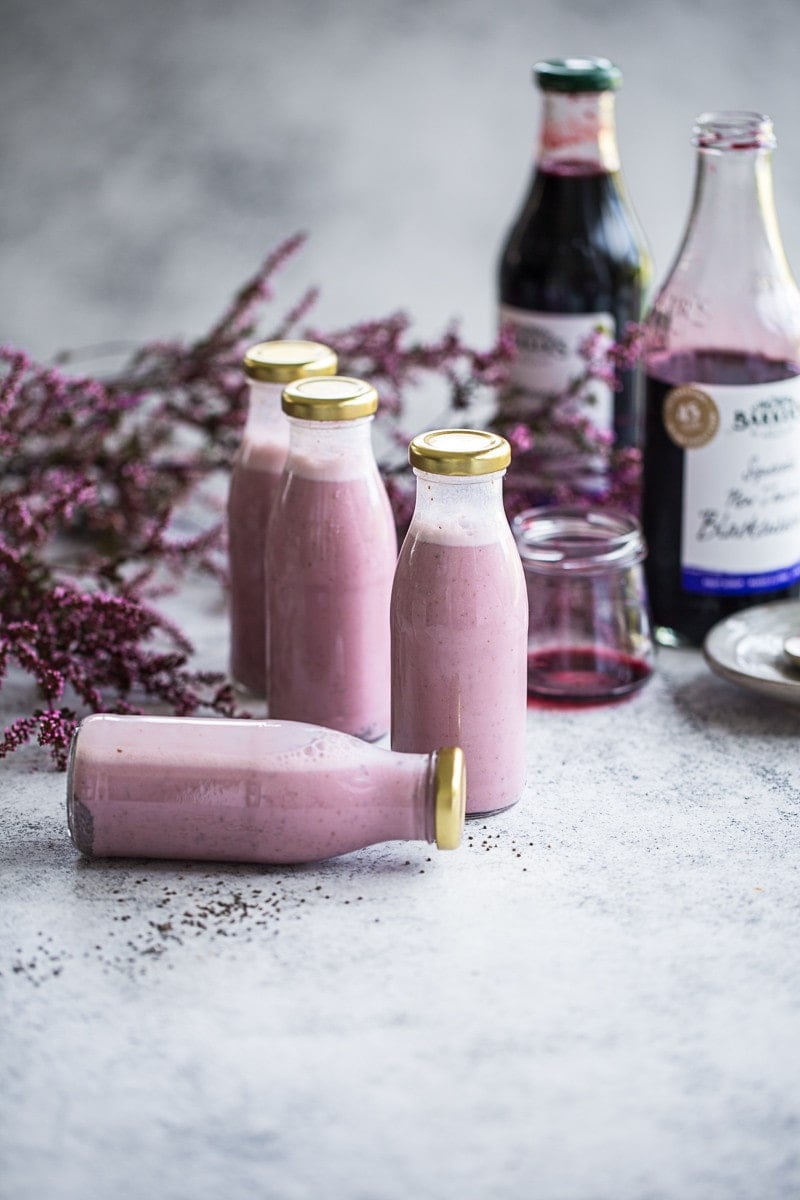 A cold front is moving across Australia this week bringing flurries of snow, bone chilling winds and much talk and excitement about the crazy weather. Because we needed something to talk about after tsk tsk-ing autumn's no show just a month ago. It may be the perfect weather to shovel big spoonfuls of creamy hot porridge but winter chill and hot porridge is so passé, don't you think?
The cold ignites my sense of being, it makes me feel alive (and numb), but mostly alive. I feel the need to take a brisk walk in the sunshine, to do a languorous session of hot yoga, to put on a tune that refuses to vacate my head and sway to the beat till my cheeks are flushed. And after I have warmed up my muscles and greased my joints, I often like to sit under a tree somewhere and sip on this deliciously pink and nourishing winter shake made with Barker's Squeezed Blackcurrants until the colour in my cheeks goes back to normal and the only blush to be seen is in this vibrant bottle of nutrients.
There is much to love about this nourishing winter drink. Made only with squeezed Canterbury grown blackcurrants without the addition of any nasties, Barker's Squeezed Blackcurrant has approximately 750 of the tiny antioxidant rich fruit in every bottle. Blackcurrants are known to have higher vitamin C and anthocyanin than any other commercially grown fruit or vegetable.
A generous dose of this ruby coloured goodness will support your immunity during the colder winter months and nourish you from the inside out. I make this surprisingly easy but luscious recipe in the blender. The colour is simply gorgeous, reminiscent of the cherry blossoms lining streets in Japan. This recipe makes almost a litre (I double the recipe quite often) which I like to store in individual 250ml bottles along with a teaspoon of chia seeds in each. They are very handy for the whole family to just take and shake before enjoying in the beautiful winter sunshine.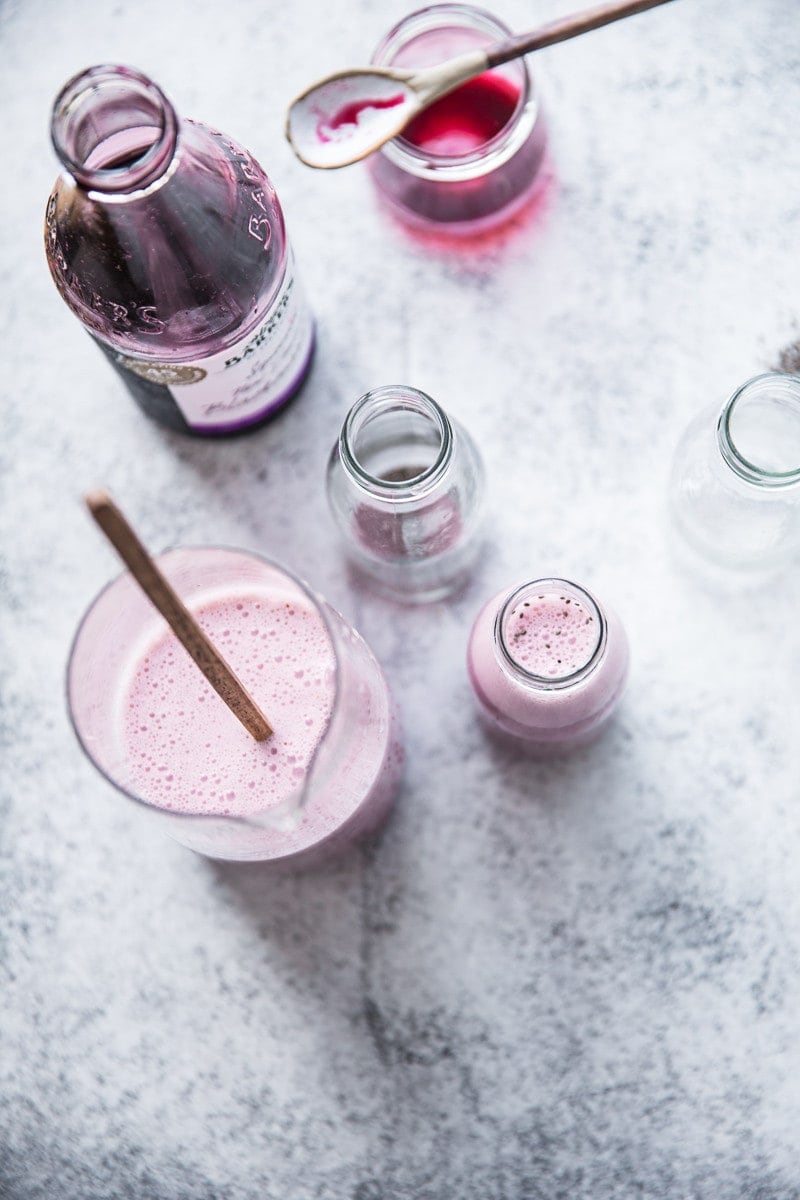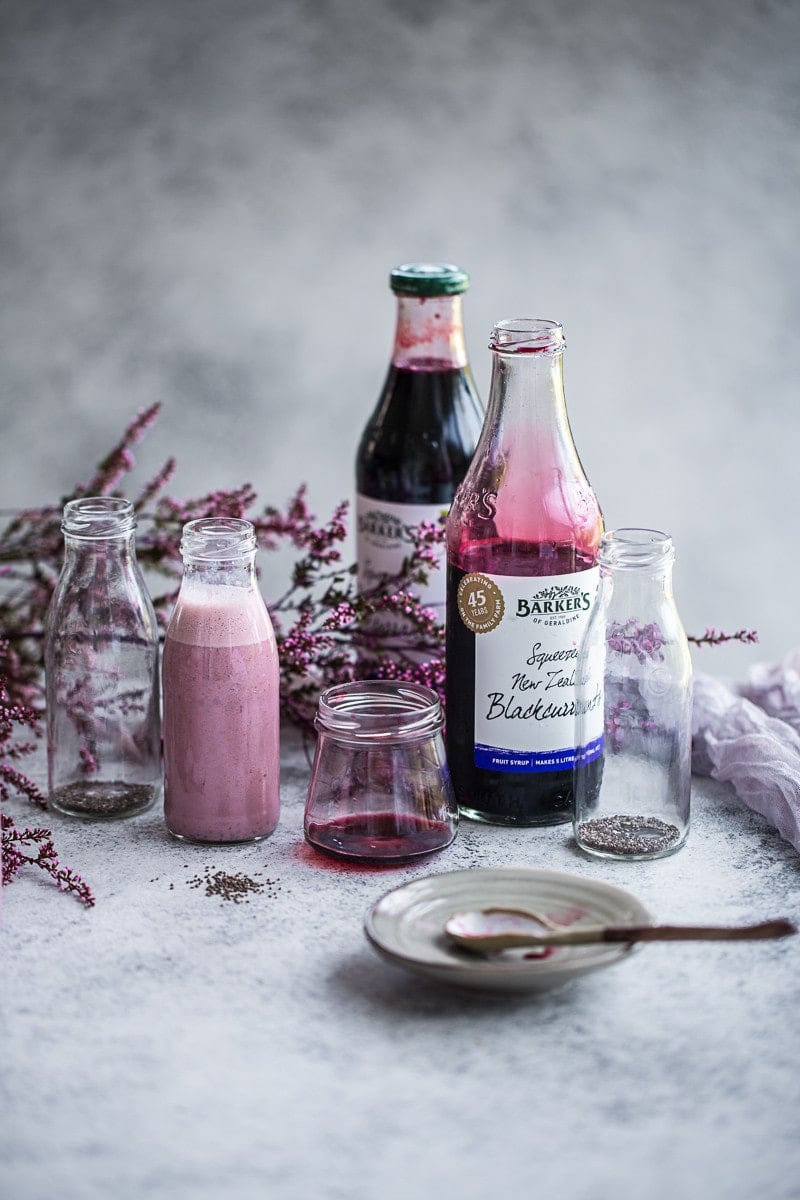 Keeps well in the fridge for 3-4 days. And the best part? The blackcurrant flavour really shines through. And the boys lap it up after soccer practice! If you make this winter shake, don't forget to comment and rate the recipe below or share it with me on social media using #cookrepublic.
Recipe
Hungry For More Recipes? Subscribe to my newsletter. Check out Facebook, Instagram and Pinterest to see everything I share! And if you love cooking and new cookbooks, join my free Cooking Club on Facebook!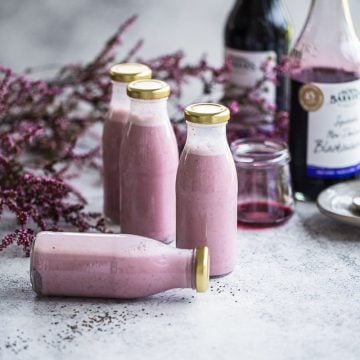 Ingredients
1/2

cup

(

130

g

)

coconut yoghurt

2

cups

(

500

ml

)

coconut water

1

large ripe banana

1/2

cup

(

55

g

)

almond meal

½

cup

(

125

ml

)

Barker's Squeezed NZ Blackcurrant fruit syrup

4

teaspoons

Chia seeds
Instructions
Place coconut yoghurt, coconut water, banana, almond meal and Barker's Blackcurrant fruit syrup in the jug of a blender. Process for a couple of minutes until smooth.

Spoon 1 teaspoon of chia seeds each in four 250ml capacity glass bottles. Divide the blackcurrant shake equally between the four bottles by gently pouring on top of the chia seeds. Secure the lid tightly and give the shake the bottle well to mix the drink evenly.

Chill in the fridge for 2 hours or overnight. Can be enjoyed chilled or at room temperature.

Keeps in a lidded glass bottle in the fridge for up to three days.
Did you make my recipe?
I'd love to hear how you went! Tag me on Instagram @cookrepublic
Note - This post was sponsored by Barker's Of Geraldine. Words, opinions and feels are my own. Shake is truly delicious and now a regular weekly breakfast or after school recipe in my kitchen.