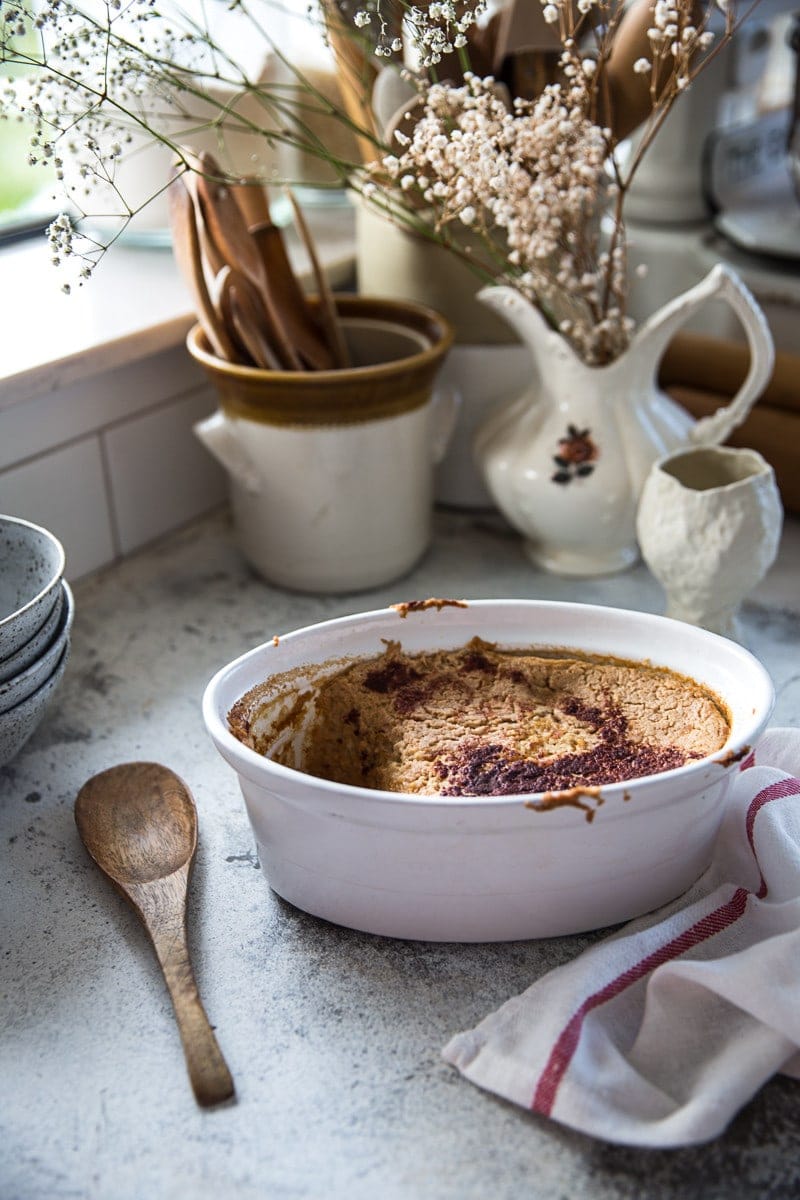 I first discovered steel cut oats approximately 5 years ago. Following the instructions on the back of the pack, I cooked them for 30 minutes and it was love at first chewy bite. In fact, I loved them so much and was so obsessed with cooking them every morning that I even included a recipe for creamy, honeyed, steel cut oats in my cookbook. Then last night, I slow cooked them for 8 hours in my slow cooker and when I woke up to the smell of apple pie this cold, frosty morning, I felt a tingling in my taste buds that I hadn't felt in a while. I was even ready to denounce my customary cup of coffee for the oats.
When I eventually sat down to breakfast an hour later, I was blown away. Slow cooked steel cut oats are something else. And if you haven't tried them cooked in this manner before, you are truly missing something. Especially if you are a porridge fan and love apples and spices and foggy windows in the morning as your kettle steams up your whole kitchen.
After being inspired by the first recipe in Paulene Christie's new cookbook Slow Cooker Central 2, I was extremely eager to prep this last night for today's breakfast. I even started dinner early, making stock from scratch and slowly simmering a pot of creamy pumpkin soup. But then something unusual happened and quite strange if you ask me. So strange that even Google had no documentation on it.
At around 8pm, I ventured out into the garden in the dark to snip some herbs to flavour the soup in the final lead up to the dinner bell. I picked some rosemary and some thyme, gave it a quick wash and chucked it in the pot. Covered the soup and let it simmer for about 20 minutes. When I took off the lid, I was surprised to see a reddish pink stick like object on top amongst all the herbs. I pulled it out with a spoon and behold - it was a cooked stick mantis. I guess it must've been on the woody stalk of the rosemary and cleverly camouflaged to trick me. But I suppose the joke was on him.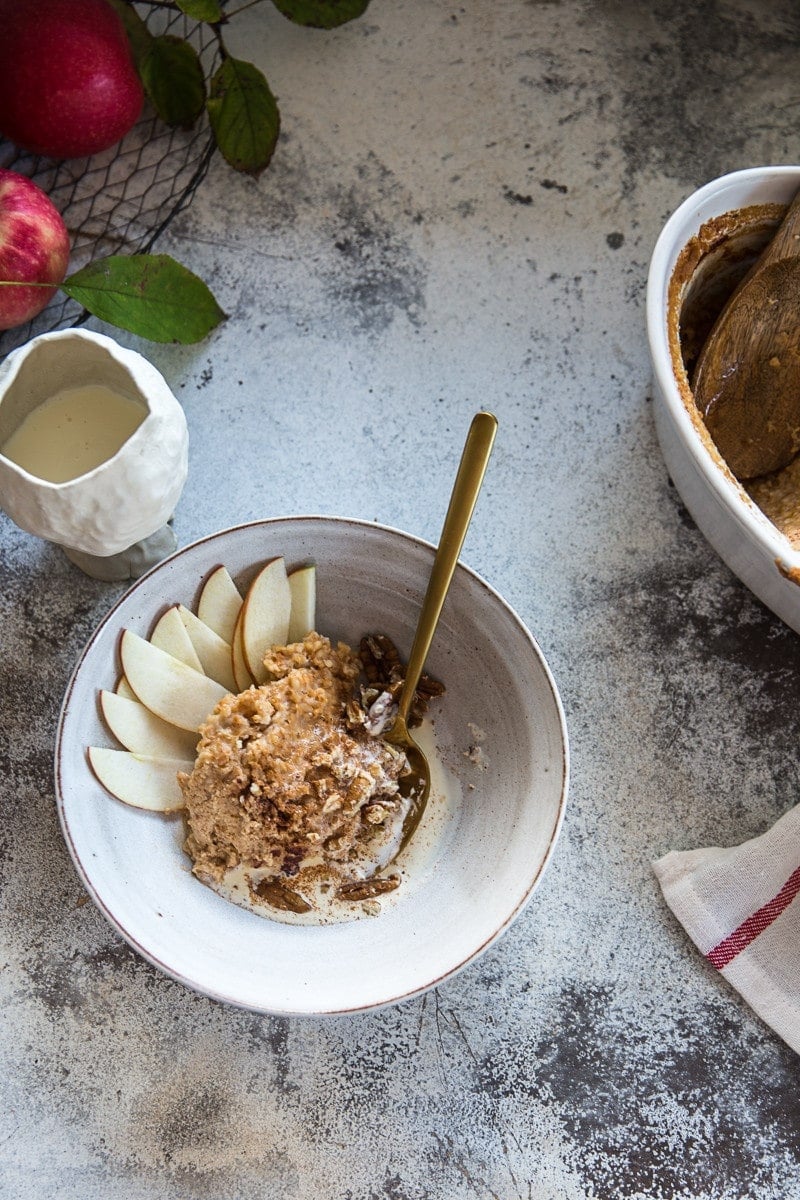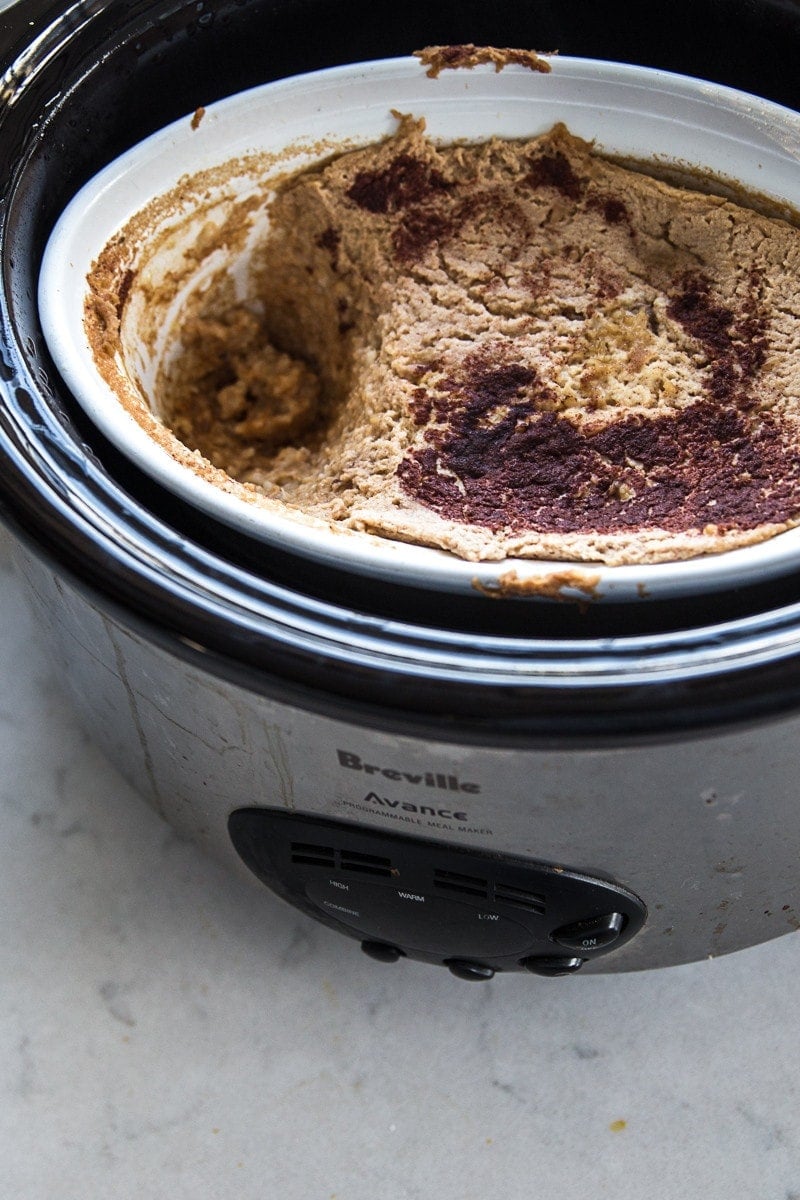 Anyways, I started blending the soup and then had a strange thought. What if it was full of toxins and I had cooked those toxins into the soup? Bush people are strangely paranoid about spiders and snakes and hairy caterpillars and exotic insects spewing toxin with their bites. So I googled it and of course this was probably the first incident of its kind because Google had nothing for me - nothing!
After getting excited about the fact that in this vast world of a billion stories and a gazillion instances of strange things happening, I had somehow hit the jackpot of a unique story all by myself; I returned to reality and together as a family we made the grim decision of draining the soup in the sink. Because Google said some stick insects release toxins when they are dying and we were not prepared to risk our lives for a pot of soup.
So another pot of soup had to be made and dinner was over two hours later than usual, but we all lived and I managed to prep the oats in the slow cooker. The oats tasted even sweeter the next morning, when we realised that we were not the first family to drop dead at our dinner table from the toxin of a praying mantis who left the comfort of the Australian bush and decided to go for a swim in our pot of soup.
For this oats recipe, I made applesauce in the blender and used that as the bulk of my sweetener. The porridge sat in its own little ceramic container in a water bath created in the slow cooker. The base porridge itself is not very sweet, because we like it that way. We make up for that by topping it with fresh sliced apples and a drizzle of date sauce or maple syrup. Every mouthful is like fluffy clouds, warm fluffy clouds! If you make this, don't forget to share it with me on Instagram @cookrepublic or leave your feedback and rating in the comments below. Cheers!
Recipe
Hungry For More Recipes? Subscribe to my newsletter. Check out Facebook, Instagram and Pinterest to see everything I share! And if you love cooking and new cookbooks, join my free Cooking Club on Facebook!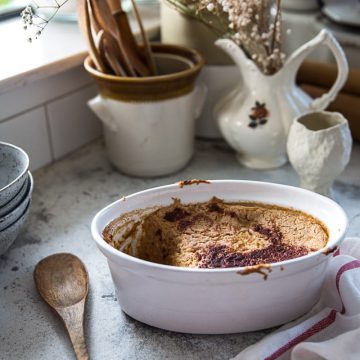 Ingredients
for the applesauce
2

(

250

g

)

medium apples

,

peeled and cored

3

tablespoons

maple syrup

1/4

teaspoon

ground cinnamon

pinch

of salt
for the oats
1

cup

(

180

g

)

steel cut oats

250

ml

applesauce

2

tablespoons

salted butter

4

cups

(

1000

ml

)

whole milk (or milk of choice)

1

teaspoon

ground cinnamon

fresh apple slices

,

to serve

pecan nuts

,

to serve

fresh cream

,

to serve

maple syrup or honey

,

to serve
Instructions
Place all the ingredients for the applesauce in the jug of a blender and process until smooth. The above recipe yields 250ml applesauce.

Place oats, applesauce, butter, milk and cinnamon in a deep 1.2 litre ceramic bowl that fits inside the pot of your slow cooker. Place this ceramic bowl inside the pot of your slow cooker and fill the slow cooker with water until it comes about halfway up the ceramic bowl containing oats.

Place the lid of the slow cooker on and cook the oats on low for 8 hours.

To serve, scoop porridge in a bowl. Arrange apple slices around the porridge, top with a generous dollop of fresh cream, drizzle with maple syrup or honey and sprinkle pecan nuts.
Notes
If you don't have steel cut oats, use rolled oats and reduce cook time to 5-6 hours on low.
Do not use instant oats for a slow cooking recipe.
To eat, simply reheat or warm in microwave and serve with toppings.
Did you make my recipe?
I'd love to hear how you went! Tag me on Instagram @cookrepublic