A happy fusion of Asian flavours with some good old fashioned butter creates this umami bomb! Buttery Tomato Garlic Prawn Noodles - a cross between garlic prawn noodles and buttery pasta. Ready in 15 minutes and tastes incredibly delicious!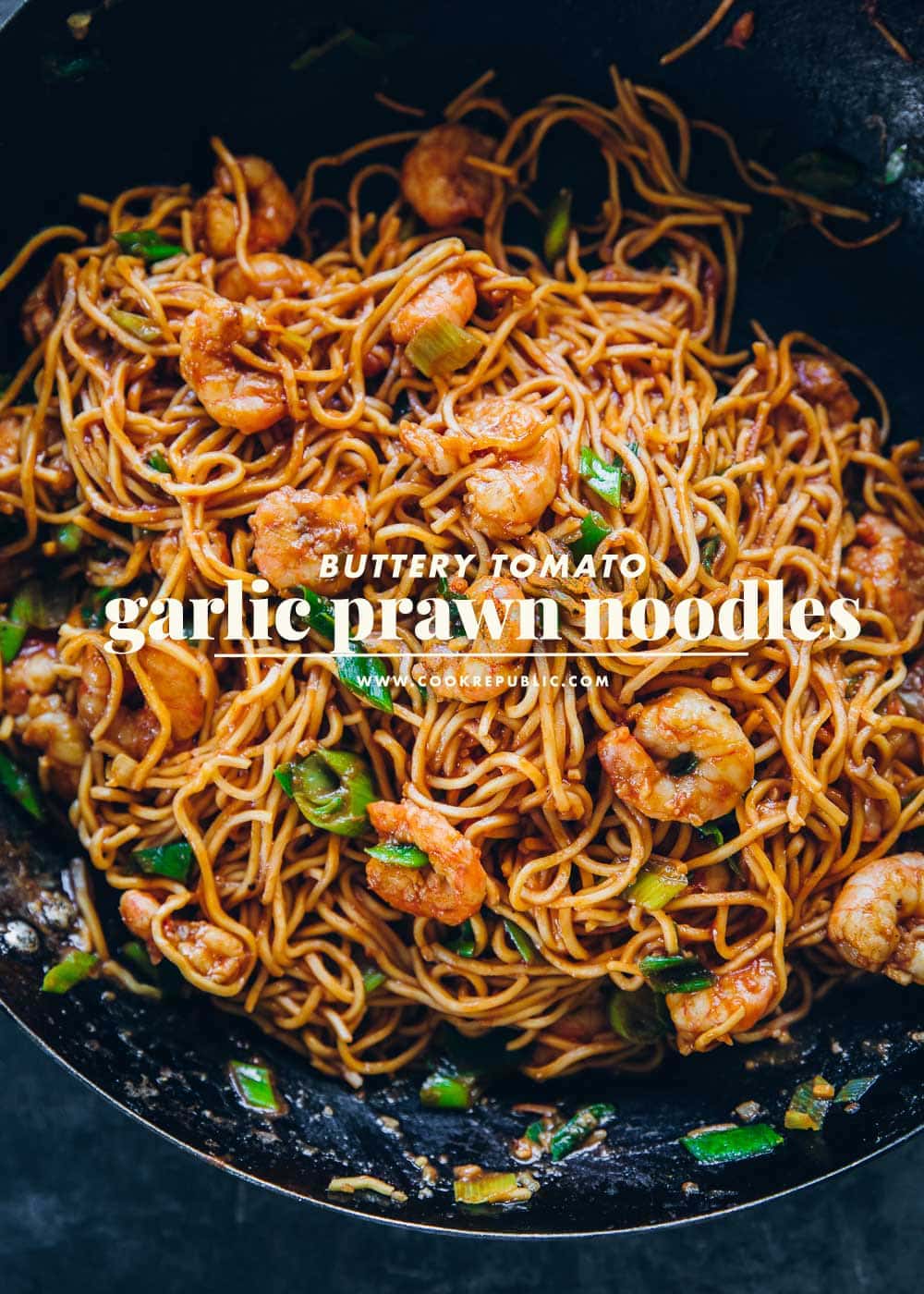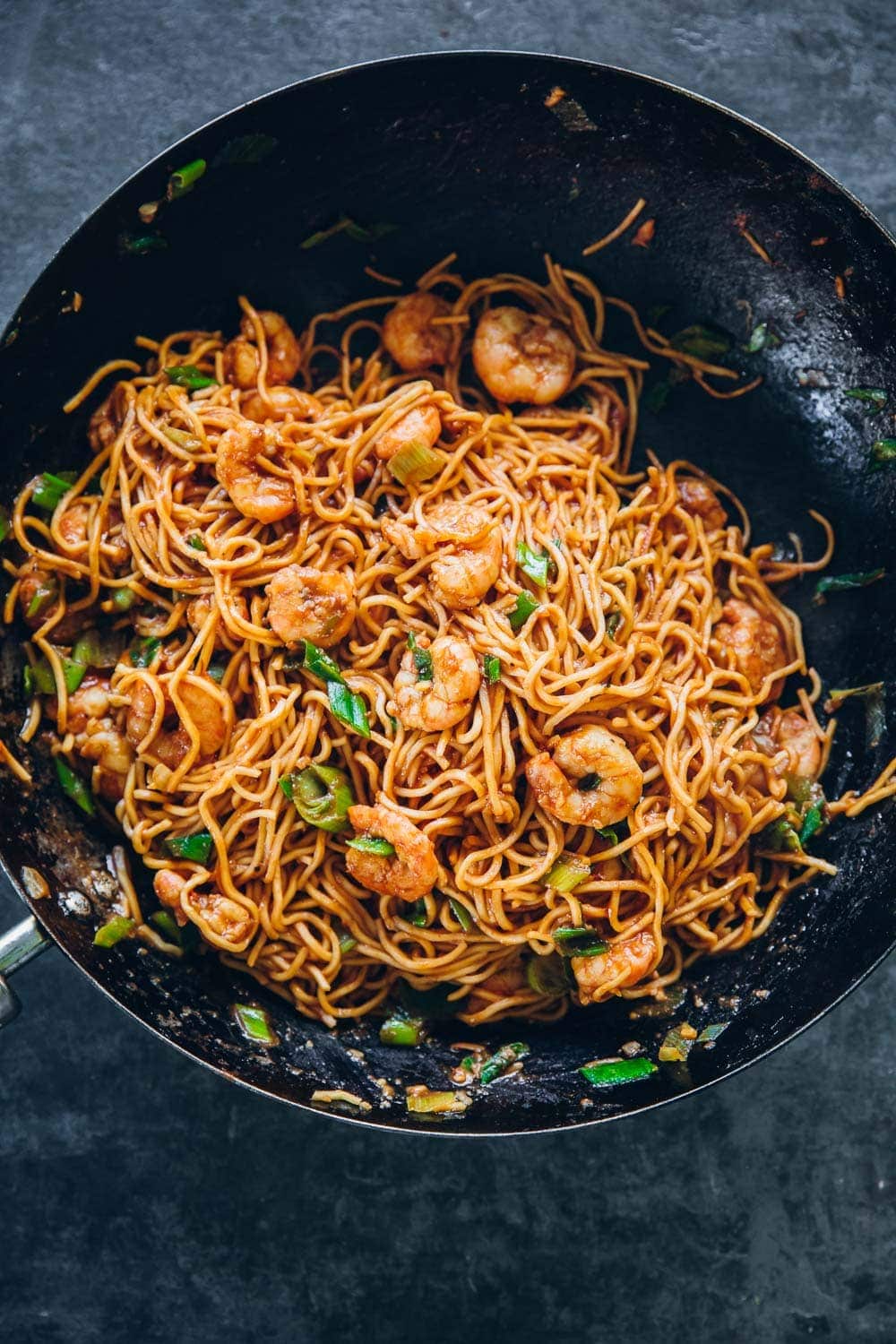 A Fusion Noodle Dish Born Out Of A Childhood Memory
I remember the first time I had Maggi noodles. I was 7 years old, it was during my summer holidays. I was visiting my granddad who had a high government posting and lived in grand old houses with huge gardens and staff. My aunt and I were sightseeing that day and she stopped to say hello to a friend who lived in an equally charming house with an immaculate lawn. I was playing cops and robbers in the garden with her son who was about my age when she called us in for a snack.
Following the delicious smell into the dining room, I simultaneously saw bowls of steaming noodles dotted with green peas as the boy charged forward and yelled "Maggi! Yayyy!". Up until this point, I had only watched the highly colourful Maggi ad and catchy jingle on the telly. I had not yet tried it.
When we sat down to eat, the boy squirted a godawful amount of tomato ketchup on top of his noodles and then pushed the ketchup bottle towards me. Unsure of how much to put on my noodles, I decided not to follow his lead but added a squirt or two demurely. Before we could dig in, the lady of the house swooped in and added a spoonful of butter on top of our noodles (Indian mums are notorious for ladling ghee on everything to try and fatten their brood. Butter to me was definitely a step up at that age. A tiny bit fancy!)
As the butter melted into the hot noodles, I started swirling the fork through the tomato sauce and mixing it up in the noodles. The spice, the tomato ketchup, the butter - it was a tantalizing combination. I never forgot that taste and all through my teen years and when I eventually started cooking regularly, I occasionally added a tiny bit of spice, some tomato ketchup and a touch of butter to my noodles. These Buttery Tomato Garlic Prawn Noodles are an ode to that childhood memory
The Secret To Making Perfect Stir-Fried Noodles
I religiously stock fresh Chow Mein noodles in my fridge and peeled wild-caught Australian prawns in my freezer. These two invariably end up in a lot of my quick dishes for school lunches or afternoon snacks or meals for one.
Fresh noodles are a breeze to cook. They only need about 2-3 minutes in a hot boiling pan. You drain, rinse in cold water, drain and rinse again a couple of times till the noodles become cool. You then add fresh cool water to the noodles and let them swim in it for a few minutes till you get all your stir-fry ingredients ready. This ensures that each noodle strand is easily separated when you drain and add to the wok.
Frozen prawns must be thawed by plunging in hot water for a few seconds, draining, squeezing and draining again. You want to remove as much liquid as you can to ensure a nice and dry stir-fry. Fresh prawns just need a gentle squeeze.
Another thing you MUST do when you stir-fry is to create a wok clock. You lay out all the ingredients and arrange them in a circular fashion starting at 12 o'clock and progressing clockwise in the order in which they will go into the wok. Even if you don't arrange them in a clock position, it is imperative to have all ingredients measured and ready before you start the stir-fry.
Use a well-seasoned carbon steel wok. Whether you have gas or induction cooktops, you can easily season your woks after washing by drying them completely, rubbing them lightly with grapeseed oil all over (inside and out) and popping on a slow heat for 15-20 minutes. Make sure your wok is heated on the highest heat your cooktop can afford.
Use a flat metal spatula to turn your stir-fry and metal tongs to loosen and mix your noodles with the sauce.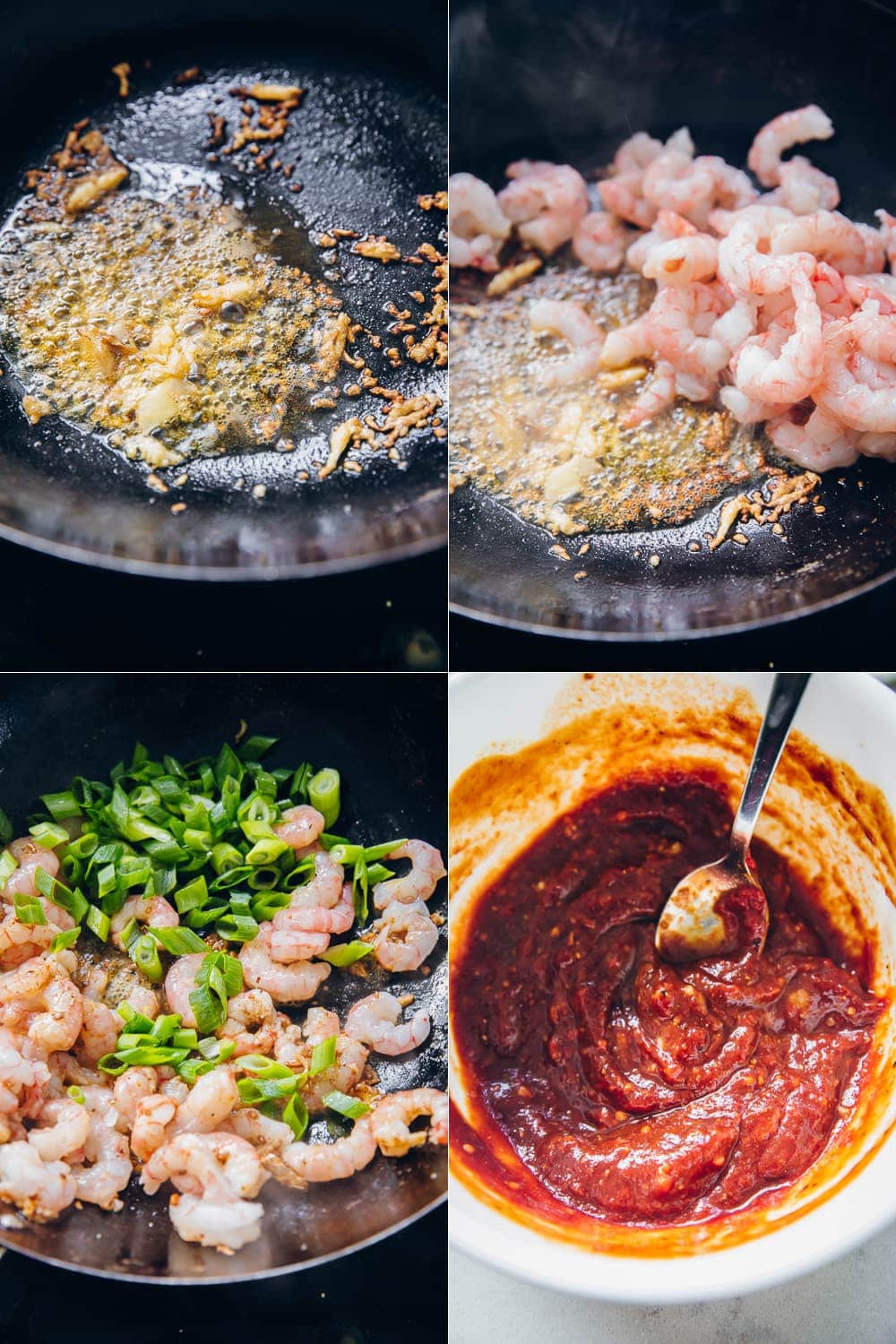 Enjoy these buttery noodles full of delightfully umami flavours. You can change the protein to chicken but seafood and tomato are a match made in heaven. If you make these noodles, I'd love to hear your feedback in the comments below. Happy eating!
Recipe
Hungry For More Recipes? Subscribe to my newsletter. Check out Facebook, Instagram and Pinterest to see everything I share! And if you love cooking and new cookbooks, join my free Cooking Club on Facebook!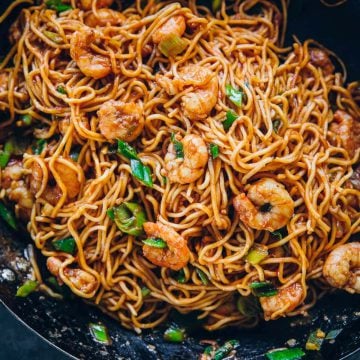 Ingredients
280

fresh egg/chowmein noodles

300

g

fresh or frozen peeled prawns

2

tablespoons

butter

5

garlic cloves

,

minced

1

cup

sliced spring onion

,

green only

3

tablespoons

tomato paste

2

tablespoon

light soy sauce

1

tablespoon

miso paste

1

tablespoon

sake

Freshly ground black pepper
Instructions
Prepare noodles by following instructions on the packet. Bring a pot of water to a rapid boil. Drop fresh noodles carefully into the boiling water. Allow to cook for 3-4 minutes. Remove from heat. Drain hot water. Rinse noodles with cold water a couple of times till the water is no longer hot and the noodles have cooled down. Add enough cold water to just submerge the cooked noodles. Set aside until ready to use.

Have your peeled prawns at the ready. If using frozen prawns, submerge prawns in hot water for 15-20 seconds till they just start to soften. Drain water completely. Squeeze the frozen prawns and drain the liquid completely. Set aside.

Prepare noodle sauce by mixing tomato paste, soy sauce, miso paste, cooking sake and pepper in a small bowl.

Heat a medium wok on high. Add butter and garlic. Stir-fry for a few seconds until aromatic. Add prawn and spring onions. Stir-fry for a minute until prawns start turning red and are no longer translucent.

Drain noodles completely and add to the wok.

Add the prepared sauce and mix everything well using a flat spatula or tongs. Stir-fry for 2-3 minutes until the noodles are hot and everything is well combined.

Remove from heat. Serve hot or allow to cool to room temperature before packing away in lidded glass container. Will keep in the fridge for up to 2 days.
Did you make my recipe?
I'd love to hear how you went! Tag me on Instagram @cookrepublic