Give your chia pudding a delicious cheery update by making the most perfect mango lassi and soaking your chia seeds in it. Plus, learn about the perfect chia seed to liquid ratio. Infused with spices, this Mango Lassi Chia Pudding is one of the most delicious desserts you will ever make.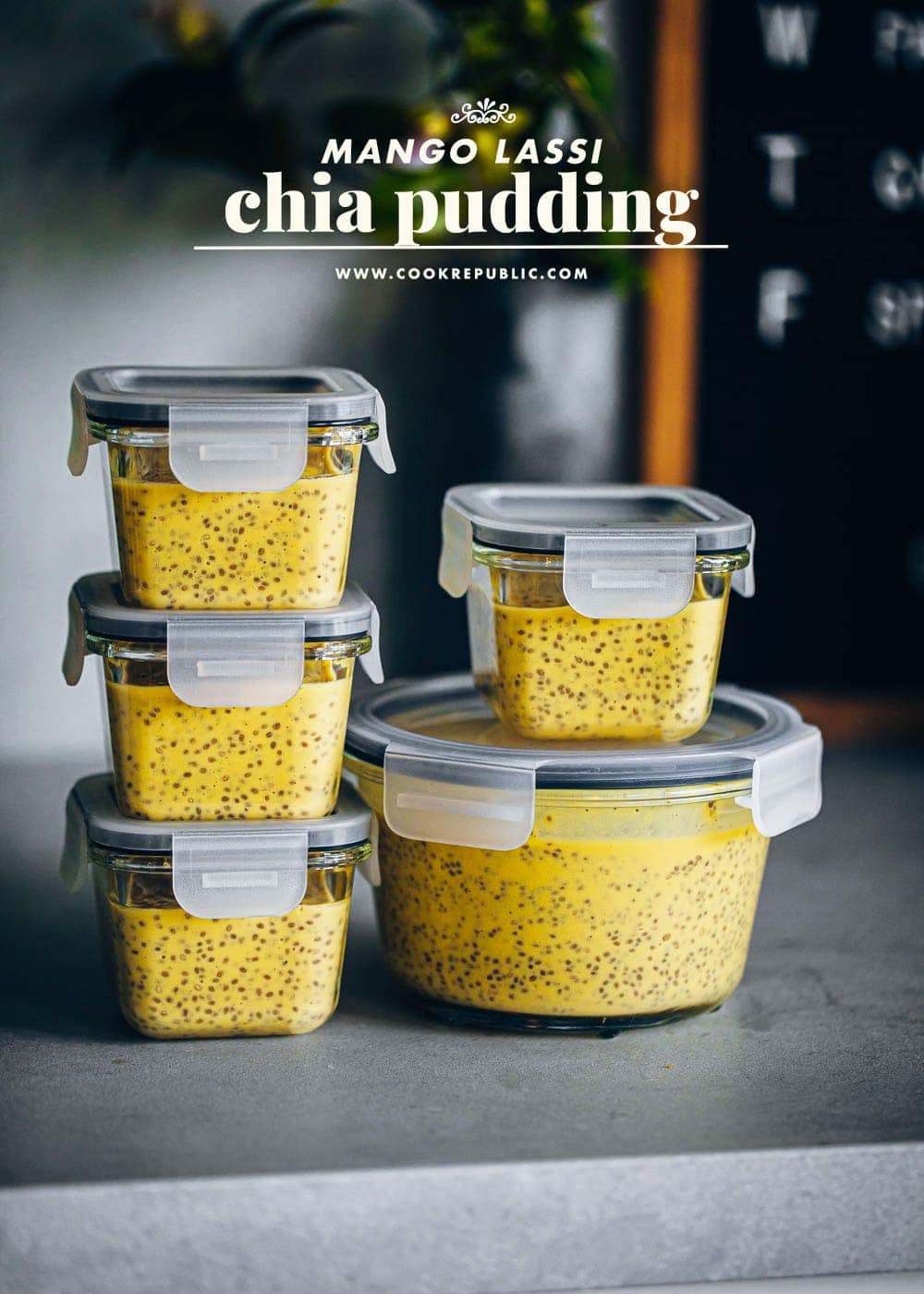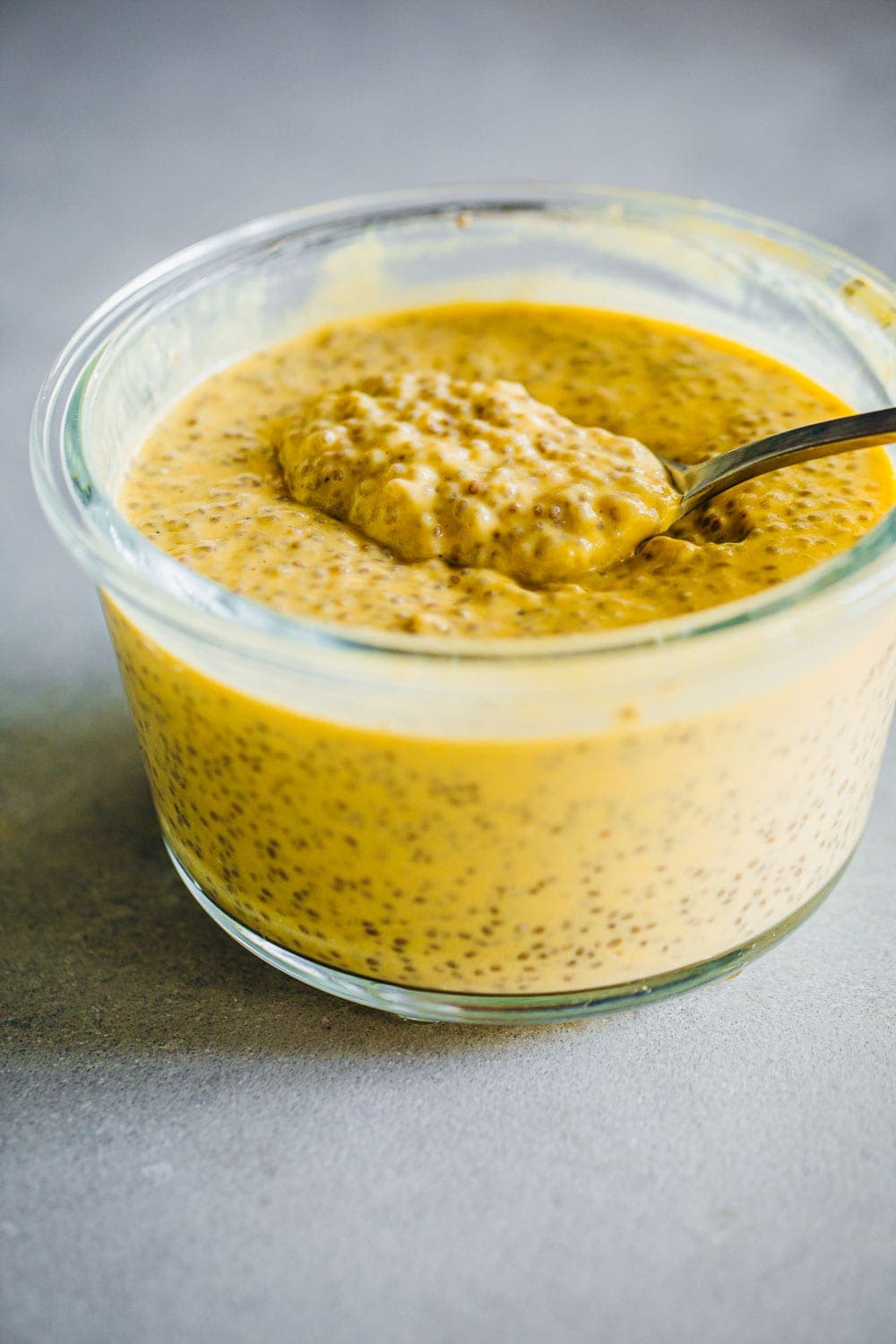 The Right Mango For Mango Lassi
Not all mangoes are created equal. And once you taste those whose flesh is a vibrant orange and tastes deeply floral with notes of honey doused in lemon, you can never be satisfied with just a yellow-fleshed mango. The mangoes I am talking about are sweet and sour and not just sweet! Like the end of season tiny Kensington Prides or the mid-season Honey Gold or those exotic Alphonso mangoes from lands far away.
Mangoes never last in our home. They are a ritual. They are a need. So, I am unlikely to ever save enough to freeze for the offseason. My only bet is to find the perfect frozen mangoes. I like the organic frozen mangoes at Woolworths. And they are perfect for this recipe.
The Perfect Chia Seed to Liquid Ratio
We have been having a lot of chia seed puddings lately in a bid to increase (mainly my) protein intake. But hey, they are good for everyone! Not to mention, super delicious if soaking in a delicious liquid concoction like this mango lassi. Chia seeds are high in fiber and protein. They are also a decent source of Omega 3 fatty acids and calcium.
The most important thing to remember when making chia seed is the chia seed to liquid ratio. Once you have that perfect, you can create an amazing variety of delicious puddings. The perfect ratio is 3 tablespoons chia seed to 250ml (1 Australian Cup) of liquid. For the liquid part of the pudding, I like to make it light. So, to make 250ml of the liquid, I will add 125ml milk/yoghurt and the remaining 125ml water/coconut water to thin it down. This avoids a super thick, stodgy pudding that will invariably need thinning down later.
See my notes for the quantities this recipe makes. The base mango lassi is great as a dessert in itself. So if you just want to enjoy the lassi, skip the chia seeds. The recipe below makes 8 X 125g chia seed pots that will keep well in the fridge for 3-4 days.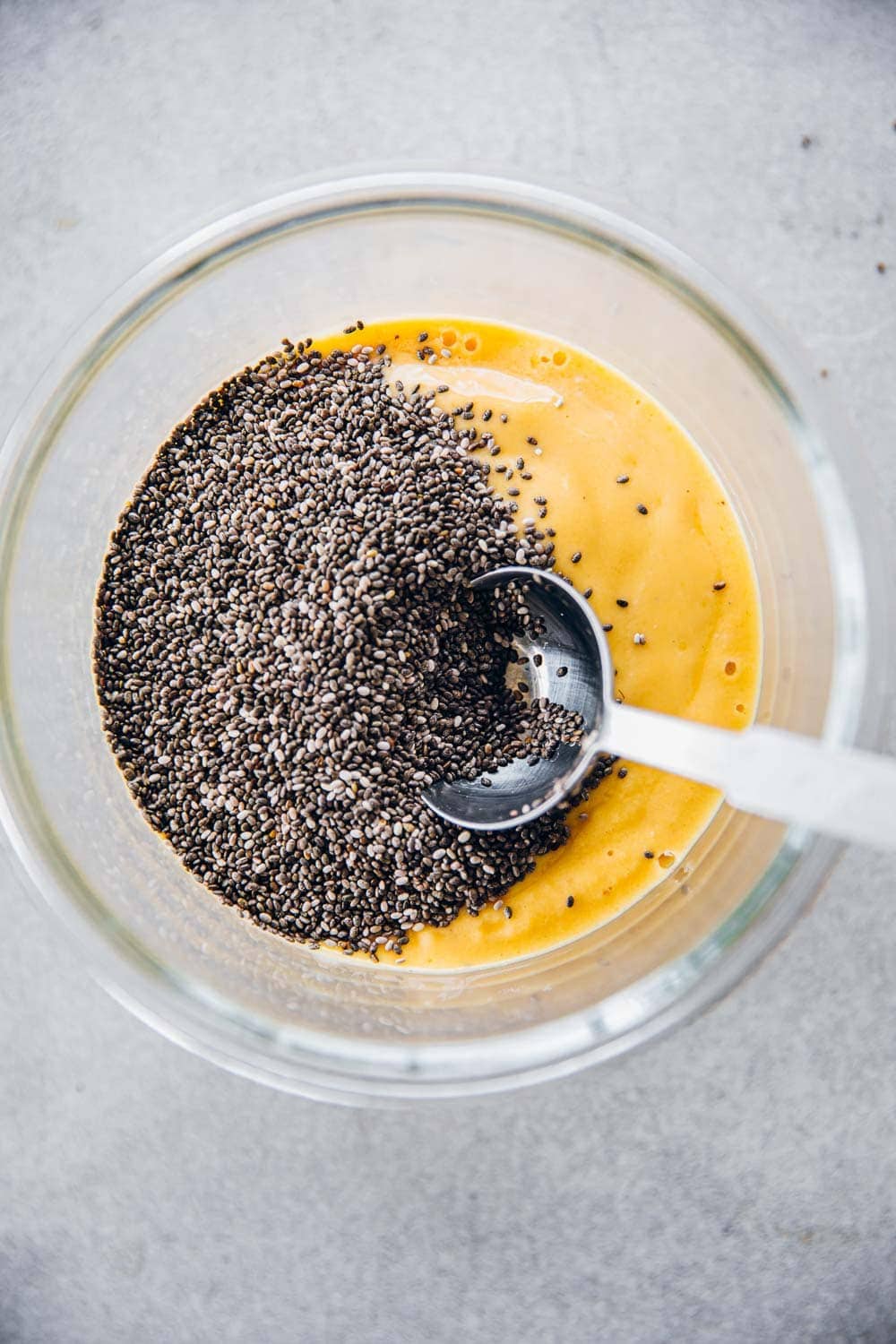 Recipe
Hungry For More Recipes? Subscribe to my newsletter. Check out Facebook, Instagram and Pinterest to see everything I share! And if you love cooking and new cookbooks, join my free Cooking Club on Facebook!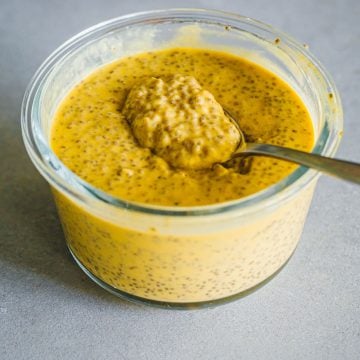 Ingredients
450

g

frozen or fresh mango flesh

¼

teaspoon

ground cardamom

1

cup

(

250

g

)

unsweetened natural/Greek yoghurt

1

cup

(

250

ml

)

chilled water

½

cup

(

125

ml

)

light coconut milk

3

tablespoon

coconut sugar/rapadura sugar/maple syrup

1

or 2 teaspoons lemon juice

pinch

of saffron

12

tablespoons

chia seeds
Instructions
Blend mango, cardamom, yoghurt, water, coconut milk, sugar and lemon juice in a blender until smooth.

Pour the mango lassi in a large 2-litre capacity lidded glass container. Add 12 tablespoons of chia seeds (For every cup of the mango lassi, you will need to add 3 tablespoons chia seeds). Mix well. Cover and refrigerate for 3-5 hours until set.
Notes
Ratio for chia pudding is (1 cup) 250ml liquid – 3 tablespoons chia seeds. This recipe produces (4 cups) 1-litre liquid, therefore needs 12 tablespoons chia seed.
Makes 4 cups mango lassi and 8 single serves of 125g each chia pudding.
Make It Vegan - Switch regular yoghurt for coconut yoghurt.
You could add a few strands of saffron to the base when blending for an extra boost of flavour.
Did you make my recipe?
I'd love to hear how you went! Tag me on Instagram @cookrepublic