An Aperol Spritz is the quintessential holiday cocktail for lovers of Italy. A bright orange drink that looks just like an Italian sunset in a glass, this spritz is refreshing and super easy to make. My version has a slight twist from the original and it is absolutely delicious when served with an Italian-style Tuna Tartare.
Jump to:
🍹 What is an Aperol Spritz?
An Aperol Spritz is Italy's most famous cocktail offering to the world. It is an aperitif which means a pre-dinner drink usually lower in alcohol and designed to stimulate the appetite. Palate-cleansing, dry and bitter. A drink as synonymous with summer as the refreshing Mango Margarita.
It is always made with Aperol, a bright orange aperitif from northern Italy. Known as Campari's little brother, Aperol has a sweet orange flavour with herbal notes and a touch of vanilla. Combined with Processo and soda water (Club soda) in a glass, the cocktail is literally reminiscent of a bright orange sunset along the coast of Italy.
Aperol Spritz is also known as Spritz Veneziano after the city it was invented in during the 50s - Venice. It is the drink of choice for summer and a hot favourite at bars and clubs, especially in the resorts of Europe and luxury coastal holiday spots around the world.
🍊 Ingredients
An Aperol Spritz has four main ingredients
Aperol - This is a must. You cannot use any other spirit but Aperol or else it isn't the same. A bright orange liqueur from Italy, Aperol is an aperitif. An aperitif is something that is bitter and lively and serves as a pre-dinner drink to stimulate appetite. It has notes of orange, herbs and vanilla and is sweet, citrusy and bitter.
Prosecco - Prosecco is an inexpensive, sparkling Italian wine. A dry (brut) and not very sweet variety is perfect for making this drink. I love the De Bortoli or Brown Brothers brand especially because you can buy them in smaller bottles or cans to make single servings of the cocktail without opening an entire bottle.
Soda water (Club soda) - Plain sparkling water or soda works well in this recipe.
Orange - A slice of orange is the only garnish you need.
🫗 How to make Aperol Spritz?
On its official website, Aperol suggests a ratio of 3-2-1. 3 parts dry prosecco, 2 parts Aperol, and 1 part Club Soda/Soda Water. There are as many variations as there are bars and bartenders. Personal taste also has something to do with how people mix this cocktail.
Some like it sweet (more Aperol), some like it dry (more Prosecco), and some like it light (more Club Soda/Soda Water). And although Aperol's official 3-2-1 ratio produces a very well-balanced cocktail, I like my mine a little drier and less sweet. So I follow the 4-2-1 ratio of prosecco, Aperol, and Club Soda or a 4-2 ratio of prosecco and Aperol on lots of ice, skipping the Club Soda entirely.
To make it like the Italians do, follow the method below. This creates a perfectly blended orange drink and avoids the layers of orange, golden and white that although looks pretty is not the best way to enjoy the drink (tasteless soda on top and sweet, heavy Aperol settled at the bottom). Do this instead,
Add prosecco followed by Aperol and soda water to a 300ml-350ml capacity stemmed wine glass or tumbler.
Fill the glass with as much ice as it will allow.
Add a large slice or two of orange to the glass as a garnish. Serve immediately.
🍴Serving Suggestions
Tell me what comes to mind when you think of Aperol Spritz? I'll tell you what I think of! Lazy summer afternoons by the sea, either in a beautiful resort along the Italian coast or a chic beach cafe right here in Sydney. This is the food that would be perfect served with this beautiful cocktail - peckish little bites you can eat with your fingers or a fork,
Spaghetti Fritters! Oooh mama!
A Healthy Dill Potato Salad - with that mouth-puckering caper dressing!
Crispy Zucchini Halloumi Fritters
Roasted Smashed Potatoes With Green Sauce
👩🏻‍🍳 Recipe FAQs
Can I substitute Aperol in Aperol Spritz?
No, you cannot. It is not the same without Aperol.
What is the perfect ratio of Prosecco, Aperol and Soda Water in an Aperol Spritz?
The official Aperol website states that a 3-2-1 ratio of Prosecco, Aperol and Soda Water makes the perfect cocktail. But I prefer 4-2-1 for a less sweet and bubblier drink.
Why is ice added at the end when making Aperol Spritz?
When ice is added first to the glass, two things happen. The Prosecco goes flat and loses a lot of the bubbles and the cocktail forms layers and doesn't get mixed properly. The correct way to make Aperol Spritz is by adding Prosecco, Aperol and Soda water to a glass so that they mix into a beautiful orange cocktail and then filling the glass up to capacity with ice so that the ice is packed all the way from the bottom of the glass to the top.
What is the perfect glass to serve Aperol Spritz in?
It must be preferably served in a stemmed wine glass with a 350-450ml capacity.
🧡 More Cocktail Recipes
Recipe
Hungry For More Recipes? Subscribe to my newsletter. Check out Facebook, Instagram and Pinterest to see everything I share! And if you love cooking and new cookbooks, join my free Cooking Club on Facebook!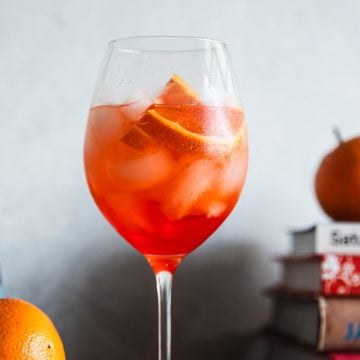 Aperol Spritz
A beautiful aperitif with a gorgeous orange hue, Aperol Spritz is Italy's most famous cocktail offering and a refreshing, delicious holiday drink enjoyed around the world.
Print Recipe
Rate / Comment
Ingredients
4

oz

Prosecco

,

dry variety

2

oz

Aperol

1

oz

Soda Water

,

(Club Soda/sparkling water)

1

orange slice

1

cup

ice
Instructions
Pour Prosecco in a 300ml-350ml capacity stemmed wine glass.

Add Aperol and soda water.

Fill glass gently with ice to the top

Garnish with an orange slice and serve immediately.
Notes
Aperol - This is an orange-coloured, sweet and bitter aperitif from Italy. It is the main ingredient of this cocktail and cannot be substituted. Prosecco - This is a sparkling Italian wine. There are many versions of this wine out there. Use a dry prosecco that is not very sweet. My favourite brand is Debortoli or Brown Brothers. Soda Water - Soda water is carbonated water with a lot more fizz added to it. This is what you want to use as opposed to light sparkling water. Garnish - Orange slice is the traditional option. You can mix it up by using blood orange or grapefruit instead.
Nutrition
Calories:
213
kcal
|
Carbohydrates:
18
g
|
Protein:
0.2
g
|
Fat:
0.02
g
|
Sodium:
26
mg
|
Potassium:
124
mg
|
Fiber:
0.3
g
|
Sugar:
3
g
|
Vitamin A:
29
IU
|
Vitamin C:
7
mg
|
Calcium:
24
mg
|
Iron:
0.5
mg
Did you make my recipe?
I'd love to hear how you went! Tag me on Instagram @cookrepublic