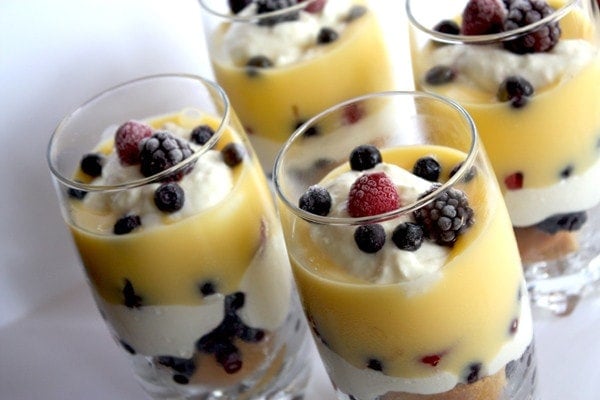 I made this delightfully simple dessert for Easter. It requires no cooking or baking, just some assembling of ingredients, some whisking and putting it all together. It is one of the fastest desserts I have ever made and tastes amazing. It also feels luxuriously sinful and special. The recipe was adapted from Australian Womens Weekly's Cheesecakes cookbook. I substituted all full-fat ingredients with all light ingredients and it turned out just perfect. I made 6 huge glasses of this beautiful dessert and had enough ingredients left over to make 4 baby glasses for the kids. Everyone was happy!
CHEESECAKE BERRY TRIFLE
[Preparation Time : 20 minutes/ Chilling Time : 2 hours/ Serves : 6]
Ingredients
6 saviordi biscuits
1/3 cup berry/orange juice + 1/3 cup Grand Marnier
2 cups frozen mixed berries
2 cups store-bought light custard

For The Filling
250g light cream cheese
1 tsp gelatine
1 tbsp water
300ml light cream
2 tsp lemon juice
2/3 cup caster sugar
Method
Make filling by sprinkling gelatine over the water in a small heatproof jug. Stand jug in a pan of simmering water. Stir until gelatine dissolves, cool for 5 minutes. Beat sugar, cheese and lemon juice with an electric mixer until smooth. Beat in cream. Stir in gelatine mixture.
Cut each saviordi biscuit into three. Combine berry/orange juice and Grand Marnier in a bowl. Dip the biscuit pieces in the liquid. and divide equally among 6 tall drink glasses. Divide cheese mixture, among glasses and top with frozen berries. Top with some custard and more frozen berries.
Chill for 2 hours before serving.