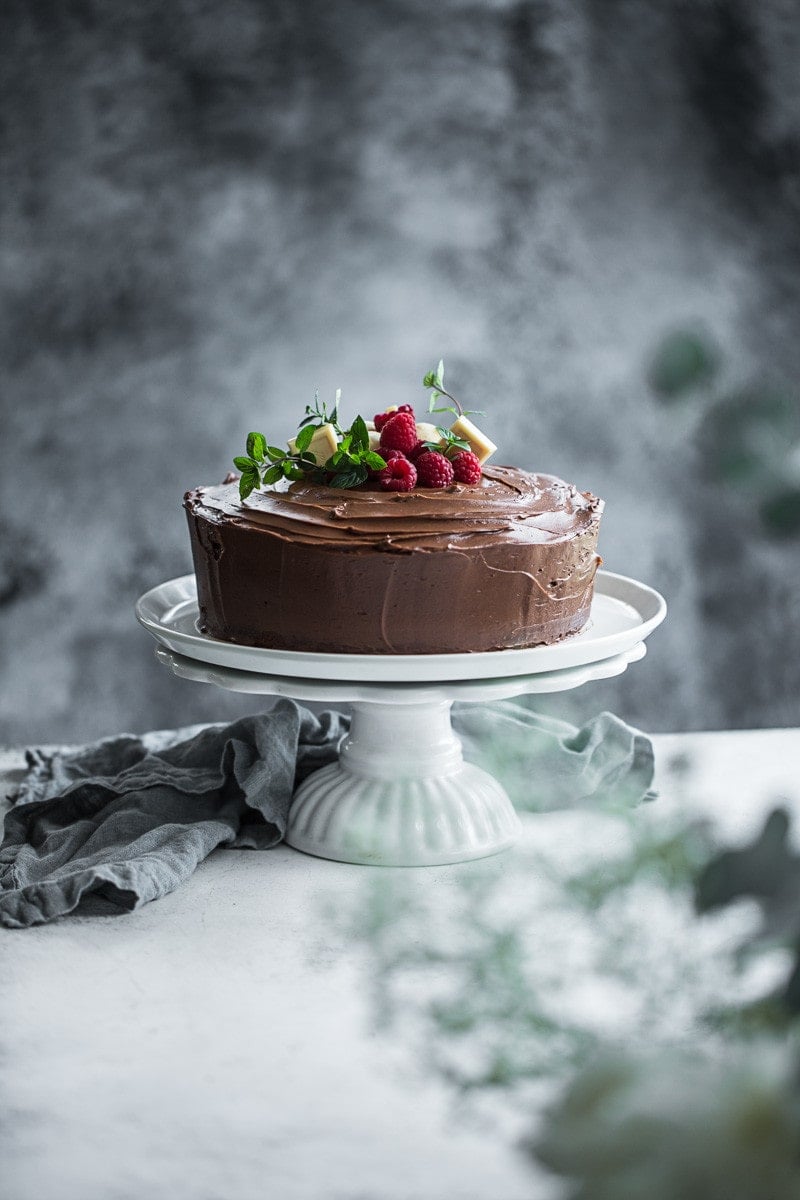 I made a big mistake yesterday. The first in 11 years of blogging so I am hoping to forgive myself (and hope you do too!) but I am appalled nonetheless. Let me tell you what happened. I posted a spectacular layer cake recipe yesterday that I made for Rish's (younger boy) birthday in January. An amazing chocolate Star Wars cake that I said had mayonnaise in it. It didn't! It had a sticky chocolate cake for the top layer and orange chocolate chip cake for the bottom layer. The mayonnaise cake, also a big chocolate layered creation was for Rivvy's (older boy) birthday in April. This one had a chocolate marble cake for the top layer and a chocolate mayonnaise cake for the bottom layer. Are you with me so far?
Because we have 3 birthdays in April and a party, I baked this chocolate mayonnaise layer cake and three other layer cakes. To make things more complicated for myself, I also baked this mayonnaise cake with that sticky chocolate cake layer on top from the January cake. And I had scribbled all 5 cakes on two sheets of paper. Oh My God! If you have lost me already, I don't blame you. But if you are still following with that super sharp ninja brain of yours, keep reading.
So yesterday, I posted a story and pictures about this Star Wars cake, only the recipe I posted with it was a mish mash of that cake and the one I am posting today. I realised this while sitting in the waiting room at my chiropracter's. Shocked! At that point I was in much more pain than the sprained rib I had been nursing. With the risk of damaging my already curved neck some more, I used my fat fingers to somehow update yesterday's cake with the right recipe on my smartphone. Phew!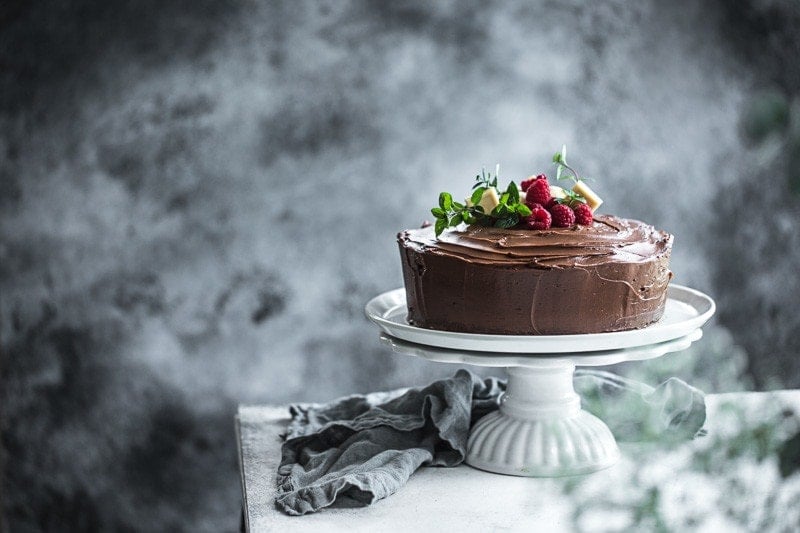 And today, I bring you the real chocolate mayonnaise cake that will rock your world! I know you are thinking - "Mayonnaise in a cake?" (Eww!) (Really?) (Hmmm...) (Why??) (Gross!). Well stop right there! Because the mayo makes the cake bloody delicious! It really does! I don't know how, but it works like a dream. The salty, creaminess of the mayonnaise cuts through the rich, sweetness of the chocolate. The result is a super moist, super luscious cake that makes everyone go "Mmmm what is that I am tasting? It is soooo delicious!!" and they have another bite and another taste and before you know it, the massive celebration chocolate cake that was meant to be for 12-14 people is all gone and you barely got a slice!
A word of warning, very little kids will love it (because they eat anything with a candle on it right?) and the older kids (11+) love it because their tastebuds are on their way up in the evolution chain and the adults can't stop having yet another slice but that 6-9 year age group might get a bit fussy because they are the hardest to please and their tastebuds are just in the throes of puberty.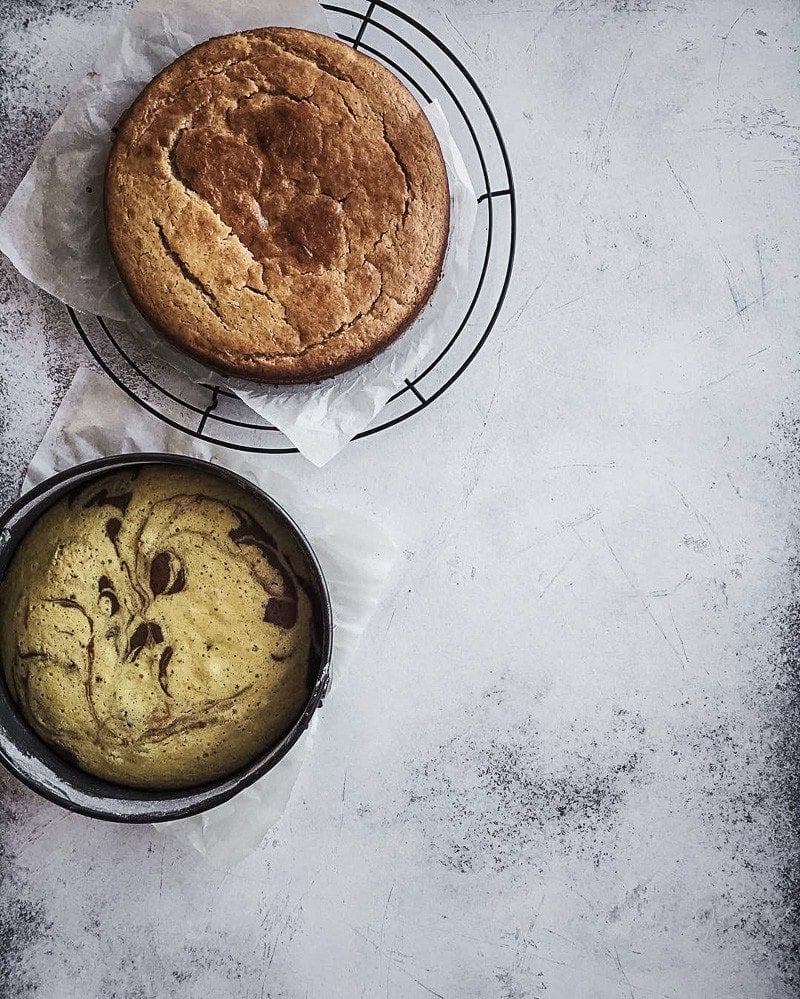 This ganache that I share is my go to ganache for all celebration cakes. It is spreadable, lickable, pourable and makes you look like a professional cake baker even if you aren't (one of the reasons I love it so much). It is my little black dress of chocolate icings! You can mix and match any two cakes from this recipe and yesterday's cake recipe and just bring it together with the ganache. I have tried it and it works, oh dear God it works! Make this cake and tell me what you think! If you share it on Instagram, don't forget to tag me @cookrepublic so I can see your gorgeous creations. Please also do leave a comment and rate it so other people can read about your experience and try it for themselves!
Sorry there are no pictures of the inside of the cake because we ate it all before I could take my camera to it. And I do hope you forgive me for that recipe gaffe! I promise the next one will be 11 years from now. Thanks darlings. x
Recipe
Hungry For More Recipes? Subscribe to my newsletter. Check out Facebook, Instagram and Pinterest to see everything I share! And if you love cooking and new cookbooks, join my free Cooking Club on Facebook!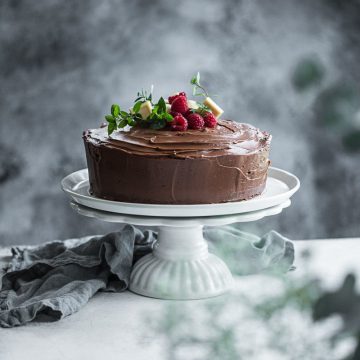 CHOCOLATE MARBLE AND MAYONNAISE CELEBRATION CAKE WITH DARK CHOCOLATE GANACHE
A rich, luscious mayonnaise and white chocolate based white cake offset by a dark cocoa marble cake dressed with the most decadent pure dark chocolate ganache. Topped with fruit, herbs, flowers and chocolate, this is one delicious show stopping celebration cake!
Print Recipe
Rate / Comment
Ingredients
For The Mayonnaise Cake [bottom layer]
1

cup

(

236.7

g

)

mayonnaise

1

cup

(

211.34

g

)

caster sugar

1

cup

boiling water

100

g

white chocolate

,

chopped

50

g

white chocolate bits

2

cups

(

264.17

g

)

self-raising flour

1 1/2

teaspoons

vanilla extract or powder

1

teaspoon

baking powder

pinch

of salt
For The Chocolate Marble Cake [top layer]
180

g

butter

,

at room temperature

2/3

cup

caster sugar

1

teaspoon

vanilla extract

2

eggs

1 3/4

cups

self raising flour

3/4

cup

milk

3-4

drops of yellow food colouring

,

or 1/8 tsp ground turmeric

3

tablespoons

dark cocoa powder
For The Dark Chocolate Ganache
400

g

dark chocolate

,

roughly chopped

300

ml

whipping cream

1

tablespoon

honey or golden syrup

80

g

butter

,

softened
Instructions
To Make The White Mayo Cake
Pre-heat oven to 180°C. Grease and line a 25cm (10 inch) round springform cake tin with baking paper.

In a large bowl whisk together the mayonnaise and sugar using an electric blender until light and fluffy.

Place boiling water and chopped white chocolate in a small bowl. Mix well until smooth and chocolate is thoroughly melted.

Add chocolate mix to the mayo mix. Whisk for a couple of seconds until blended.

Add white chocolate bits, flour, vanilla, baking powder and salt to the wet ingredients. Whisk for a minute or two until light and blended.

Pour in the prepared pan and bake in the pre-heated oven for 40 minutes until a skewer inserted in the middle comes clean when tested. Remove from the oven and allow to cool in the tin for 10-15 minutes. Turn onto a wire rack and cool completely.
To Make The Marble Cake
Preheat oven to 180°C. Grease and line a 25cm (10in) round springform cake tin with baking paper.

Use an electric beater to beat the butter, caster sugar and vanilla extract in a bowl for a few minutes until pale and creamy. Add eggs, beat some more.Add the flour and milk. Stir with a wooden spoon until mixed thoroughly.

Divide the mixture into 2 bowls. Add the yellow food colouring (or ground turmeric) to one bowl and mix well. Add the cocoa powder to the mixture in the other bowl and mix well. Drop dollops of yellow and chocolate batter into the prepared pan, alternating as you please. Once all the batter is in the pan, use a fork to gently swirl the tops of the batter to blend lightly.

Bake for 20-25 minutes in the pre-heated oven until done when tested with a skewer inserted down the middle. Remove from the oven and allow to cool in the tin for 10 minutes. Remove from tin and cool completely on a wire rack.
To Make The Dark Chocolate Ganache
Heat cream and honey in a small heavy bottomed saucepan on low. Simmer until it just comes to a boil (bubbles around the edges). Add the chocolate and mix well, stirring until all chocolate has melted. Turn off the heat and keep stirring with a strong wooden spoon until thick, smooth and glossy.

Add the butter and mix until completely melted. Cool completely at room temperature or chill quickly in the fridge for half an hour. Remove from fridge and beat with an electric beater for a minute to make the ganache light and fluffy. It is now ready to frost the cake.
To Assemble The Cake
Place the Mayonnaise Cake on a large cake plate. Trim the top layer by slicing off a thin disc of the cake. Spread a generous amount of the ganache on top of the sliced cake.

Place the Chocolate Marble Cake on top and press down gently into the ganache. Dollop the rest of the ganache on top and with swift strokes, frost the top and the sides of the cake in a swirly motion.

Decorate the top of the cake with fresh red berries, edible flowers, herbs and white chocolate pieces (I used Lindt round and square white chocolate).

Store in a covered cake carrier in the fridge until ready to serve or transport. The ganache holds well for a few hours if it is not too hot. If the weather is very hot (summer), the cake needs to be refrigerated at least until an hour prior to serving.
Did you make my recipe?
I'd love to hear how you went! Tag me on Instagram @cookrepublic