Imagine a dinner party set at a long, vintage table with crystal goblets and crackled plates amidst tall flickering candles, their flame bouncing off a bejeweled low hanging chandelier. Imagine a glorious dessert platter of shimmying, jiggling, wickedly deliciously Baileys Salted Dark Chocolate Panna Cotta waiting to be dug into with tarnished, ornate dessert forks!
Everybody knows I am not a dessert person. But this panna cotta, oh my goodness! It broke my resolve, weakened my defence and made me swoon. Logic ceased to exist after I created this recipe. I am not ashamed to admit that Nick and I sat with two spoons every night with one panna cotta pot and did not stop until they were all demolished. Because it doesn't happen often. And because this dessert is that good! I dare you to make it and not go completely crazy over how delicious it is.
We love Baileys Irish Cream. It is a great arsenal to have in your liqueur cabinet for decadent desserts and indulgent cocktails. But have you ever tried Baileys Chocolat Luxe? A revolution in drinks alchemy, Baileys Chocolat Luxe combines real Belgian chocolate, Irish Whiskey and cream for a molten chocolate drinking experience like no other. It took Anthony Wilson, son of the creator of Baileys Original Irish Cream three years to travel around the world tasting over 200 varieties of the world's finest chocolates to create this blend.
When Baileys contacted me recently for a collaboration and asked me to create a dessert recipe with the gorgeous Chocolat Luxe, I wanted to create a luscious, creamy dessert that would do justice to this exquisite blend of Baileys Irish Whiskey, Cream and Belgian Chocolate. I wanted a tang to cut through the rich sweetness and salt to elevate the dark notes. Building on a base of my favourite buttermilk panna cotta recipe, this dessert is an assault on your senses and you just won't be able to stop at one mouthful. It is simple yet sophisticated, elegant and handsome at the same time. It evokes images of dinner parties and grandeur. It is definitely a show stopper!
If you make this panna cotta, please share your creations with me on Instagram @cookrepublic. If you especially love it, please leave a comment and rate it below so others can be inspired to make it too. And lastly, don't forget to subscribe to my newsletter because there are more wicked desserts coming your way this month.
Recipe
Hungry For More Recipes? Subscribe to my newsletter. Check out Facebook, Instagram and Pinterest to see everything I share! And if you love cooking and new cookbooks, join my free Cooking Club on Facebook!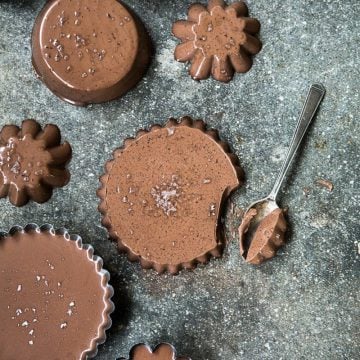 Ingredients
2

cups

(

500

ml

)

thickened cream

1

teaspoon

vanilla extract

½

cup

(

120

g

)

golden caster sugar

1/3

cup

(

80

ml

)

warm water

3

teaspoons

gelatin powder

100

g

dark chocolate

,

coarsely chopped

½

cup

(

125

ml

)

Baileys Chocolat Luxe

1

cup

(

250

ml

)

buttermilk

sea salt flakes

,

to garnish
Instructions
Place cream, vanilla and sugar in a heavy bottomed saucepan on medium-low heat. Stir constantly and bring to a boil. Remove from heat.

Pour warm water in a little bowl. Sprinkle gelatin over the water and mix once. Set aside for a couple of minutes until the gelatin dissolves completely.

Add gelatin mix to the cream mixture. Stir well. Strain into a large, clean saucepan and place it on the hob on low heat. Add the chocolate and stir until melted and smooth. Remove from heat..

Add Baileys Chocolat Luxe and buttermilk. Mix thoroughly. Pour equally into six greased, fluted 150ml capacity pie tins. Refrigerate for 4 hours or overnight until set.

To un mould, dip the bottom of the pie tins in warm water and loosen the edges of the panna cotta with a butter knife. Invert pie tins over serving plate and tap gently until panna cotta drops onto the plate. Serve chilled, sprinkled with sea salt flakes.
Notes
Panna cotta can be poured in glass jars for easy setting and serving.
Did you make my recipe?
I'd love to hear how you went! Tag me on Instagram @cookrepublic
Note - This post is sponsored by Baileys. The recipe was created for Baileys as part of the collaboration. Thoughts, musings and feels are all mine.