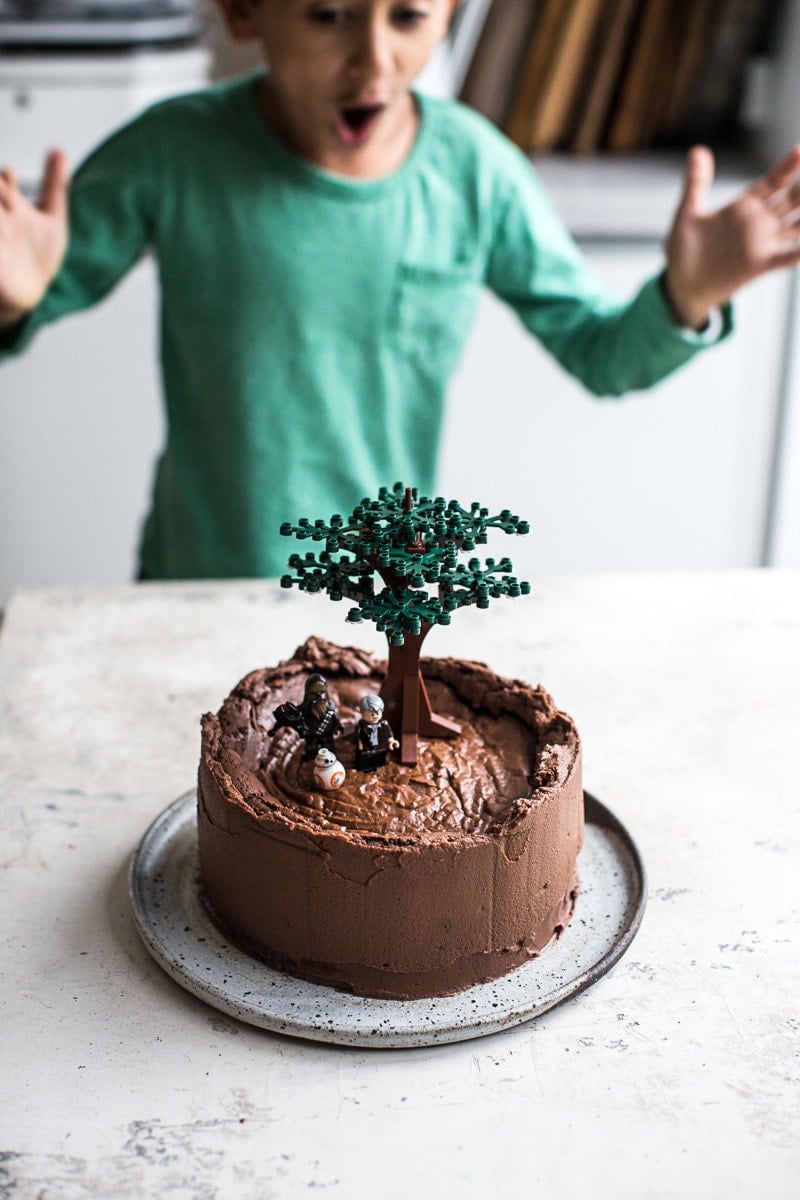 "Mum, look at me!" left shoulder thrown back, little wiry body angled sideways, knees bent in some kind of a stance, chin tucked down, eyes glaring menacingly, skinny right arm stretched towards me, the forefinger and thumb cocking an imaginary weapon. "Guess who I am?"
A little boy in terrible pain from the extreme contortionist act, was my first thought.
As if it was even possible, he contorted further, arching his back and pretending to mock-shoot an imaginary enemy (I happened to be in his line of fire!). He then casually jerked his head to indicate behind him, "Look who's behind me?"
I leaned to one side clearly seeing no one behind him. "Oh My God! Who is it?" I said, eyes growing wider with panic.
"Nnn Rrrrrrr-ghghghghgh!" the voice came from somewhere inside him, his lips hardly moving. He was casting this voice for whatever was behind him. I was impressed with his amateur ventriloquism.
"Come on mum! I mean, Princess Leia!" he said, lips pulled in that iconic drawl.
"Oh! Oh! You are Han Solo! OMG, is that Chewbacca behind you??" I squealed.
"Yup! Okay see ya. I've got to defeat Darth Vader!" he announced abruptly, his guessing game now finished and ran off into his older brother's room from where I could hear heavy breathing. Very heavy breathing. Very sinister heavy breathing. As the light sabre sounds escalated and I heard a deep voice saying "You don't know the power of the dark side!", I walked away with a smile on my face to a now cold cup of tea.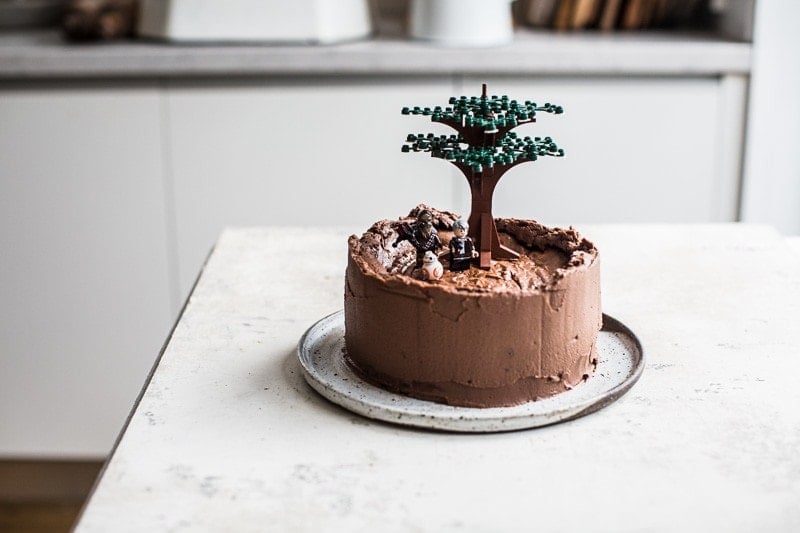 When my boys watched the entire seven Star Wars movies last year, I had no idea about how fanatic they were going to get about this space franchise that reduces grown men to imaginary light sabre brandishing warriors. Almost a year later, the fanaticism hasn't abated at all. It has now manifested itself into hours of creating imaginary Star Wars lego scenes, practicing character voices, writing alternate Star Wars scripts and shooting Star Wars lego stop motion animations.
But I was worried. I knew he was going to request a Star Wars cake for his birthday and I am NOT a master baker. To make matters worse, on the eve of the release of Star Wars - A Force Awakens; Disney sent me a 3D life size BB8 cake. ??!!##@##!?! Since it was in December and his birthday was in January, I told him that we could pretend the BB8 cake was his birthday cake. He was crestfallen. "But mum! You haven't made it!!" Oh go on, tug at those heartstrings won't you!
The BB8 cake was seriously delicious but I needed to put on my thinking hat for a cake that would look Star Wars-y enough but require none of the sugary icing or colour that I absolutely hate (and so do the boys!). So I baked two chocolate cakes. A chocolate chip and orange cake for the base and a variation of my sticky dark chocolate cake for the top.
I chose the sticky dark chocolate cake because it sinks after baking, creating a crater that would make George Lucas proud if he was scouting for locations for his next movie. I then plastered both cakes together with a simple chocolate icing and iced the sides with it too. I then plonked some lego Star Wars characters (namely Han Solo, Chewie, BB8) on top along with one lone Lego tree and Voila! A Star Wars Cake that looked authentic, tasted like a dream and got that priceless reaction from him. To my quirky, quick thinking, kind-hearted, curious minded hugger - Happy 8th darling!
This cake is delightfully simple to bake. And the best part is getting creative with what you put on top to compliment your birthday theme. If you bake this cake and love it, please rate it below and leave your feedback to help others who are thinking of baking it as well. And if you take pictures of your glorious creations, don't forget to share them with me on Instagram @cookrepublic Thanks lovelies! x
Recipe
Hungry For More Recipes? Subscribe to my newsletter. Check out Facebook, Instagram and Pinterest to see everything I share! And if you love cooking and new cookbooks, join my free Cooking Club on Facebook!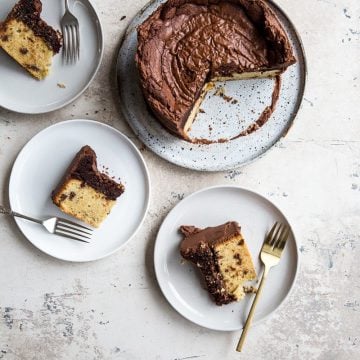 STICKY TRIPLE CHOCOLATE AND ORANGE STAR WARS CAKE
A simple but stunning triple chocolate layer cake with a fluffy white cake at the bottom and a fudgey dense brownie cake on top brought together by the most dreamy wicked chocolate icing. A no fuss Star Wars cake for a fan!
Print Recipe
Rate / Comment
Ingredients
For The Chocolate Chip Orange Cake [bottom layer]
185

g

butter softened

1

cup

caster sugar

1

teaspoon

vanilla extract

grated zest of 1 small orange

4

eggs

¾

cup

sour cream

2

cups

plain flour

1¼

teaspoons

baking powder

pinch

of salt

1/2

cup

white chocolate chips

1/2

cup

milk chocolate chips
For The Dark Sticky Chocolate Cake [top layer]
50

g

butter

50

ml

rice bran oil or macadamia oil or light olive oil

250

g

rapadura sugar or brown sugar

2

eggs

150

g

plain flour

2

teaspoons

baking powder

4

tablespoons

cocoa powder

pinch

of salt

handful of dark and milk chocolate bits

butter to grease pan
For The Chocolate Icing
80

g

butter

,

softened

60

g

icing sugar

30

g

cocoa powder

2

tablespoons

golden syrup

2

tablespoons

milk
Instructions
To Make The Chocolate Chip Orange Cake
Preheat oven to 160°C. Grease and line a 23cm (9-inch) springform tin with baking paper.

Place butter, sugar, vanilla and zest in bowl of mixer and beat for 8-10 minutes or until light and creamy

Add the eggs and sour cream and beat well.

Fold through the flour, baking powder, salt and chocolate chips

Spoon the mixture into the prepared tin.

Bake for 40 minutes or until cooked when tested with a skewer. Remove from oven and cool in tin for 5 minutes. Remove from tin and cool completely on a wire rack.
To Make The Dark Sticky Chocolate Cake
Preheat oven to 150°C. Grease and line a 23cm (9-inch) springform tin with baking paper. In a heavy bottomed saucepan, melt butter and oil on low heat till mixed.

Whisk eggs and sugar in a bowl with an electric beater until light and creamy. Add the butter mixture and beat well. Add flour, baking powder, cocoa powder, vanillin sugar and salt. Beat until combined.

Spoon into prepared tin. Top with chocolate bits/melts. Bake in pre-heated oven for approximately 40 minutes until the top has cracked and the cake is sticky and coming away from the edges at the top.

Remove from oven, cool in tin for 10 minutes. Remove from tin and cool completely on a wire rack.
To Make The Chocolate Icing
To make the icing, combine all ingredients for icing in a large bowl and whisk with an electric beater until smooth and creamy.
To Assemble The Cake
Place chocolate chip cake on the serving plate. Trim the top of the cake but slicing the a thin layer off to get a flat surface. Spread a thin layer of the icing on the top.

Place the dark sticky chocolate cake on top, crater side up. Press the cake down gently onto the icing. With swift smooth strokes, ice the sides of both the cakes, turning the serving plate as you go.

Place decorations/figurines on top of the crater. Store covered in an air tight tin in the fridge until ready to serve. Remove cake from fridge at least an hour before serving.
Notes
The addition of golden syrup makes this icing a winner in my opinion. It instantly makes it fudgey and spreadable so there is no need to chill before or after icing the cake.
Using the Cadbury brand cocoa powder for the icing results in a sweeter, milder and more child friendly version. Nestle's unsweetened dark cocoa powder will result in a darker more adult-friendly icing.
Orange or hazelnut liqueur works a treat in the icing if making this cake for adults.
It is important to use the same sized pans for baking both cakes.
Did you make my recipe?
I'd love to hear how you went! Tag me on Instagram @cookrepublic