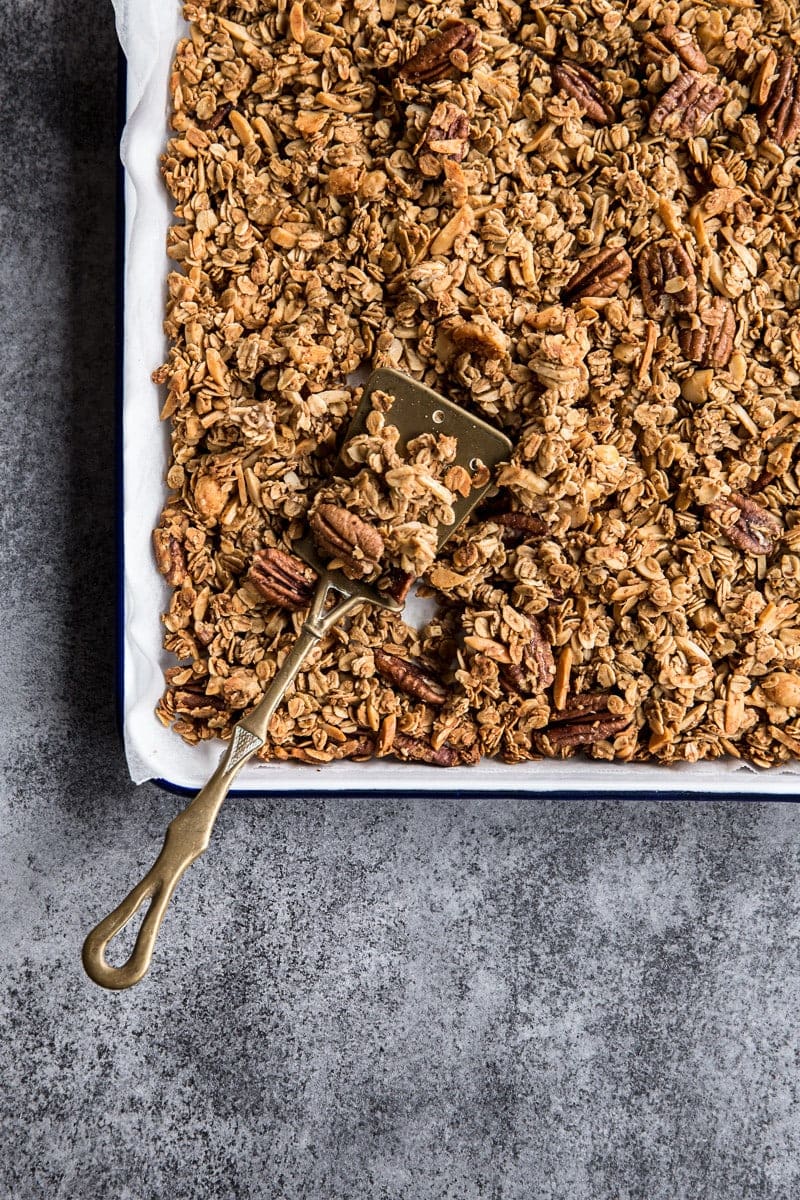 One of the things I love about living in Australia is the fact that we celebrate Christmas in July like our friends in New Zealand and South Africa. July is the middle of winter and the coldest month of the year because we all know that seasons are opposite in the Southern hemisphere. So a whole lot of us decided to celebrate Christmas in July and called it Yulefest, because honestly it is a bit too hot in December to have mulled wine, hot roasts and puddings. And what good is a Christmas celebration if there is no Gingerbread involved?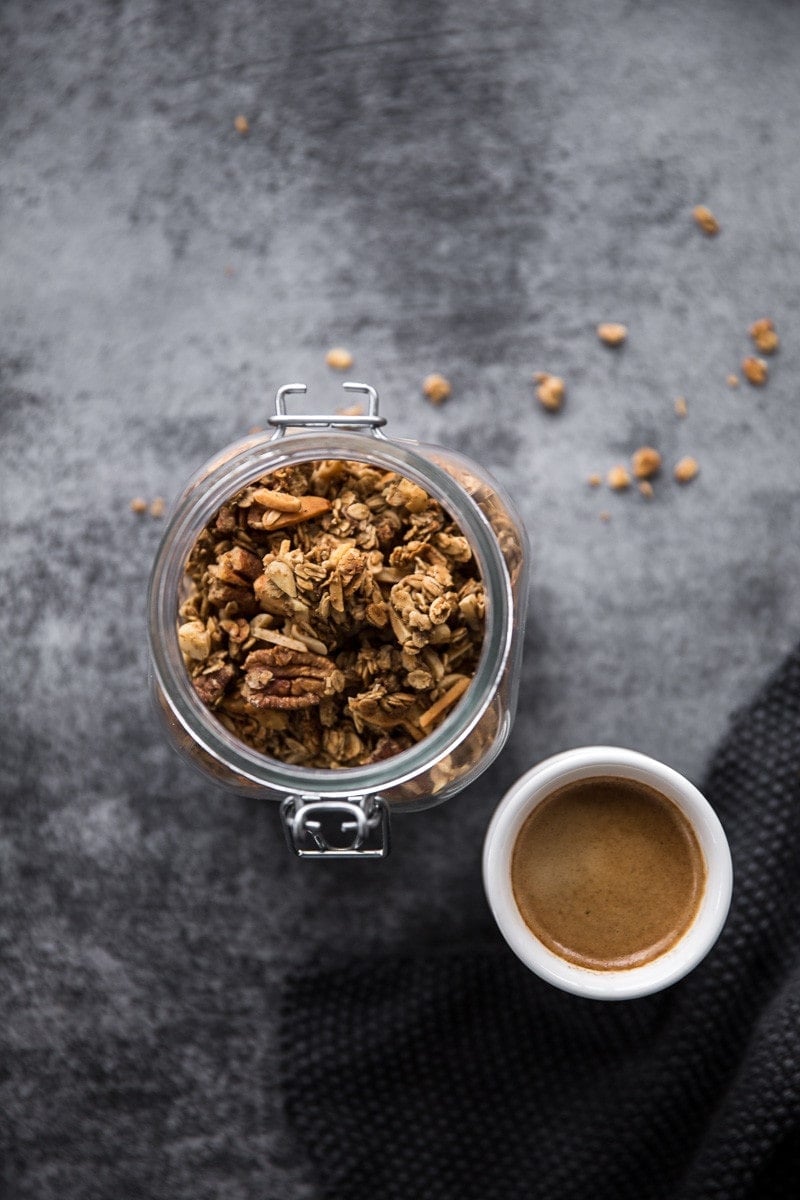 We are gingerbread fiends in this house (well, mostly me!) but the rest of the gang is catching up. When I found out that Nespresso was about to introduce a new permanent Grand Cru called Envivo Lungo to their amazing arrays of coffees and that it had gingerbread notes, I could not contain my excitement. Especially when asked to collaborate with them to create a recipe that would do justice to Envivo Lungo's full bodied aromatic woods and gingerbread notes. With ginger and spice as my muse and rich caramel coffee tones guiding my visual palette, I set out to create an ode to the Christmas in July celebration.
I created an aromatic and delicious Gingerbread Granola infused with this new coffee with plenty of crunch, texture and warmth to liven up cold dreary winter mornings. The combination of coffee and spice goes especially well with a creamy coconut yoghurt making this a fabulous breakfast for the grown ups. And it makes an amazing little gift for your favourite coffee loving humans. In fact, I love it so much, I just break the clusters off the granola (yes, this recipe makes perfect little granola clusters) and snack on them with my mid morning coffee. Utterly addictive!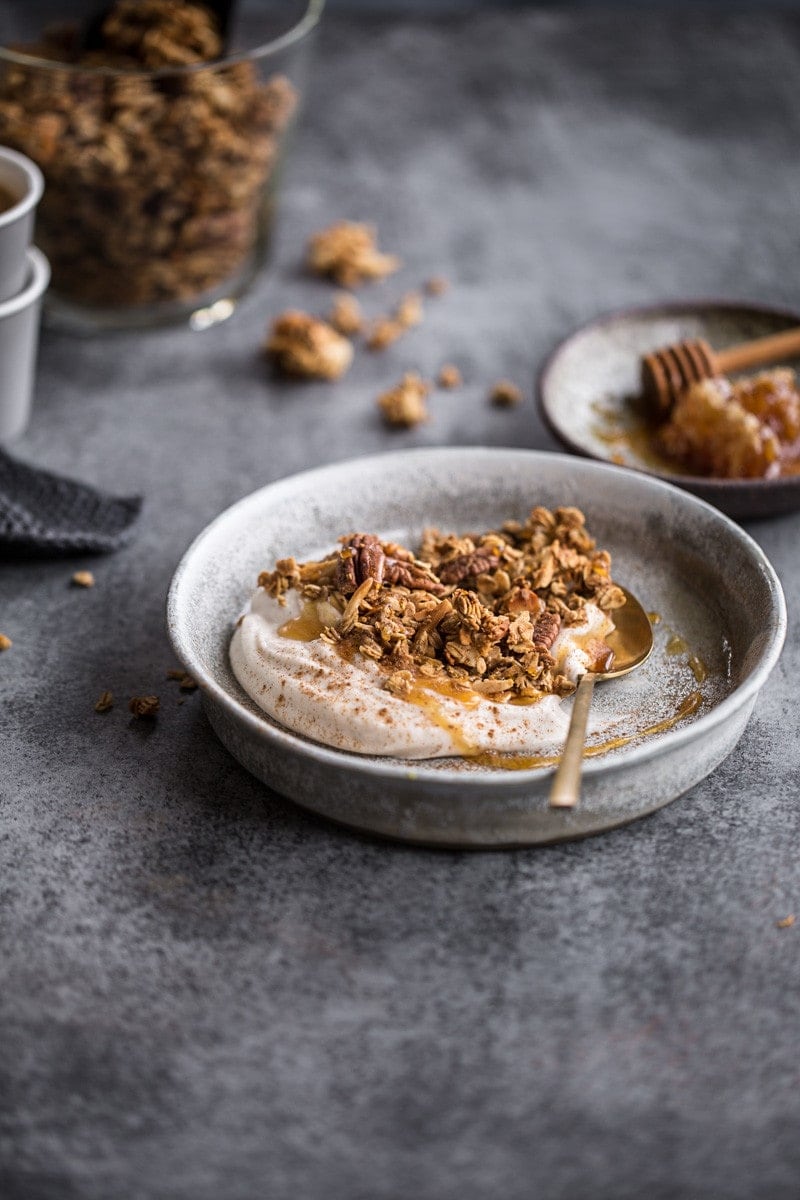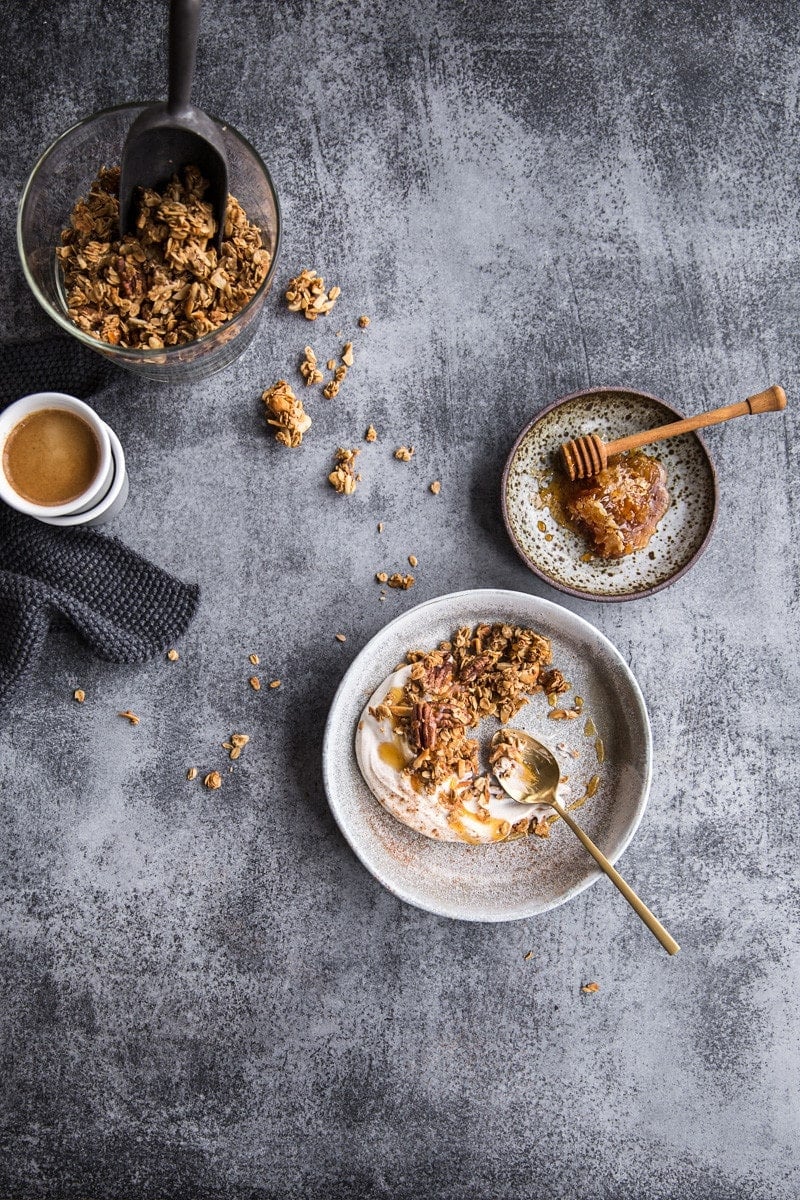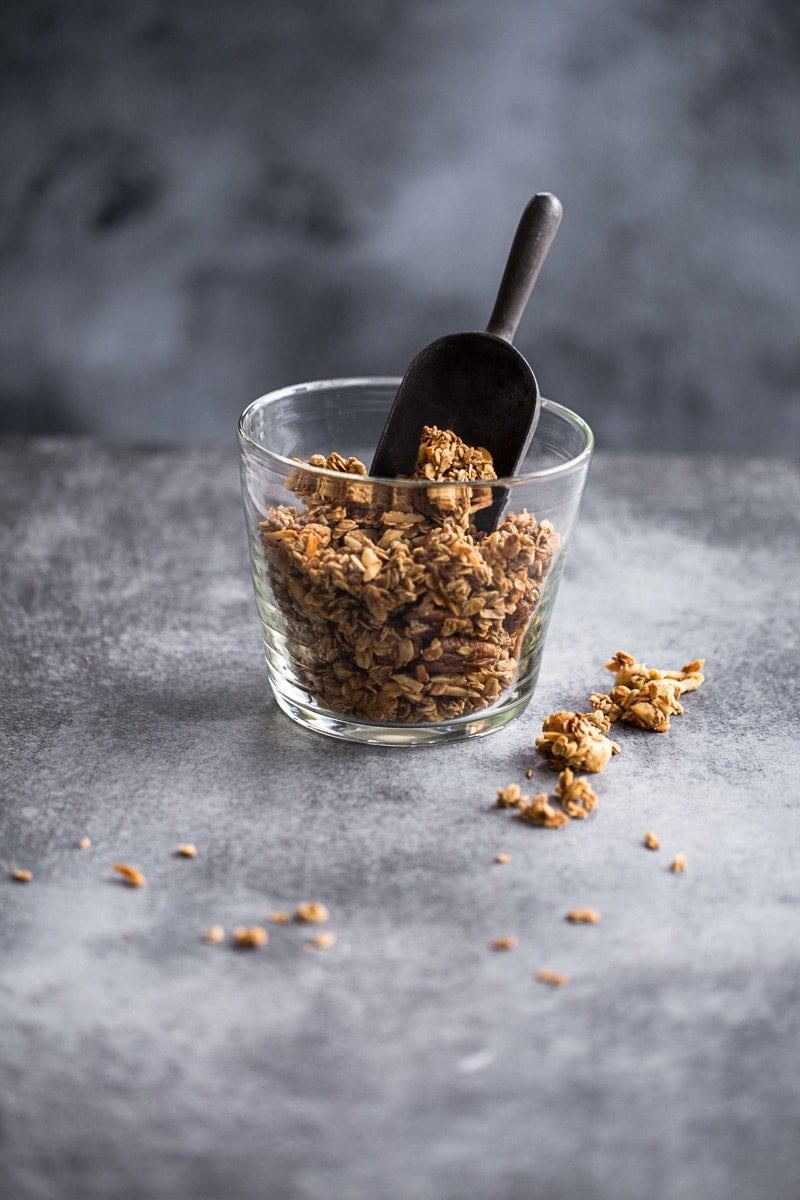 Do you celebrate Christmas in July? Even more important, are you a gingerbread fan? If you make this and love this, send me pictures or tag me to your creations on Instagram . I would love to see! Don't forget to comment and rate below for even more people to enjoy. Thanks! x
Recipe
Hungry For More Recipes? Subscribe to my newsletter. Check out Facebook, Instagram and Pinterest to see everything I share! And if you love cooking and new cookbooks, join my free Cooking Club on Facebook!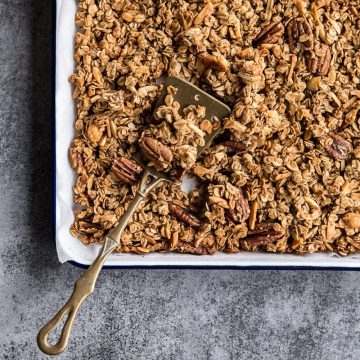 Ingredients
2

cups

(

200

g

)

rolled oats

½

cup

(

60

g

)

pecan nuts

½

cup

(

60

g

)

slivered almonds

¼

cup

(

35

g

)

crushed macadamia nuts

60

g

butter

¼

cup

(

60

ml

)

maple syrup

2

tablespoons

golden syrup

2

teaspoons

ground ginger

1

teaspoon

mixed spice

¼

teaspoon

sea salt flakes

110

ml

Nespresso Envivo Lungo
Instructions
Preheat oven to 150°C (conventional) or 130°C(fan forced). Line a rimmed 28cm x 20cm base measurement baking sheet with baking paper.

Place oats, pecan nuts, almonds and macadamias in a large bowl.

Place butter, maple syrup, golden syrup, ground ginger, mixed spice and salt in a small heavy bottomed saucepan. Heat on low until butter is melted. Mix well. Remove from heat.

Add butter mixture to the dry oat mix. Add 40 ml espresso (discard the rest or use it to make a coffee based dessert sauce). Mix well.

Spread granola mix on prepared tray evenly. Press down with a wooden spoon. Bake in pre-heated oven for approximately 35 minutes until fragrant and starting to turn golden. Remove from oven and allow to cool completely.

When completely cool, granola can be broken up into rough clumps and bottled in glass jars with sealed lids.

Granola will keep in a cool corner of your pantry in the lidded glass jars for up to 2 weeks.

To serve, scoop a generous dollop of coconut yoghurt onto a plate. Top with a cup of granola. Drizzle with honey or maple syrup and enjoy.
Notes
Make it vegan by swapping regular butter with cocoa butter or coconut oil.
Make it gluten-free by swapping oats with toasted buckwheat.
If it is possible to run the prepared granola through a dehydrator (43C for about 2-3 hours) before cooling and packaging, it will ensure crisp and crunch as this recipe has "liquid coffee" which tends to make the stored granola a bit soggy after storing for a couple of days.
Take care to remove the granola from the oven immediately when done. After cooling the granola for approximately 20-25 minutes, store it in an air-tight glass container while the granola is till crunchy. This will ensure that your granola stays crisp.
The quantity is enough for 6 serves, but if you end up storing the granola for over 10 days and you find it has softened a bit, refresh it by crisping in a preheated oven (150°C) for 5-8 minutes, then cooling and storing.
Although you will miss the subtle gingerbread notes of the Envivo Lungo, you could substitute this ingredient with a high quality espresso – quality is key to making this recipe work.
Did you make my recipe?
I'd love to hear how you went! Tag me on Instagram @cookrepublic
Note - This post is sponsored by Nespresso, the recipe was created in collaboration with them. Thoughts, words and feels are entirely mine.