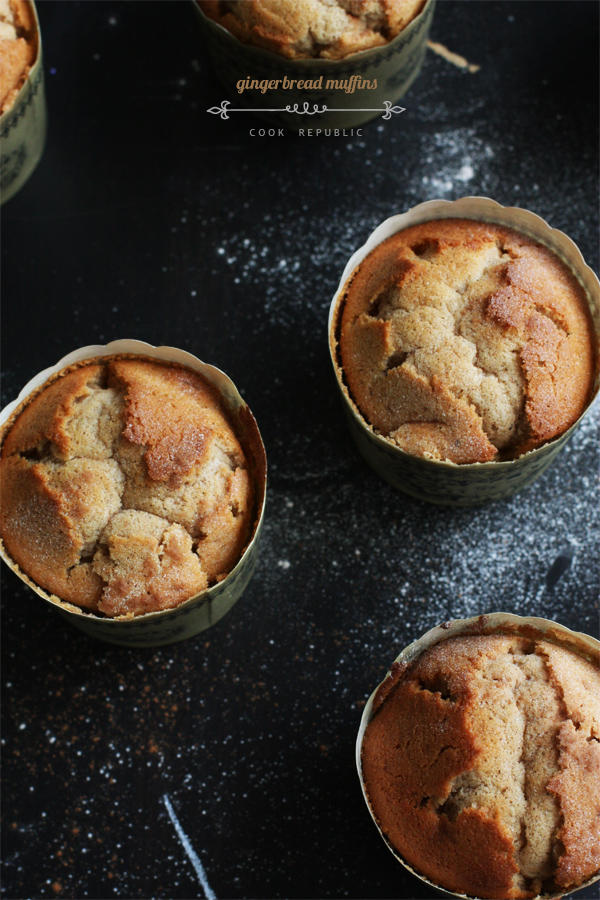 Many years ago when I was living in Singapore, I became obsessed with a limited edition range of products from the Body Shop. It was for Christmas and it was called Sugar And Spice. I think it might have become my single most favourite scent. And to this day, I think about it especially around Christmas when little whiffs and puffs of sugar, cinnamon, nutmeg, spice, maple, oak and cherry escape into the air like little smoke dragons enticing and tempting us mere mortals.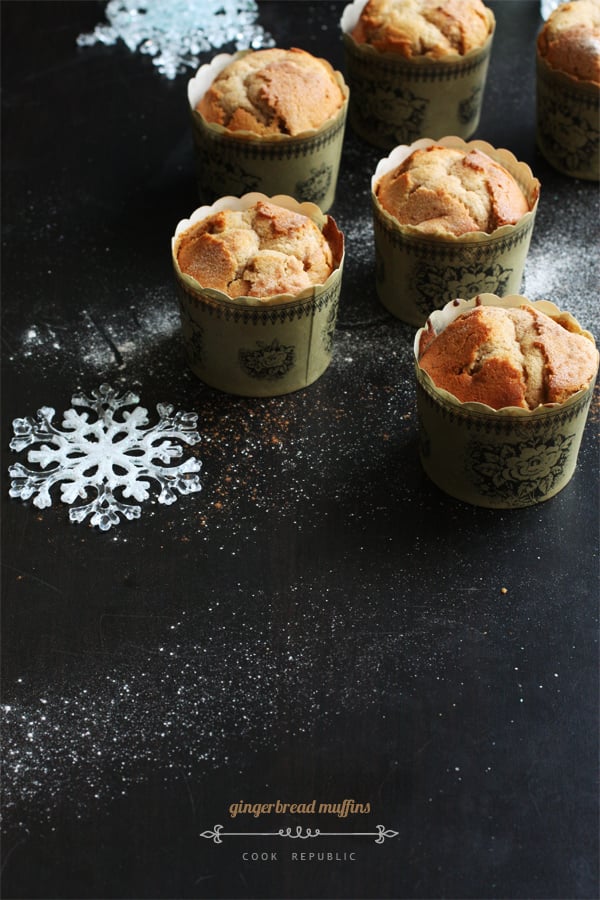 I started baking a batch of gingerbread muffins over the weekend. As I mixed the batter, I became nostalgic again. But this time it was different. The aroma was fantastically close to the one I have been missing for so many years. As I heaped the ground ginger and sprinkled an extra dash of mixed spice, my senses transcended to that Christmas in Singapore. Sugar And Spice. And I knew I had to share this one right away. My most favourite scent in the whole world crammed into a batch of proud high-topped golden brown soft crumbly muffins peppered with a dust of cinnamon and a kiss of icing sugar. For your eating pleasure!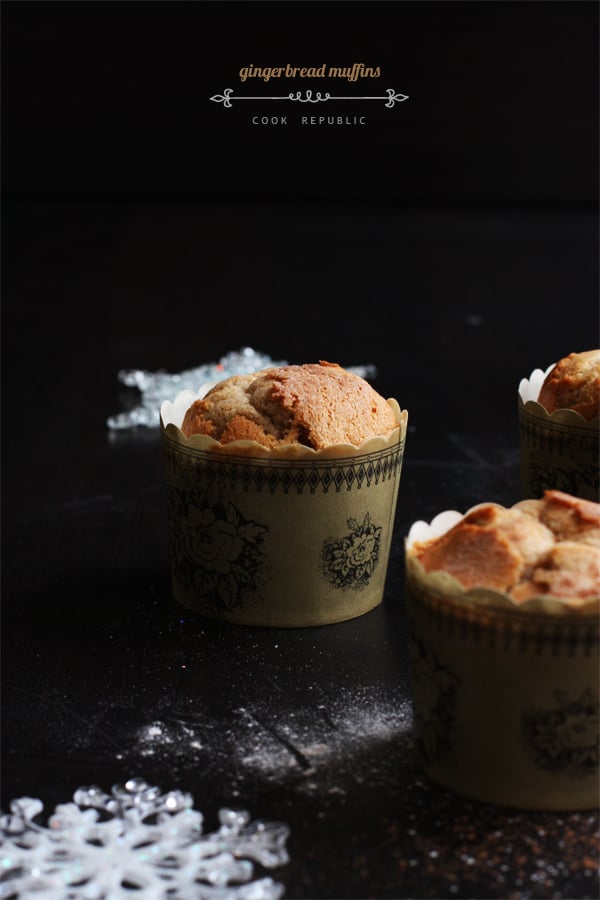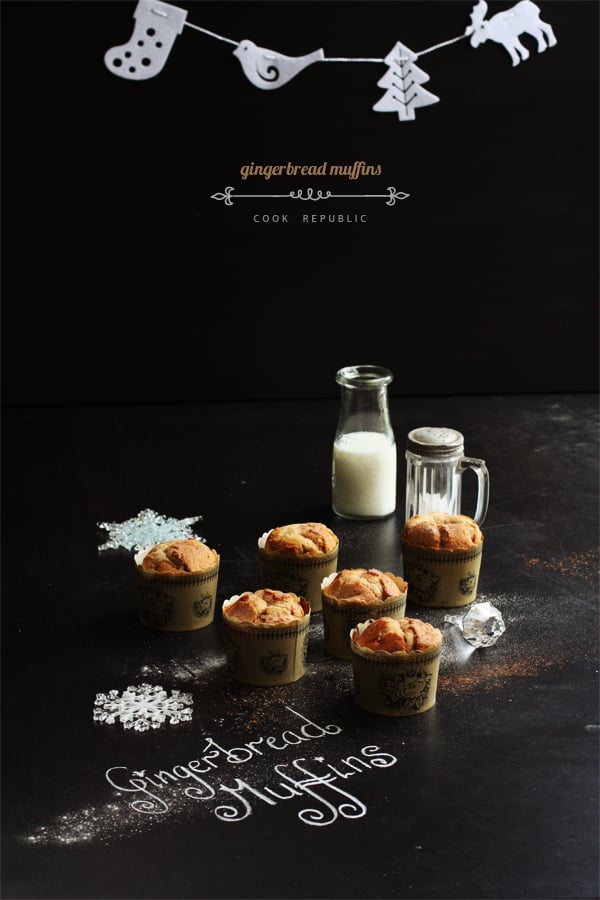 I have also shared a free printable recipe template for Christmas greeting cards so you can share some sugar and spice of your own!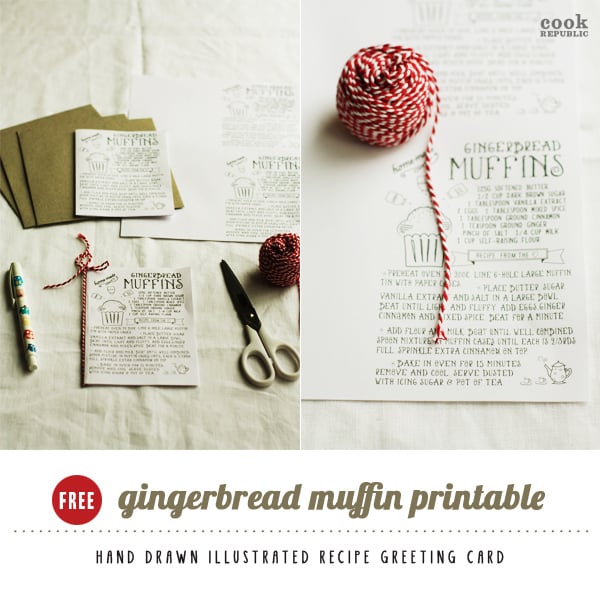 [print_this]
GINGERBREAD MUFFINS
Beautiful gingerbread muffins for Christmas that are warm and crumbly and smell of sugar and spice and everything nice!
Makes - 6 large muffins
Ingredients
125g softened butter
1/2 cup dark brown sugar
1 tablespoon vanilla extract
2 eggs
1 tablespoon mixed spice
1 tablespoon ground cinnamon
1 teaspoon ground ginger
pinch of salt
1/4 cup milk
1 cup self raising flour
Method
Preheat oven to 200C. Line a 6-hole large muffin tin with paper cases. (I used 6 large scalloped edge muffin paper cups).
Place butter, sugar, vanilla extract and salt in a large bowl. Beat until light and fluffy. Add eggs, ginger, cinnamon and mixed spice. Beat for a minute.
Add flour and milk and beat until well combined. Spoon mixture in muffin cases until each is 2/3rds full. Sprinkle extra cinnamon on top (optional).
Bake in oven for approximately 15 minutes until cooked through, risen and golden brown on top. Remove from oven and cool in cases on wire rack.
Serve dusted with icing sugar.
[/print_this]