Gujarati Sambharo is an easy Indian stir-fry dish or a dry curry from Western India. Thinly sliced cabbage, carrot and capsicum are stir-fried in a hot pan with sizzling mustard seeds, curry leaves and a bevvy of spices for a warm, al dente salad full of sweet, spicy and salty flavours. It is ready in 10 minutes and absolutely delicious! 
Ingredients
This is what you'll need to make this Gujarato Sambharo
Cabbage
Carrot
Capsicum - Red and green.
Spices - Turmeric, coriander, cumin,chilli powder
Curry leaves and coriander
A Warm Salad Is A Delicious Thing
Ayurveda not only recommends slightly warming up salads to release the energy of the vegetables but also has a lot of clever inspiration on specific vegetables that work well for this purpose. Take this cabbage stirfry for example. Cabbage is one of those vegetables that can not only be eaten raw but can be just cooked to create beautiful, textural recipes with a crunch.
In India a dry stir-fried cabbage dish often called a sabji (a vegetable dish that accompanies lentils, rice, salad, and bread as part of a complete meal) is a very popular home-style recipe. Each state has its own specialty. Like this Keralan Cabbage Thoran hailing from Southern India. The version I am sharing today comes from the Western Indian state of Gujarat where food is always vegetarian, freshly cooked every day, and has delightful sweet, sour, salty and spicy flavours. This version of the cabbage stir-fry is called a Gujarati Sambharo. This is my heritage and the food I grew up with. Watching mum cook these delicious fresh veggie dishes every day and helping her in the kitchen was a huge part of my childhood.

Gujarati Sambharo - A simple and delicious light meal
This is basically a stir-fry. But one that you wouldn't cook in a wok. Sabjis like these are typically cooked in heavy-bottomed sauté pans or kadais. Heat retention is very important and the thickness of the pan doesn't let the veggies burn. I use my Essteele sauté pan for this and the veggies cook beautifully in just five minutes. They are warm and just tender having absorbed all the spices with an amazing crunch to them.
For the sambharo, the order of the veggies is important. Harder veggies (carrot) go in first, followed by the slightly softer ones (capsicum). Cabbage which barely needs two minutes to cook goes in last. The entire dish comes together in mere minutes and is one of my favourites on meal prep days. Imagine packing away a finished dish in the first ten minutes of your meal prep. Oh, what a feeling!
This Sambharo tastes great hot or cold. You can do so much with it. One of my favourite ways to eat it is in a wrap with some protein and chutney. I also love a huge spoonful in a quinoa and salmon bowl. Like chopped salad, but better! I hope you enjoy this simple and delicious recipe that has been cooked in my family for almost seventy years!
Recipe
Hungry For More Recipes? Subscribe to my newsletter. Check out Facebook, Instagram and Pinterest to see everything I share! And if you love cooking and new cookbooks, join my free Cooking Club on Facebook!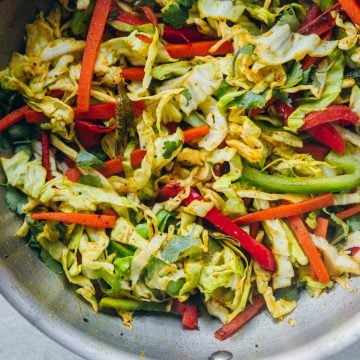 Ingredients
1

tablespoon

olive oil

1

teaspoon

mustard seeds

12

curry leaves

1

medium carrot

,

peeled and julienned

1

small red capsicum

,

membrane removed and cut into thin long slices

1

small green capsicum

,

membrane removed and cut into thin long slices

300

g

cabbage

,

finely sliced/shredded

½

teaspoon

ground turmeric

½

teaspoon

ground cumin

1

teaspoon

ground coriander

½

teaspoon

red chilli powder/cayenne powder/sweet paprika

1

teaspoon

sea salt flakes

1

teaspoon

sugar

Handful of fresh coriander leaves
Instructions
Heat oil in a large sauté pan/wok on high. Add curry mustard seeds and curry leaves. As soon as they start spluttering, add carrot. Stir fry for a few seconds. Add capsicums and continue stir-frying for a minute or two until veggies are glazed.

Add cabbage, turmeric, cumin, coriander, chilli, salt and sugar. Toss and mix well until cabbage is coated with all the spices.

Stir-fry for 2-3 minutes until heated throughout and cabbage is just cooked. Remove from heat.

Garnish with fresh coriander leaves. Serve hot.
Notes
Use a heavy-bottomed pan to avoid burning the veggies. Good heat retention is key for cooking the veggies ever so slightly in order for them to retain their crunch after the short cooking time. 
This dish is great hot or cold. Can be eaten as a side with daal and rice or topped on some protein for a light meal.
Did you make my recipe?
I'd love to hear how you went! Tag me on Instagram @cookrepublic