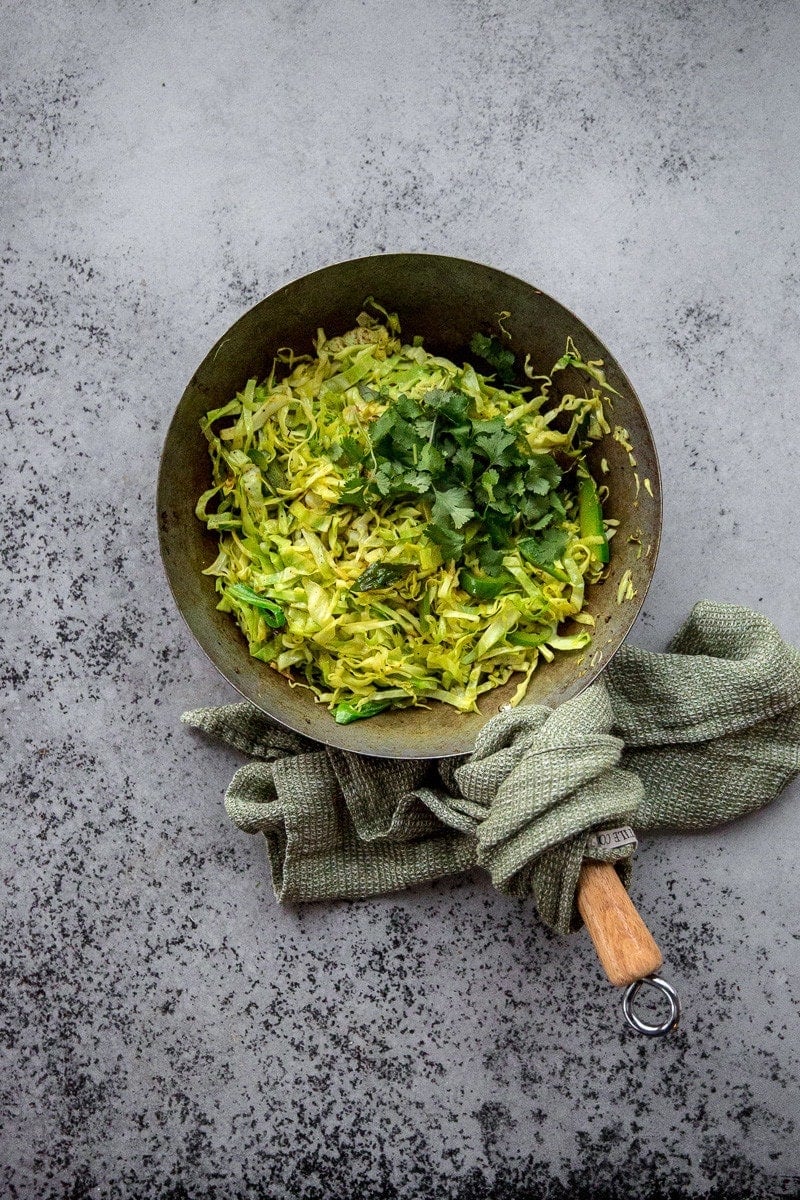 When it is Tuesday night and I am lacking in motivation, inspiration and time in the kitchen; these are the recipes I fall back on. They are super quick, deeply nourishing and filling. And they all have turmeric in some form or the other. If you are a regular follower of my blog, you will know by now my love of turmeric. This 5 Minute Keralan Cabbage Stir Fry is another recipe I love to cook on nights like those. This speedy stir fry is truly a magic dish. Each and every ingredient has tremendous health benefits and everything your body needs to heal from the inside out. Think of it like a warm salad with a crunch!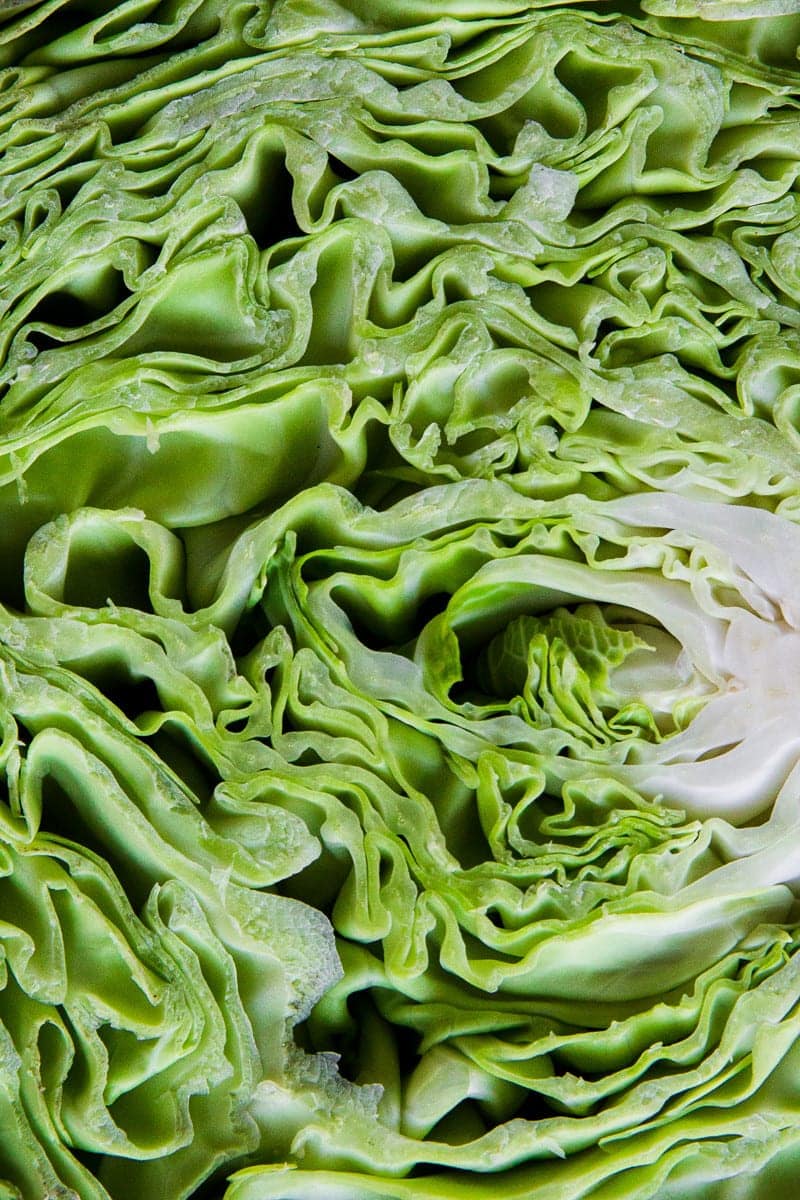 This recipe hails from Southern India where it is referred to as thoran. It is basically a dry curry made with finely chopped or grated vegetables, spices, herbs and freshly grated coconut. It is most often eaten as a side or salad. Ayurveda believes that eating raw food is more taxing on your stomach as it requires 80% more energy to digest than cooked food. And in turn it provides less energy than cooked food after digestion. Cooking the cabbage in this way makes the dish warm, light and slightly oily which are the main qualities of Agni (fire or digestive fire). This in turn leads to a calmer and more balanced digestive system. It is the most perfect style of cooking for salad vegetables that need just a hint of tenderness - green beans, carrots, capsicum, beetroot and leafy greens. Finely chopping them helps with the fast cooking time.
Consider all the ingredients in it. Cabbage is brain food and an amazing detoxifier amongst other things. Cumin helps with digestion, common colds and insomnia. Fenugreek and Turmeric both help heal inflammation inside your body. Turmeric (and this is why I love it!) is nature's pain reliever and also helps with regulation of joint and heart health.For long term health benefits, it is essential to have it on a regular basis and I now have a steady rotation of recipes that all use turmeric in some for or the other. If you have a dish like this once a weeknight every week, can you imagine all that goodness pulsing through your body?
I often make sambar (lentil based vegetable stew) along with this cabbage stir fry. They really go well together. You can stuff this in wraps, serve as part of a Buddha bowl, top it over steamed rice or add a hefty dose of nutrition by eating alongside your favourite salad like a pickle.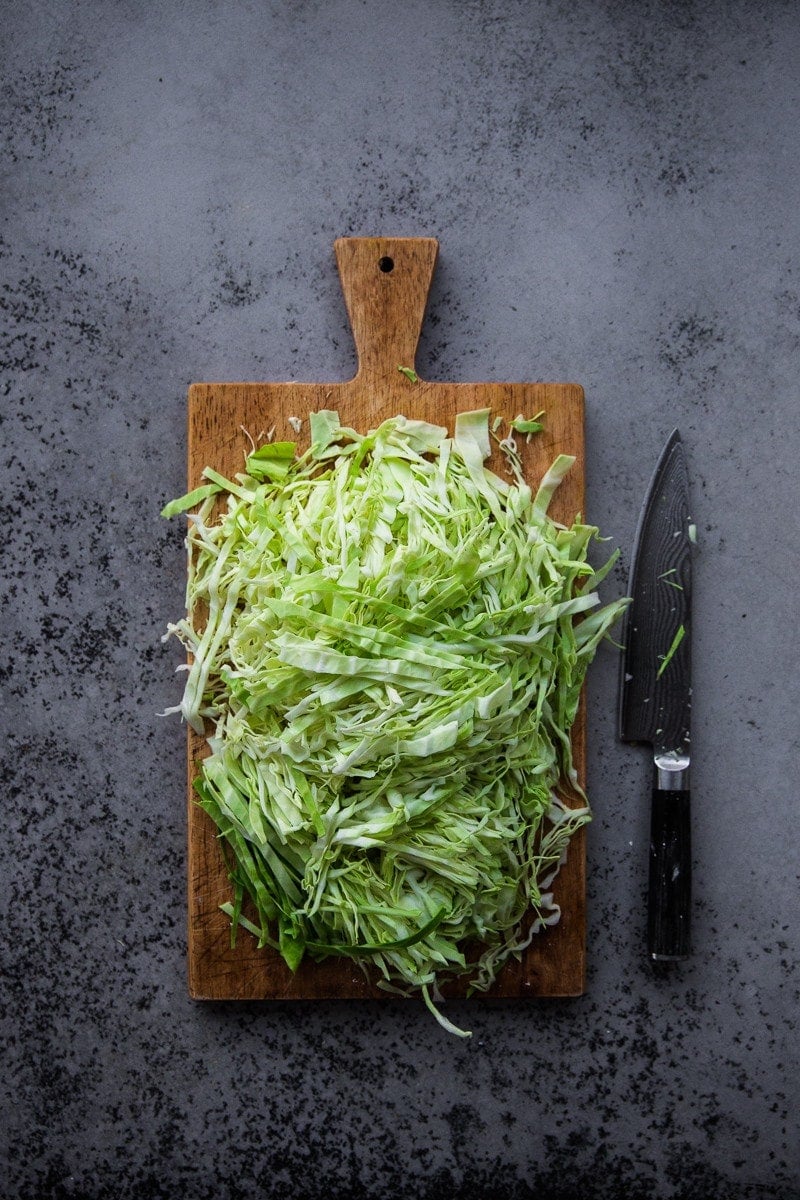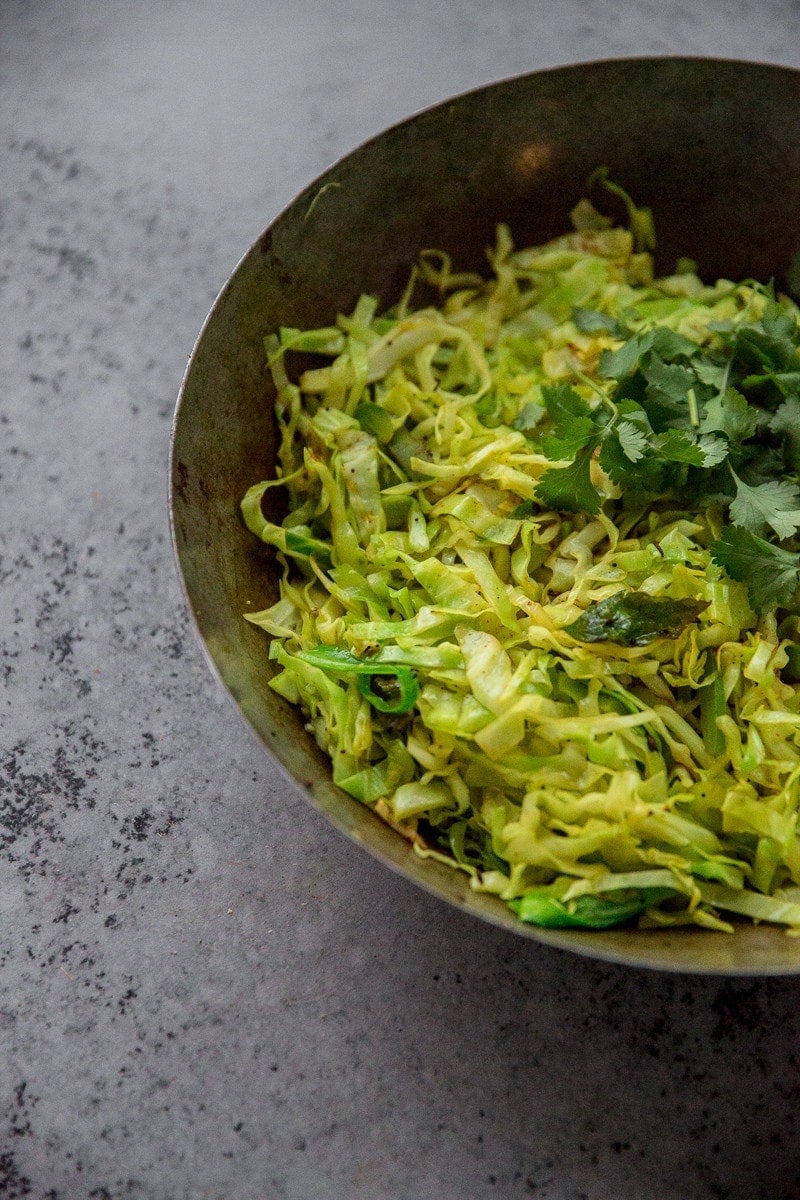 Hungry For More Recipes? Subscribe to my newsletter. Check out Facebook, Instagram and Pinterest to see everything I share! And if you love cooking and new cookbooks, join my free Cooking Club on Facebook!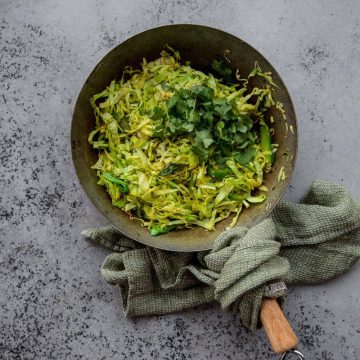 5 MINUTE KERALAN CABBAGE STIR FRY
This is a sensational quick turmeric laden cabbage stir fry hailing from Southern India. With incredible health benefits, this warm salad with a delicious crunch can be eaten on its own or as a side with rice and curries.
Print Recipe
Rate / Comment
Ingredients
1

tablespoon

olive oil

1

teaspoon

black mustard seeds

1

teaspoon

cumin seeds

1/2

teaspoon

fenugreek seeds

12

curry leaves

1

green chilli

,

sliced

1/2

drumhead cabbage

,

thinly sliced (approx 5 cups)

1

teaspoon

sea salt flakes

1/2

teaspoon

ground turmeric

1/4

teaspoon

ground chilli powder

,

optional

1

teaspoon

raw sugar

,

optional

1/4

cup

fresh grated or shredded coconut

1/2

cup

coriander leaves

,

chopped
Instructions
Heat oil in a wok on high. Carefully add mustard seeds, fenugreek seeds, curry leaves and chilli.

In a few seconds when the seeds start to sizzle and spit, add the cabbage and all the spices and seasonings. Reduce heat to medium.

Mix well and cook for approximately 2-4 minutes until cabbage is glazed over and starting to wilt.

Remove from heat. Check for seasoning. Garnish with coriander leaves and grated coconut and serve hot with rice and mains.
Notes
Savoy cabbage or Wombok can be substituted for drumhead cabbage, but needs less time to cook. 1-2 minutes in the hot wok is enough for a Savoy cabbage or Wombok.
I add the sugar to balance the spice for my boys. The traditional recipe doesn't need sugar. I also add coconut later after I have served my youngest as he still considers coconut to be the food of the devil.
Fenugreek seeds can be found in specialty grocers or Indian stores. They are bitter in taste, their bitterness reducing a tad when you stir fry them. They have a unique flavour and are great for digestion. If you can't find them, try sourcing dried fenugreek leaves or powder instead and substitute 1:1. If you can't find fenugreek at all, use fennel seeds instead.
This will keep in the fridge for up to 3 days. It freezes well and will sit happily in your freezer in an air tight container for up to a month.
Did you make my recipe?
I'd love to hear how you went! Tag me on Instagram @cookrepublic