If sunshine was ever captured in cake form, it would be this gloriously sunny and beautifully tart Lemon Ricotta Cake! Lots of juicy lemon flavour offset by salty, creamy ricotta in a golden soft crumb that is literally to die for. This very good Lemon Ricotta Cake is bout to become a regular in your baking schedule.
All The Lemons Packed In One Glorious Cake
We have lemon trees. Lots of them. Amazingly, they all fruit at different times of the year. Like bright yellow Christmas baubles coming to life in different corners of our garden, these lemons are destined for delicious lemon cakes. Cakes that always make me long for an adventure overseas, exploring the coast of Italy and loading up on more lemons for cakes and desserts and cocktails. Cakes like this very good Lemon Ricotta Cake.
I have baked this cake with yuzu lemons, lemonade lemons, Meyer lemons, Eureka lemons and Lisbon lemons. The Meyer and Eureka lemons are my favourites for this cake. This Lemon Ricotta Cake has to be hands down one of the most delightful cake recipes on the blog. I have baked it dozens of times over the past decade and it has blossomed from a sweet, dense almost dessert-like cake to pure warmth and sunshine.
A Lemon Ricotta Cake For Any Occasion
Over the years, the lemon flavour has been amped up quite a lot in the form of copious amounts of zest and juice. The right amount of sugar, good fruity olive oil and the best creamy, salty ricotta barely swirled through the batter creates a heavenly crumb, akin to a butter cake. Golden and crisp on the outside, light and moist on the inside. A smaller seven-inch cake pan results in a taller cake that is instantly more special.
The cake bakes perfectly every time. You can be assured of that as this recipe is pure gold. It tastes better the next day, as cakes like these often do. This is because the lemon has intensified in flavour. It is divine when warmed up slightly and served with a lashing of clotted cream or ice cream for dessert. And it can also be a showstopping gathering dessert when topped with whipped Chantilly cream and heaped with seasonal fresh berries. Make it your own. Or just eat as is. You are going to love it.
And if you are a fellow member of the Sturdy Loaf Cake society like me, bake this in a tall loaf tin, dust it with icing sugar and slice it nice and thick. Toast it, butter it! It is glorious!
💛 More Cake Recipes You Will Love
Recipe
Hungry For More Recipes? Subscribe to my newsletter. Check out Facebook, Instagram and Pinterest to see everything I share! And if you love cooking and new cookbooks, join my free Cooking Club on Facebook!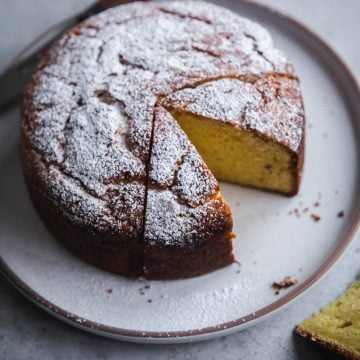 Ingredients
150

ml

olive oil

1

tablespoon

lemon zest

5

tablespoons

lemon juice

2

eggs

150

g

caster sugar

250

g

self-raising flour

250

g

ricotta cheese

Icing sugar

,

to serve

2-3

tablespoons

milk of choice

,

optional*
Instructions
Pre-heat oven to 180°C (160°C fan-forced).

Grease and line a 7-inch round and deep cake pan with baking paper.

Add olive oil, lemon zest, lemon juice, eggs and caster sugar to the bowl of an electric mixer. Beat for 3-4 minutes until pale, creamy and voluminous.

Add flour and ricotta cheese. Mix very gently with a wooden spoon until the batter is just combined, ensuring there are small lumps of ricotta intact in the batter. At this point if you feel the batter is too stiff (it should be the consistency of a thick paste but not soft and runny), you made add 2-3 tablespoons milk of choice to loosen it up in order to get the perfect crumb after baking.

Bake in the preheated oven for 50-55 minutes until golden and cracked on top.

Remove from oven. Cool for 10 minutes. Dust with icing sugar, cut and serve.
Notes
Homemade Ricotta - You can make this cake with homemade ricotta. Use full-fat, creamy milk to make ricotta. Bring two liters of milk to a gentle boil on medium-low. Add 2 teaspoons of sea salt flakes and mix well. Add 4 tablespoons of lemon juice. Stir and agitate the milk. The milk will curdle. Give it one last gentle mix, remove from heat and cover and rest for 30 minutes. Line a sieve/ricotta basket with two layers of cheesecloth. Place this over a bowl. Pour the curdled milk into the cheesecloth-lined basket. Allow the ricotta to drain for 8-10 hours in the fridge or in a cool corner of your kitchen (if it is winter). Turn the drained ricotta out into a large lidded glass container. Store in the fridge for upto two days and use it up.
Store-bought ricotta - Don't use smooth ricotta. Use the traditional ricotta that is grainy and has beautiful texture.
When mixing ricotta into the cake, only mix gently while leaving textural lumps in the batter. This makes for a delightfully textural cake (like the one pictured here). For a smoother cake, mixing the ricotta in a bit more.
* The decision to use milk is a matter of the consistency of ricotta. If you use homemade ricotta, you don't need to use additional milk in the batter. This is because homemade ricotta is softer and less firm than store-bought ricotta. If you are using store-bought ricotta and you find that your batter is too stiff (i.e it is a very stiff paste consistency and doesn't swirl easily with the spoon, then you can loosen it up by adding 2-3 tablespoons of milk of choice. This will ensure that the final cake is not too dry and has a good crumb).
Don't skimp on the lemon zest and juice. They are the star of the show.
Did you make my recipe?
I'd love to hear how you went! Tag me on Instagram @cookrepublic